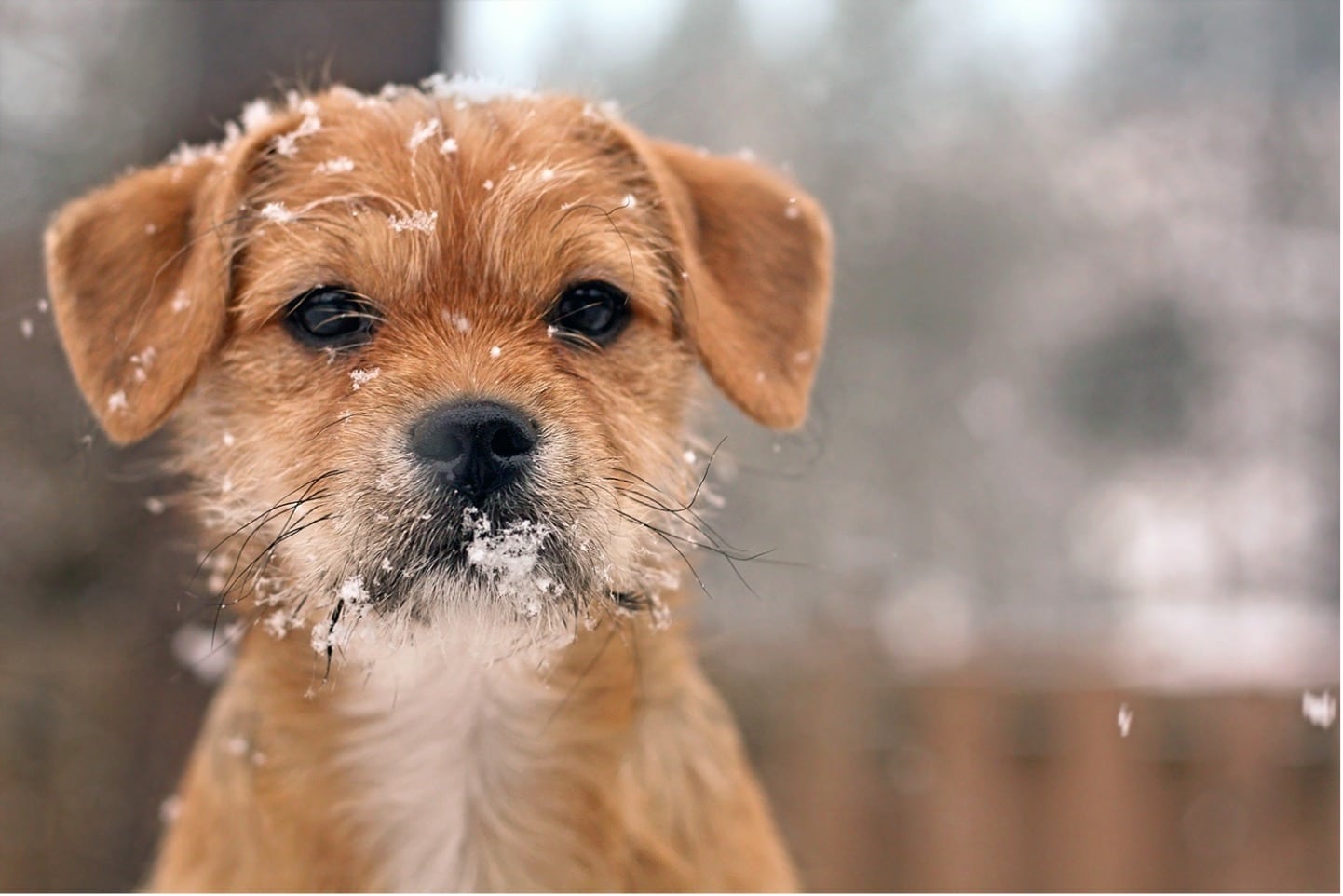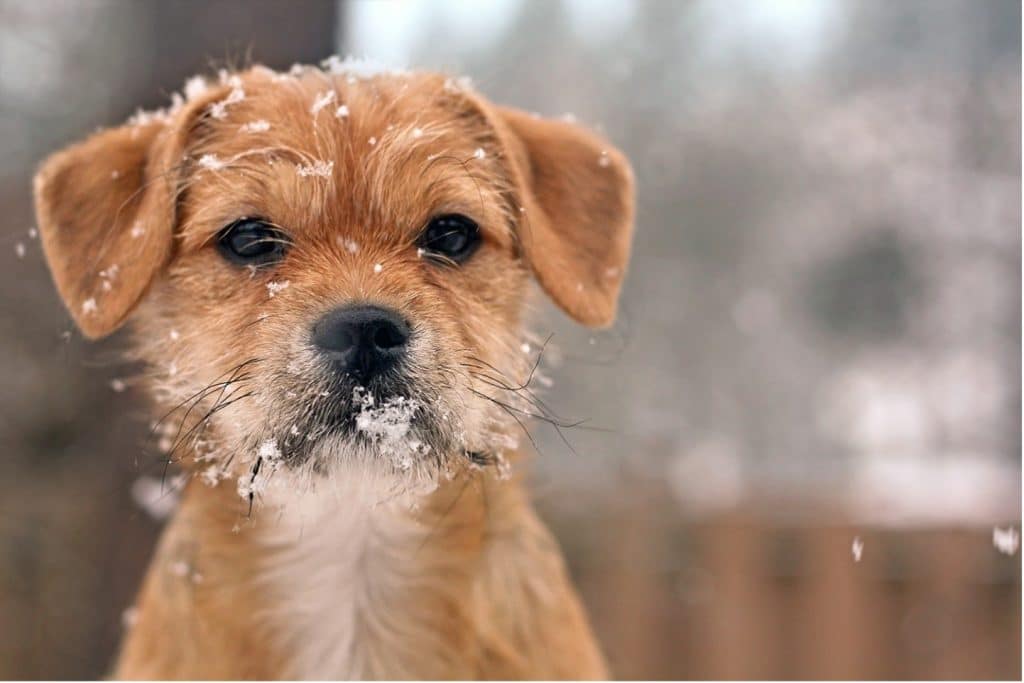 Whether we feel ready or not, winter is right around the corner. And for many dog owners that means making sure their canine companion has a warm and winterized kennel. Your dog's kennel is their home, and just like your home, there are a few things you will want to do to get it ready for winter.
If your pet has their own outdoor structure—it is important that you winterize it for when cold weather hits. The good news is, this is a fairly easy practice, but one that can make all the difference to your pet.
While most structures will provide coverage from wind, snow, and rain, not all outdoor kennels are durable enough to keep cold out as well. This is why winterizing is so important. Here are some dog kennel ideas for winter to get started.


Inspecting Your Dog's Kennel
Before you get to work winterizing your kennel, you should perform a quick inspection of the structure. Here are some things to look for.
Start by making sure you have the right kennel. The interior space of the kennel should be big enough for your pet to move around in, but not so big that their body heat can't help warm the space.
Determine if your kennel is in the right spot. Ideally, kennels should be placed against a shed or house to protect it from wind. If you have a particularly wet yard, make sure the kennel is raised off the ground.
Use a flashlight to inspect the inside of the structure, paying close attention to the seams to make sure you can't see water, ice or wind coming through.
Check the roof for leaks. Pour water or run a hose over the roof to reveal leaks inside the kennel. Repair as needed.
Utilize weatherstripping to keep drafts at bay. You can use the same weatherstripping materials you use on your home.
Put the right bedding inside your kennel. This includes hay, cedar ships or wood shavings. This thick bedding should be at least six inches deep.
Use pea gravel in outdoor run areas to promote proper drainage. It can also be used as a trench surrounding their kennel to prevent flooding.
After you perform this inspection, it is time to get to work to make these changes so your dog's home is ready for those cooler days. The smallest changes can make the biggest difference in your dog's kennel and how warm and dry it stays.
Tips Keeping Your Dog Warm When the Weather Cools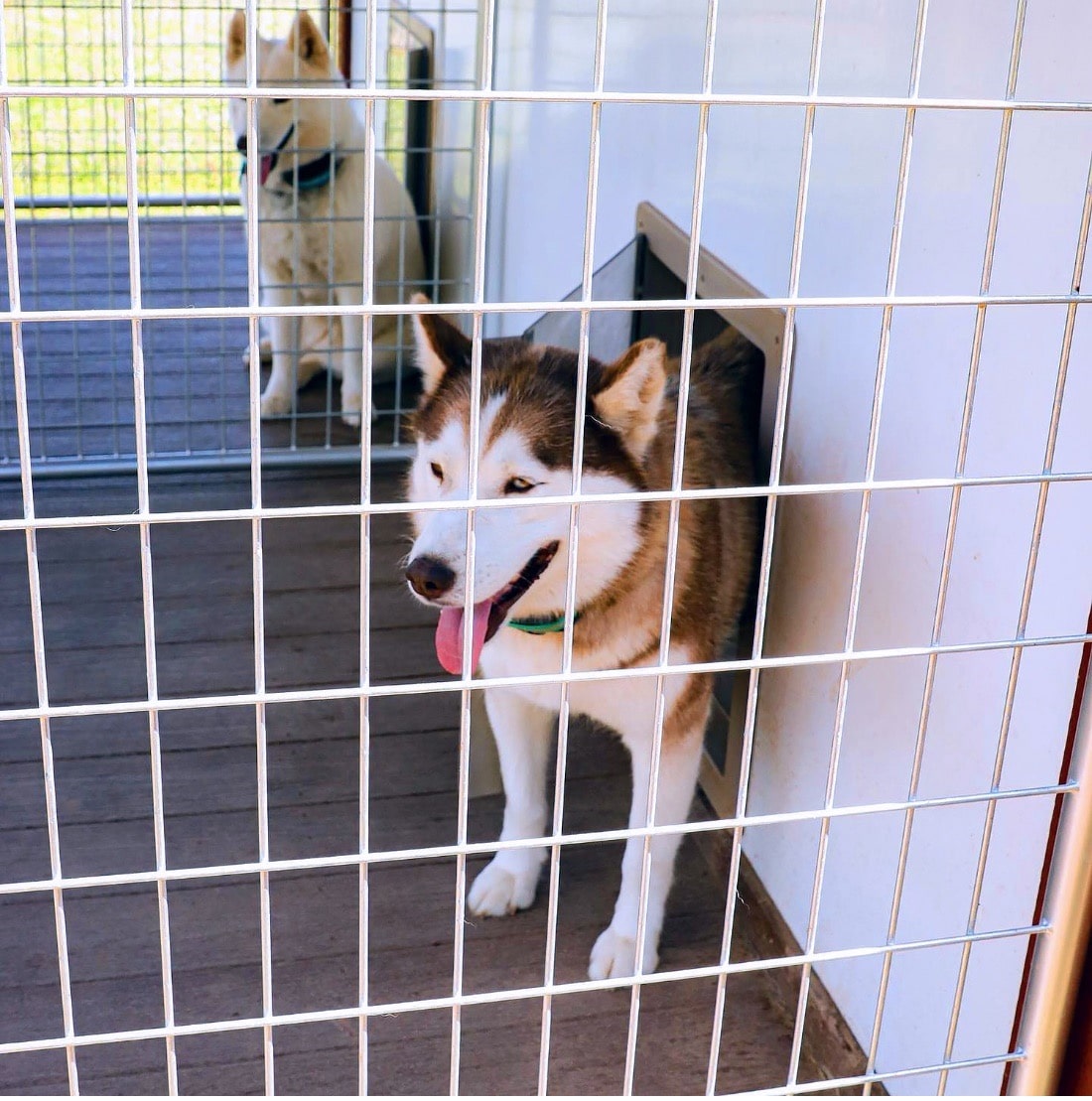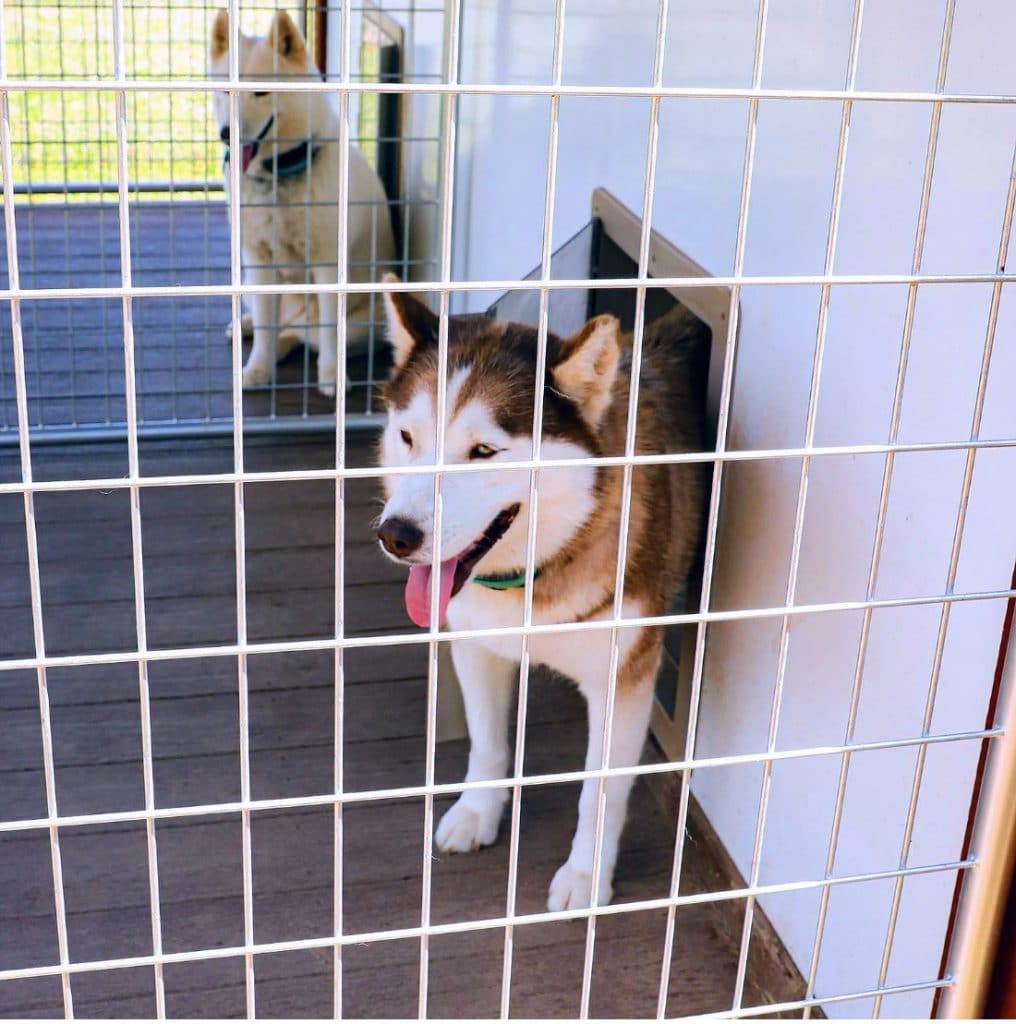 Once your dog's kennel is all winterized, you can feel good knowing that your dog has a safe space to call home. However, there are even more things you should be doing to make sure your dog stays safe.
Remember, not all dogs love the cold. While certain breeds like huskies, collies and labs love the cold and can tolerate these conditions relatively well, not all dogs can. Yorkies, chihuahua and boxers tend to notoriously get cold and may not handle freezing temperatures as well.
Set your dog up for success and keep them comfortable with a winterized kennel, and by following these tips on how to keep a dog kennel warm throughout the winter to keep them happy.
Fix The Position of Your Dog's Bed
If you dog has a bed inside their kennel box, make sure you position it in the optimal spot and try to keep it away from the door or any other particularly drafty areas.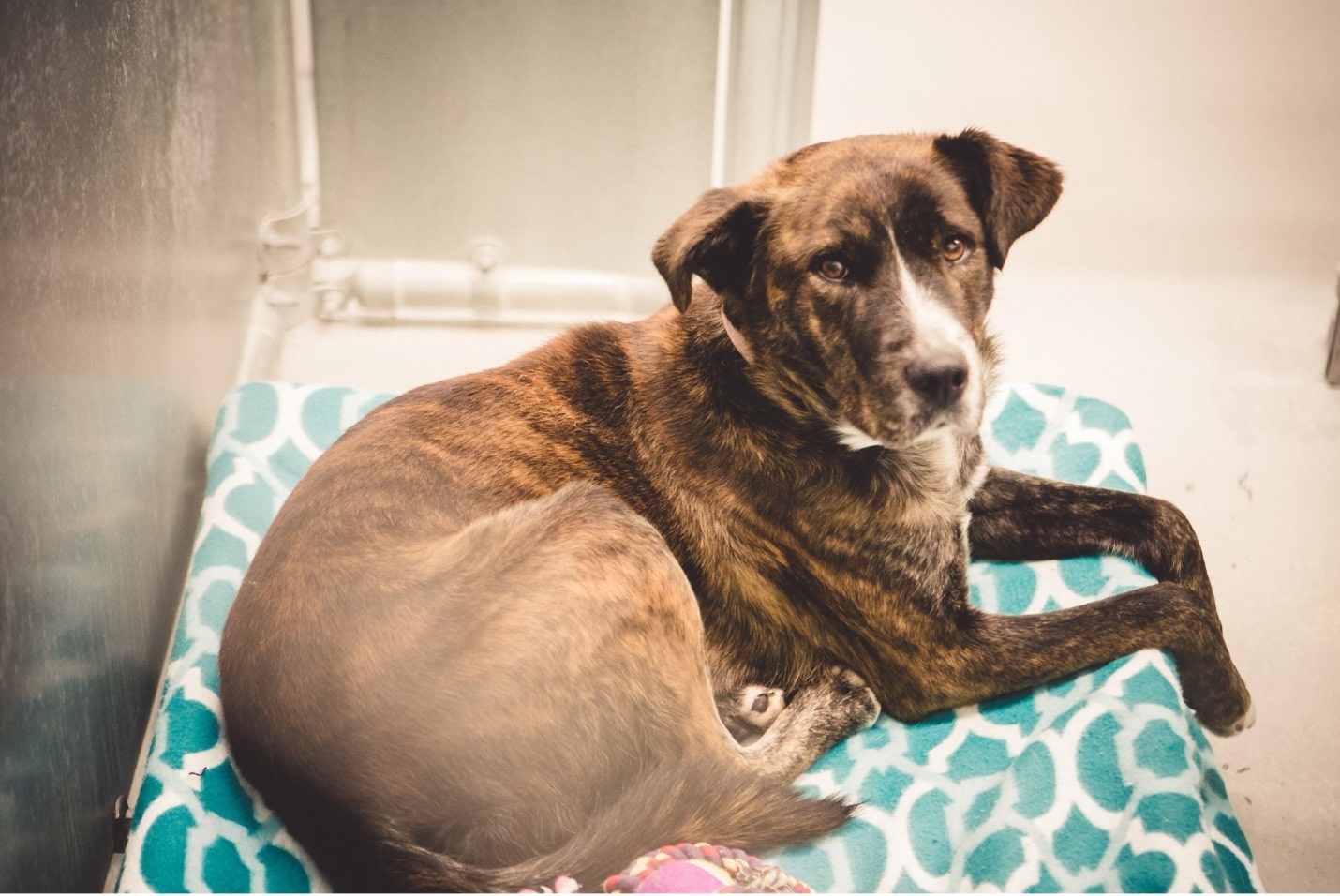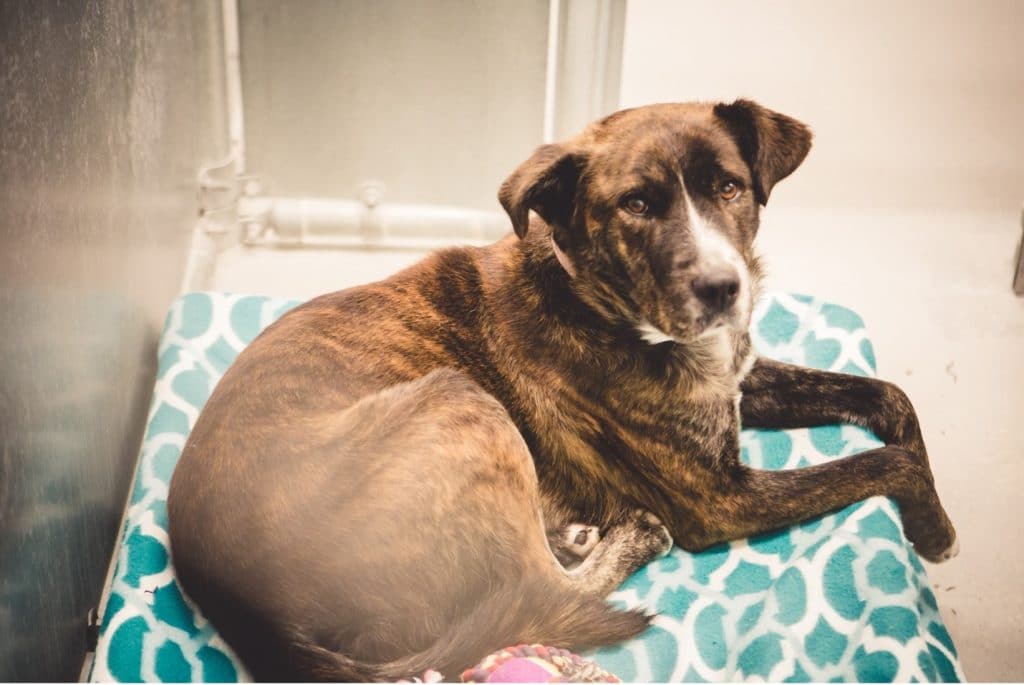 Check Your Dog
When it's really, really cold out, make sure you are checking your dog for symptoms. Dogs show similar symptoms of being cold as people do. If your dog has a runny nose, is lethargic, shivers, has watery eyes or is showing signs of a fever— he may be too cold. This means you will either need to move your dog inside or adapt their kennel accordingly.
Keep Chemicals Out of the Kennel
Chemicals can really irritate your dog's delicate paws, especially in the winter. Make sure that you aren't using harsh chemicals inside your dog's kennel. If there is ice around your dog's kennel or in their outdoor space, do not use de-icing chemicals that can irritate your dog even more.
Add Heaters for Comfort
There are several different doghouse heaters and heated bed options for your pet. You shouldn't always have heaters on, but if it is particularly cold certain nights, then it may be time to add a heating element.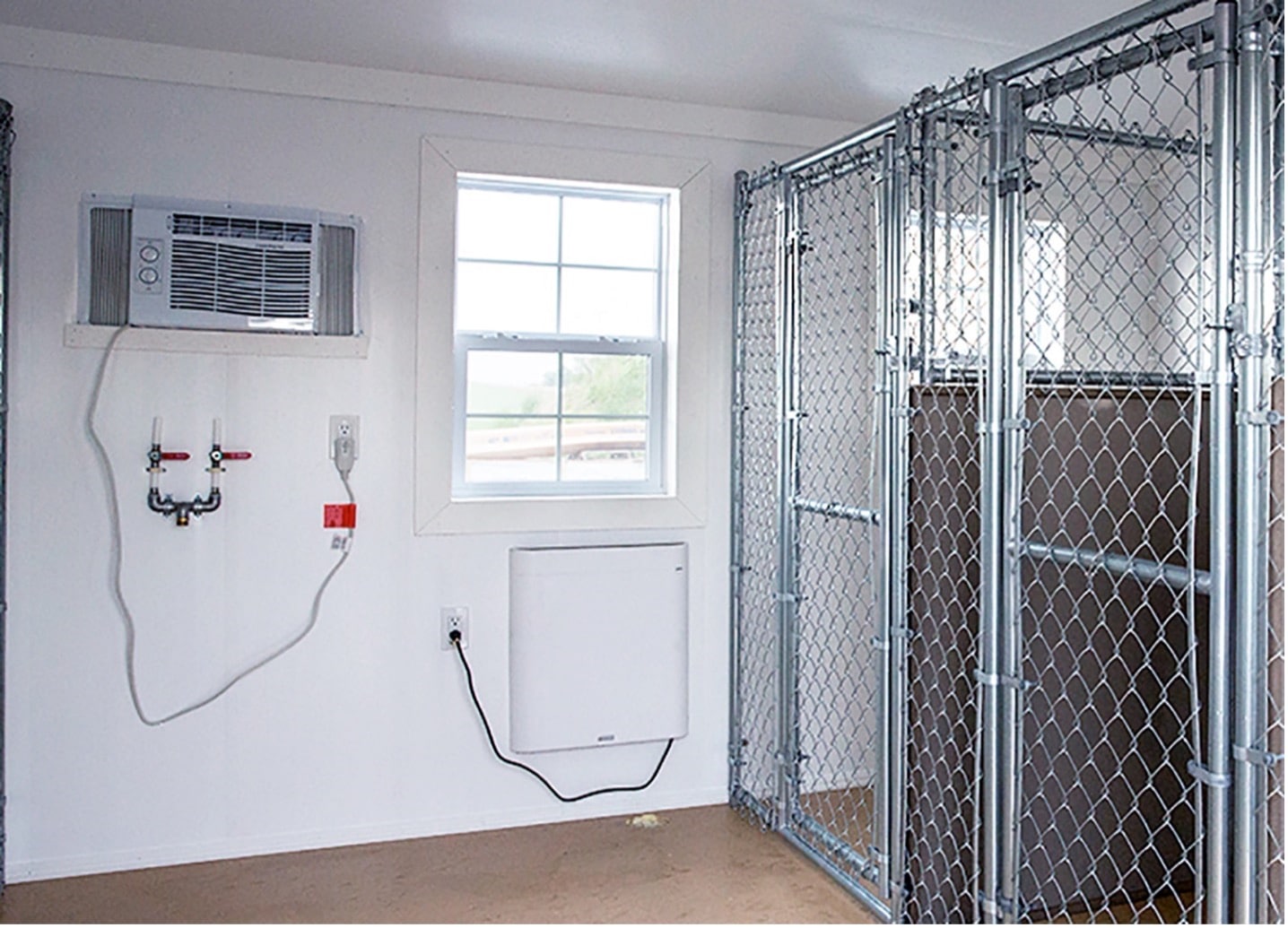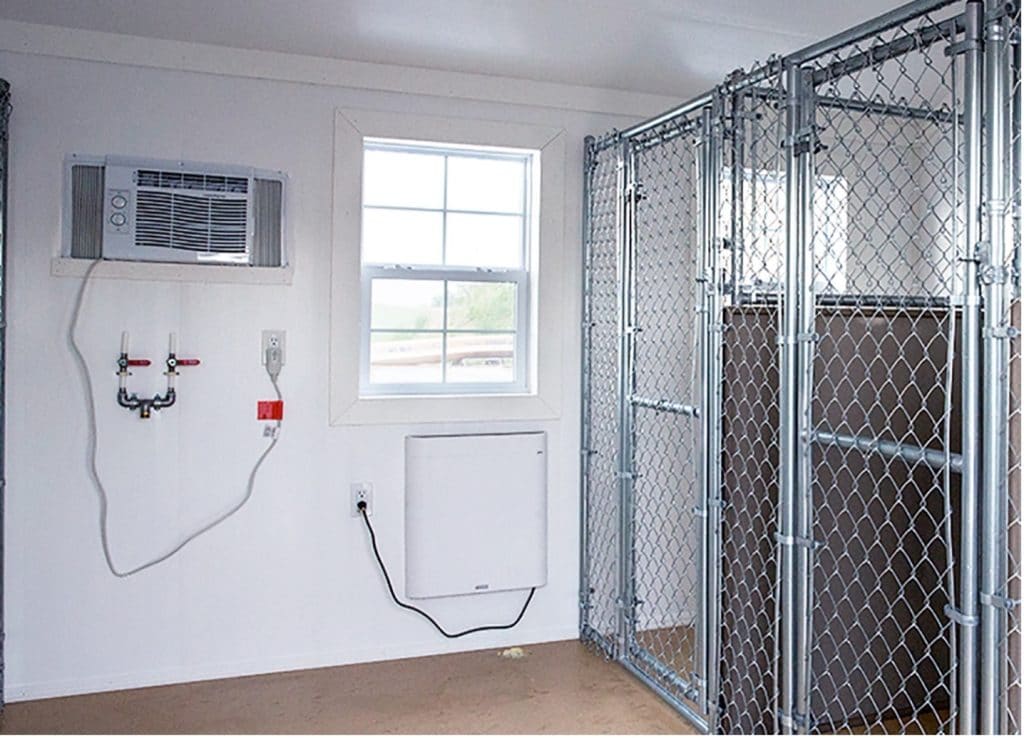 Check The Kennel's Bedding
You should be checking on and cleaning your dog's bedding throughout the winter. In addition to cleaning the bedding, you should make sure there is enough bedding for your dog to make at least six inches of bedding to snuggle up in.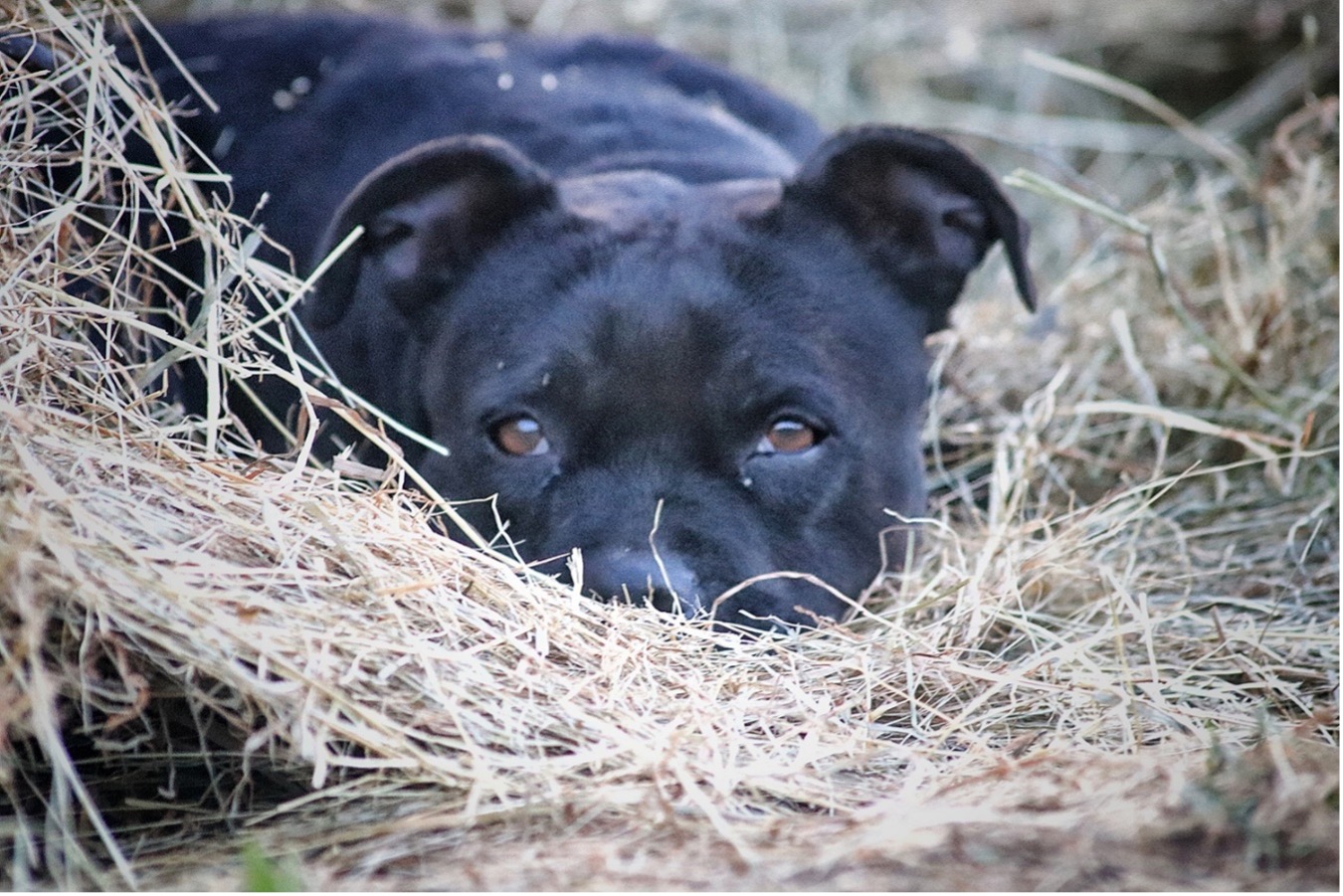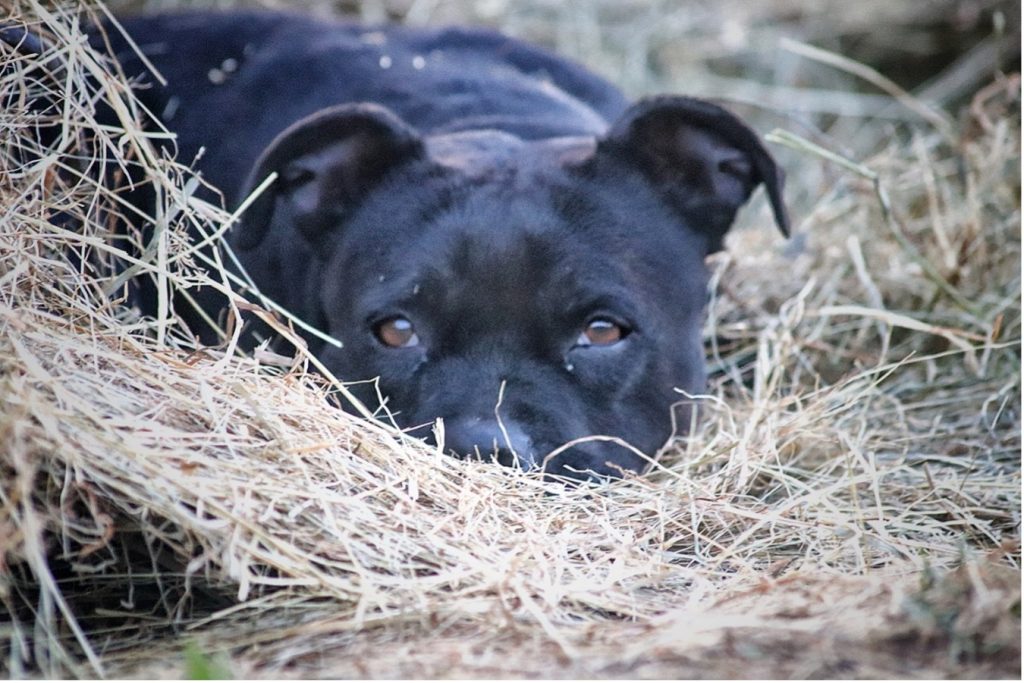 Little efforts like this, along with proper winterization can make all the difference for your dog this winter.
While it's always important to start with winterization, the best way to make sure that your pet is safe, warm, and comfortable all winter long, is to make sure you have the right kennel. All the winterizing in the world won't replace a high-quality kennel.
Here at Horizon Structures, we know just how important quality is when it comes to your pet. This is why Horizon uses premium materials to create warm and safe shelters that you and your dog can rely on.
A Horizon Structures outdoor dog kennel keeps your dogs warm, dry, and cozy all winter long.  Our Standard Features include a 4" pressure-treated wood foundation that keeps the entire kennel structure out of direct contact with the ground, R-13 batten insulation in the walls and ceiling and R-13 closed cell spray foam insulation in the floor.  The natural insulating properties of our wood siding and shingle roofing offers additional protection against the elements for the canine occupants.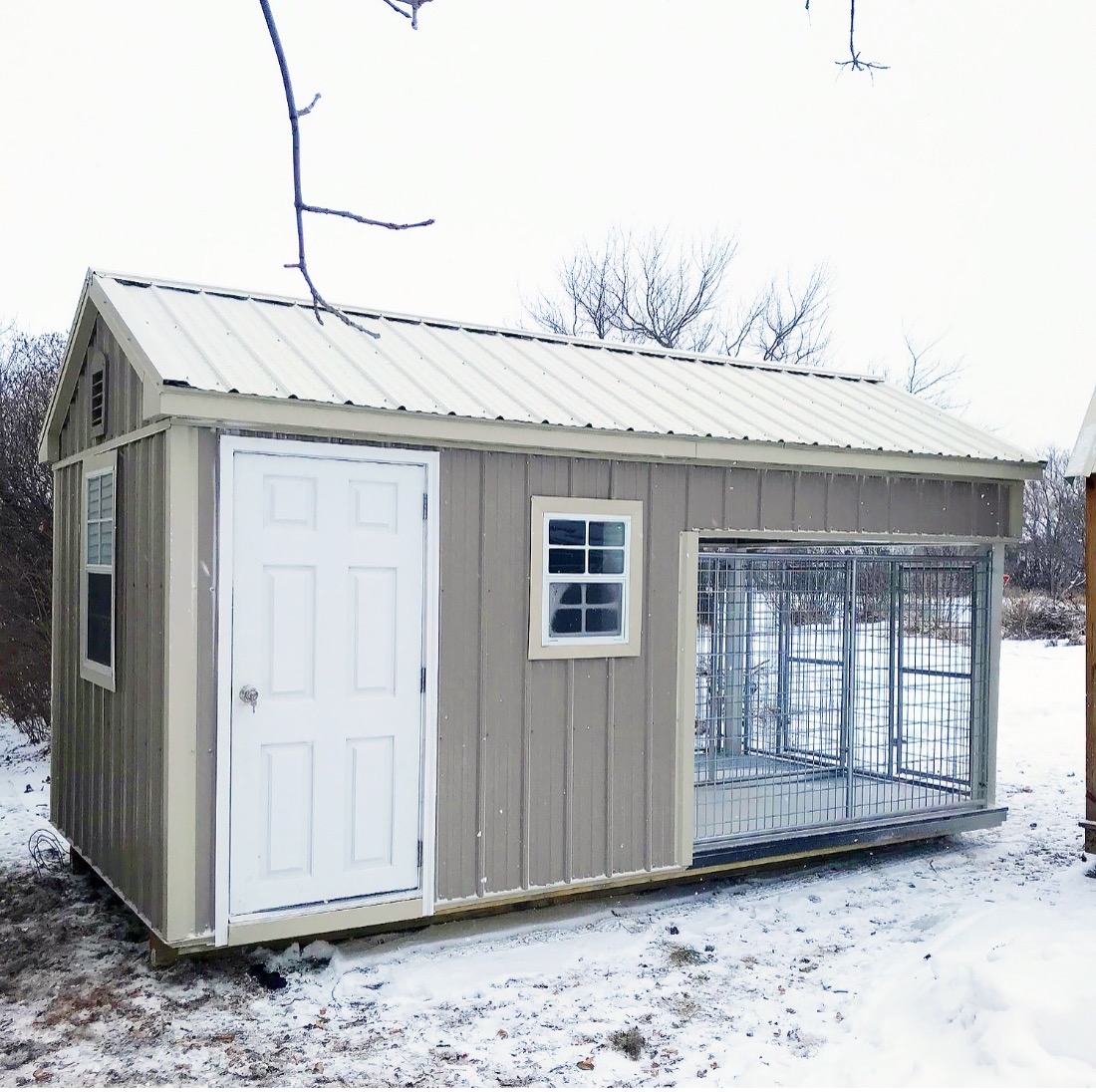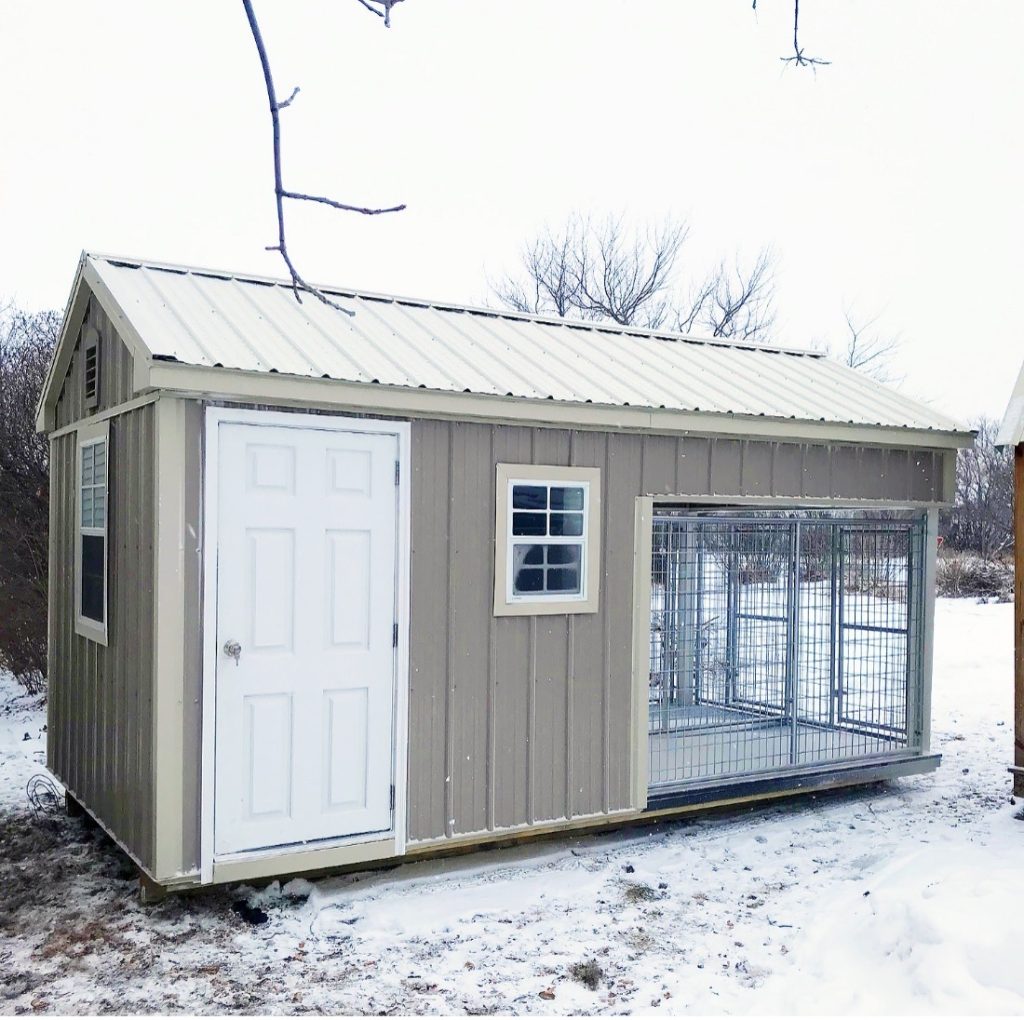 8×16 / 2-dog 'Traditional' kennel with metal siding and roofing upgrade