Wildlife management in and around the horse barn is easier to address than might be thought at first glance. Horse housing offers a safe haven for snakes and skunks, squirrels and mice, birds and bats, bees and bears, possums and porcupines, chipmunks, and woodchucks, plus rats, rabbits and raccoons and many other wildlife families. All are happy to share life at the barn with Equidae.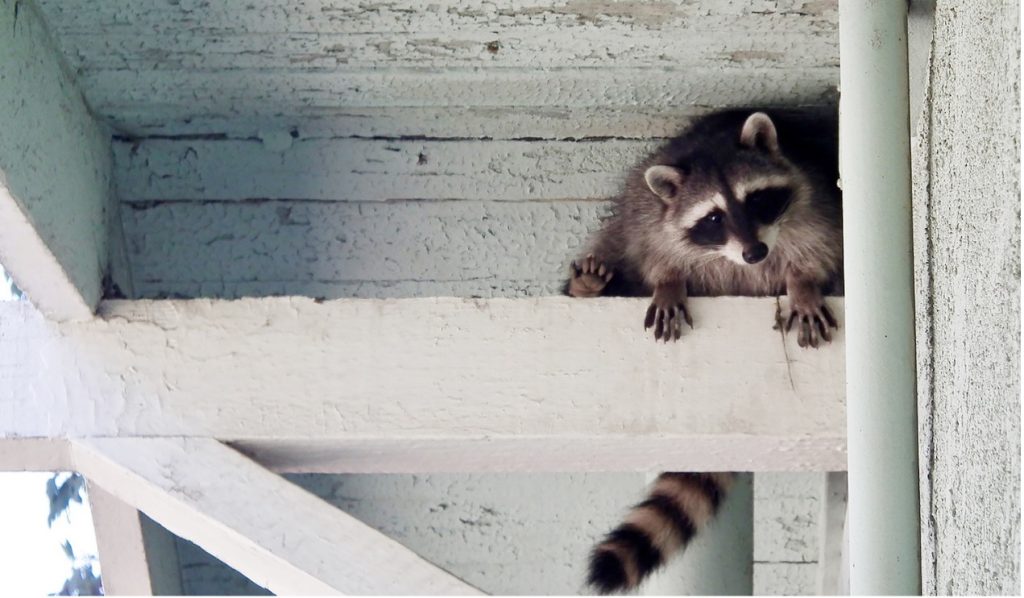 Horse barns offer wildlife shelter from adverse weather and predators, and often provide a handy source of food and water. Limit the attractions available and you can limit the amount of wildlife cohabiting with the horse.
It is prudent to keep horses and wildlife apart as the latter can transmit diseases such as Rabies, West Nile Disease and Potomac Horse Fever to equines.
Remember it is much easier to prevent wildlife from taking up residence in the barn in the first place, than having to remove its presence once it has set up house.
If in any doubt as to how to safely handle the removal of a species from the environment, always consult a pest control professional. Certain species are protected by law from eradication and require special needs for rehabilitating and re-homing.
Number 1 Attraction ~ Food
It comes as no big surprise that dropped grain from feed buckets, poorly stored grain supplies and stacks of soft 2nd cut hay offer fine dining delights to a myriad of critters.
Animals big and small can pose a hazard to horses not only through their ability to spread disease. Wildlife visitors can also wreak havoc chewing through wood and metal and digging channels under barn walls and stall floors. From black bears coming out of hibernation to rascally rabbits setting up house in the haystack, the best way to manage the wildlife is by to avoid provision of an available food source for their enjoyment.
In the case of hay storage it is always difficult to limit access to a haystack, especially if hay is stored in a loft space above the stables. If hay is stacked in a stall and the floor is either concrete or compacted stonedust with mats, keeping the stall door closed will help mitigate unwanted visitors. If possible, store your hay supplies a distance away from the horse barn.
To help deter discovery grain storage should be in heavy gauge metal or plastic with sealable (even lockable) lid or cover. Keeping the barn doors closed at night may be necessary to help defray the number of nighttime wildlife visitors. Especially during Spring when critters are looking for places to nest or catch up on their food needs after a long winter sleep.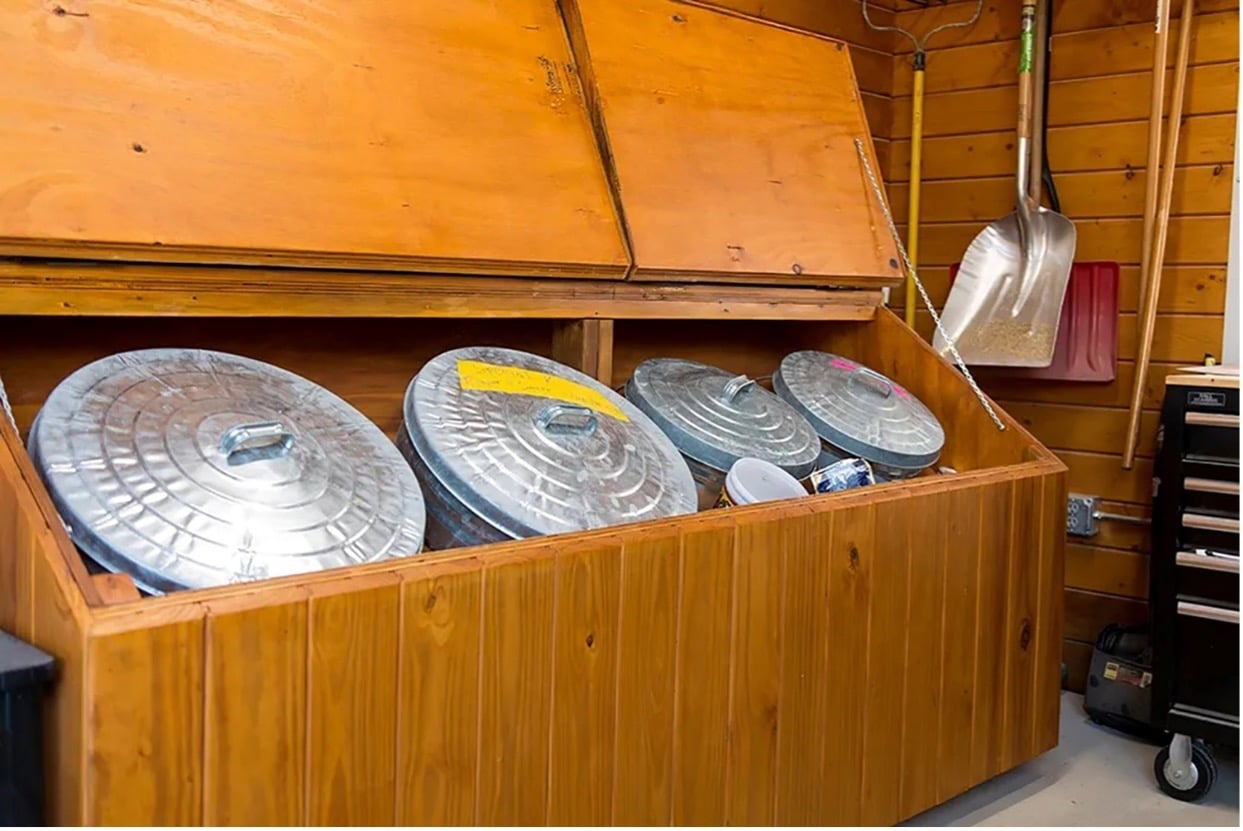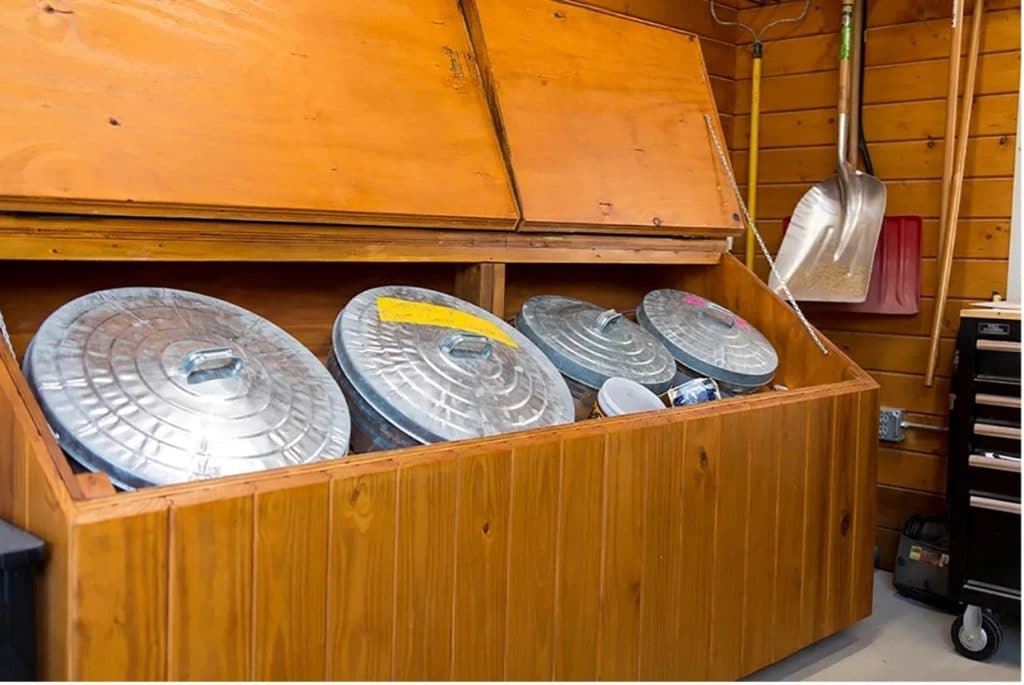 Photo Credit www.stablestyle.net
The food chain is a necessary component for all life. It is wise to remember that food sources are not just grain and hay in the horse barn. For example, a rodent infestation provides and attractive meal for snakes. You may start off with a minor mouse problem and end up with snakes nesting in the neighborhood.
Don't forget that garbage left in the barn also invites investigation and consumption by wildlife. Keep the barn free of open garbage containers and don't leave sugary soda cans/beverages and food leftovers in the barn.
Another food source around the barn is manure. Manure can not only provide a meal treat for wildlife in and around the barn, when piled up it can also be utilized as a living space. The warmth that emanates from within a manure pile make it a particularly attractive abode for snakes and other reptilian species in addition to amphibians.
Manure and compost piles can also attract the attention of mammals such as bears, rats, raccoons, skunks and opossums. It is wise to site manure and compost piles away from the barn for these reasons as well as the possibility a manure/compost pile may catch fire.
Manure spreaders are a good option for recycling this nutritional resource but take care not to spread manure on grazing pastures that are actively being utilized. Manure and pasture management are an important facet of horse keeping.
Number 2 ~ Water
The best way to encourage snakes to visit or mice to inadvertently fall into a water bucket is to set the bucket on the ground. Most barns will hang buckets on the wall at a height suitable for the resident Equus to drink, but this is not ideal for the purposes of deterring wildlife from sharing the water supply.
Birds can perch on the rim of the bucket to drink and if bird nests are built in the barn chicks may even fall into the buckets when learning to fly or if pushed out of the nest.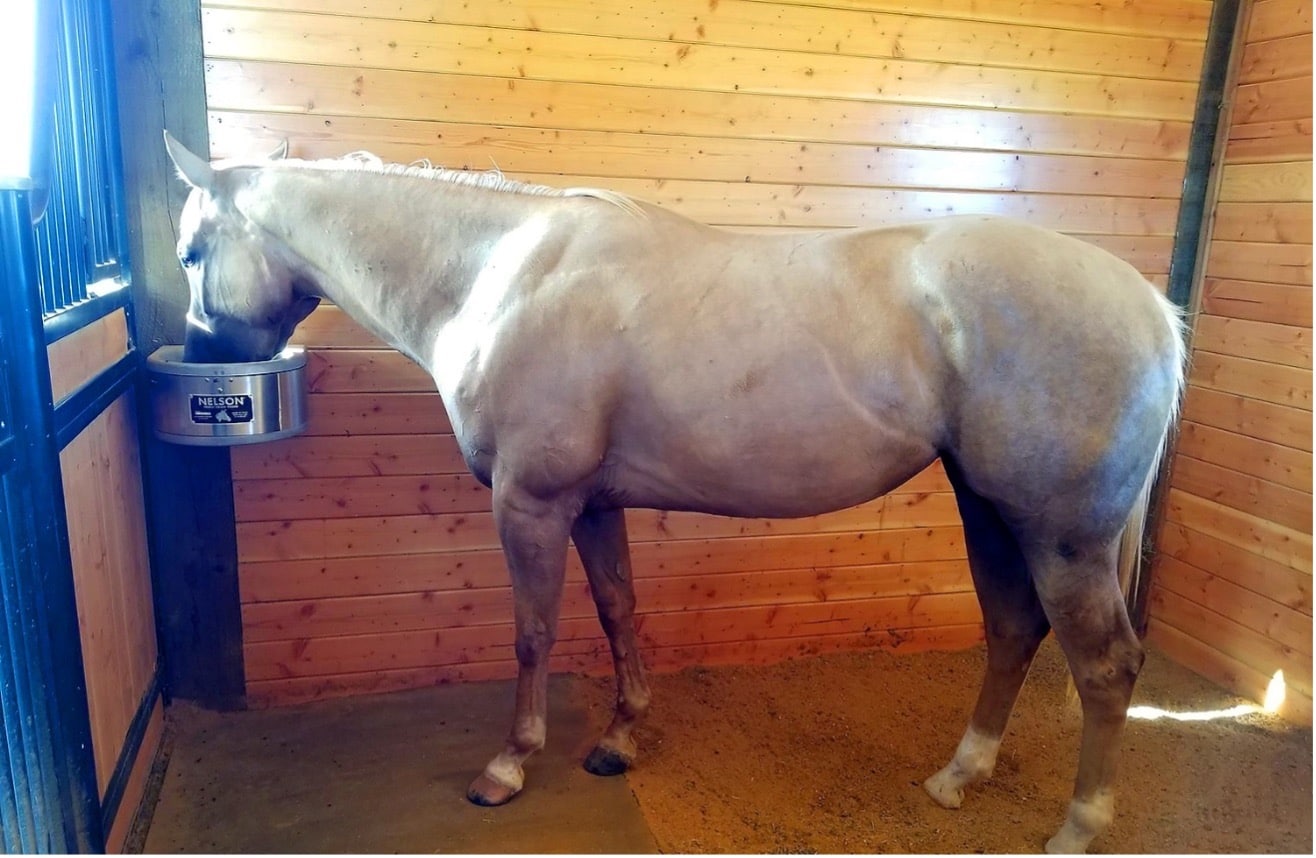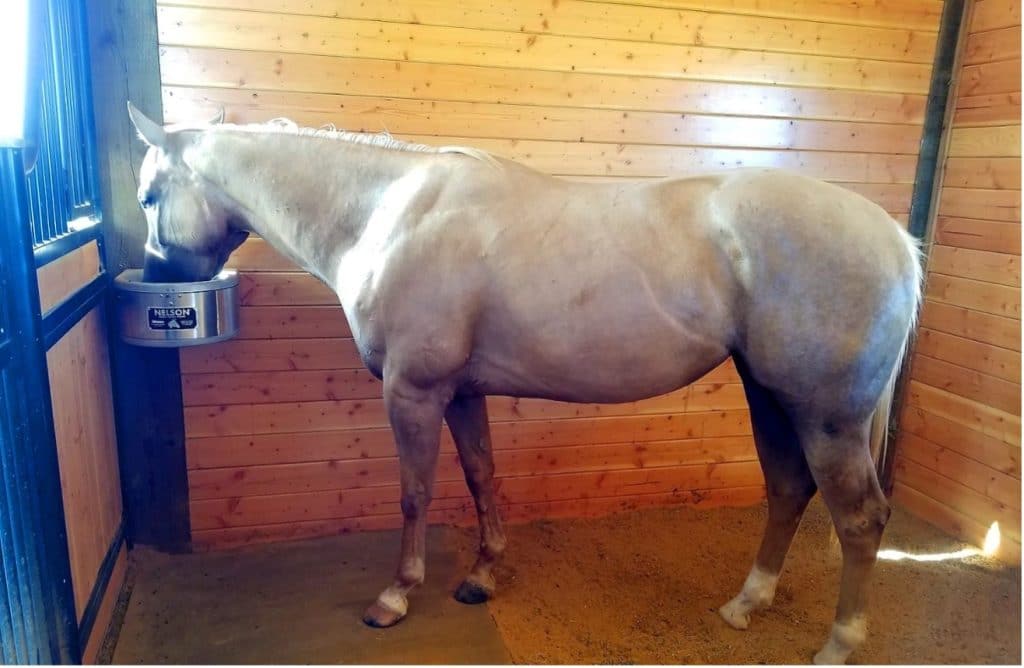 Photo Credit www.nelsonmfg.com
Automatic watering systems are the preferred way to water horses from the standpoint of prevention of other wildlife ingesting water from the same source.
Cleaning up puddles and spills can also eliminate a handy water supply for wildlife
Provide the Predator
Cats and dogs can be mousers and ratters and can effectively deter and catch a bounty of vermin and other wildlife in and around the barn including snakes. However, it is important to also consider that vermin can transmit diseases to cats and dogs.
Re-homing a cat from a rescue as a farm cat can be an efficient way to keep down the vermin and snake population. Dogs such as terriers and hounds can hunt down their fair share of wildlife fare too.
Be especially diligent about how you manage any other methods of wildlife deterrents if you have a resident 'predator' in the barn. Mouse/rat traps or mothballs (these are poisonous) placed in cubbies or small spaces around the barn in an attempt to manage wildlife should not be used around cats and dogs. These products can also pose a hazard to children.
Smart Horse Barn Design and Select Siting Can Help
Horse barn design smarts measure highly in the fight to mitigate the number of myriad migrant wildlife invaders that can spread disease and cause damage at an equine abode.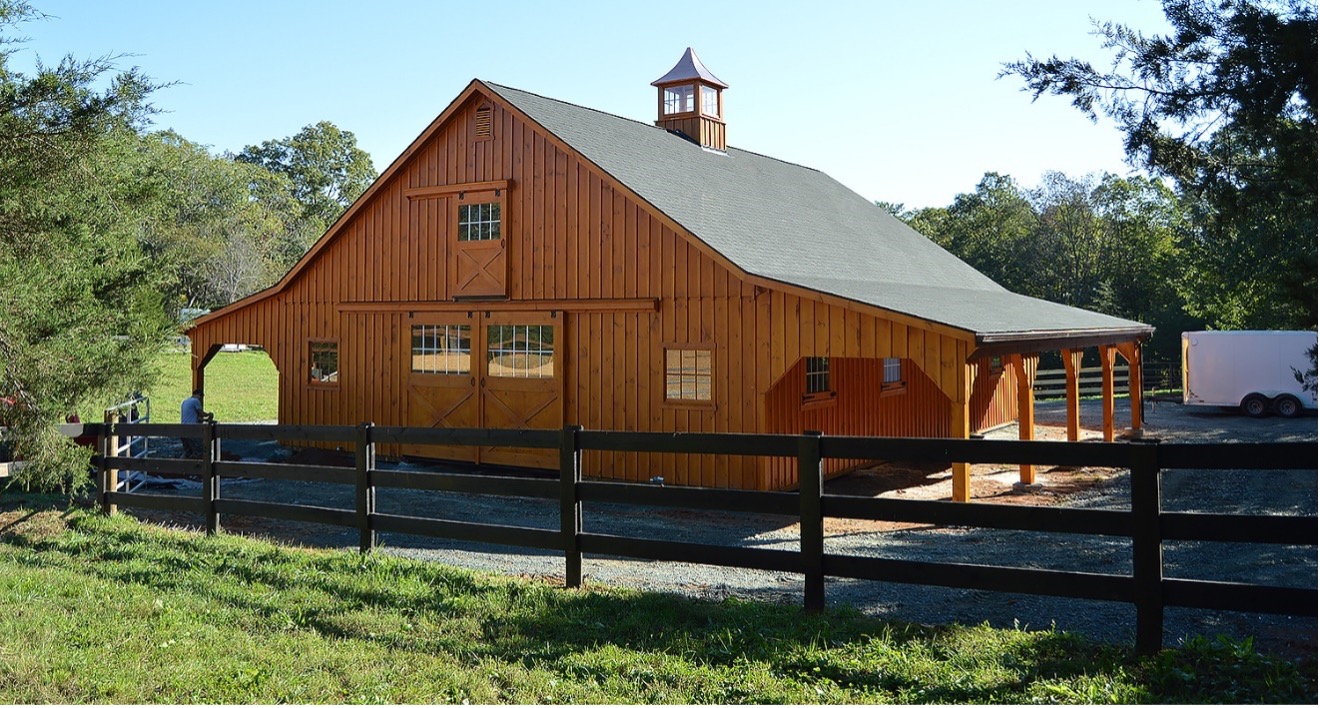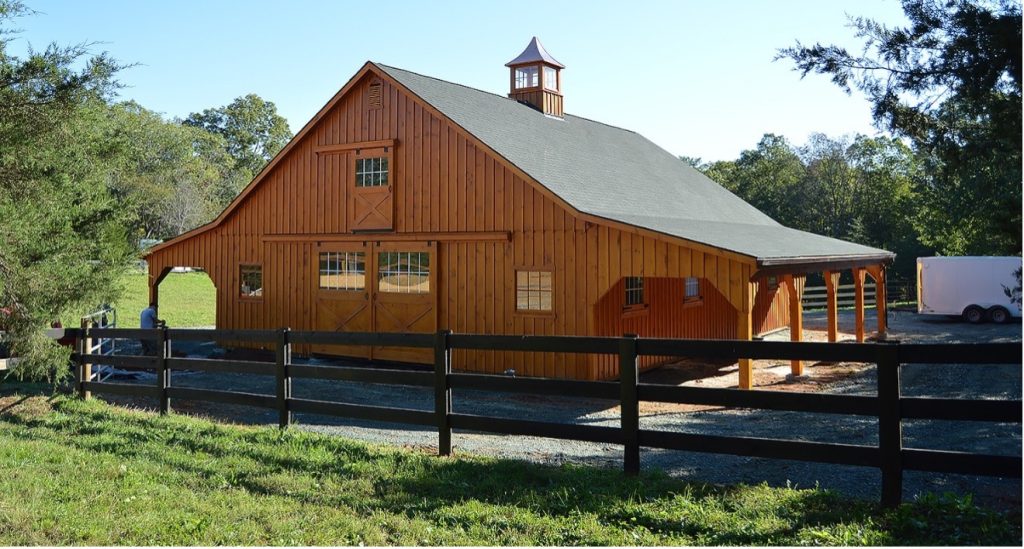 Here are some useful ideas to consider in your barn building plans (some of which can be added after the horse barn is erected if overlooked at time of construction) that will help deter wildlife:
Doors should be installed to the ground surface without gaps beneath. This will help deter possums, rabbits and rodents from entering the barn.
The barn site should be compacted both beneath and around the barn apron area with effective covered drainage methods installed to mitigate standing water and provide a hard surface that will deter digging critters such as woodchucks.
Site the barn away from standing water such as ponds that will provide a natural attraction to wildlife.
Flashing or netting around the perimeter of the structure that is buried to 1" below the ground surface can negate animal intruders under the building.
Site the barn away from foliage such as tree cover and bushes that will harbor wildlife and/or provide an entry way to roofs and soffits. Flying squirrels, chipmunks and raccoons like nothing better than jumping off a bough to a roof.
Wire mesh or net all soffits, gable vents, roof ridge vents to help defray birds and bats from gaining access to the barn.
Screen all windows and doors to protect the interior of the building from flying insects. Mosquitoes, pesky flies, biting bugs and stinging insects like bees, wasps and hornets can easily be kept at bay with the inexpensive provision of screens.
Deter nesting by birds by eliminating any high flat surface. For example, the top surface of a 6"x 6"post is the perfect setting for a swallow nest. The simple addition of a piece of tent shaped or angled wood secured to the top of the post can provide a permanent solution to deter birdlife from nesting.


Be Vigilant 
Don't doze on the job when it comes to tracking and managing wildlife activity in your horse barn. It is much easier to manage wildlife invaders if you take action the minute you see evidence of intrusion.
Be sure to research non-poisonous options for wildlife management. There are many wildlife management options available and some work better than others. A bevy of online suggestions are available with novel ideas. Some examples include spreading sulphur around the perimeter of a barn to deter snakes and placement of dried potato flakes in piles to attract mice to ingest the dry product that may then die when they cannot locate water.
There are many 'villainous' methods of wildlife control. Remember that poisoned critters that go off to die in a barn wall or under a stall or tack room floor can pose a health hazard to horse, human and even to other animals that may ingest them. At best their decay can provide awful aromas for long periods of time.
Good barn management practices such as keeping the barn clean and tidy by sweeping or vacuuming aisles and feed rooms, prompt pick up of spillage of food and water sources and regular emptying of garbage containers can all help keep wildlife away.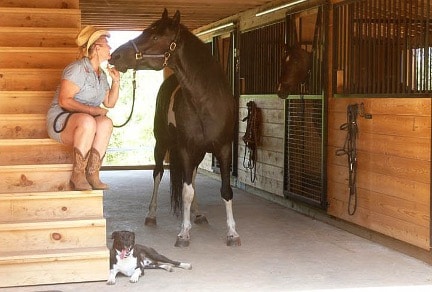 Wildlife presence in the horse barn can be effectively managed in a myriad of ways. Don't be shy to reach out for professional help from your local Dept. Of Agriculture Extension personnel or pest control service.