Sourcing good quality hay is a hay quandary that has many horse owners pulling their hair out. Once a good hay source is located it is held as a closely guarded secret to be shared only among a limited necessary few, in order that the supply may be protected for their present or future needs.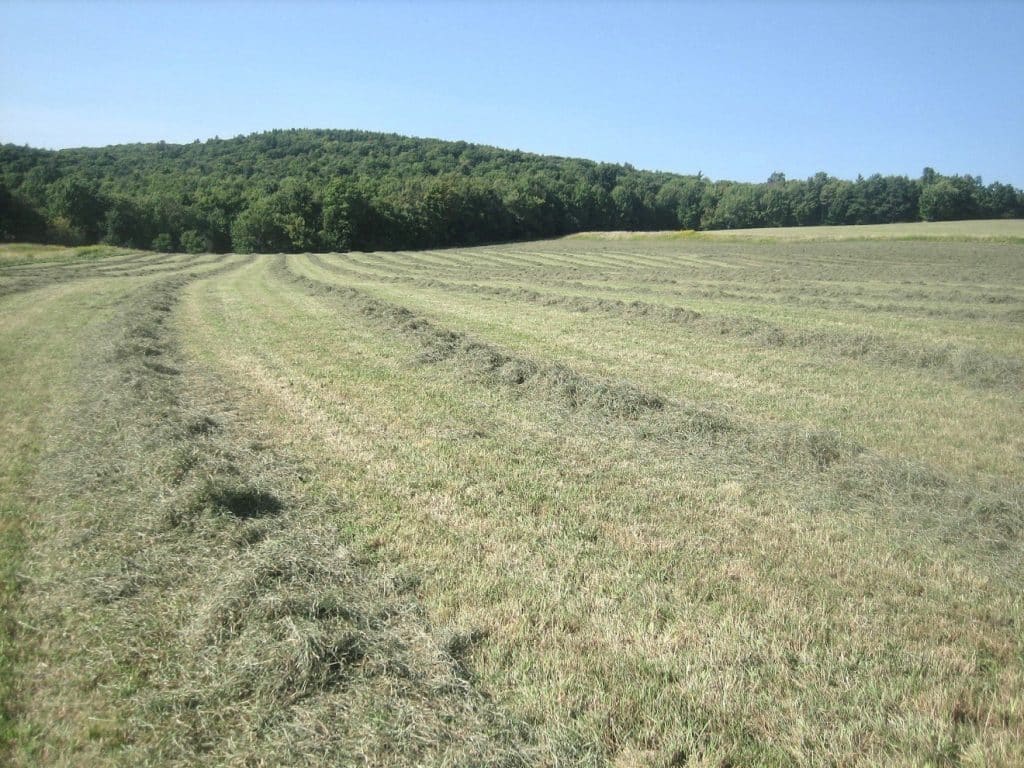 As a seasoned organic horse hay producer, my personal experiences run the gamut from dealing with huge hay purchasers that don't produce hay themselves, but act as middlemen to supply the market, to small backyard horse keepers who simply want a few hundred bales to last a NE winter. They all have one thing in common, worries about supply of good quality hay.
The recent dry weather across many regions of the U.S.A. and Canada has added significant weight to the concern. Even in our wet mountain microclimate in the Catskill Mountains of New York, this summer has been the first time in 24 years of hay production that 2nd cut looks non-existent due to scorched fields.
What is a horse owner to do? Here are a few tips to help manage the hay supply.
Management of Scorched Hay Fields
Many horse owners are used to bringing in their own hay or having their properties custom farmed and taking in payment some of the cut. When the fields are dry, the correct management of the hay fields is critical to protect next year's yield.
Resist the urge to mow or cut hayfields that are showing weakness in plant growth and lack of yield unless the crop is alfalfa and is evidently dying off to such a degree that it will not recover. On grass hayfields even a minimal amount of leaf cover or stubble can still help protect the soil and root structure and nutrients of the grasses and legumes. After it has hopefully rained, the hay growth may improve slightly but likely still not enough to facilitate taking a worthwhile amount of crop for the cost of machine time in labor and fuel.
If weeds are gaining control in the hayfields due to drought, taking a high cut mow before the weeds go to seed can help mitigate their ability to take hold.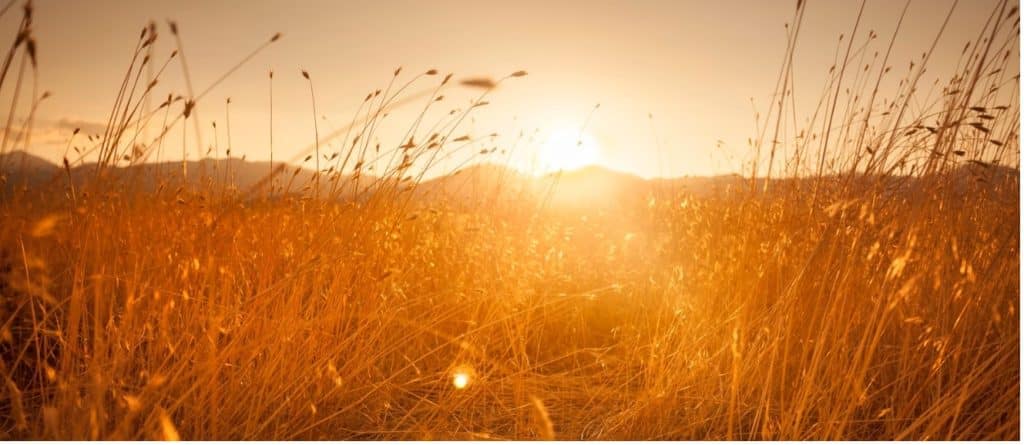 Instead take actions now to plan and protect the hay fields from winter damage from heaving, by leaving some crop on the field. Have the soil tested in Fall for nutrient levels and fertilize as needed. Lime, phosphorus, and other fertilizers applied now can help the plantings and seedlings weather the forthcoming winter season variances and encourage a better yield next year.
Take steps to secure an alternate hay supply for the season. Consider the following alternatives to regular dry hay bales.
Hay Extenders, Stretchers and Forage Replacers
Wondrously there is no definition or commonality to the above terms for hay/forage products on the market. This can lead to much confusion and errors in how such products are used. It is essential that consumers – well OK not the horse but the horse owner, read the label.
Be aware that some products are not made from chewing satisfaction long hay stems at all, they are made entirely of complete feed with a heavy bias toward including beet pulp. Some products may include actual hay to replace 50% of a horse's hay diet and require grain be additionally fed, some 75% etc.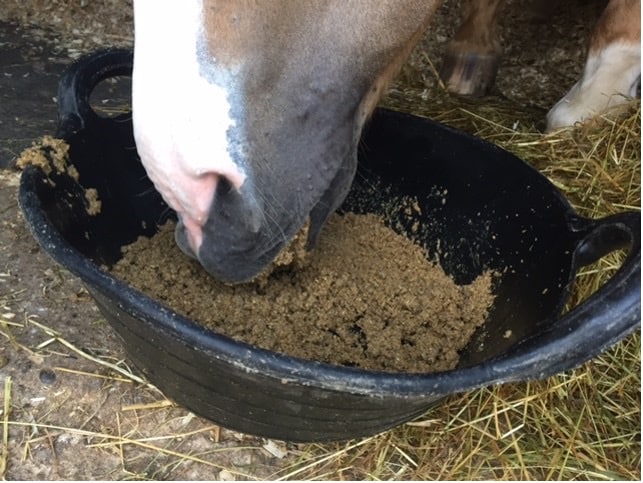 Image Source:  https://www.spillers-feeds.com
Consult with your vet before making major changes to your horse's diet by making a switch to such products and as always, make any changes slowly.
Stretching the Hay Supply and The Dollar
Clearly less hay availability means higher prices will need to be paid for any hay sourced. This extra cost can be mitigated by the use of an equine hay feeder when hay is fed outside. Savings can be as high as 30%.
How you store the hay and the quality of hay you buy can also help minimize wastage of good hay.
If you own an older horse or an equine that requires alfalfa hay but needs it chopped into chewable size pieces, you can save money by buying a woodchipper/shredder machine from your local hardware or big box store and chopping it yourself. By buying alfalfa in a bale versus a bag already chopped, you will save money. Simple drop the flakes of hay into the machine and out it comes finely chopped.
Many horse owners opt to have their hay supply delivered and stacked. This necessarily saves work but also incurs an additional cost.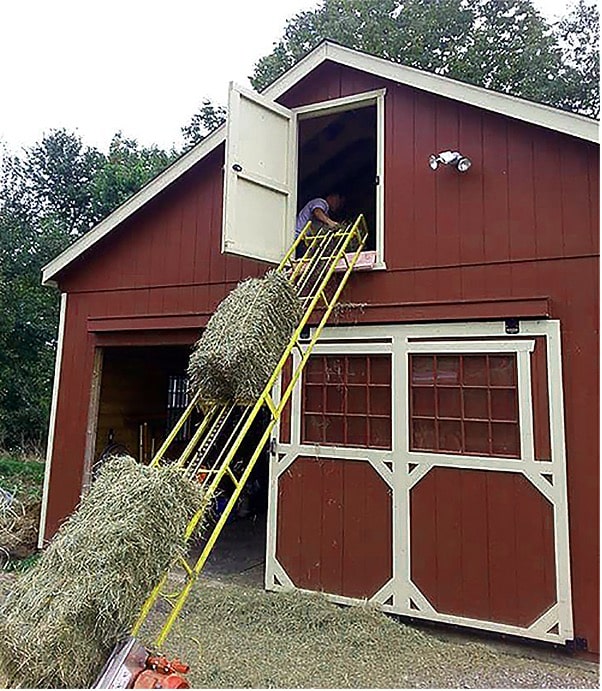 Picking up your own hay direct from the producer can save you money on transport and labor and knock out the middleman making money or dealing hay. It also enables you to buy a more consistent hay product, and you will know firsthand the provenance of your hay. As many horse owners also own horse trailers, the transport of hay in the horse trailer is a good option. The closed trailer is actually a better transport option than an open trailer, where loads need to be tied down which takes extra time and effort and subjects the load to spray from wet roads or rain.
If you do not possess a horse trailer, renting a box van or contracting a moving company can also work to solve the transport issue. And you won't need that gym membership! Moving hay keeps you fit.
Lesser quality hay may be purchased and then possibly improved by removing mold and dust using a hay steamer. Take care not to leave the unit plugged in without the necessary supply of water or an electrical fire may result. Soaking hay is an arduous process to do by hand and results in messy stall beds with wet shavings unless some form of containment is used at feeding time. Investment in a hay steamer can resolve this issue.
Take Home Message
Given the climate considerations and number of U.S. farms going out of business it is unlikely that the hay supply issue will ease as time progresses. Limiting the number of horses you own is a drastic way to reduce the use of hay and the hay budget each year. But it is something many horse owners will likely face unless they make compromises either in hay quality, amount fed, or have a healthy large budget and can afford to pay the increasing costs.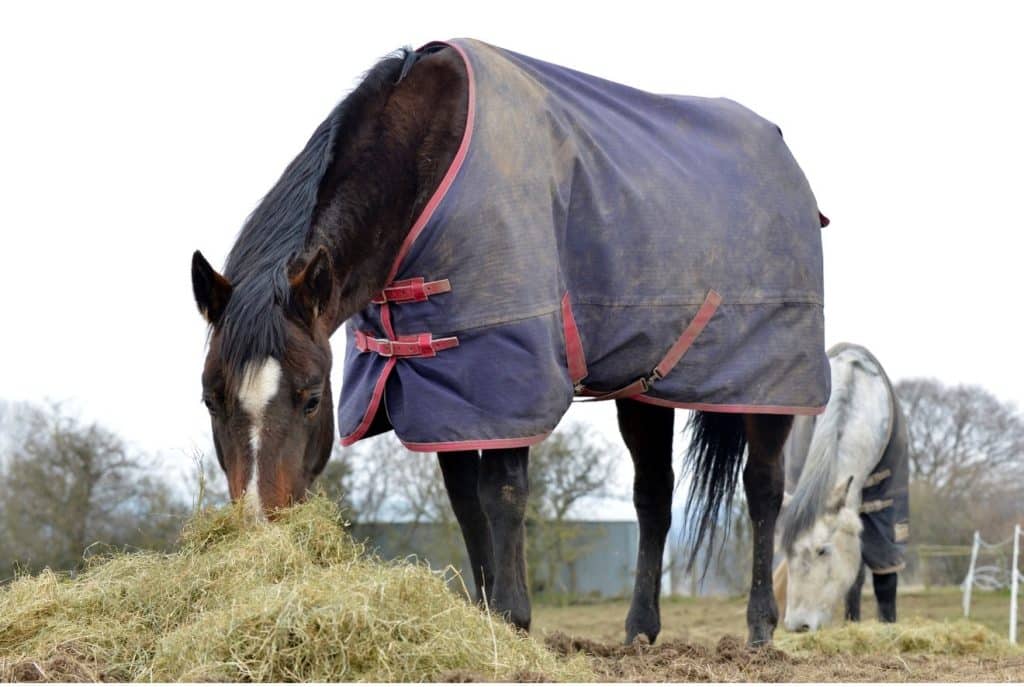 Boarding barns are already in crisis as to what to do, and some are posting on their social platforms that they will not be feeding hay in the fields to horses on daily turnout throughout the winter months.
Consider planting drought resistant hay grasses if you have the property, the budget for equipment and skill set to use it and could make your own good quality hay. It may help improve yield in future dry years.
Other methods that are being utilized to deal with the water shortage issue is construction of reservoir systems for water storage.
We're all in this together. As a hay producer I can tell you that myself and my farming colleagues are doing what we can to best manage our resources and keep the grass growing.