From firehouses to State Parks, corporate lunch spaces to community gardens, outdoor living structures that offer some form of protection from adverse wet weather, shelter from the hot sun and possibly storage for supplies, is always a welcome addition.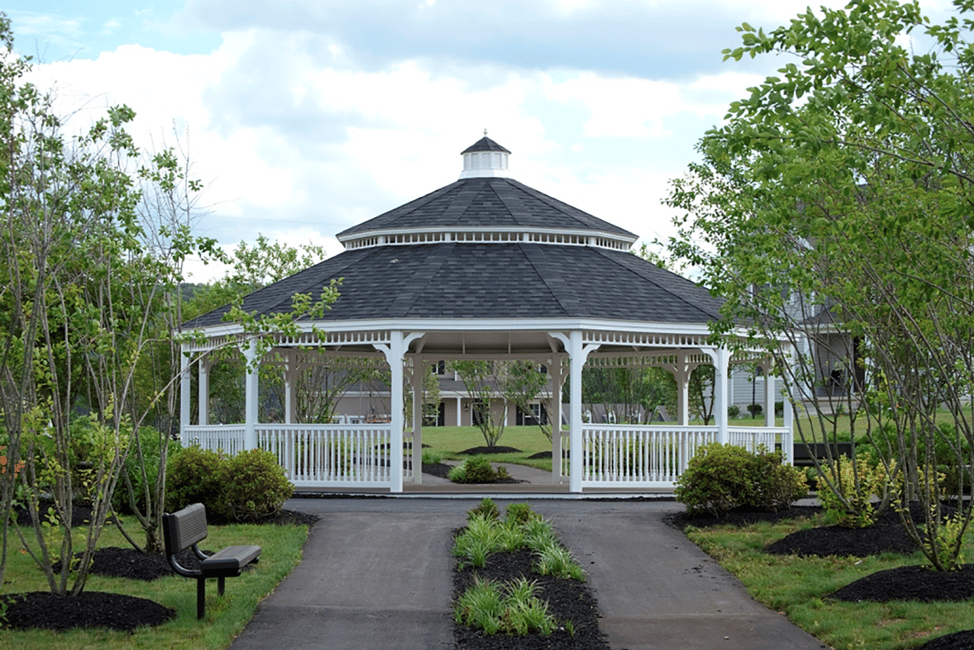 Deciding between the flexible pavilion that accommodates multi-size gatherings; the elegance of a commercial pergola to define an area of natural beauty and perhaps provide a park bench inside on which passers-by can sit and reflect, or showcasing events on an open commercial gazebo bandstand can improve the enjoyment of a community event and offer sincere benefits to the participants.
One thing is certain. A fixed outdoor living structure offers a permanent advantage over tents with their peg and line tripping issues, concrete lot damage with peg installation, and their 'Wizard of Oz' moments. All of which add up to a high-risk assessment with tent use for lawsuits being issued against the town or organization, from people becoming accidentally hurt while attending an event.
Here are a few tips to consider as you embark on embracing the outdoor living structure lifestyle for your project:
Costing and Capabilities
It is inevitable that the question of funding the outdoor living structure will come into play. The least expensive option is not always the best choice, so carefully consider the actual planned use of the space and identify future possible needs when it comes to sizing and siting.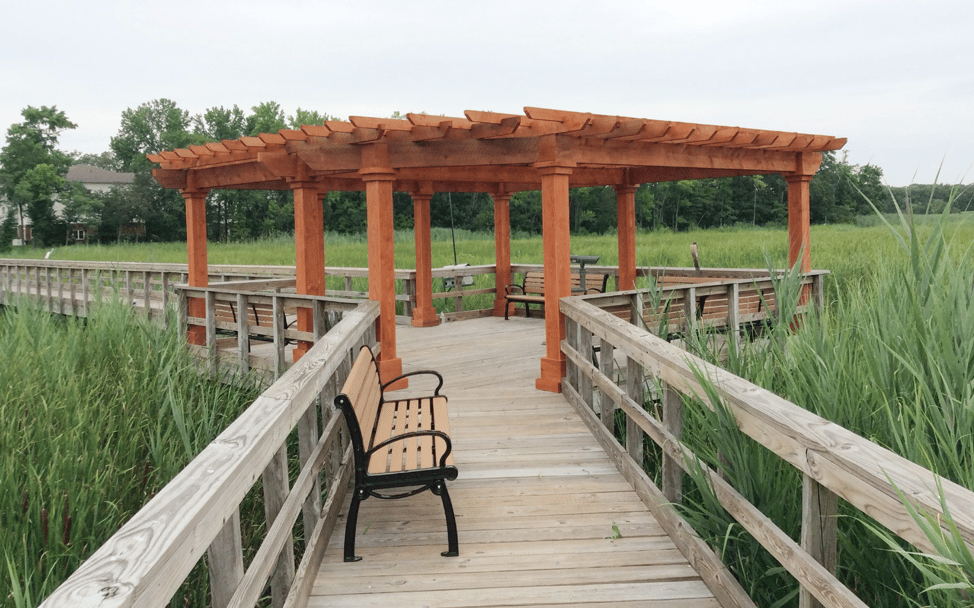 For example, a pergola may be less expensive than a pavilion, but its use will be limited during poor weather. A summer shower can ruin an event, and if the structure is being used for winter holiday events (they make a beautiful gathering spot at vineyards and orchards for Fall harvest events and ski resort mixers on the slopes), it needs to have a roof.
Kitchen appliances and food/buffet dining set ups with hot plates, musicians' equipment such as amplifiers and instruments, may require electrical service. Keeping these items safe and dry is essential. Thus, in these cases, a pavilion is a better choice than a commercial pergola.
On the other hand, a large gazebo can provide a 'step up' from the topography of a flat lawn or garden area, and highlight the event being held. Whether music is played, and singers perform, or speeches are being given, the sound will carry further afield and the audience will all have the opportunity to witness the participants in action.
The site that is chosen for placement of the structure should also be carefully considered.
A gravel path or garden surround can set off the structure adding aesthetic appeal and make access easy and mud free. But if the structure is placed near a pond or water source, there is a risk of flooding and wet ground causing even the most compacted gravel or stone base to move or subside.
Consider if vehicular access will be needed for placement of heavy items such as cookers or multiple items such as chairs and tables will need to be set up in the area and ensure that the structure is not placed in an area where it can be damaged by falling boughs from trees or excessive high winds.
Commercial or Residential… Start Your Outdoor Living Project HERE
Security Concerns and Storage Options
Lighting, fencing and security monitoring via a WIFI device or CC set up may be needed to ensure the structure remains unhindered during periods of inactivity. This is especially important if there are plans to house any supplies within the structure.
Securing a pavilion with overhead doors or curtains is a good way to protect the interior space from snow and bad weather, debris such as dead leaves and offers the ability to lock up the space to safely contain supplies such as tables and chairs and minimize the risk of vandalism or theft.
Corner members of structures can be protected from accidental damage from errant parking incidents with bollards or containers of flowers or shrubs.
 Pave It
Necessarily outdoor living structures used in a community setting will enjoy a lot of foot traffic during their use. Get ahead of the worn grass paths, muddy slip slide and possibility of lawsuits over people tripping or falling over with the installation of pavers or concrete.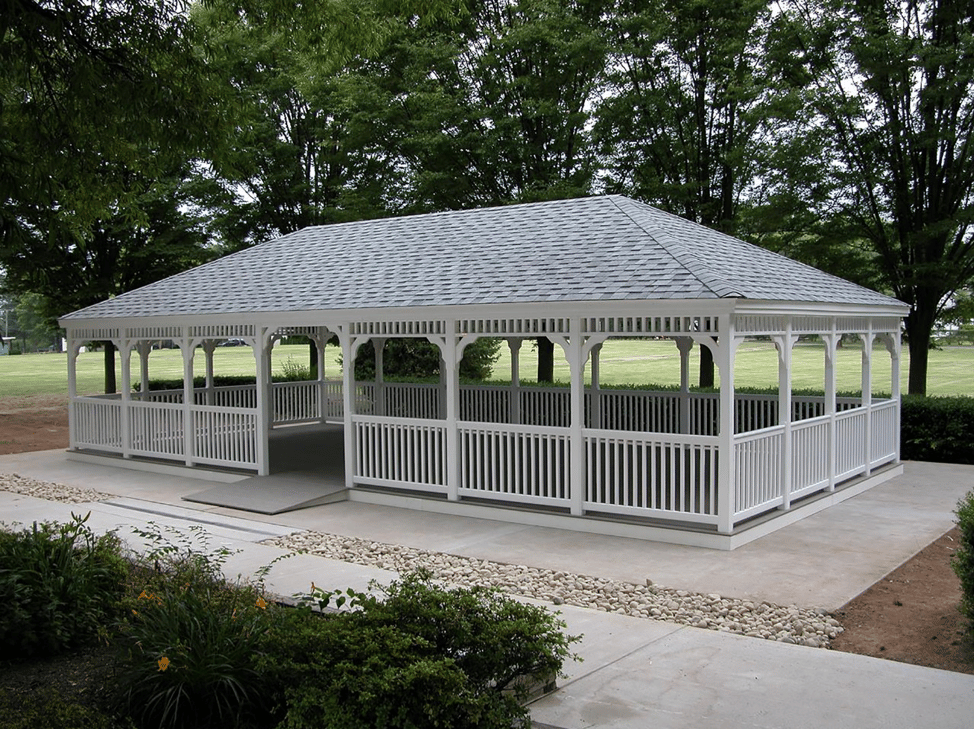 Rubber pavers offer a good solution to sound mitigation, and stone or concrete (the latter can be laid with a special machine to both color the concrete and given an effect of paving if preferred to actual stone laying), are all good options.
Cover an apron area around the structure in addition to the undercover space for pergolas and pavilions and for gazebos similarly offer multiple paths and access from different directions to maximize freedom of movement around the structure during crowded events. This will help improve safety for the audience and for the performers and improve event management as it allows the 'players' orchestrating the provisions and attendees to come and go freely.
Pathways should be wide enough to allow passing of patrons and not be a single file option. Visitors may be pushing strollers or using wheelchairs, so consideration for disabilities and family use should be incorporated in the design. There is a litany of regulations in this regard, both Federal and State, so do your due diligence if the structure is in the public domain or to be utilized for public access.
Whatever ground surface cover you install make sure it will handle the application of salt or de-icing products if needed during winter and stay weed and maintenance free during summer. Bear in mind gravel paths do not handle snow blowing equipment or plowing well and paved surfaces cannot handle heavy equipment without cracking unless installed to premium cost specifications.
Making the right decision on materials and their application and specifications will help keep your labor costs down for many years, although an occasional reseal may be needed over time.
Roof Designs
The structure's roof design and material will affect not just its ability to withstand high winds and snow loads, but also how rain, ice and snow are shed off the roof.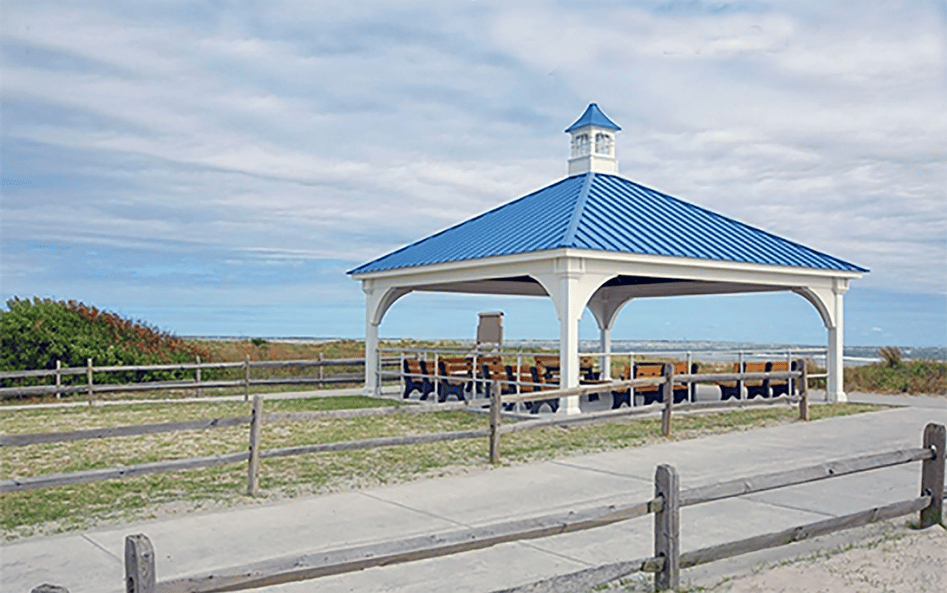 Guttering may be needed for a pavilion structure to mitigate dripping rain from the roofline, and the use of shingle versus metal roof products should be considered if icing and snow load is likely to be a problem.
Snow guards or ice guards should not be necessary as the interior/exterior temperature of the space covered by the outdoor living structure is similar but depending on use and location roof materials and design should be evaluated.
Light It Up
One of the great advantages of an outdoor living structure is it lends itself to installation of lights to add ambience and a practical aspect to use of the space from dusk into night.
The structure's frame members can be hung with lights to achieve a romantic or party atmosphere and corner posts make perfect pillars for heavier lighting fixtures.
By making temporary lighting easy to accomplish with provision of fixed hooks, the hanging lights can be quickly removed and safely stored after events and plug-in speakers and lights can similarly be handled, while security cameras and lighting can remain year-round. The latter should be fastened at a height that makes them difficult to reach from the back of a pickup bed or without the use of a ladder.
Funding Ideas
Grants both private and public, funding from corporate entities or private individuals are all great means to fund the outdoor structure project. Larger manufacturers and providers of outdoor living structures often offer financing options, so don't be shy to ask for help.
GSA compliant companies may be able to offer special discounts and terms.
Social media funding rounds on community platforms are also a great resource to explore if the community kitty needs replenishment to afford the purchase.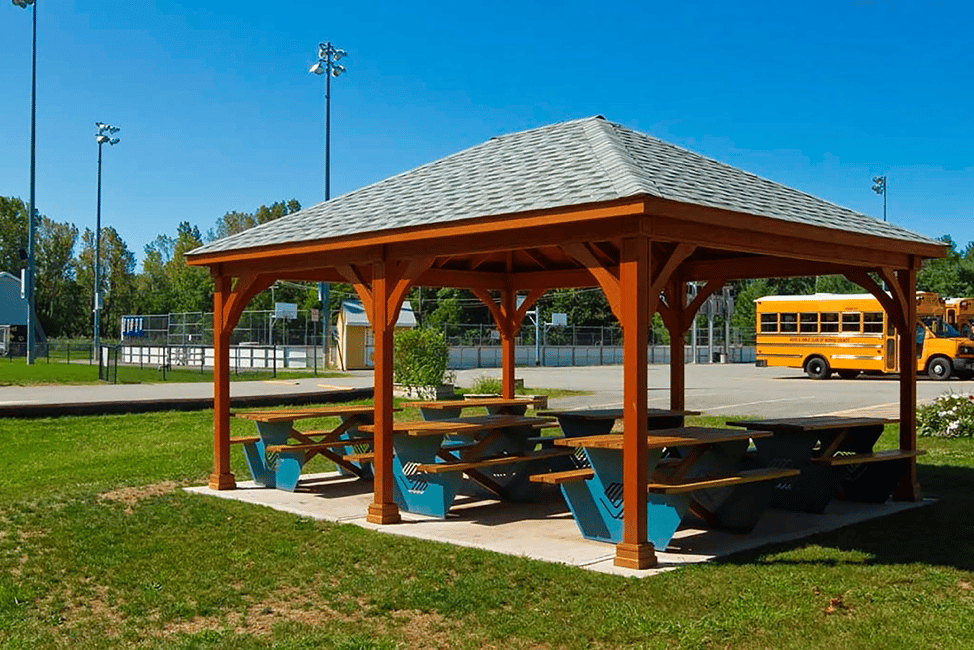 Cover an apron area around the structure in addition to the undercover space for pergolas and pavilions and for commercial gazebos similarly offer multiple paths and access from different directions to maximize freedom of movement around the structure during crowded events.