There are expenses over and above the barn to consider when you purchase horse housing. The key to staying on budget is to be aware of all the components and put together an accurate list that identifies the real costs of construction of your new horse barn.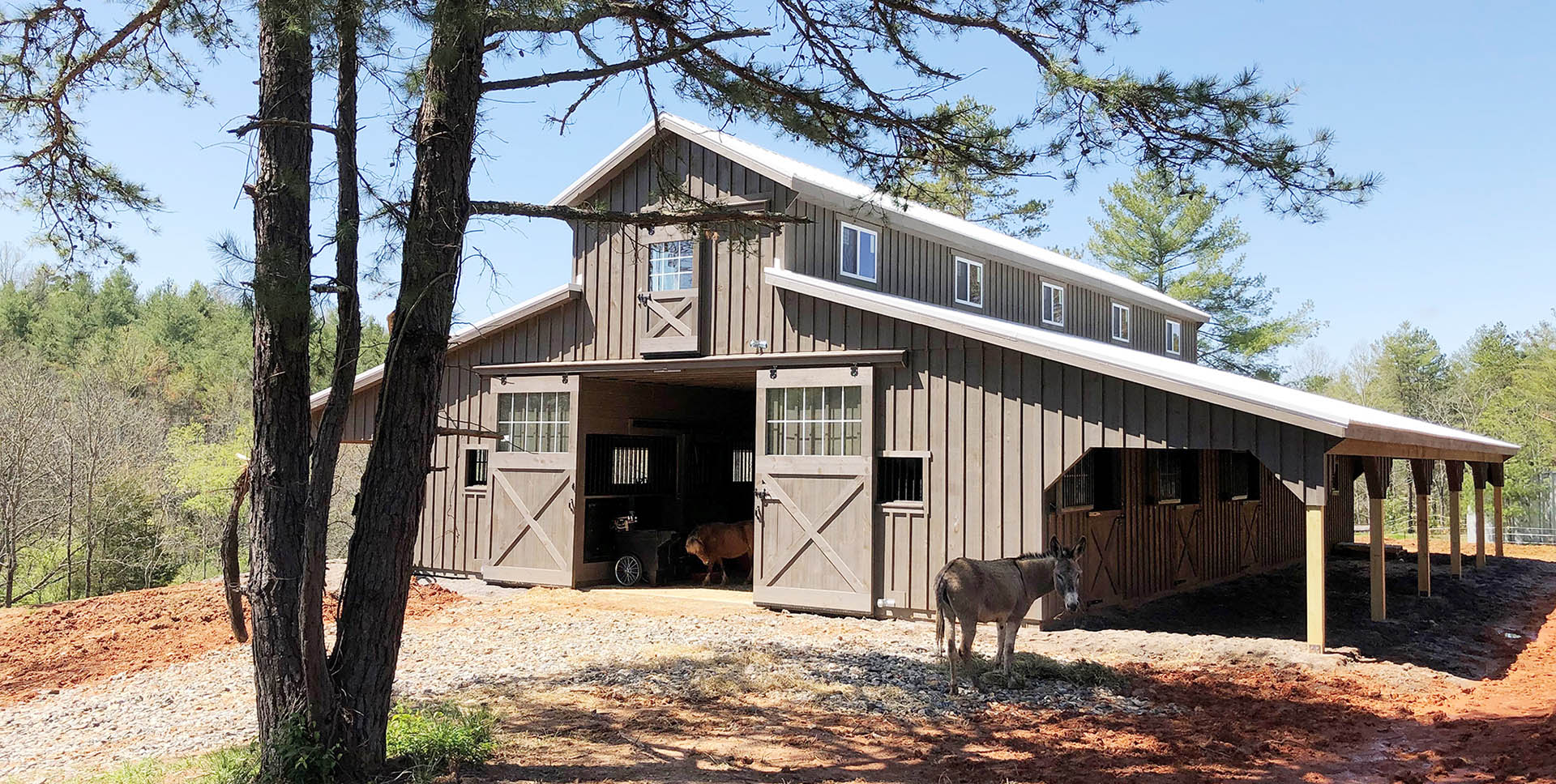 Start your barn purchasing process with a 'to-the-penny' quote for the actual structure itself. Include itemized prices for all options and upgrades, a defined timeline for delivery and set up, contract terms and conditions and warranties. Gathering all this data is an important first step in the process of building a barn on a budget.
Whether you are shopping for a run-in shed, shed row barn or a larger, modular structure such as a center-aisle or timber frame barn, working with an experienced and reliable builder ensures your project stays within budget.
Other components to include in the overall project cost are site preparation, utilities (water and electric), fencing, site access (driveway, parking area) and storage for equipment, feed/hay and bedding supplies.
Denise Chesnet, Project Manager at Horizon Structures offers insights to help you along:
Site Preparation
This can vary widely depending on the size and scope of the building and the levelness and accessibility of the site you have chosen. You can read a humorous blog on what to avoid when deciding on the site for your barn here!
In general terms, the less level the site, the more the 'dirt work' i.e. excavation will be required and the greater the cost. Keep in mind, what appears level to the untrained eye, can be actually be quite off-kilter upon closer examination by an experienced excavator.
The cheapest site preparation option for smaller structures such as shed rows and run-in sheds (less than 48' long) is to install a basic stone dust pad. Modern bulldozers have laser sights which can easily ensure leveling to within an inch across the entire site. Pretty impressive!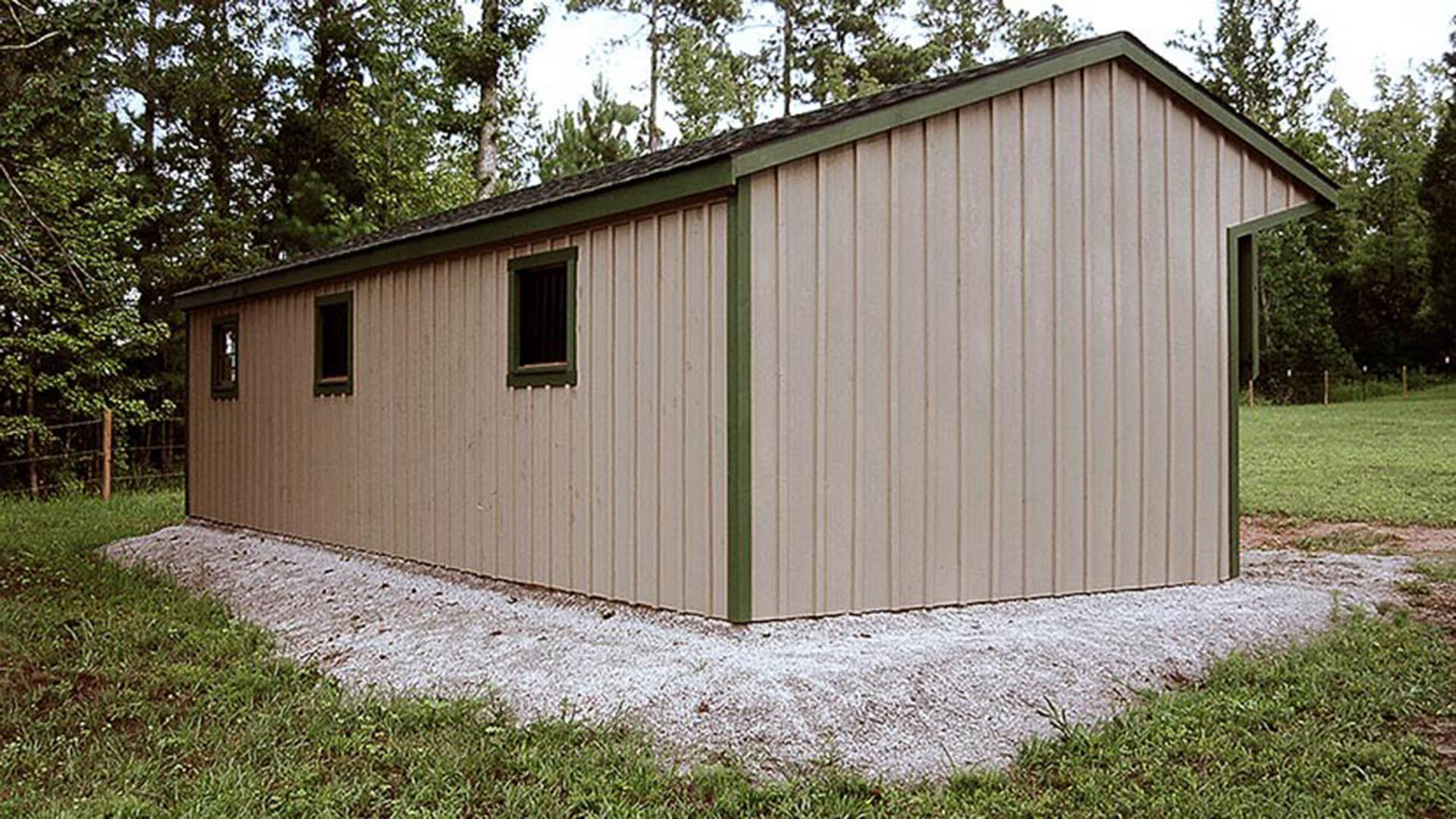 Insider Tip: Make sure that the stone dust is firmly compacted to stop frost heave and uneven settling.
"For modular barns and/or buildings including an overhang, Sonotubes® or similar concrete columns (or piers) are HIGHLY recommended to mitigate the chance of the barn settling unevenly and causing issues down the road such as stuck/inoperable windows and doors," advises Denise.
"It is absolutely critical to install concrete piers on which to rest the support columns for any overhang. We will not warranty the structure without our recommended support system. A full concrete pad is also an option (for any structure) but will cost more."
The site for a modular barn also needs to be level and well prepared to prevent uneven settling of the structure over time. The more complex the design of the structure the more the site cost may escalate.
"I like to describe modular barn site prep as having 3 levels or options. The first level is pretty basic. A full concrete pad being the 'premium' level. Concrete inside the barn can also be a work in progress as the aisle and service rooms or wash stall can be poured later," says Denise.
Consider these options for a modular/center aisle horse barn:
Basic: Foundation piers/concrete columns as mentioned above with a firmly compacted stone dust base. The site is prepared before the building is placed. Then areas such as the center aisle and stalls are backfilled – either by hand or using a small machine – with additional stone dust. Stall mats may be laid over the top of this firm base. The structure has no wood floors (pre)installed in either the stalls or feed/tack room.
Mid-Level: Instead of backfilling additional stone dust in high traffic areas after the placement of the structure, concrete can be poured (after the building is set in place) to provide a sturdy base. Drainage should be integrated at this time for each stall – especially wash stalls.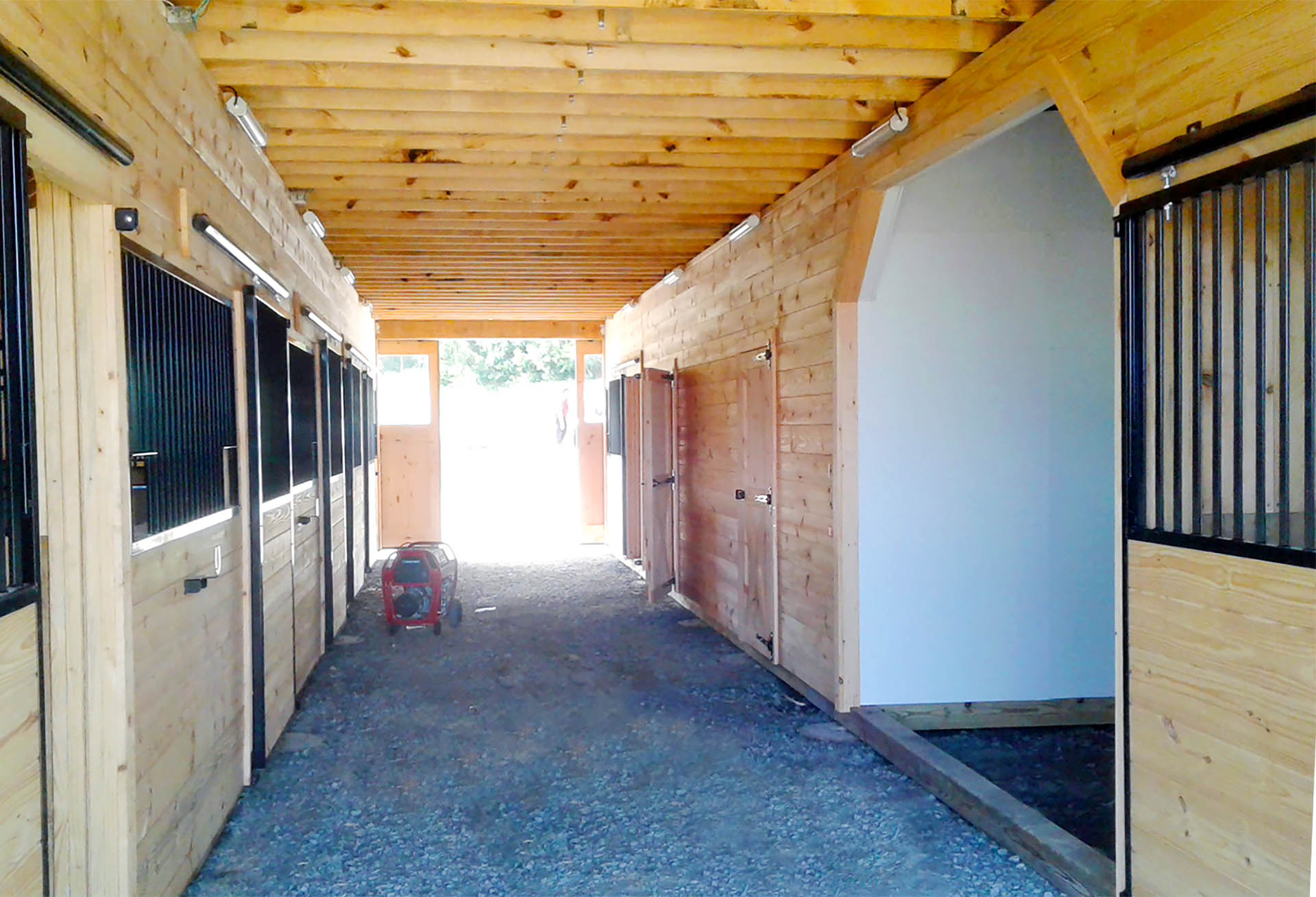 Be sure to let your modular barn builder know in advance if you plan to add concrete to the structure after delivery so designated areas can be left open / without a wood floor. Pouring the concrete at a later date minimizes the initial upfront expense and can be done over a period of time as finances allow.
Premium: Pour a full concrete pad before the barn is built. This is obviously the most expensive option. Collaboration with the modular building company to ensure exact placement of support columns, sub-ins for electrical and plumbing needs and pipeline placement is essential. Modular companies will supply you and/or your contractor with full plans and details.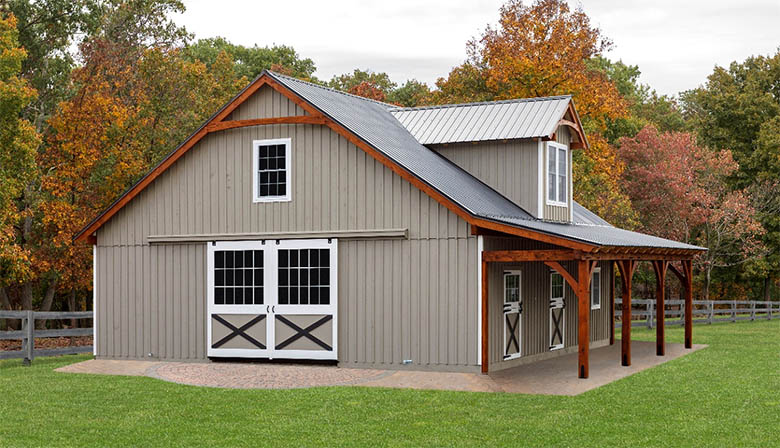 Prior to undertaking a project such as having a barn built on your property, most people have never worked directly with a 'dirt' firm before and may find it intimidating. Larger modular construction firms, such as Horizon Structures, will likely have relationships with site prep teams they commonly work with in certain regions of the country. Do not be shy about relying on your builder's resources, expertise, and professional contacts.
Alternatively, your builder should be willing to work directly with the contractor of your choice to ensure direct and clear communication on the all-important details of the stone dust pad, piers, or concrete pad preparation.
"Horizon has several outstanding site prep teams we work with in the Mid-Atlantic region, Tennessee and the Carolinas. Outside those areas, we are happy to work closely with your local contractors to make sure you are well prepared to receive your new barn," says Denise, whose job often entails working as a liaison between customers and contractors throughout the barn buying process.
Costs for site preparation vary depending on your location, amount of site work required and proximity to and availability of the materials needed. For this reason, it is best to get quotes from 2 or 3 excavators who have visited your property. Request a detailed contract that defines the amount of fill to be moved, materials to be laid etc.
Insider Tip: Get a 'per job quote' rather than a 'per hour quote', as the latter can quickly increase beyond expectations. Large, buried rocks, bedrock, underground springs, and other unexpected geographic issues can increase the time and labor required in site preparation.
Utilities
The placement of your barn close to existing water and electrical sources will minimize the cost of bringing them to your barn.
Plumbing and electrical rules, regulations and costs vary widely both by region and the complexity of your needs within the barn.
For example, if you plan to add frost-free faucets in the aisle, automatic waterers in each stall, a wash stall, hot water, lighting, commercial grade fans, etc. to your barn the requirements will obviously be considerably more involved and hence more expensive, than a single exterior flood light on a run-in shed.
Most modular barn builders will offer roughed-in electrical packages for smaller structures. Your local licensed electrician can then complete the final connection to the power source and ensure that all code requirements are satisfied.
"Horizon Structures offers a basic electric package for shed row barns and run-in sheds. We install and pre-wire light fixtures, switches, and outlets – all with metal conduit – including a breaker box. But even these barns require a local licensed electrician to bring power to the building and make the connection to your main power source," advised Denise.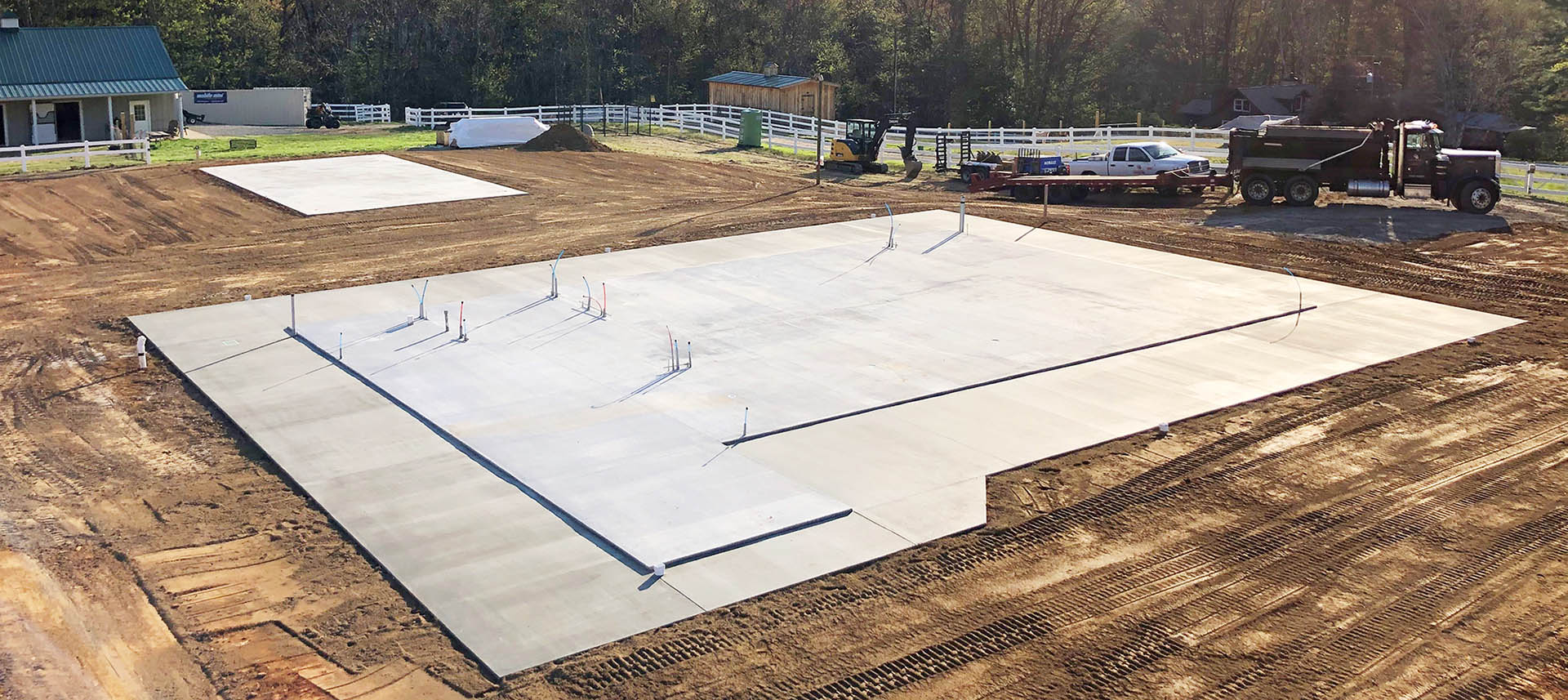 For larger and more complicated barns, plumbing and electrical systems should be obtained directly from local licensed professionals. Building code requirements vary extensively from region to region and state to state, so it is important that your plumbing and electrical services meet local code requirements for safety and to minimize insurance costs.
Denise is often asked about the many extra options that come as upgrades on Horizon Structures horse barns and she explains the rationale behind why some structures are offered with an electrical package while others are not:
"Because we deliver our barns nationally, we are not able to keep up with all the licensing requirements outside of our service area. That's why we leave the electrical work in large barns to the local experts. We're available to talk with them about recommendations and answer any questions they may have regarding our barns."
Fencing
Fencing can be a significant upfront expense of keeping your horse at home. Especially so if you plan on Dutch doors from stalls that open into individual pastures, paddocks, or dry lots.
Consideration of fence height and type is essential. For example, at a breeding facility fence heights for stallions should be 5 to 5'5" or higher for larger breeds. Foal fencing should be diamond wire or 'no climb' welded wire because it is safer for tiny hooves, avoids entrapment and injury and keeps neighborhood dogs or worrisome wildlife at bay.
Electrical fences often do well in large areas of pasture but may be unsafe for horses kept in close proximity as equine 'neighbors' often have the tendency for 'horse play' across the fence and may inadvertently get a painful shock.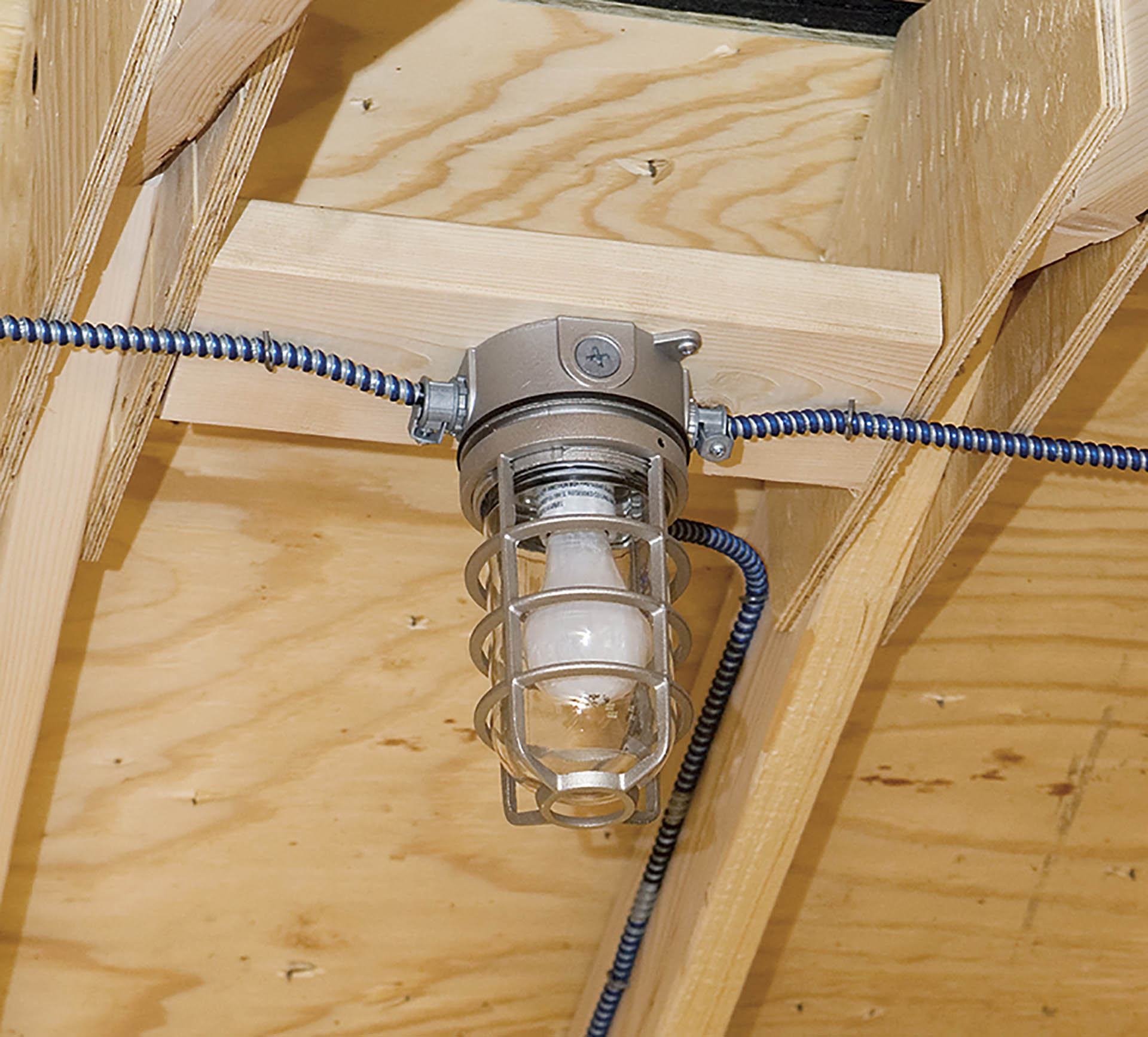 Every type of fence has advantages and disadvantages so carefully consider the pros and cons, availability, aesthetic, and maintenance factors of each before making a choice.
It may be worth considering different types of fencing for different areas of the property depending on each area's needs and purpose and what works best where. Doing so may reduce the impact of a 'one-size-fits-all' type of fence on your budget.
Insider Tip: Never skimp on a good fence! Consider it an investment and buy the best fence you can afford. You'll sleep better knowing your horses are safely and securely contained.
Storage
An often-overlooked component when purchasing a horse barn is storage for hay/feed/bedding supplies and other frequently used tools and equipment. Options include loft space, feed and tack rooms within the barn, or a separate storage building placed within a reasonable distance.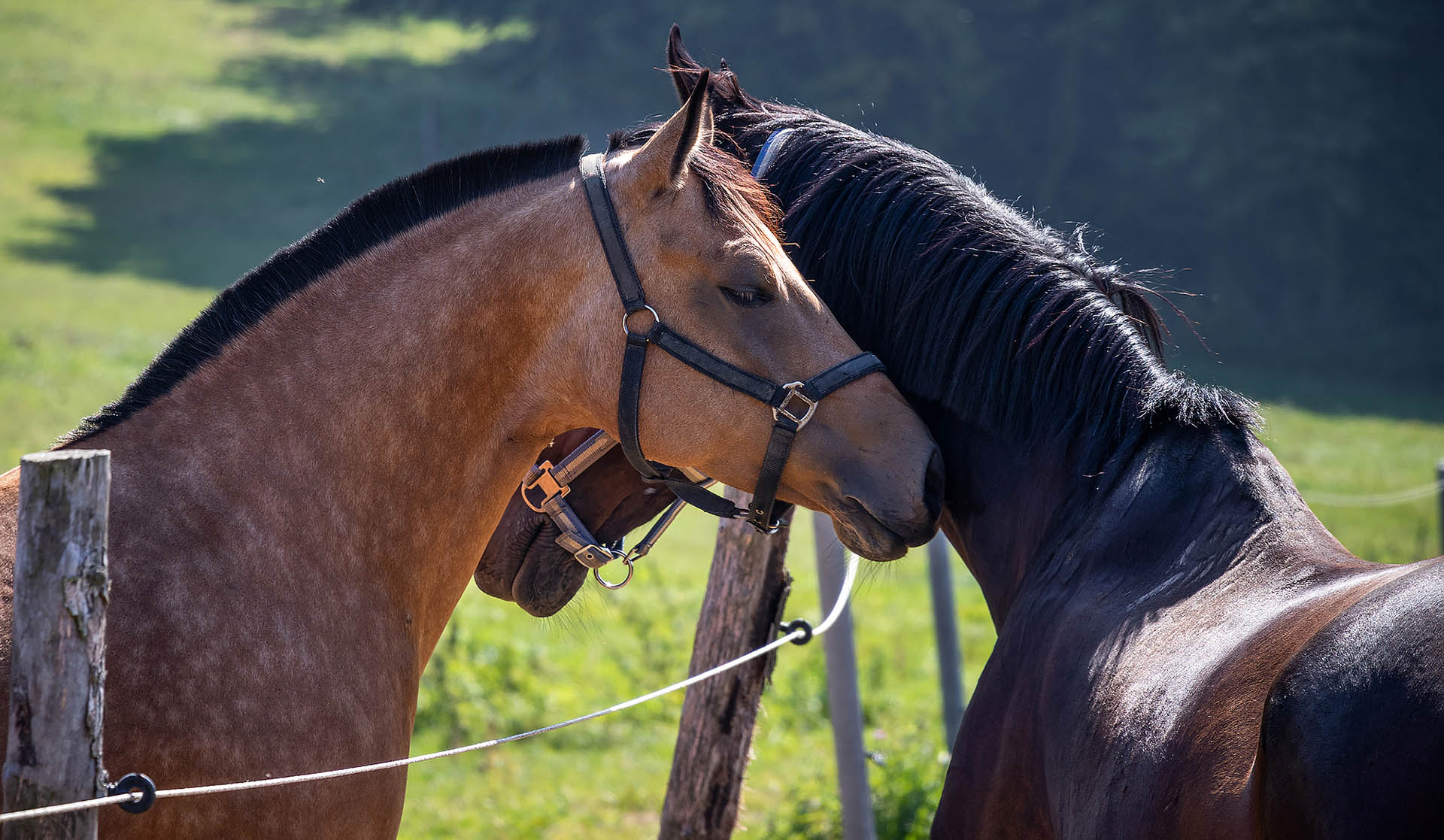 "We offer such an extensive array of outbuildings… Outdoor Living structures like pavilions and gazebos, storage sheds, chicken coops and kennels. Our team has plenty of advice when it comes to buying different buildings for varying purposes. We offer discounts for multi-building purchases, too. Don't be afraid to ask us about all the options. We'll help you make the best decision for your individual needs and budget," offers Denise. "Please reach out to us anytime. Helping customer achieve their dreams is what we love to do!"