There is no doubt that painting the exterior of sheds, barns, and other wooden outbuildings not only freshens-up their appearance, but helps them withstand the weather and stay standing longer. The right paint and the right painting techniques will add years to the life of your wooden outbuilding. Look through these 5 detailed steps on how to paint sheds, barns, and outbuildings.
A word of warning – if your outbuilding was built prior to 1978, it is highly likely that there is lead-based paint on it. Lead paint test kits are available at your home supply store. If you test and find lead, you will need to hire a professional to remove and dispose of the lead paint.
1. Inspect, Repair, Clean the Exterior of the Building.
The first order of business for any paint job is to inspect the area being painted. Trim back any branches, hedges or other landscaping that will be in the way. If there are places in the wood siding where the wood needs to be repaired or replaced, now is the time to do it. Look for both wet rot and dry rot, as well as evidence of termites or other borers.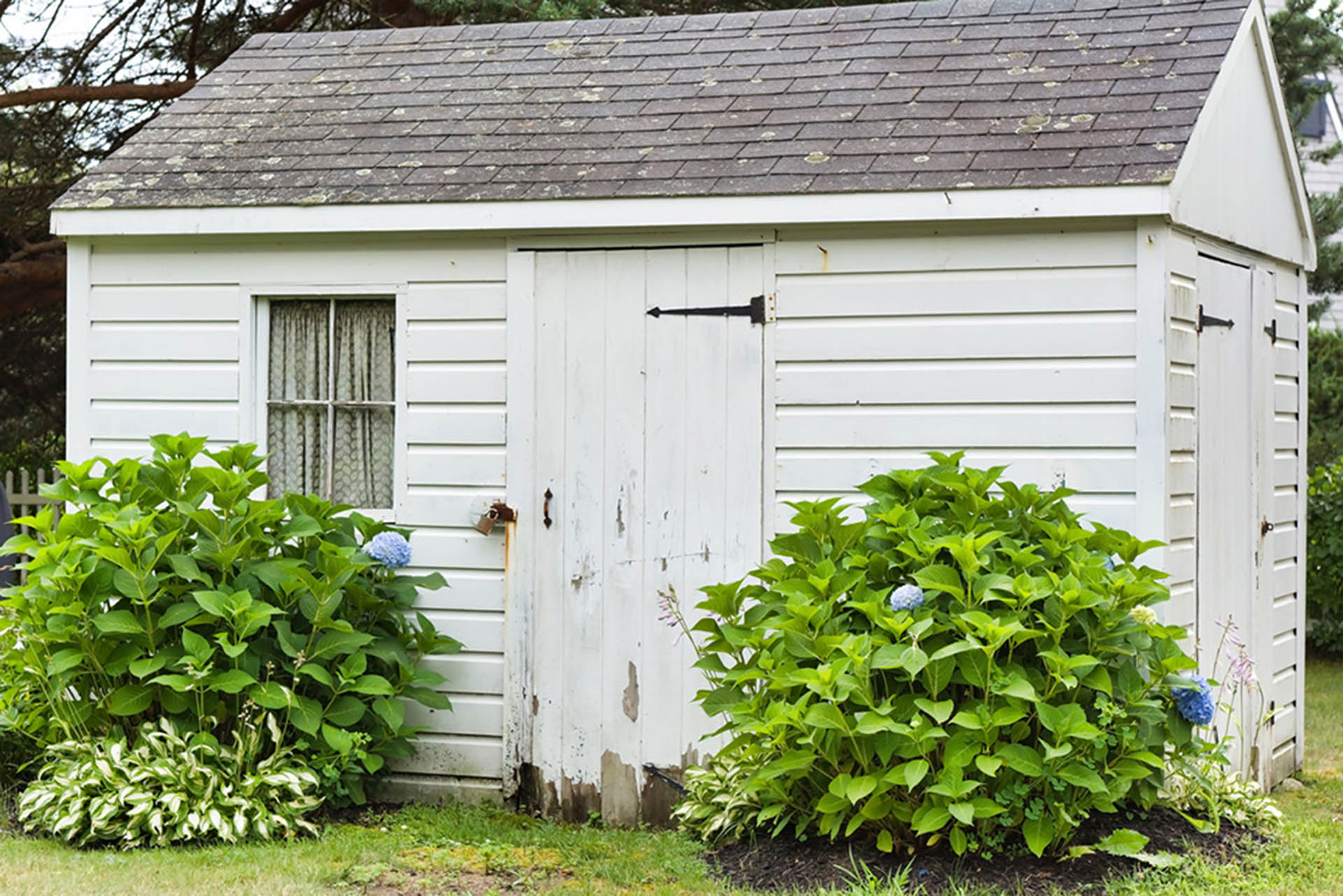 Any nails that are sticking out should be hammered in. Any flaking paint needs to be scraped off and sanded. A wire brush works well for this while also roughing up the wood a bit for better paint adhesion.
Next, power wash the building to remove dirt and dust. Do not use the strongest pressure setting – old barn wood can easily be damaged that way.
Give the building at least one full day to dry. When it's dry give it another once-over in case the power washing caused more old paint to flake off, or revealed more wood damage. If it's looking good the last step is to caulk around doors, vents, and windows, and also caulk any gaps in the siding. Be sure to use paintable exterior caulk rated for your climate.
2. Apply Primer First.
Any bare wood, new wood, and anything you've worked on (for example, the caulk) must be primed prior to applying your first top coat of paint. Primer does so much more than give the final coats of paint a smoother, cleaner finish – primer helps block stains, seals bare wood, and improves paint adhesion.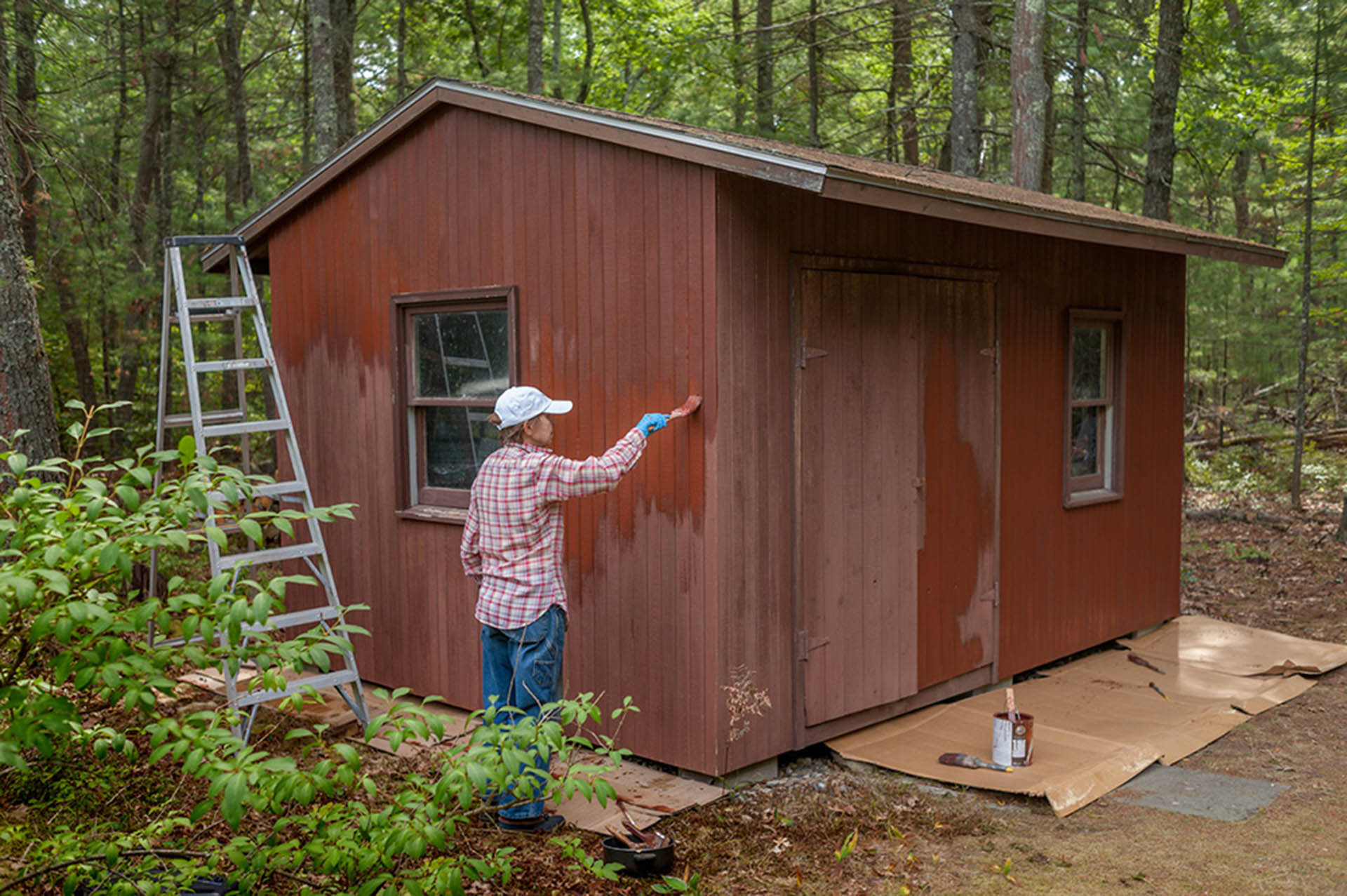 We always use a combination of rolling, spraying, and brushing to make sure we get good coverage. We also go ahead and prime the whole of the exterior – we find that it helps the paint job look fresher and last longer.
Oil or latex primer? It depends upon what your building was painted with last. If your barn was last painted with oil paint, use oil-based primer.
3. What Color Should You Paint Your Outbuilding?
Traditionally, barns are red – do you know why? It's because red was the least expensive paint you could get, or mix yourself. Red paint was made of iron oxide (yes – rust!), lime, and linseed oil, a combination that helped preserve wooden siding by killing the mosses that can grow on it.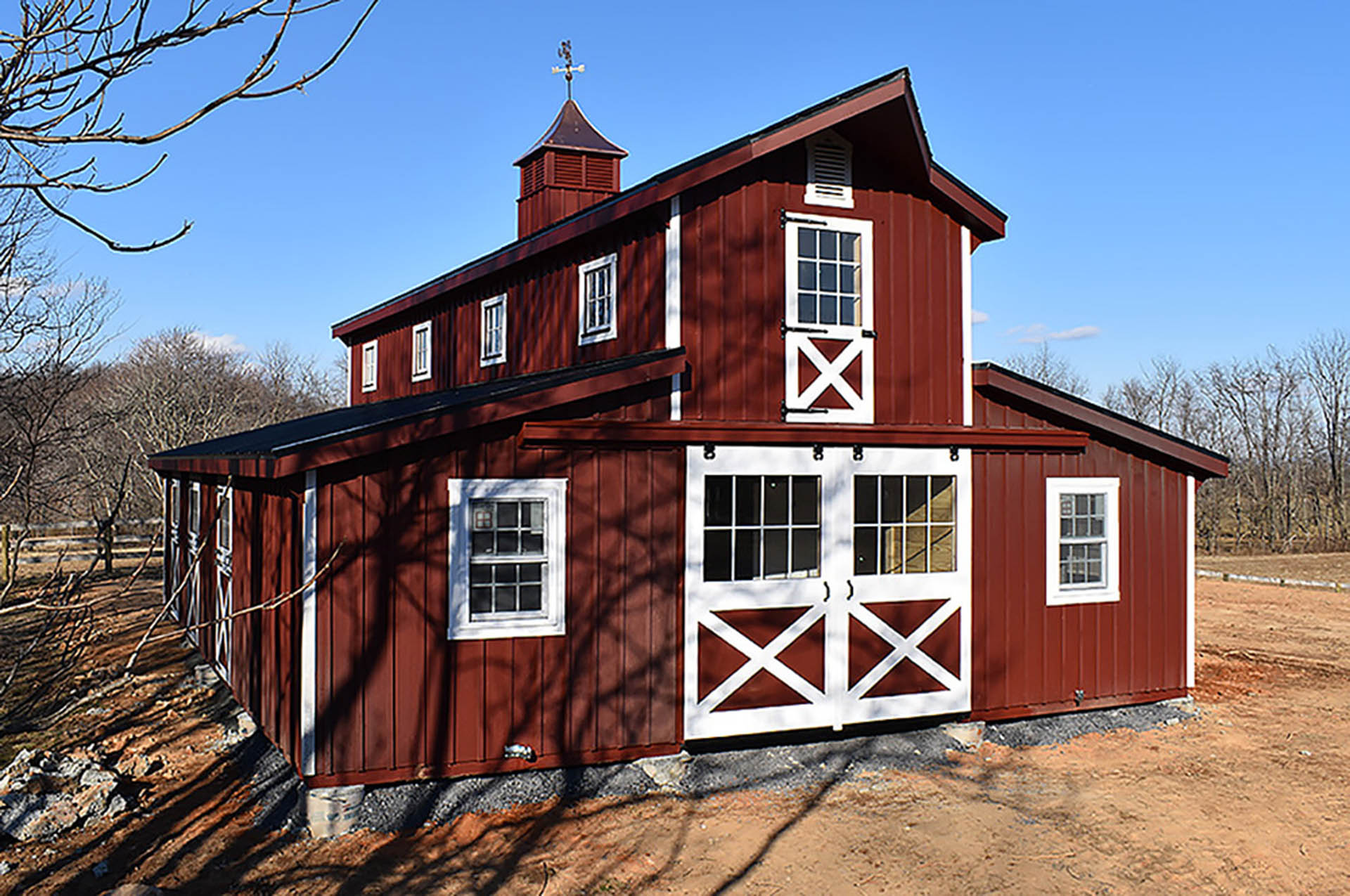 These days folks tend to paint their wooden outbuildings in a matching or complementary color to the main house. The only limit is your imagination.
4. Latex or Oil Paint?
There are pros and cons to both and each have their fans and their critics.
Acrylic Latex Paint
Clean up is simple
The color does not fade as fast as Oil
Easy to apply
Oil Paint
Best for old wood because its linseed-oil base penetrates and protects
Not as easy to clean up or apply as latex
Whichever type of paint you choose, you can expect that a gallon of paint will cover about 300 square feet.
Please plan on purchasing the best paint you can afford – it does make a difference. Do some research. You will find that there are paints that have UV protection, additives that condition and protect wood siding, additives that discourage fungus and mold, and more.
5. Prep, then Apply the Paint Properly.
First, mask off any windows, the roof, and anything else you don't want overspray on. Then use a sprayer to initially apply the first coat of paint, and brush it in by hand. This increases paint adhesion and will make your paint job last longer.
We always apply two coats – the color has more luster, the paint job lasts longer, and frankly, on the second pass we make sure there is adequate coverage everywhere.
For the window and door trim, we use a durable enamel paint with a bit more gloss than the paint we used for the siding, and we brush it on. Trim can be the same color as the siding, or, can be contrasting.
Hiring a Professional Painter to Paint Your Outbuilding
If this sounds like a lot of work to you… you are right! Just the sheer size of some of these barns is intimidating enough to scare anybody into hiring a professional painter. Who wants to be that high up?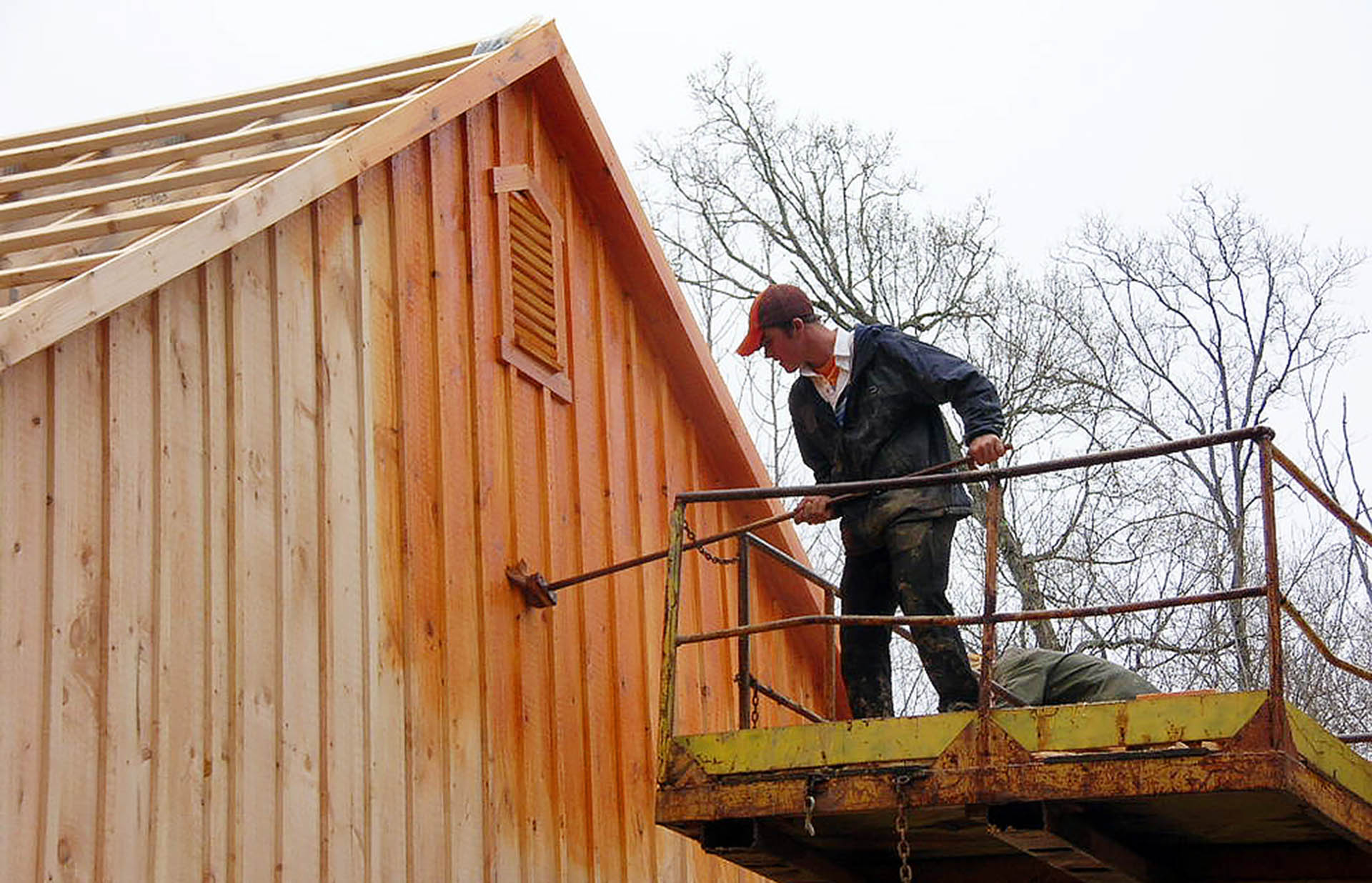 If you decide to hire a painting contractor, be sure to interview at least three and get them to walk you through the steps of the job so you know they know what they are doing. Any respectable painting business will provide you with a free consultation on site, a contract (usually half down – half upon completion), and a timeline, as well as proof of insurance and licensure where required.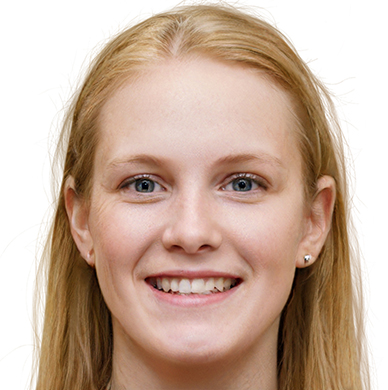 Jennifer Bell is a freelance writer, blogger, dog-enthusiast and avid beachgoer operating out of Southern New Jersey. She writes on behalf of Pizzazz Painting, professional painters in NJ