There is no question that the high-end prestige timber frame structure offers a literal and figurative top-notch building that will endure the test of time. Showstopping, jaw dropping, head turning, are all adjectives that folks use when describing timber frame construction, but the timber frame build is more than just a pretty face.
While the timber frame horse barn is top of the leaderboard in horse barn design for all these good reasons, there is much carpentry art and lumber heart that make the timber frame tower over its compatriot barn structures.
The utilization of the strongest joinery technique, mortise, and tenon, outshines any competitor when it comes to durability and innate strength that is yet known in woodworking. While post and beam designs are joined by metal plates, the timber frame build offers the iconic peg and beam where one piece of wood is inserted into another. This is a highly skillful enterprise to accomplish that offers maximum stability to the structure, aside from the obvious beauty this affords the eye of the beholder.
In addition to offering significant advantages in visual appeal and strength, mortise and tenon joinery is only as good as the material from which it is made and of course the level of talent with which it is crafted.
There are huge variances in the building industry in regard to the species of wood used and how that wood is harvested and the level of artisanal ability that puts everything together.
Thus, a major factor (and one that is often overlooked by buyers on the hunt for a timber frame barn), that adds more than ambiance to the aesthetic appeal of timber frame builds, is the actual lumber that is used in its construction.
Dave Zook, founder of the leading modular horse barn building company in the U.S.A, Horizon Structures, explained at a recent interview:
"In our timber frame builds all our beams and stringers are Grade 1 or higher Douglas Fir with a smooth S4S appearance. The pegs are oak. All the timber we use is most importantly, milled free of the vulnerable center heart of the tree or FOCH as it is known in the trade. Why? Because wood that is cut away from the heart of the tree offers less splitting and cracking."
It is essential that prospective purchasers of a timber frame structure realize the differences in the type of wood used to ensure they are getting the best 'bang for the buck,' and compare prices across timber frame builds with an eye to more than just the eye-catching cathedral arched designs and colorful natural hues of the wood on display.
Especially as for all the reasons above timber frame builds are some of the most expensive styles in the industry.
Innovative modular building architects and engineers have stepped up to mitigate the high costs of timber frame construction, by providing a hybrid modular/timber frame design that offers all the advantages of both worlds. Without compromising on a high standard of quality the less expensive options married with expedited build times make sense for the savvy property owner.
The new affordability factor in the timber frame construction means that whether you are a horse property owner looking for that extra pizzaz in your new horse barn or simply have a passion for the innate beauty of a traditional timber frame build the modular timber frame answers the need. Often timber frame structures are favored as event spaces with use of a pavilion or barn for a myriad of agri-tourism purposes such as a winery or farm to table produce center.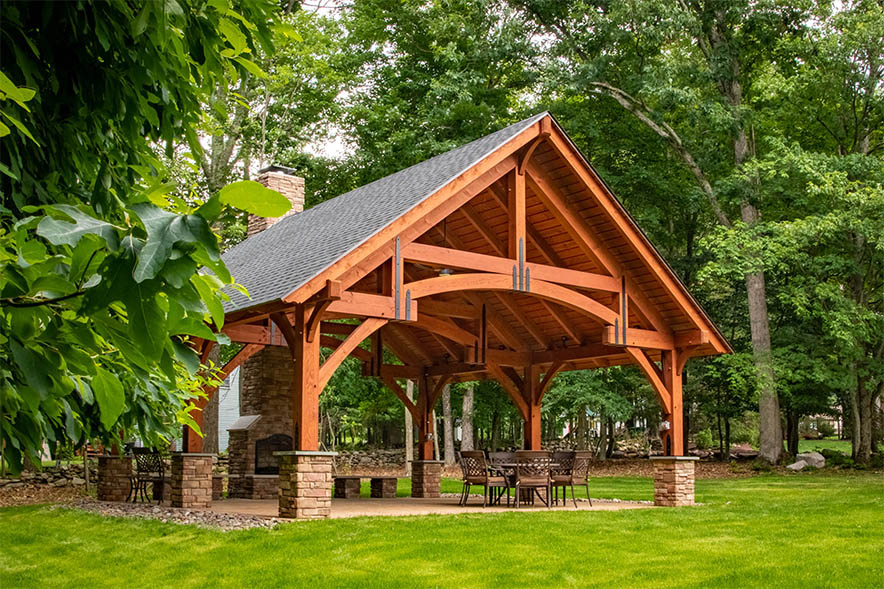 Timber frame design extends past the eaves of the horse barn on many prestige horse farms. When folks want the 'best of the best' for their horse farms, the complex of buildings often incorporates a pavilion for use at public events and friends and family gatherings. Marrying two structures within a space in design and aesthetic appeal resonates as a great project option for those that seek to take their facility to a higher standard and provides an historical nostalgic reference point that gives the development of the property gravitas.
A complete ensemble of timber frame pavilions is available that include the Western style Grand Teton, the traditional Kingston with kingpost architecture and the inviting hammerbeam trusses of the Denali.
Each style of pavilion elicits a different perspective on architectural prowess and careful selection can make the hard landscape vista substantially appealing and elevate any brand of business that calls it home.
The Grand Teton, named after the mountains of Wyoming (which rather funnily are themselves named by French-Canadian hunters of yesteryear and reference the French word Teton in a bawdy version of the colloquial name for a ladies' breast), offers a Western take on the ambience it automatically creates. For ranches and breeding farms of Western horses, working farms or urban cowboy venues such as often exist outside city confines the Grand Teton is a majestic and impressive design.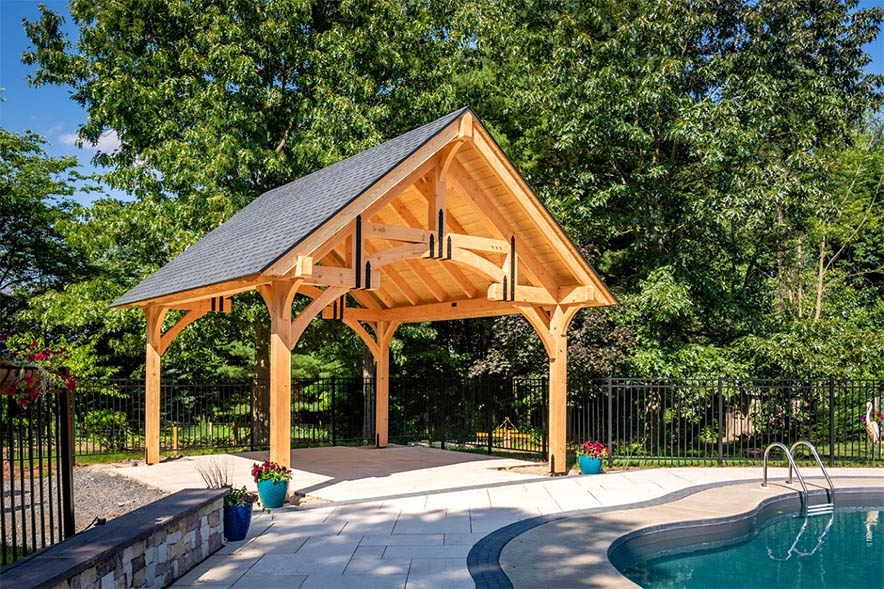 The Kingston timber frame with its kingpost truss system evokes an airy feel in the interior and fits well to complement existing structures on the property that are A-frame roof in style. Its simpler lines invite decoration with fairy lights and swaths of pretty fabrics to highlight a special event or gathering.
The Denali is the height of timber frame prowess and carefully considered placement can make its gable end tremendously inviting as a focal point in any landscape.
Each style of timber frame pavilion has its own individual style and attendees at any event cannot help but enjoy the substantial feel the timber frame build delivers.
While perhaps the addition of a timber frame structure could be considered a luxury versus the less expensive modular models available, the heritage value of its traditional style cannot be denied.
While during William Shakespeare's time only nobility was allowed the luxury of living in timber frame constructed housing, today the noble horse can enjoy living beneath its grand arches. A timber frame horse barn may not offer the heralded impression that Westminster Abbey conveys, but it will evoke a nostalgic nod to the past that will last far into the future.
Another grand advantage the modular timber frame design offers in addition to those mentioned above, is that as a giant 'jigsaw' factory-initiated structure the building timeline, while not as short as a complete modular build, is fast. With the aid of a crane or other lifting mechanism a talented crew that is familiar with the product can magic up a new barn that looks like it has been an established part of the property in a matter of 5-7 days.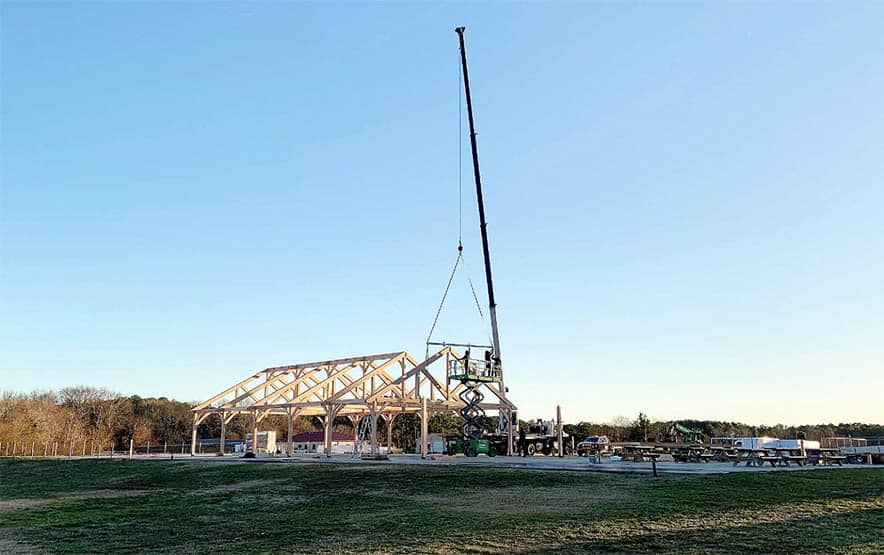 The necessity to have crews working noisily on site, coming to and fro and parking their daily drivers willy-nilly all over the lawn or driveway (and the mess and inconvenience this can create) is avoided. Multiple deliveries of materials are also not necessary as the prefabricated parts are delivered in simple steps and rapidly assembled.
The love of seeing your property development project almost 'instantly appear' is gratifying and saves much time and angst worrying over site management issues and security concerns.
The management of a property development also necessarily involves concerns over cost overruns as well as time delays, both of which can significantly increase expenses. The ability to allay these fears and quell these valid concerns is another useful attribute the modular timber frame build can provide if you source the right construction partner with whom to collaborate on the venture.
Due diligence demands that the company chosen for the task of construction has a proven track record for producing and delivering the type of product you want to purchase, so look for clear cut evidence of a high standard of workmanship and outstanding good old-fashioned customer service.
Clearly expressed warranties on the product and its construction alongside an easy-to-understand logical program for payment schedule and terms and conditions are essential. Customization for your specific needs should be available. A timber frame barn is a high-end purchase and demands for nuance changes or special accommodations and specialist advice on design ideas should also be freely available.
As with any other horse barn design, the quality of hardware should be both durable and easy to use and the design safe and truly functional for the daily user, whether that be horse and/or human.
A good collaborative partner for the enterprise will answer your phone calls promptly and respond positively to your questions, a great collaborative partner will allocate a knowledgeable project manager from the get-go and your liaison with them will be a pleasurable, informative, and educational experience from start to finish.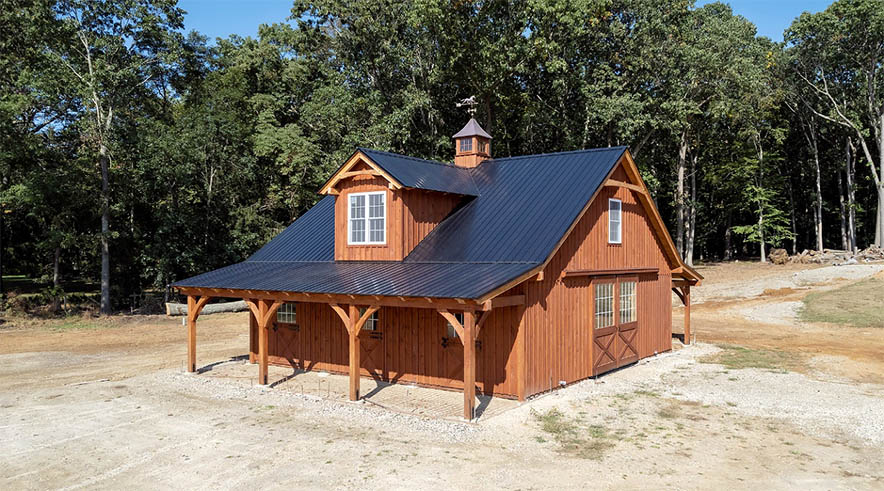 In conclusion, don't be shy to consider the modern modular hybrid timber frame barn as an option for your building project and/or a timber frame pavilion for your property. There is much added value that mitigates the added expense over other options that you are sure to fall in love with if you appreciate the natural beauty of wood and the facets of its historical appeal in architecture.