Make Your Motto: "Curate Don't Collate"
Guilty as charged! As a veteran horse owner, I am guilty of being a hoarder of equine tack and paraphernalia, inside the house and inside the barn and even the horse trailer dressing room has invited a permanent storage solution at times.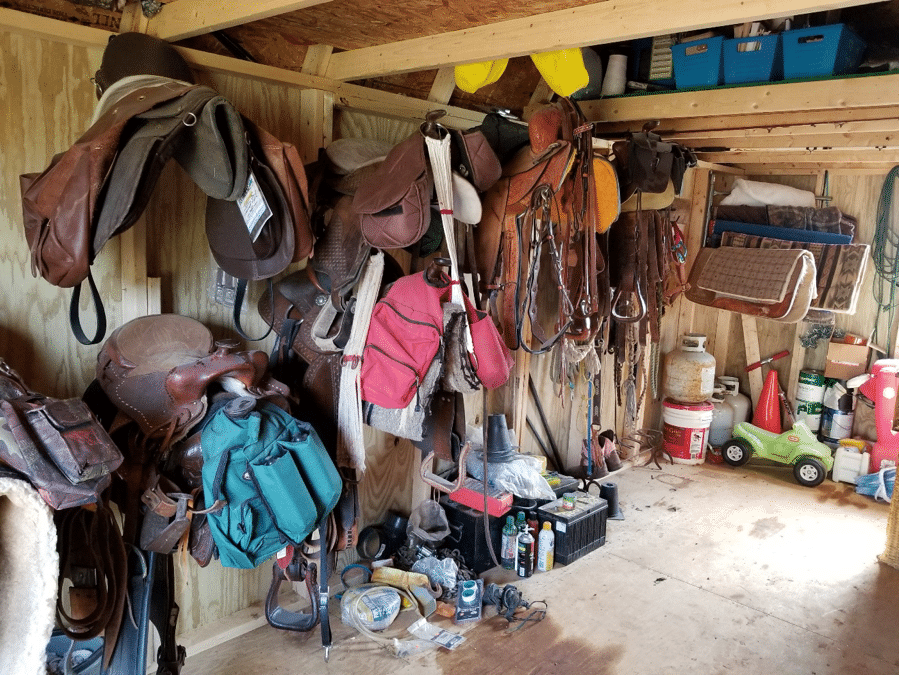 Just as handbags, jackets and shoes seem to have a magical attraction to many of us gals when shopping, saddle pads, bits, bridles, blankets and breeches also seem to inexplicably find their way home.
I confess that as a lifetime horse crazed person the accumulation of a 'bit of a boneyard' when it comes to everything equine-related may have occurred. If you have ever moved 'farm' you will likely have realized a similar situation.
Luckily, my hubbie is also an equestrian so the piles of neatly stacked saddle pads hidden in closets, drawers full of bits and spurs and cupboards full of every imaginable color of polo wraps goes for the most part anyway, without comment or complaint.
That 'extra stall' in the barn is commonly abused in use as a storage resource that was always planned to be temporary but inevitably becomes a permanent home for a litany of tools and equipment. Stuff that can be placed safely behind a bolted door beyond the reach of inquiring equine noses and pets' investigations.
Horse stuff isn't limited to locations in the tack room/office or barn aisleway either, our house is adorned with horse brasses, books and equestrian art, expressive horse themed rugs and even a hunting horn decorates the wall of the mud room. Brasses that require regular time-consuming polishing I might add. But I wouldn't have it any other way.
As the renowned American interior designer Bunnie Williams would advise, your house should reflect your interests and passions. No problem there where most of us horse loving folks are concerned.
But in interior design and antique collection, there is another edict:
"Curate don't collate".
Good thinking. Following along with the interior design theme, to quote the then radical creative 19th Century anti-maximalist William Morris: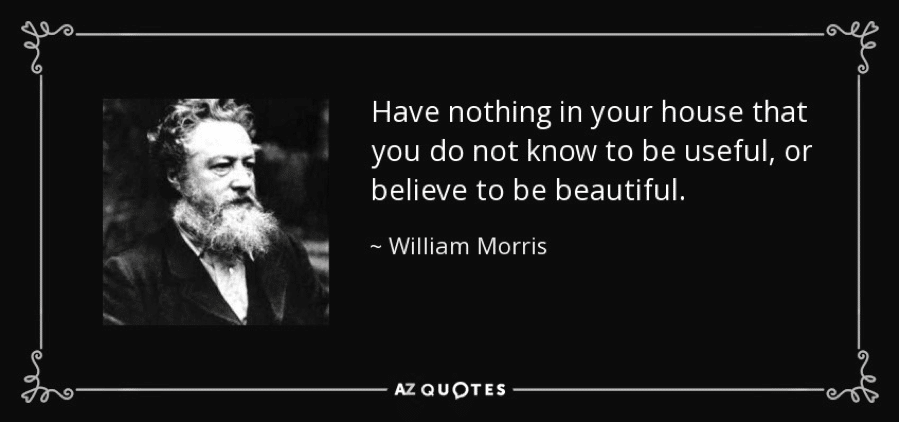 The same could be said of the horses' house.
Stacks of old hay could be sold to a local cow or pig farmer; unused tack trunks and collapsible saddle racks could be removed; aged health care products could be discarded; and more than likely equine tack and equestrian apparel supplies will yield a horde of horsey stuff for sale.
Spring cleaning the barn is a great opportunity to take a hard look at the hoarding habit. Make the decision to stop wasting time all season long sorting through masses of old 'just in case I get a new horse' paraphernalia, cleaning leather tack that you will likely never use again and turn unused 'stuff' into hard cash that could be productively used for further horsey pursuits.
Proceeds from the sale of 'stuff' could fund the fees for a show or clinic event, pay for your daily use saddle to be restuffed or refitted to properly fit your horse or even buy a new run-in shed.
Here are some thoughts to help inspire your barn and stable cleaning and a few hacks to help the process along:
Don't Clean Old Tack Before Selling
It goes against every rule of horsemanship to leave tack dirty. Weird as it might seem, buyers often prefer to 'recover' items to their previously pristine condition rather than purchase them looking 'as new.' Antique buyers are commonly similarly afflicted with the notion that they have made a 'find' if the object of their attention is in 'weathered' condition.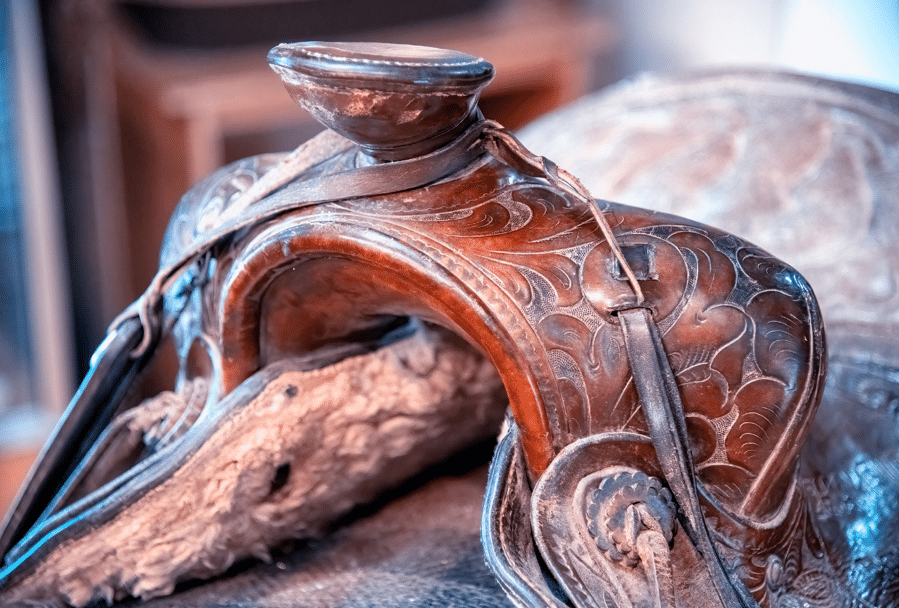 Regarding equestrian clothing, you would expect that unwashed clothes, stained shirts or bleach marked breeches would be unloved. In the 'second-hand' market of recycling, the usual marketing techniques for presentation simply don't seem to apply. All manner of wrinkled, unkempt apparel items appear across Facebook Marketplace and similar venues and sell well.
For some of us the notion of presenting any uncleaned item or one in poor condition is understandably abhorrent. The best rule is to consider where the item is being marketed and the target audience of the product.
The Perfect Price
There is no such thing as the perfect price. You will know if the price is right however, because the product will sell. The dynamics of the free marketplace do not lie.
Many of us become emotionally attached to a late horse's bridle or equipment, or a horsey gift that a beloved relative bestowed upon us. This often translates into asking an unrealistic price for the object. Options such as donating rather than selling the item can make us feel better and even taking a photo to remember the item can help alleviate the angst we feel at parting with it.
The reality is, that Arts and Crafts designer Morris' advice holds true throughout our curation of horse tack, tools and equine and equestrian apparel.
A great example is the saddle pad collection. Over time technology has changed the saddle pad from a simple piece of cloth designed to keep the underside of the saddle clean to fabrics with special features such as anti-sweat, compression and shock resistant components and a myriad of other improvements. Through increased attention and knowledge of equine anatomy and saddle fit for both horse and rider, the design and purpose of the saddle pad has evolved.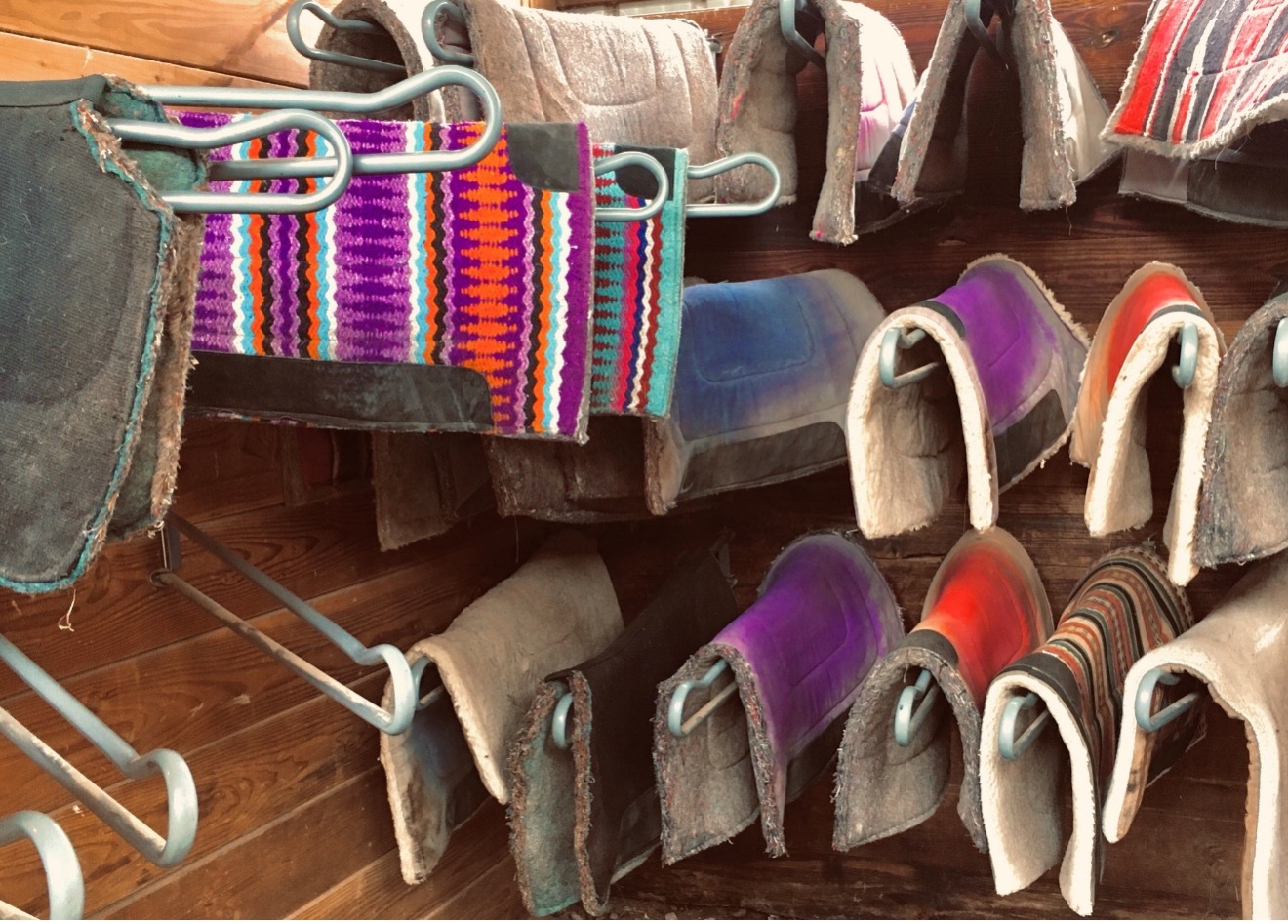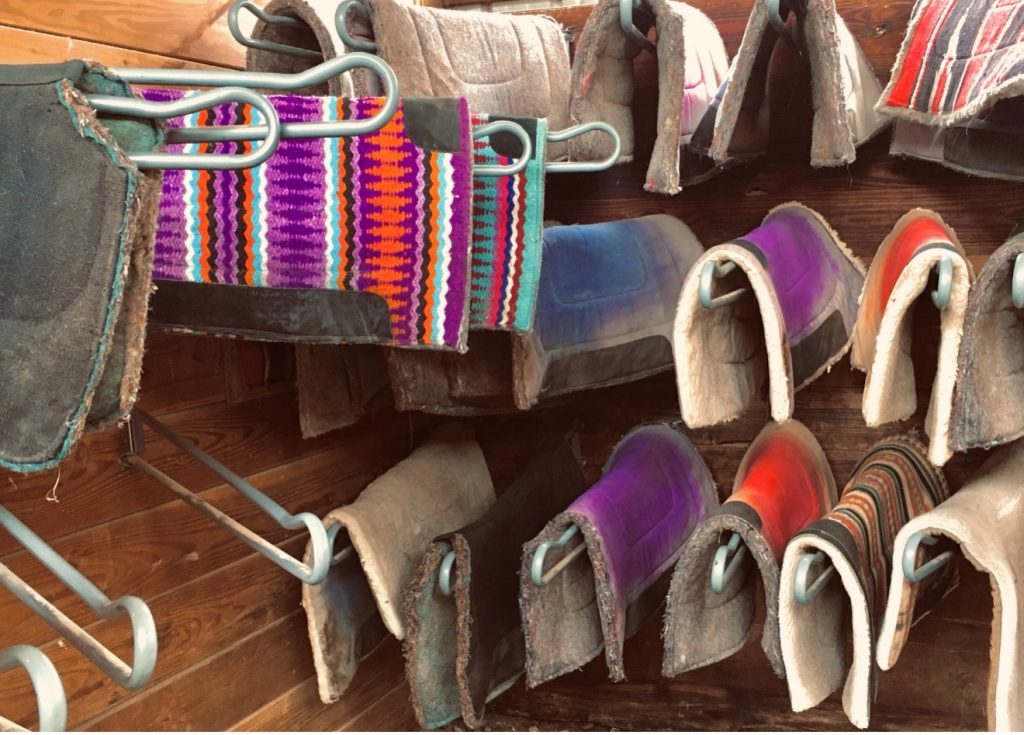 While natural sheepskin and other 'older' favorites such as 100% cotton, may still be preferred by the die-hard traditionalists, and bright colors and bling be dismissed from the wardrobe of the more reserved horse person, the likelihood is that many of the saddle pads stashed in the stable yard go unused and are unlikely to feel the warmth of your horse's back again.
Remember, the perfect price is the one that someone will pay for the item.
Expect to discount the price especially if the item does not sell quickly. Just as retailers offer markdowns as time progresses and the products sit unsold, it is smart to discount the pricing to save your valuable time and effort relisting.
Curating the stack of saddle pads into those you really use and selling off those that you don't is more than a good fiscal idea. A good clean out is good for the brain.
The Positive Power of De-Cluttering
Cashing in on barn cleaning is about much more than money. It is scientifically proven that keeping things clean and your space organized is good for you. Not just in the physical sense of less to clean or trip over in the aisle, but in the sense of mental well-being.
The less 'stuff' you have impeding your visual cortex the more organized you will feel. This does not mean it's a grand idea to just 'stuff the stuff' away in a cupboard. You know it's there and its presence makes finding something you need more time consuming.
Humans feel more rested and more in harmony with their surroundings when the environment is clean and organized. I'm not sure what our horses think on the stable cleaning subject but I do know that when we are happier so are they.
Don't Get Taken For A Ride
Scammers and con artists abound. Use common sense when marketing your horsey stuff for sale. If an offer sounds too good to be true it probably is and it is essential you do your due diligence and are aware of the common scams that are present, especially online.
Offering to overpay for an item or seeking private information are two of many scams. Here is a great article on the topic.