Finance or Rent-to-Own Your Structure
Do you need shelter for your animals or wish you had an outdoor living structure to more fully enjoy your back yard?  Adding a structure to your property requires – above all else – a means to pay for it.
The "planners" and "savers" among us carefully budget the funds to see the project through from start to finish. However, the reality is, most of us need the building now. We don't have the time it takes to save.
Horizon Structures has several financing options available. Depending on your individual circumstances, one or the other is sure to fit your needs.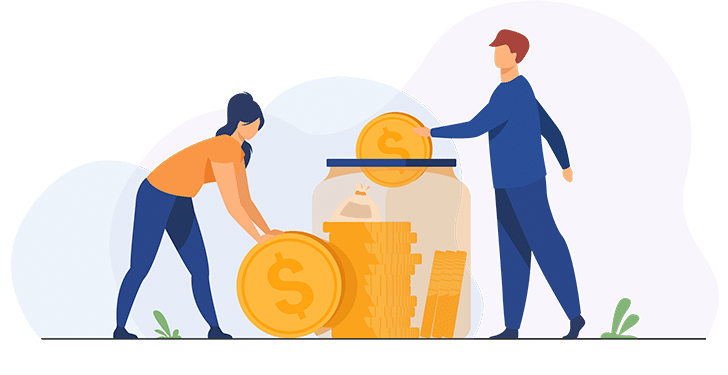 Call Us now at 888-447-4337
Get Started in 3 Easy Steps
Ever since we've been in business, customers have been asking about financing for horse barns and the other buildings we sell. Until recently, we've come up empty handed. Lenders were reluctant to finance prefab buildings. So, when customers asked about financing a barn, run-in shed or shedrow, the best we could do was refer them to their local bank for a personal or home equity loan. A credit card was the only other option if a buyer didn't have cash available to pay for their structure.
Fortunately, things have changed. We are now able to offer customers two options to finance their horse barns. While each of these programs is unique, either one can be used to to finance virtually any of our structures – large or small.
Horizon Structures' lender offers financing for horse barns and run-in sheds. Many people pay to board their horses at someone else's farm because they believe building their own barn is too costly. An affordable Horizon Structures prefab run-in shed, shedrow barn or modular barn puts the dream of bringing your horses home within reach. Our barn financing makes it a reality. Money spent on monthly board payments is now spent on your own barn and stalls! Having your horses right outside your back door and living in the barn you've always dreamed of IS possible! Call us at 888-447-4337 to get your dream out of the clouds and onto the ground.
The rent-to-own program we're offering is super because buyers don't have to be property owners. With landord approval, you're able to STOP making trips to the storage facility across town and STEP out the back door of your home or apartment to get to your things. No more putting money into someone else's pocket. For about the same as you'd pay for that storage unit, this rent-to-own financing program enables you to OWN the structure in 36 months OR LESS and STOP paying someone else to keep your items safe and secure.
As an authorized SmartPay Dealer, we'll assist you in selecting your storage building – Choose your own building style, colors, and options to fit your needs.
Complete Application – Fill out SmartPay's Information Sheet – Link below.  Quick & Easy
Schedule Delivery – Review and complete the rental purchase agreement – Pay your security deposit and initial payment
*Total rental amount not to exceed $25,000. Customer location must be east of the Mississippi.
Traditional Financing
FHA Title 1 Home Improvement Loans.
No Equity or Appraisal Required (*subject to credit approval)

*Interest may be tax-deductible

Financing available throughout the Continental US.
Rent-to-Own
Rentals up to $25k
Available for all states east of the Mississippi

OWN IT in 36 months or less!
NO Prepayment Penalty


Rent-to-Own

Frequently Asked Questions