With an 8/12 pitch roof, this barn can have extra storage space or create a sense of openness. Order the high profile modular barn at Horizon Structures today!
High Profile Modular Barns
With it's 8/12 pitch roof, our high profile modular barn is perfect for the loft-lovers, of the world. You can also get this barn without a loft, creating total clearance and a great sense of openness all the way up. Finally, if you think you might want or need a loft at a later date, or you want to save some money, our high profile is available with an attic truss system. That will allow for you to add a loft floor to your prefab barn, yourself. How's that for flexibility?
Our high profile modular barns also easily accommodate for overhangs, being a barn favorite for many of our customers!
Compare our prefab horse stalls with a stick built barn and you won't even be able to tell the difference. And our high profile horse barns are the nicest yet.
With the second floor you have plenty of hay storage, or think about adding living quarters, instead!
"The barn is even nicer than I thought it would be"
"I gotta tell you, the barn is even nicer than I thought it would be. I'm the talk of the town. Some of my neighbors are really jealous. They paid a lot more for their barns that aren't as nice and are much smaller. You guys were a real pleasure to deal with and I won't hesitate recommending you or using you again when the time comes."
Justin S, Clover, SC - 10/25/2007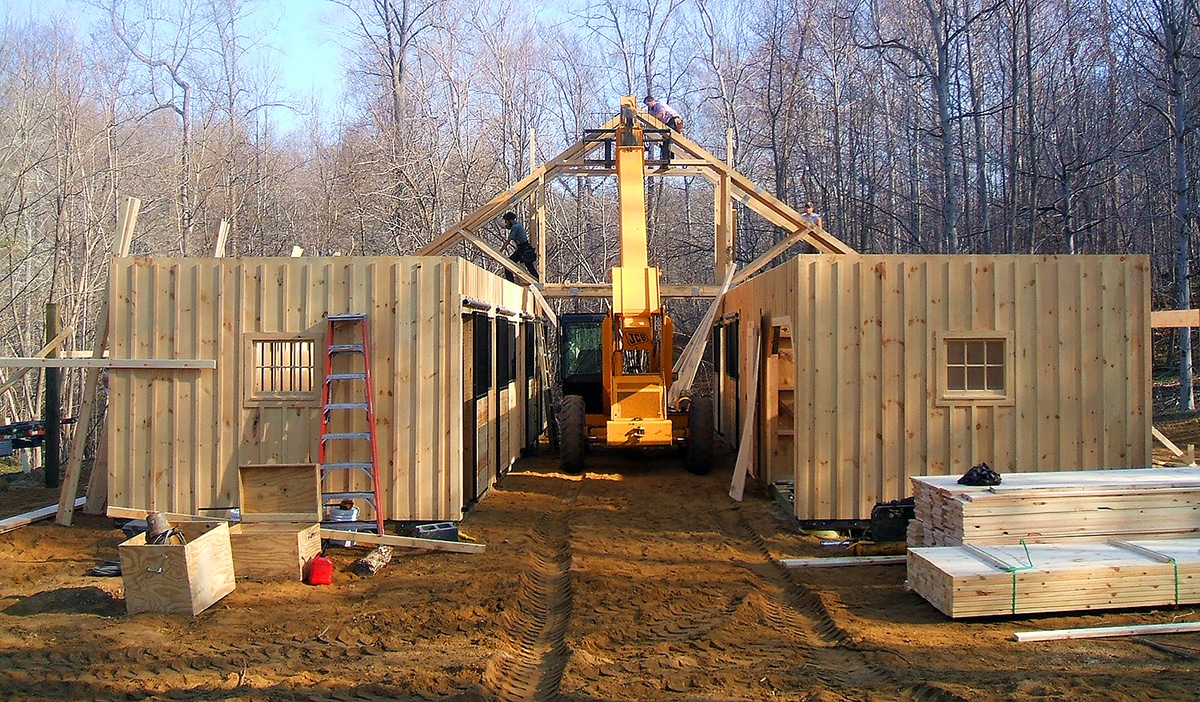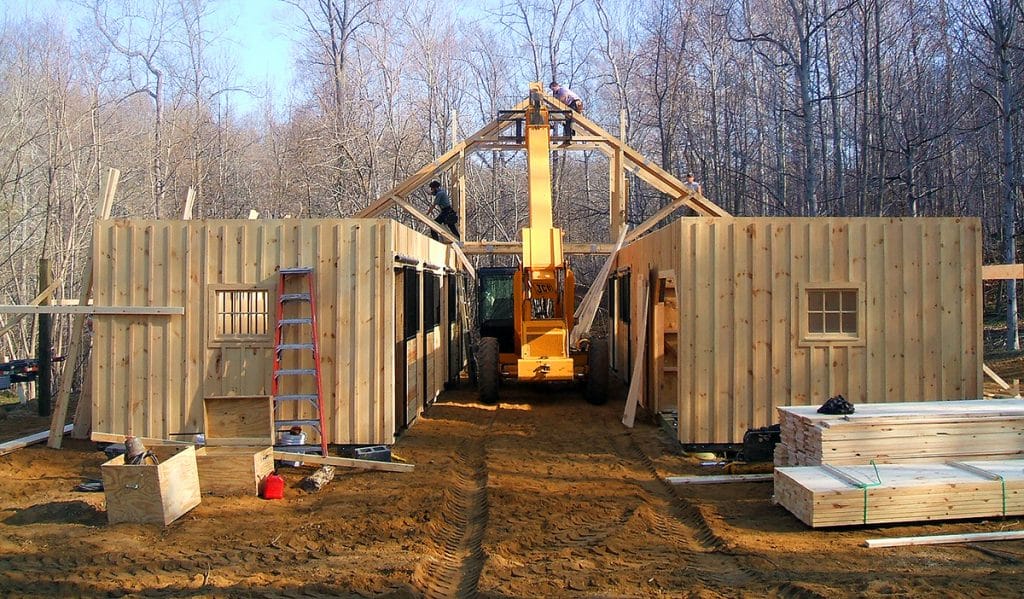 Step 1
First, the pre-built sections are set up parallel to form he center aisle. Next, the roof trusses are added to this horse barn.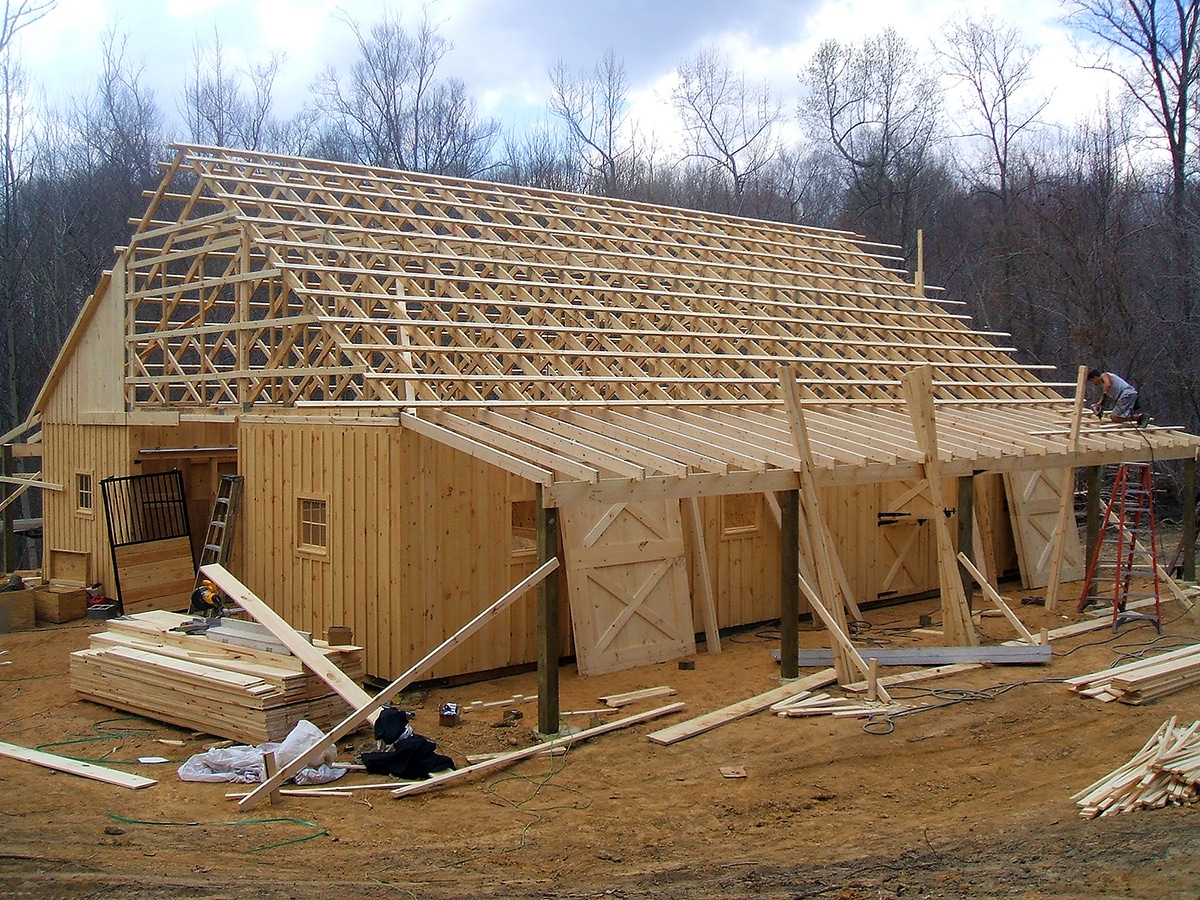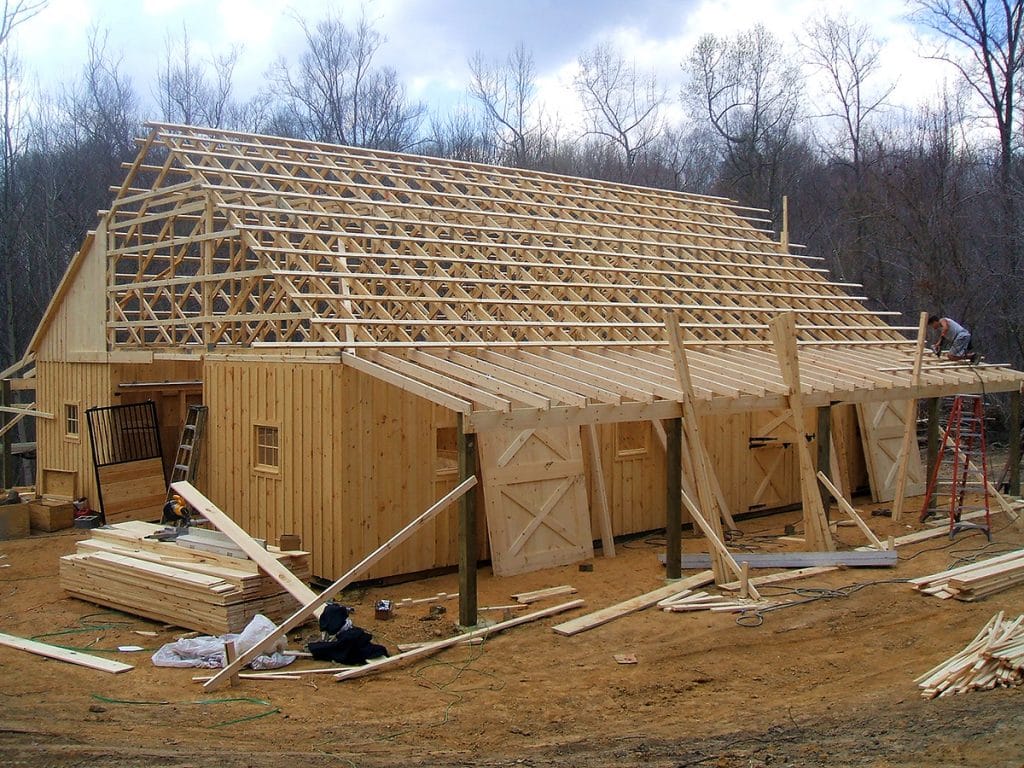 Step 2
Our men get ready to finish the roof and build the overhangs to this horse barn.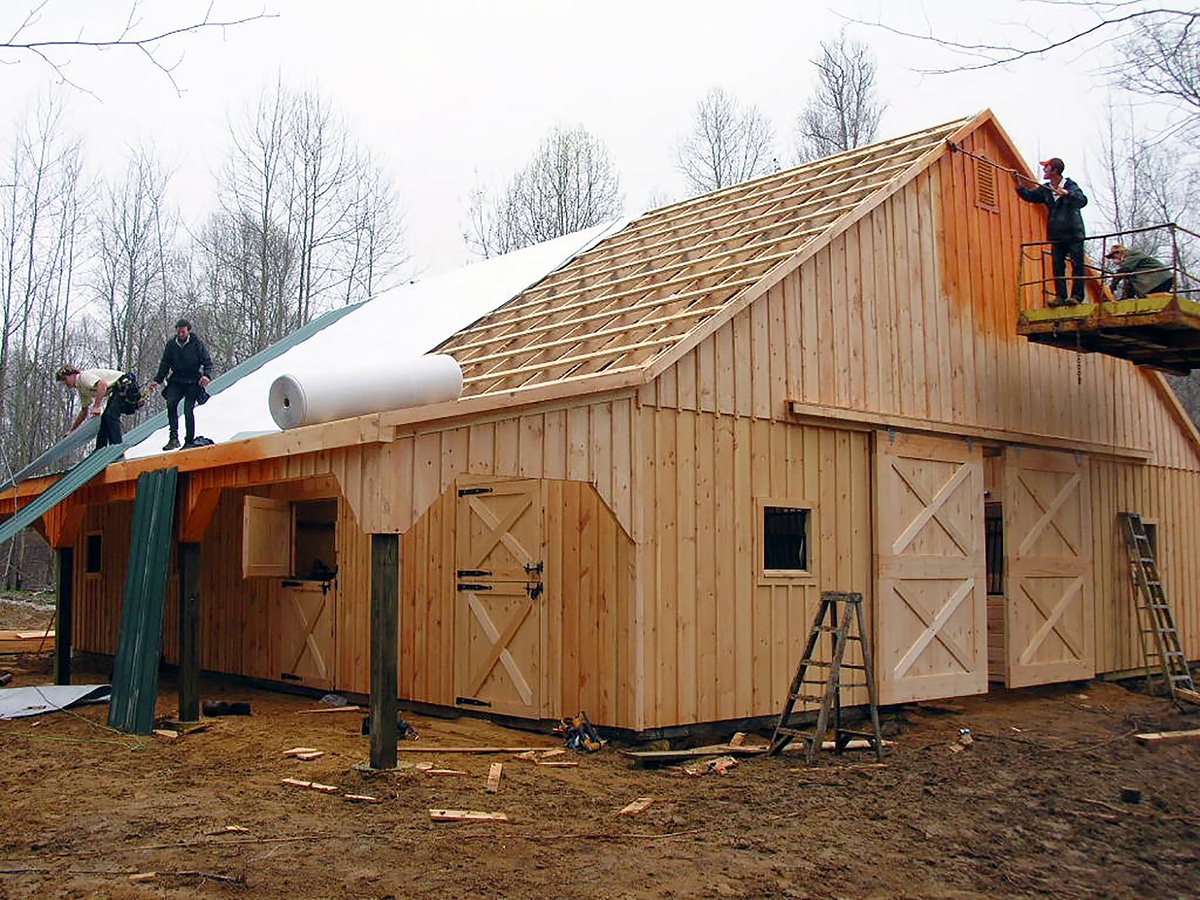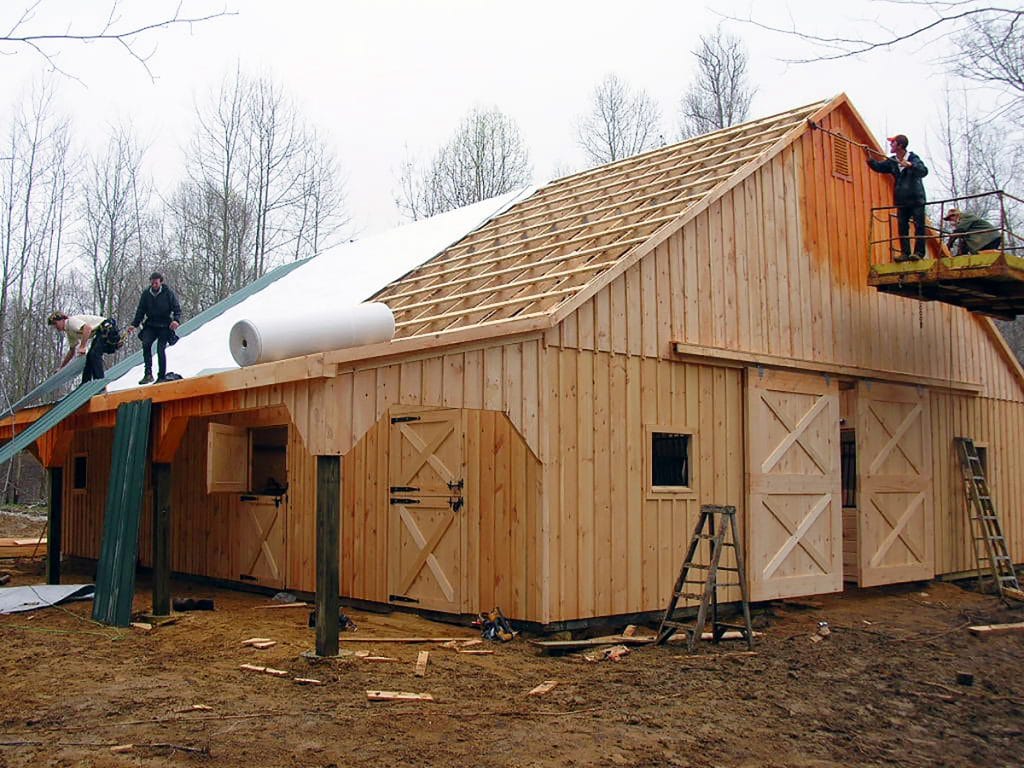 Step 3
A metal Insulated roof (upgrade) is Installed. Horse barn is stained. doors are hung.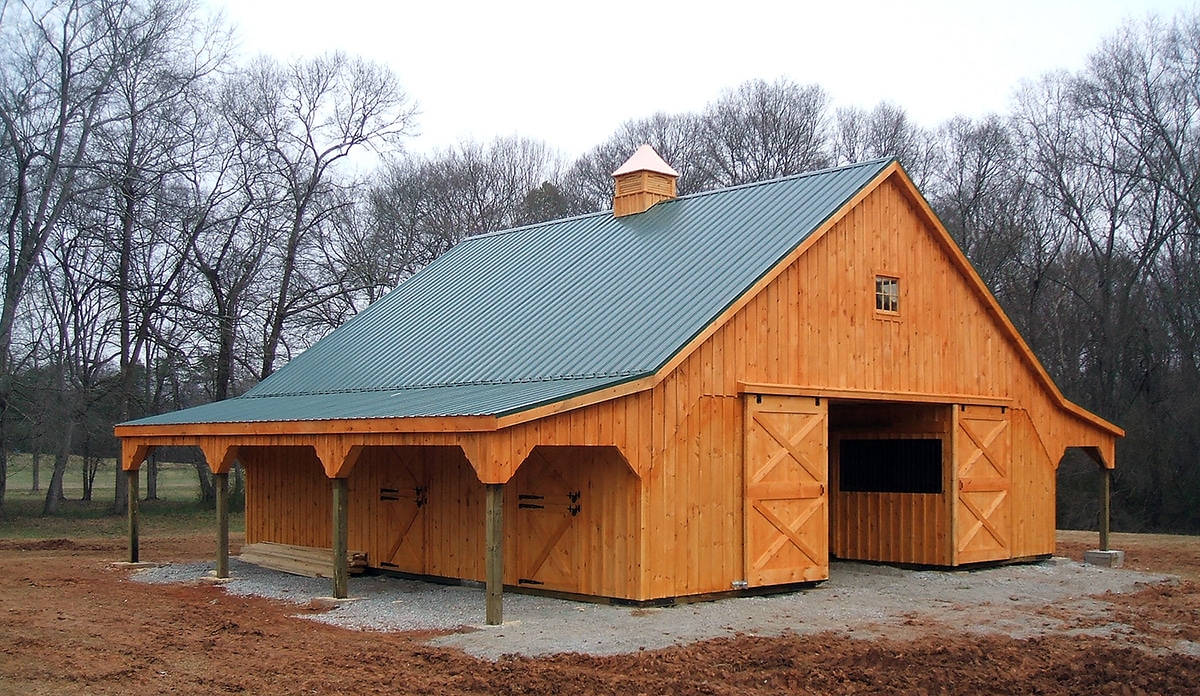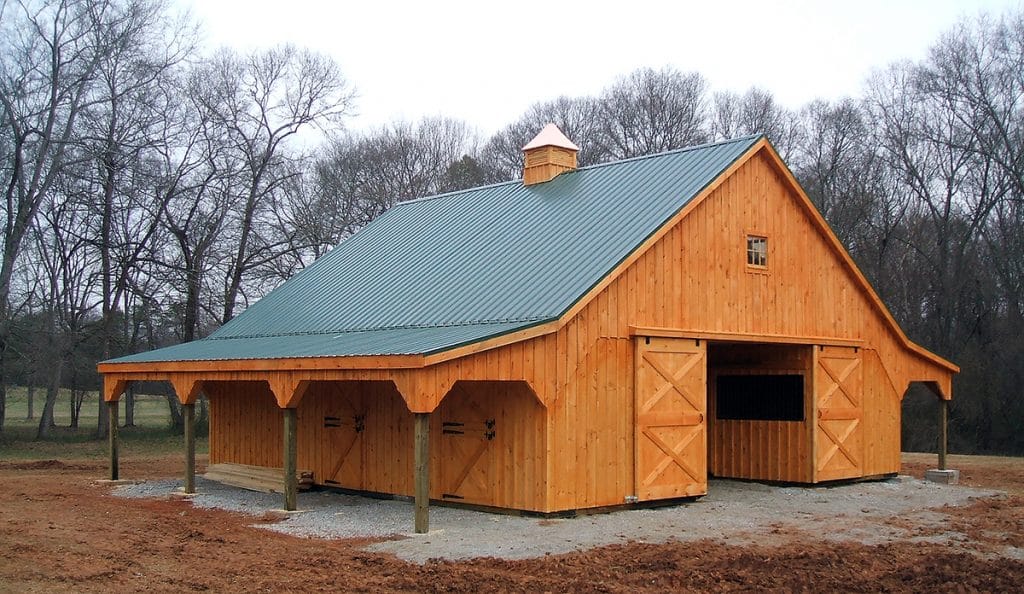 SIDING CHOICE: 7/16″ LP SmartSide (with Silver Tech) Wood Exterior Siding (painted) OR *Pine or Cypress Board & Batten Exterior (unfinished)
*Monitor also includes 1 window per stall
*Pine OR Cypress Board & Batten Siding is determined based on shipping location
All barn, run-in and stall dimensions referred to in our horse barn plans are OUTSIDE dimensions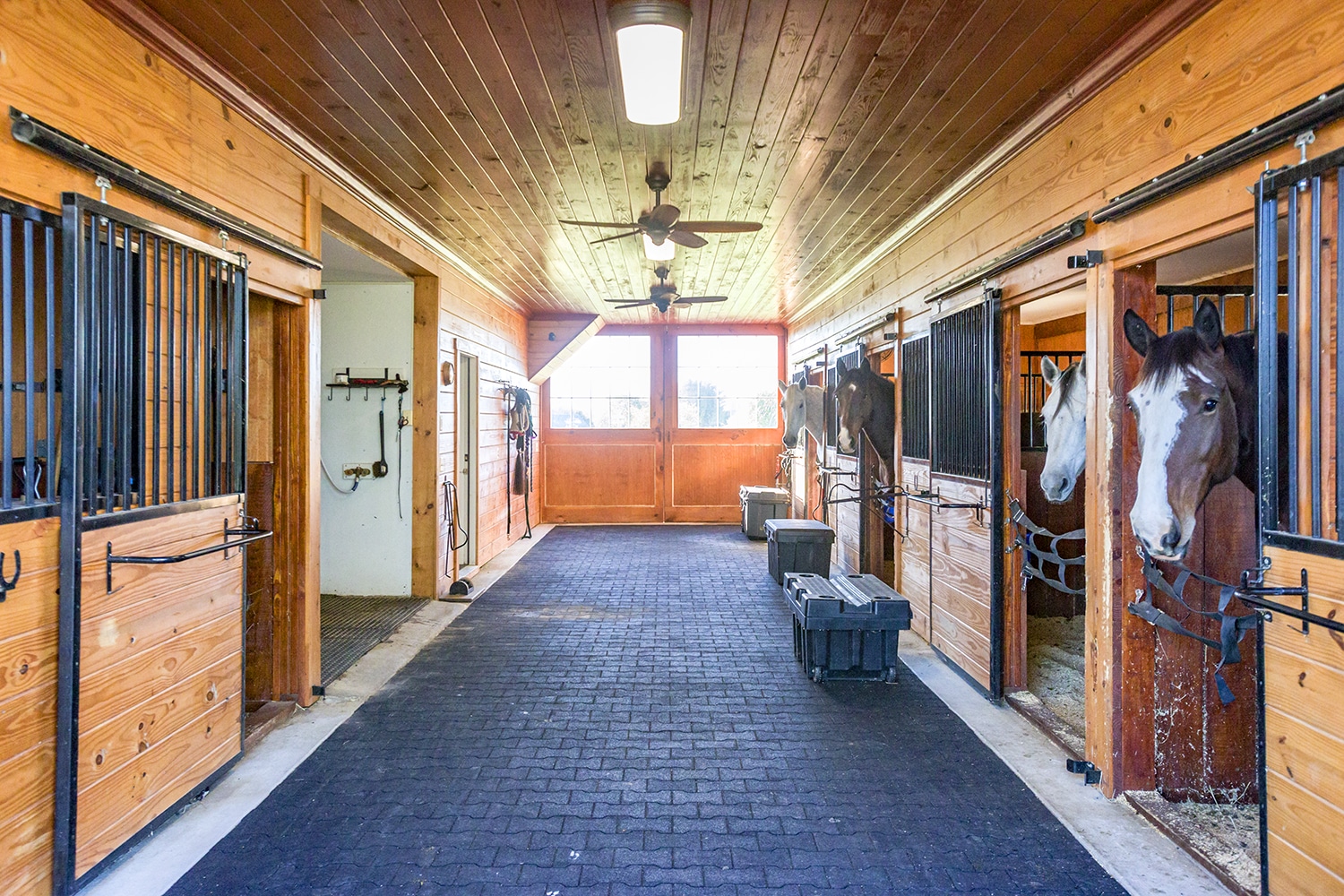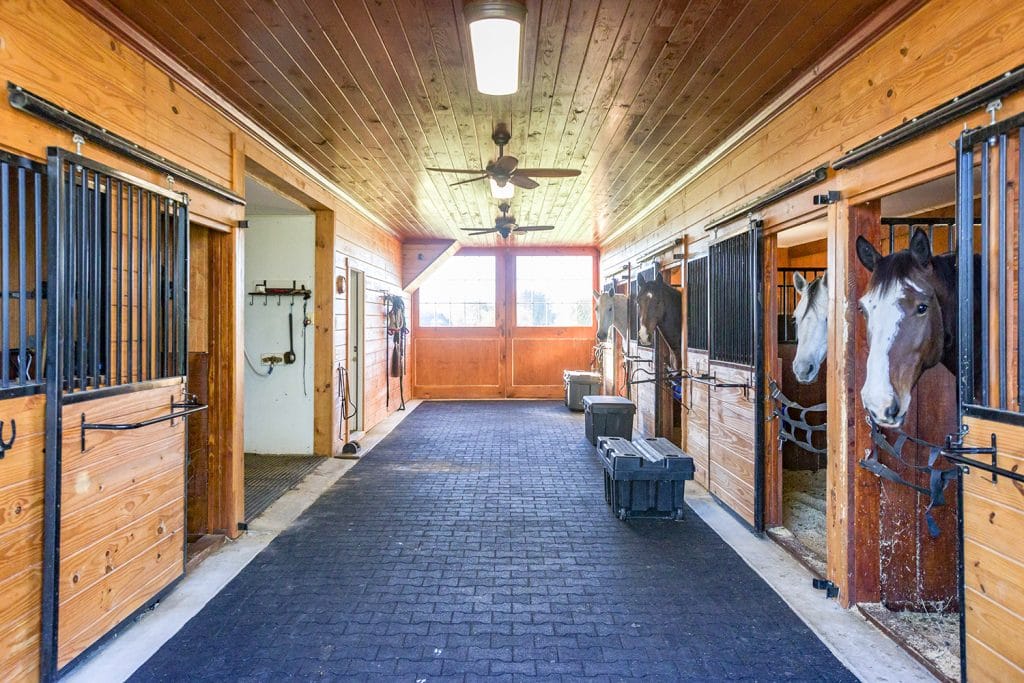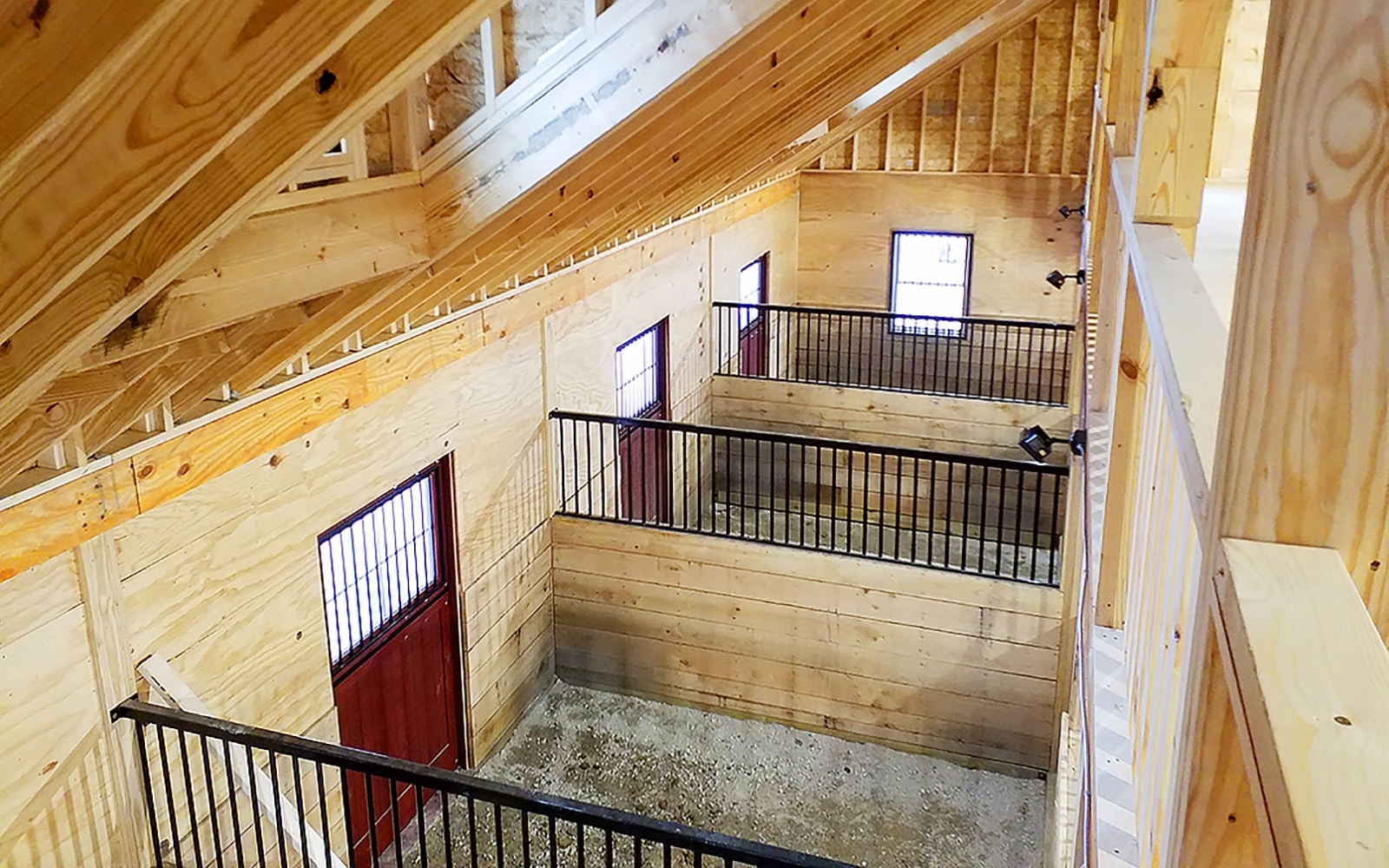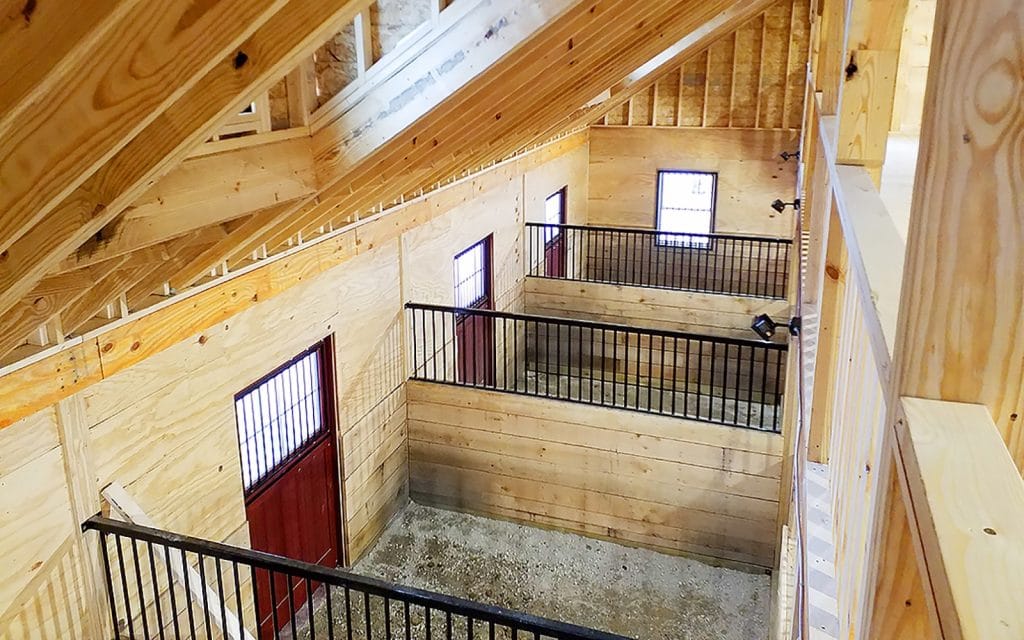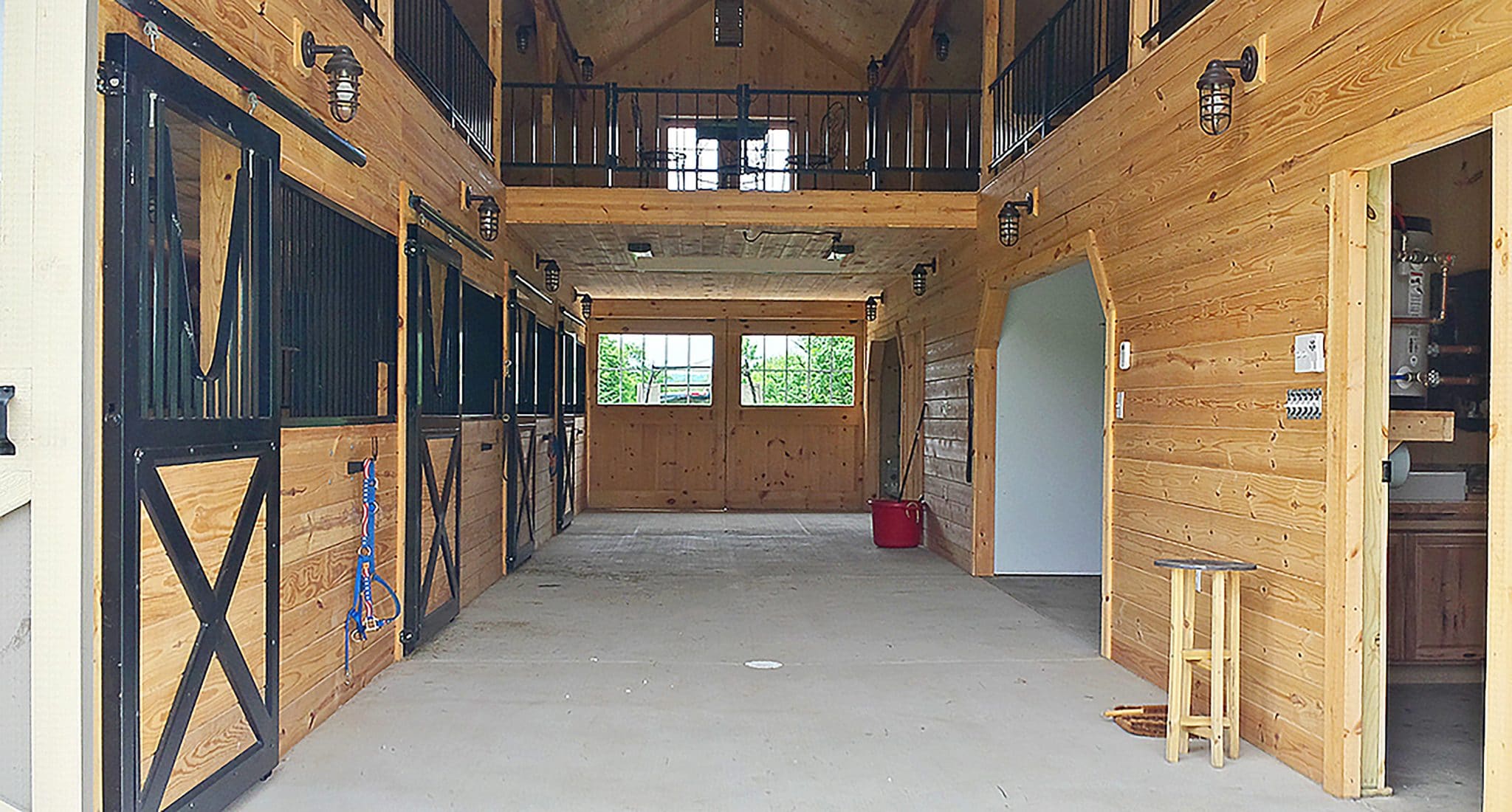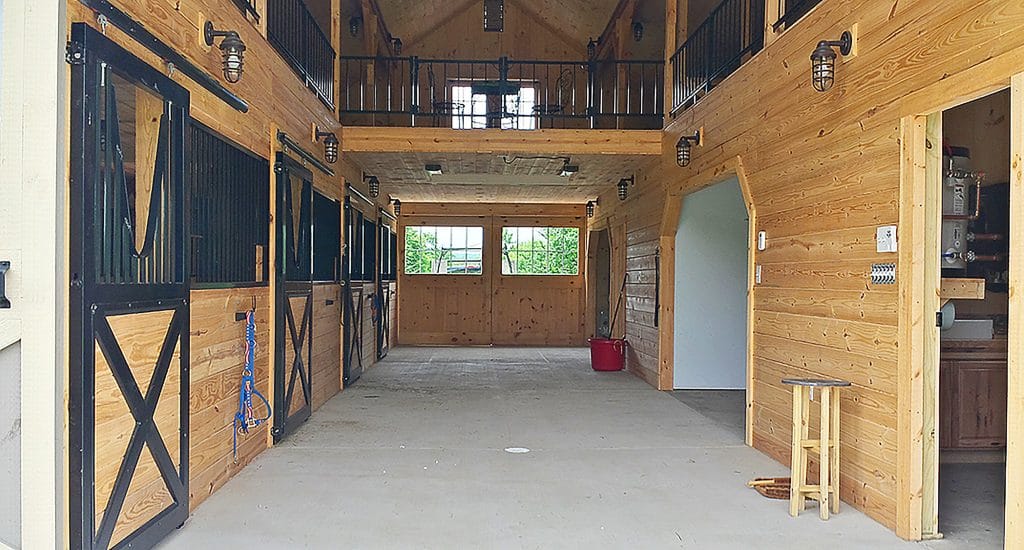 Sample High Profile Horse Barn Layouts
Important Information Regarding the High Profile Style Horse Barn:
Some of the modular barns shown on this page feature DURATEMP siding. Duratemp sided barns INCLUDE paint.  Stain is available for an extra charge.  See color choices HERE.
Board & Batten sided barns can be shipped from several locations throughout the United States.
Barn can be made into a garage or sold as an "empty shell" – Please call 1-888-44-SHEDS for a price quote.
Siding and / or kick board material may vary depending on locally available materials.
Horizon Structures reserve's the right to substitute white pine siding and / or oak kick board with materials best suited for optimal performance within your geographic region.
** Cypress siding may be substituted for white pine, in Southern and Western regions, due to its moisture and insect resistant properties.
** Spruce may be substituted for oak kick board due to local availability.
NOTE: All Dutch doors will now be painted a solid color of your choice.  Match your barn or select a contrasting color.
All barn, run-in and stall dimensions referred to on this site are OUTSIDE dimensions
**Prices May Vary Depending on Location, Shipping Costs and Local Codes**