Lisa Steele "Fresh Eggs" Coop
Blogger Lisa Steele of Fresh Eggs Daily contacted us to help create the perfect chicken coop. Request a quote on her dreamy custom chicken coop today!
The story of this charming coop goes back to 2014
When author/blogger Lisa Steele of Fresh Eggs Daily, contacted us with an advertising opportunity, we were delighted to work with her and proud to become a sponsor. Lisa's website, blog and social media efforts promote chicken-keeping and backyard flocks in a natural and authentic way for novices and experienced chicken keepers alike. We love her down-to-earth style, practical advice and gorgeous pictures!
Her message and her methods resonated with us and we felt that an advertising partnership would open a door for folks to reach Horizon Structures. Not only would this introduce people to our chicken coops but it would also create an avenue to educate them about our other prefab structures for garden, home and farm.
At the end of 2014, Lisa approached us about purchasing a coop for her own personal flock. She was moving and needed a very special home for her chickens and ducks. Per Lisa "…my husband and I just bought a farm in Maine that has a barn but no coop… I'm really excited because I've built both my first two coops myself."
In August of 2015, Lisa was ready to begin planning her new coop. Although we have a complete line of pre-built chicken coops in a wide variety of sizes and styles, we are also able to create a custom coop in practically any size or style you can imagine. Many of our coop customers choose to go this route because they have larger flocks or desire a coop with ample room to work inside as they tend to their chickens.
Lisa decided that a customized shed was the best option for her chicken coop and we began by quoting a 10×12 and an 8×10 A-frame structure. For "function" we added our basic chicken coop package to the shed.
Lisa also decided to include the following options…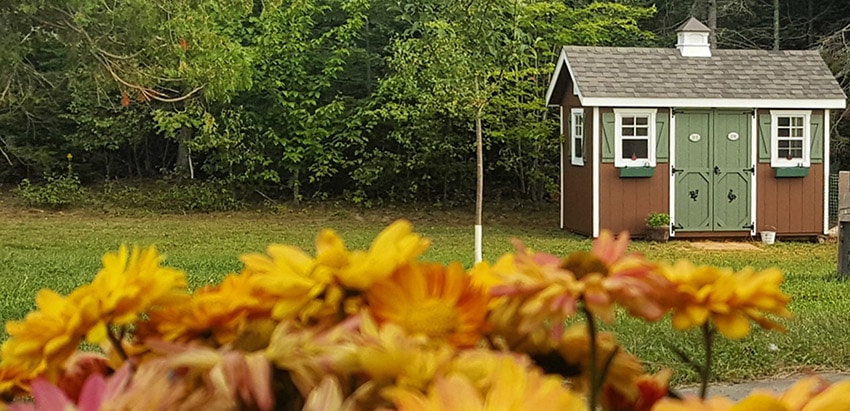 All flocks are different but the general rule of thumb when designing your coop is to plan for about 1-3 square feet per bird – depending on the size/breed of the chickens.
As Lisa evaluated her "wants" and the needs of her flock, she asked us to modify the coop package to split the nest boxes. At her request, we located 6 of the nest boxes (3 over 3) in the main coop area and put the other 3 in the smaller storage area. The 3 nest boxes in the smaller section of the coop serve as convenient storage "cubbies" for keeping tools and supplies off the floor. Or, they can instantly provide a quiet, cozy nook for birds needing separation from the rest of the flock.
Lisa also opted to add 2 additional screened windows, shutters and flower boxes to her hen house. Finally, like icing on a cake, she topped it all off with a super-cute, decorative cupola.
Since each and every Horizon Structures building – from the smallest coop to the largest horse barn – is built-to-order, it was very easy for us to accommodate Lisa's requests and build this custom chicken coop to her exact specifications. At Horizon, nothing is set in stone and even simple details – like door and window placement – are determined by our customers.
Finally, all Lisa needed to do was make the final decision on coop size and colors: siding, trim, shingles and the "extras" – shutters and flower boxes. After careful consideration of her new house and barn and a few minutes experimenting with our Color Selector Tool, Lisa Steele was ready to place the order for her new chicken coop.
Typically, the lead time on coops is about 3-5 weeks. During peak "coop season" which runs from January through May, lead times sometimes stretch out to 6-8 weeks. Fortunately, by ordering at the end of summer, Lisa's coop was ready for delivery well within the typical lead time and our driver was on his way in the early part of September.
Lisa's "shed"-style coop was delivered like all our other prefab structures: fully-assembled and ready for immediate use. Want to know more?  Read about our delivery process HERE.
Be sure to check out the virtual tour of Lisa's coop. This is how it looked straight out of our shop.