Looking for a cost-effective horse barn? Our low profile modular horse barn has plenty of room, even without the added loft. Shop our prefab horse barns today!
Low Profile Modular Barns
At Horizon Structures, our low profile modular horse barns are designed for those who don't need a loft, with a 4/12 pitch roof. The low profile's ground-level storage can eliminate the time and energy spent running up and down stairs to get hay. This low-profile prefabricated modular horse barn is great for anyone who want's to keep everything on the same level. Another big advantage of the low profile is extremely cost effective. Furthermore, since it's only a single-story building the low profile won't overwhelm a smaller property.
As you can see, the board and batten low profile to your left complements the landscape and gives plenty of room for all of your horses.
The low profile modular horse barn is the most economical choice for horse owners wanting a center aisle Horse Barn.
Incorporate horse barn stalls / tack room / wash stall – You decide on the room sizes and layout.
The Low Profile 2, 3, 4, or 6-stall horse barn plan can have an overhang / lean-to added to one side or both!
SIDING CHOICE: 7/16″ LP SmartSide (with Silver Tech) Wood Exterior Siding (painted) OR *Pine Board & Batten Exterior (unfinished)
*Pine OR Optional Cypress Board & Batten Siding is determined based on shipping location
All barn, run-in and stall dimensions referred to on this site are OUTSIDE dimensions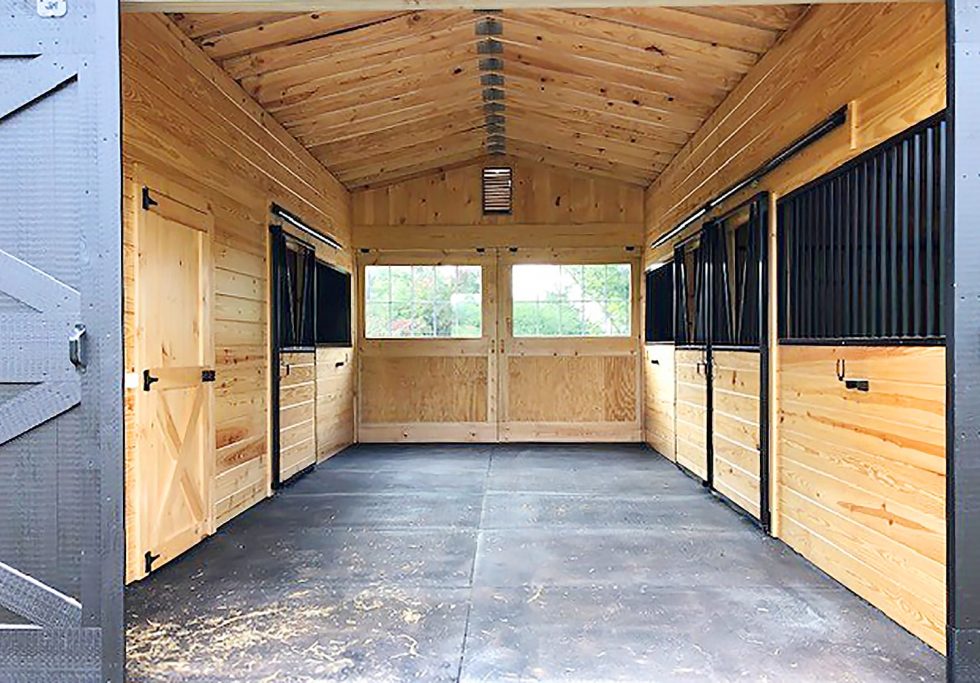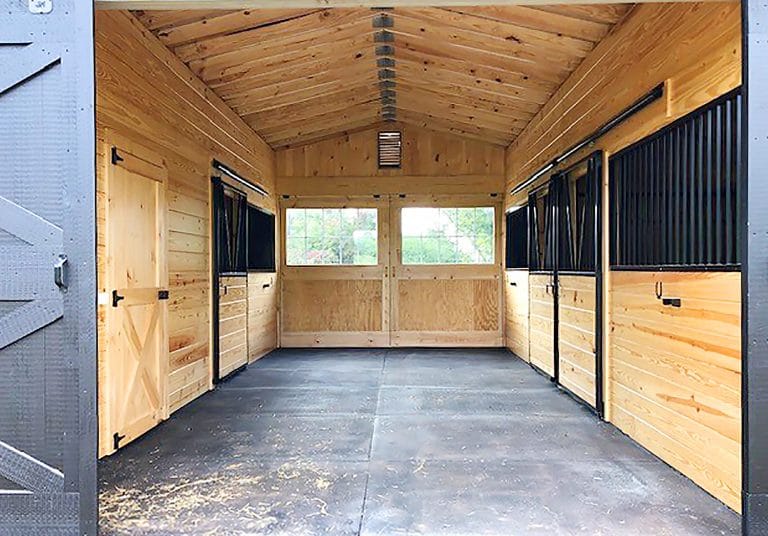 A Very Satisfied Customer...
Hi Dave and Matt! Can't thank you enough for everything, everyone is in awe of the barn, quality and workmanship etc. we love our barn! And please tell Matt, I really appreciate all his emails during the planning of the barn and making the necessary changes i wanted. You are very lucky to have him in your company! Can't say enough good about your company and employees from start to finish, everyone was professional , polite and a joy to deal with!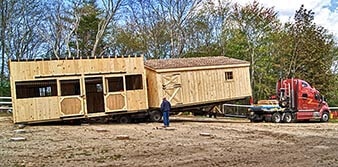 Step 1
The pre-built sections arrive to your location while you sip your coffee.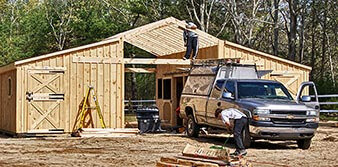 Step 2
Our men add the rafters and get ready to finish the roof.
Don't forget! Site prep is done by the customer prior to delivery of the low profile modular horse stalls.
Cement pillars are required for a modular horse barn in order to ensure that the building stays level.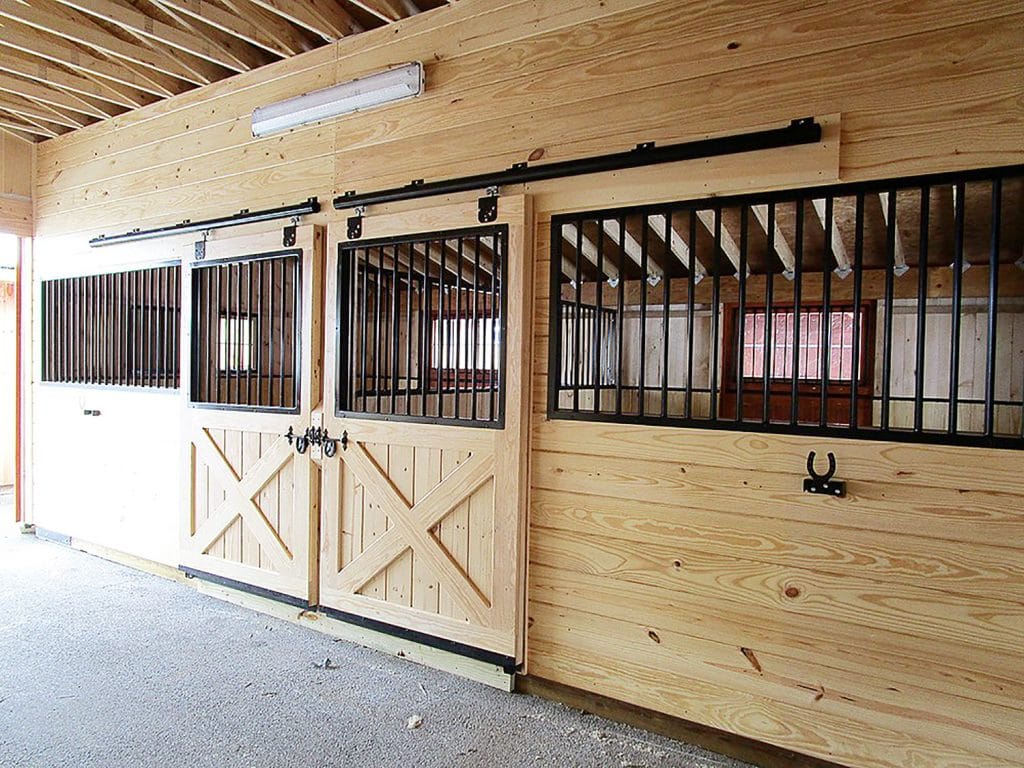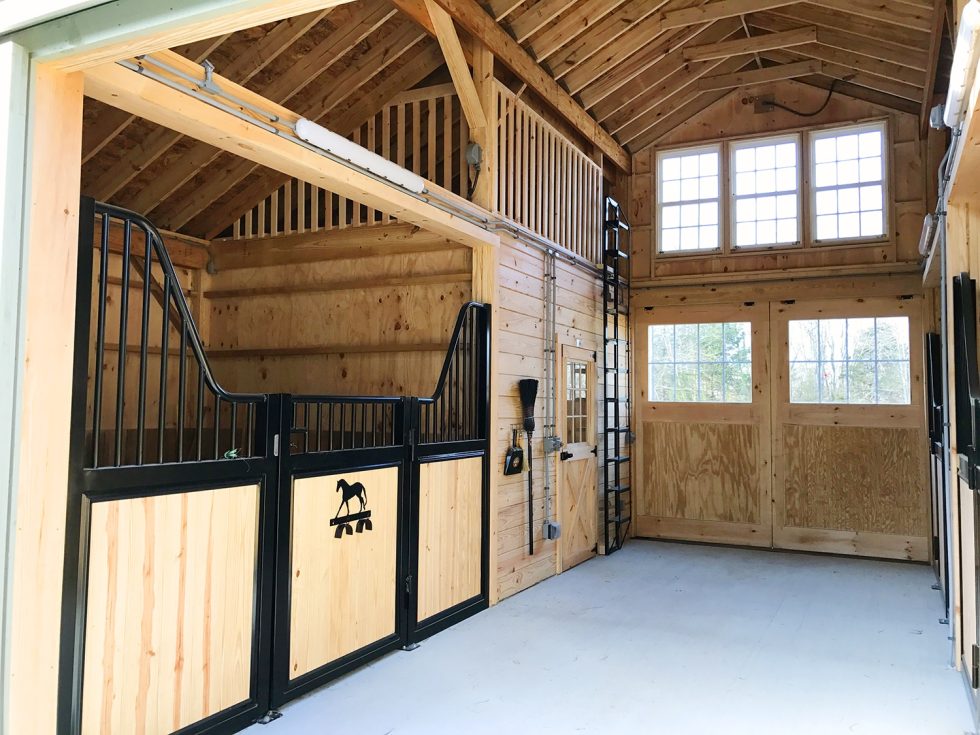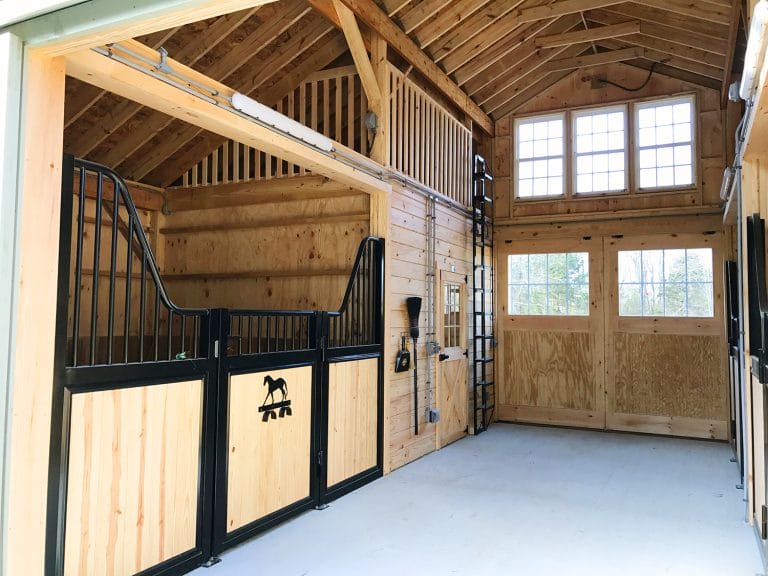 Sample Low Profile 2, 3, 4, or 6 Horse Barn Plans and Layouts
* prices include ESTIMATED delivery / set-up charges
Siding and / or kick board material may vary depending on locally available materials.
Horizon Structures reserves the right to substitute white pine siding and / or oak kick board in your horse barn stalls with materials best suited for optimal performance within your geographic region.
**Cypress siding may be substituted for white pine, in Southern and Western regions, due to its moisture and insect resistant properties.
**Spruce may be substituted for oak kick board due to local availability.
** Prices May Vary Depending on Location, Shipping Costs and Local Codes **
NOTE: All Dutch doors will now be painted a solid color of your choice. Match your barn or select a contrasting color.
NOTE: All barn, run-in and stall dimensions referred to on this site are OUTSIDE dimensions