When it's time to grow the double wide greenhouse is the way to go. You simply won't believe all the extra space the double wide delivers and how straightforward it is to literally grow your crop.
When it comes time to elevate your gardening prowess the extra wide greenhouse offers more than just a year around environment to get the job done. Professional gardeners all appreciate plenty of room to spread out the various species of flora and section up their growing projects.
Keeping certain plants or produce away from others can help defray or mitigate disease and pesky bugs and pests. The extra space allows multiple projects to be worked on at one time by more than one person. This invites the opportunity for family involvement in the greenhouse and allows the avid gardener to manage several growing programs at one time under various light and water needs.
Offering all the wonderful features our customers have come to know and love in our greenhouse structures, the extra wide greenhouse doesn't just deliver on space, it also delivers on low maintenance with its sturdy twin polycarbonate panels, vinyl composite trim, wide 24" potting benches around the perimeter and double storm screen doors. And don't forget the 2 x 16" exhaust fans that will keep you cool as a cucumber.
Available in lots of sizes to fit into every 'lot', there is lots to love in the double wide greenhouse. Take your gardening up a notch and graft a new dimension to your gardening enterprise built on our hefty 6" x 6" pressure treated wood frame. Call us today for a 'to the penny' quote for delivery.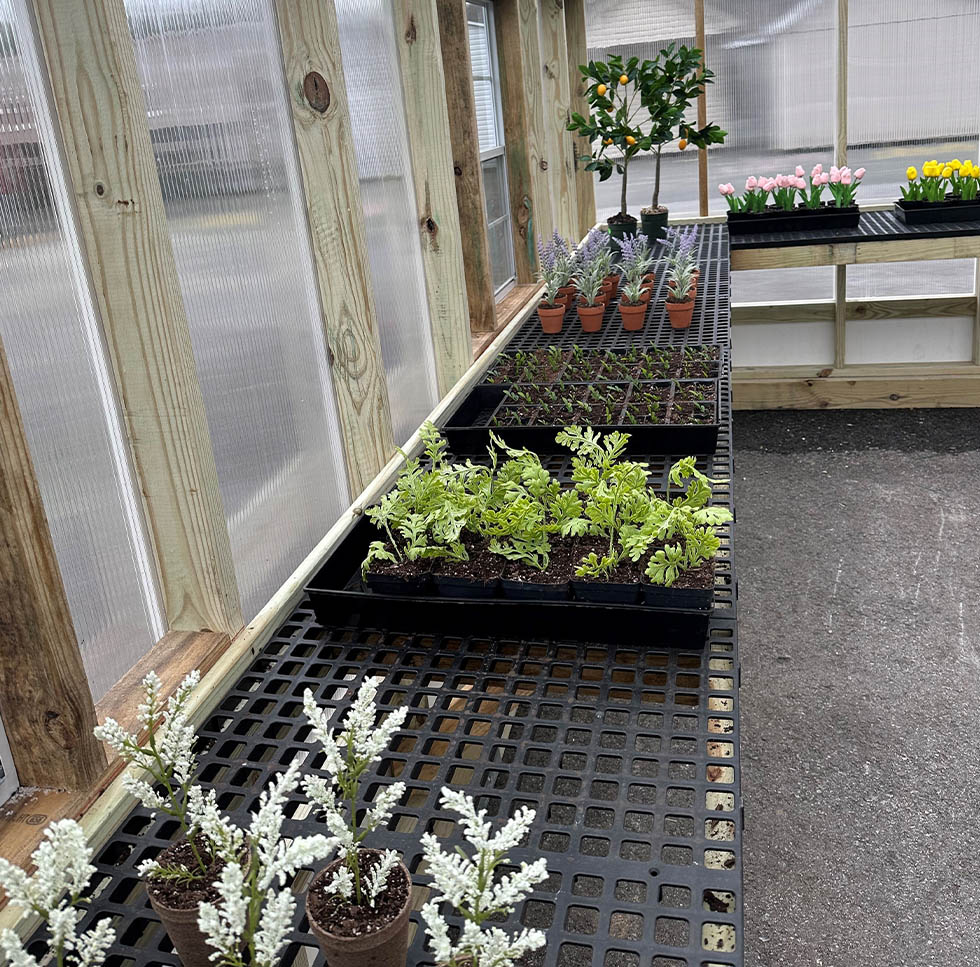 View our Double Wide Greenhouse video
Take a tour of our 20x20 Double Wide Greenhouse!
Potting Bench around building perimeter
Double Wide Greenhouses Available Sizes
Double Wide Greenhouses Standard Features
Greenhouse Watering & Lighting Systems
Extending the growing season to a year-round operation is possible with the use of the right lighting system. Nurturing the water needs for all you grow in your beautiful new greenhouse is a task essential to ensure plant life reaches its full potential.