Provide your horses with a safe and secure wooden run-in shed. Our horse shelters are an attractive way to provide year-round shelter for your animals.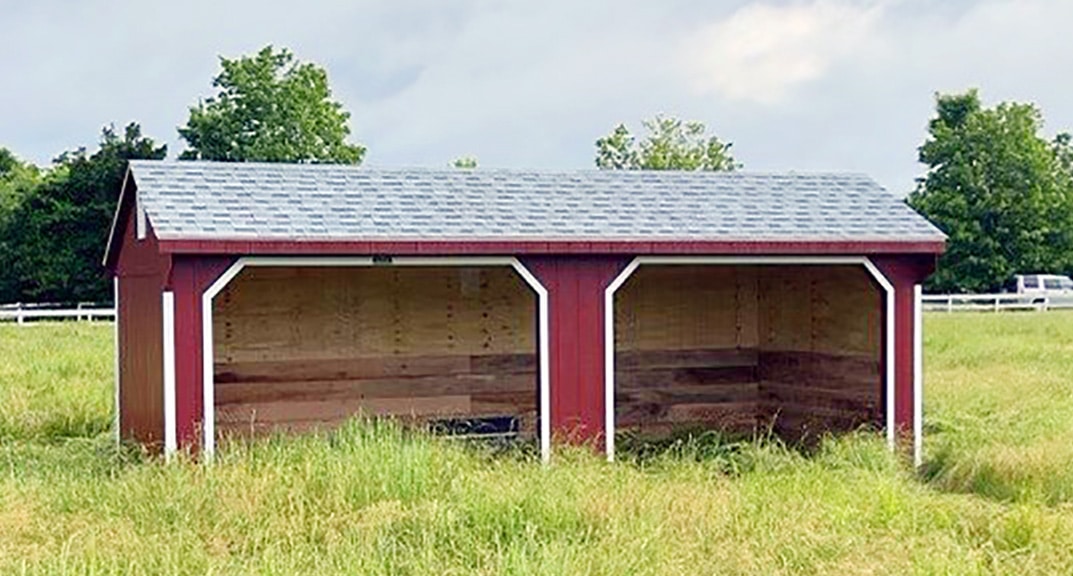 Horizon Structures offers wooden horse run-in sheds that are low-cost, yet safe and secure. Our horse shelters are an attractive way to provide year-round shelter for your horses, ponies, or other livestock.
Many people also use our horse sheds for hay or equipment storage.
As a dedicated horse owner, one of your main concerns is providing a place where your horses can find shade and shelter from rain, wind, and snow. All our Amish-made horse run-in sheds for sale are constructed with quality, time-tested materials that stand up to the effects of Mother Nature and the abuse a horse can dish out.
Attractive, visually appealing horse barns and sheds, our painted LP Smartside is long-lasting, weather-proof and, unlike other woods, resists warping and cracking. 
Consider our pipe-gate option to increase the utility of your run-in shed.  We can install it as a divider or to enclose the front to keep horses inside.  Better yet, buy several and cover all your bases.  Temporary or permanent.  Hinged or fixed. The possibilities for our horse shelters are endless!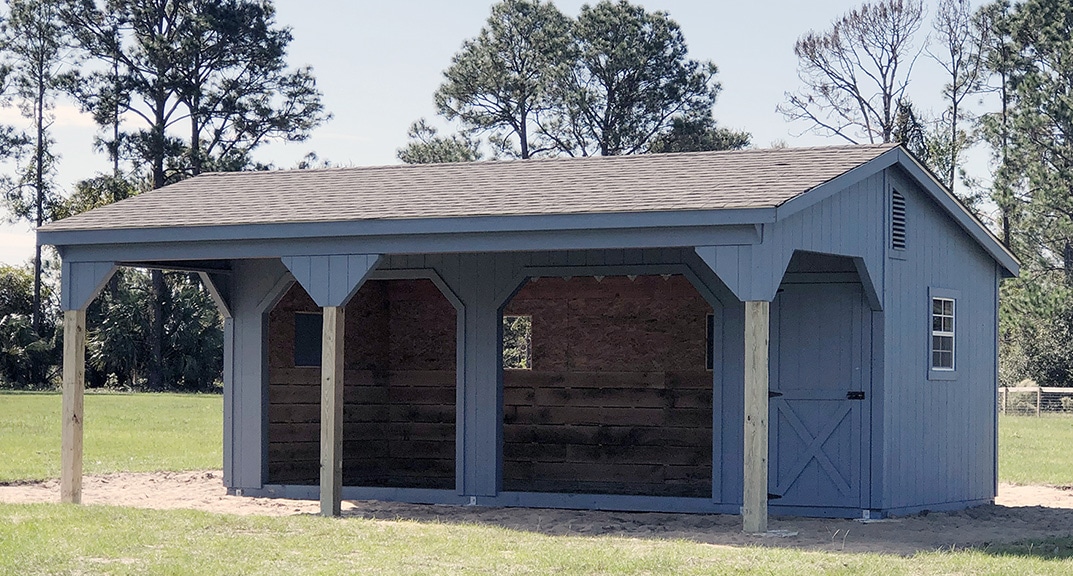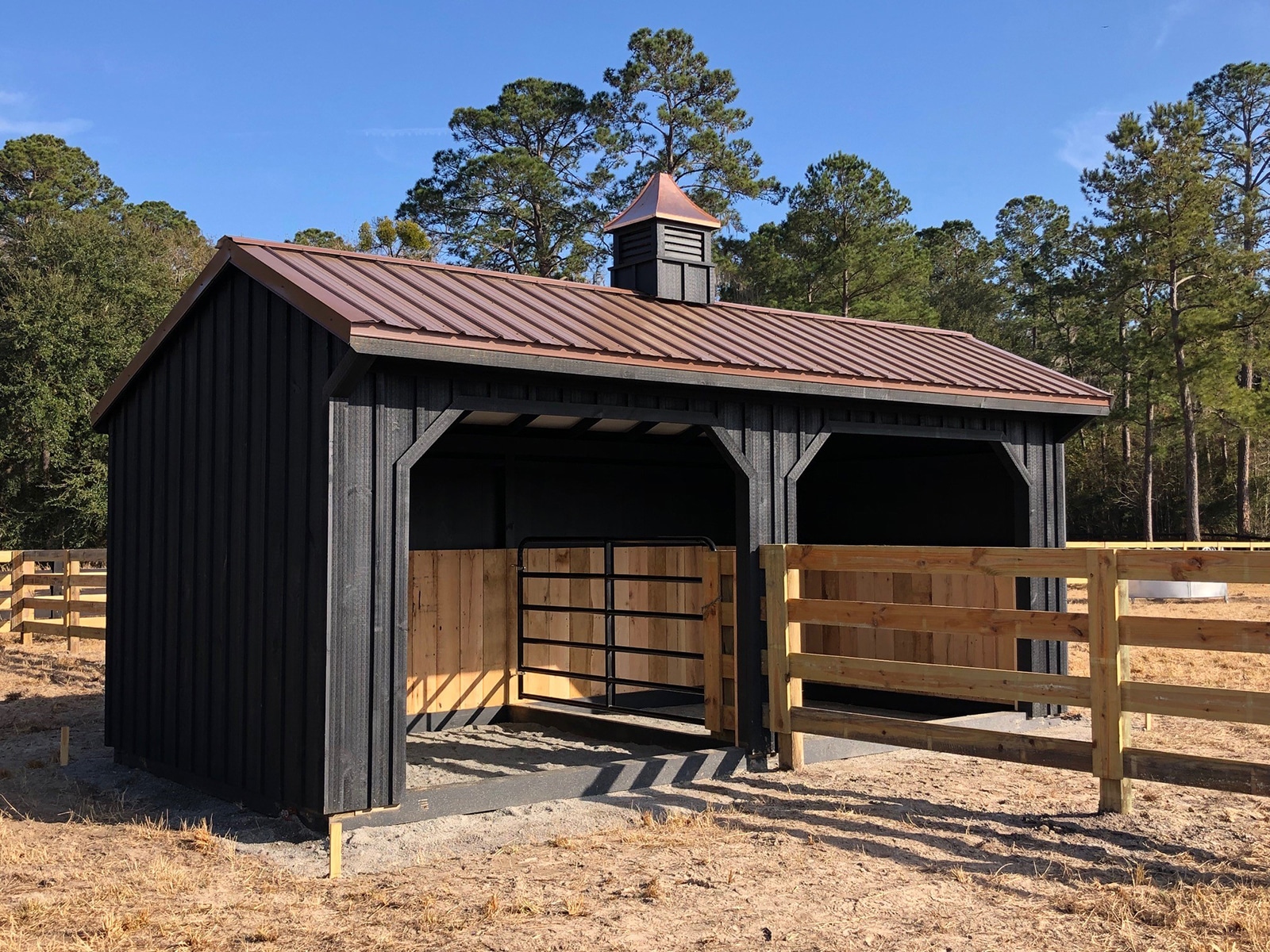 To many discerning horse owners, the option to customize is a key element when deciding where to purchase run-in sheds or horse barns. We offer options ranging from electrical packages to our ability to stain your horse run-in shed for you. Our horse shelters are available in many different sizes and can have partitions, stalls or tack/ outdoor storage rooms added. These options give you the flexibility to build for the future. You never know when you may need a stall to isolate a horse or a dry and secure storage area to keep feed, tools or tack at a remote pasture location.
Every situation is unique – if you don't see something that fits your needs – CALL US! Customization of horse sheds and horse shelters/barns is easy and we're happy to help you.
We also offer horse run-in sheds and horse shelters/barns constructed with LP SmartSide, and exterior siding. Additionally, a wider range of exterior color choices is available. This feature makes it easy to match existing outdoor storage sheds, horse barns, or buildings on your property.
NOTE: All barn, run-in and stall dimensions referred to on this site are OUTSIDE dimensions
Siding and / or kick board material may vary depending on locally available materials.
Horizon Structures reserves the right to substitute white pine siding and / or oak kick board on your horse shelter with materials best suited for optimal performance within your geographic region.
** Cypress siding may be substituted for white pine, in Southern and Western regions, due to its moisture and insect resistant properties.
** Spruce may be substituted for oak kick board due to local availability.
Whether you're considering our basic 8×8 pony-size run-in shed, a large, multi-horse 12×36 run-in shed, or customized stall/storage/run-in combination, Horizon Structures wants to be your partner in putting together the safest, most attractive, and comfortable home for your horses. Call us for details regarding options and add-ons for run-in sheds, outdoor storage sheds, or horse shelters.
The natural insulating properties of wood make it the obvious choice for construction of your run-in sheds or horse barns. Run-in sheds made of wood will stay cooler in the summer and warmer in the winter ensuring your horse's maximum comfort regardless of the season.
Wooden run-in sheds and horse barns are sturdier and safer then metal. Serious injury can result from a well-placed kick puncturing metal sided horse barns. Wooden run-in sheds and horse barns will not dent or puncture.
The absorption properties of wood – both sound and moisture – make wooden run-in sheds drier, quieter, and more comfortable places for horses to reside. Condensation is not an issue and outside sounds, from weather or other sources, are muffled. Unlike metal outdoor storage buildings or sheds, strong winds will not rattle wooden horse barns or your horses' nerves. Also, our heavy, all wooden run-in sheds are less likely than light-weight metal pole barns to topple over in strong winds!
NOTE: All barn, run-in and stall dimensions referred to on this site are OUTSIDE dimensions