The Pre-Fab Advantage makes it AFFORDABLE
Both you and your horses will benefit when you
add an overhang to your horse barn…
We believe that ingenuity is the key to offering the most complete and useful modular horse barns on the market.
An overhang (also referred to as a lean or lean-to) is Number One on every horse owner's wish list when planning their modular horse barn, and none of our Amish barns is truly complete without one.
Essentially, an overhang is a roof that extends the length or width of the barn, and is either an extension of the main roof or an additional roof tier. Adding an overhang to your Horizon Structures modular horse barn is as simple as making any other customization, but horse lean tos are such a popular feature that many of our barns already incorporate them.
Barn overhangs help minimize muck and mud buildup in high-traffic areas by keeping snow and rain away.
Our roofs and lean to barns meet national code, giving them the strength and weight bearing capacity to stand up against extreme weather.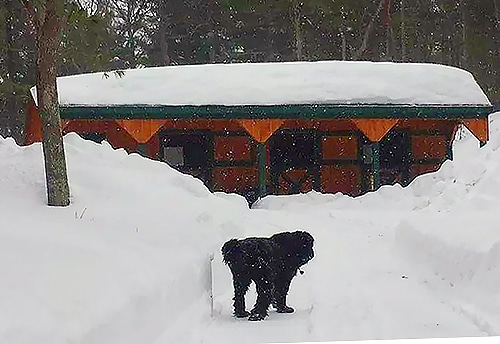 A lean-to for horses offers a great place for seating, storage, and crossties.
Use as a wash bay and keep water and dirt out of the barn.
This area also gives your vet and farrier a dry, covered space to tend to your horses, even on rainy and snowy days.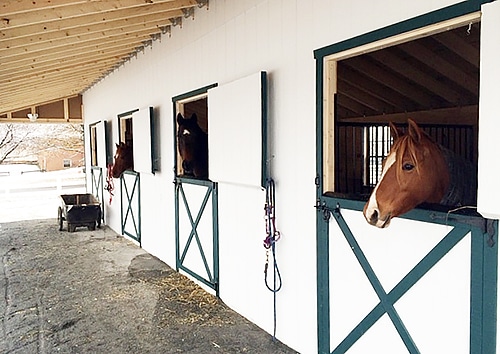 Freely turn your horses out without worrying about leaving them exposed to the elements. If unexpected bad weather shows up you can rest assure that your horses have access to safe shelter.
Plus, giving your horses more time outside will help their stalls stay cleaner, in turn cutting back on mucking, and helping you save money on bedding.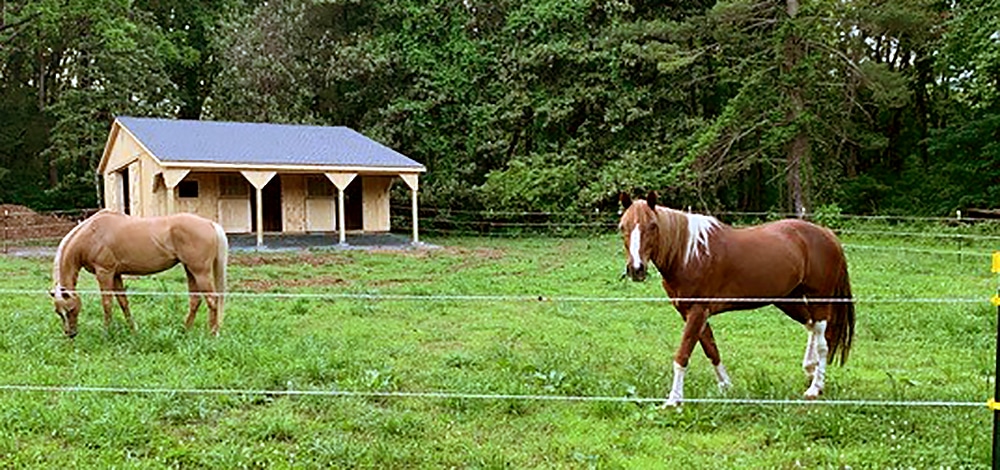 We offer the following overhang sizes...
Our crew will have it done in 1 DAY!
At Horizon Structures we custom build horse barn overhangs that are convenient for both owner and animal, and in doing so we ensure that your barn meets your every need, from safety to convenience.
** Barn / overhang shown with upgrades and options – Please call for details **
NOTE:
LP SmartSide Barns – All Dutch doors are painted a solid color of your choice. Match your barn or select a contrasting color. Please tell us if you want crossbucks and door framing painted a different color.
(extra charges will apply)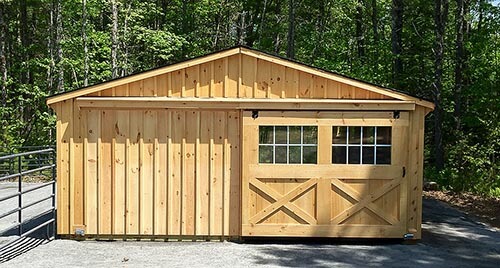 Talk about the ultimate in overhang utility!
Enclosing the entire overhang and adding sliding doors at each end has doubled the size of this barn. Add a few windows on the outside wall to flood the interior with light and what started as a simple 10×40 shedrow is now a beautiful 20×40 barn. Who wouldn't love a spacious 10' wide by 40' long aisle? The possibilities are endless!
Remember: Overhangs extending more than 4' require columns for support which means additional site  prep prior to barn delivery. Find out exactly what's needed HERE
12 x 38 Horse Barn with 8' Overhang
Lean-to shelters horses from sun, rain, snow, wind.
We can enclose any portion of the overhang for additional protection from the elements.  Solid end-wall makes a convient place to hang shovels, rakes, brooms and more!
NOTE: All barn, run-in and stall dimensions referred to on this site are OUTSIDE dimensions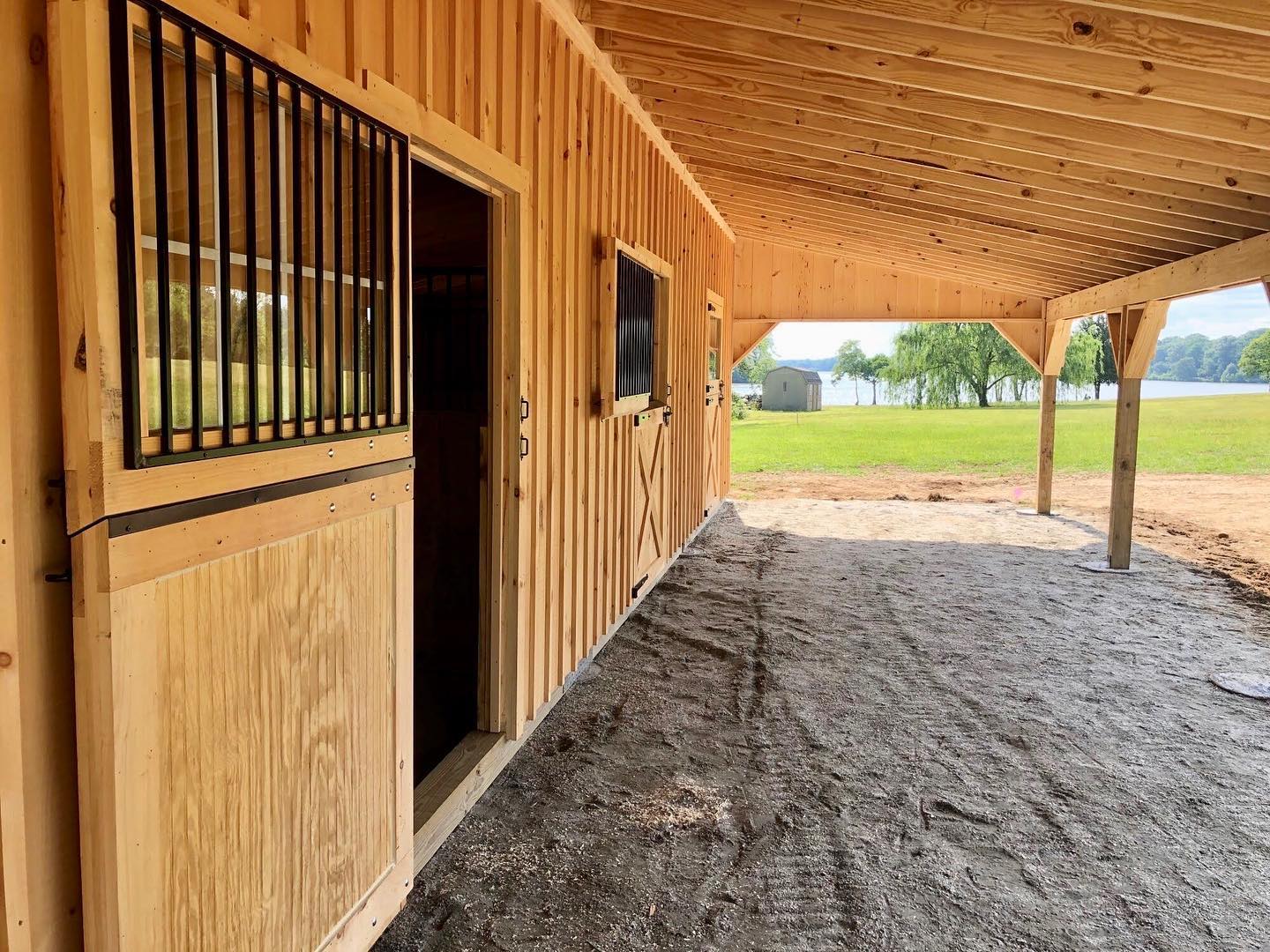 NOTE: All barn, run-in and stall dimensions referred to on this site are OUTSIDE dimensions