You Can Now Capture the Best of Both Worlds
Horizon Structures timber frame barns offer the time-honored traditional craftsmanship of timber frame combined with the convenience and affordability of modular construction.
Timber Frame Barn Reflects Stewardship of Historic Property –
Read More HERE
Why is a Timber Frame Horse Barn so Special?
Timber frame utilizes mortise and tenon joinery, and is the strongest technique known to carpentry. It requires a high level of skill to accomplish. Not to be confused with post and beam, where lumber is joined by metal plates, timber frame is peg and beam where one piece of wood is inserted into a corresponding hole in another piece of wood to provide the ultimate in structural strength and stability.
The technique has been around a long time for good reason. Not only does it offer the ultimate in longevity for the structure, it has huge aesthetic appeal with its cathedral ceilings and juxtaposed wood beams unfettered by metal plates. Timber frame horse barn is the ultimate method to showcase the natural beauty of the wood and the highest quality carpentry craftsmanship.  Sometimes the old ways are the best!
Modern day modular construction, for which Horizon Structures is a leading provider, is artfully combined with the artisan appeal of timber frame and provides an affordable alternative to an expensive stick built timber frame build.
Two modular units that form the stalls/grooming or wash stall and tack room can be built in the factory with all the advantages that this provides. No mess, no stress on-site, no noise, no weather or material delivery delays. These units can be readily transported to the building site where the timber frame roof will be built on site to provide the cathedral ceiling.
Full customization including overhangs and even some loft space (you won't want to hide the timber frame completely!), is available.
Think of these prefab wood horse barns as a giant jigsaw puzzle, where the lumber components are of the highest possible quality and craftsmanship, and are put together to complete a sophisticated, high-end product without spending the big bucks or time that a 100% stick built timber frame structure would require. You have the look and longevity of the latter without the cost and the added bonus that no-one will know the difference.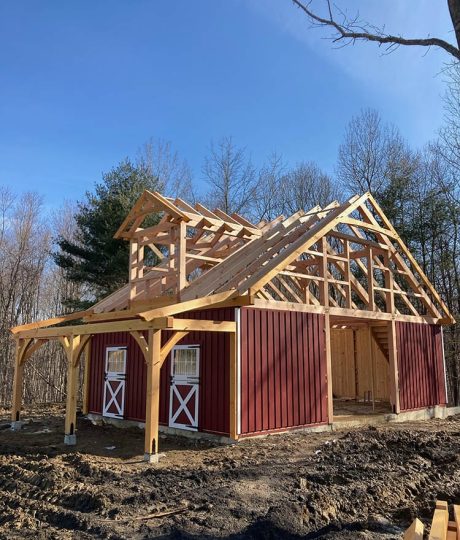 The inherent beauty of the timber frame construction that showcases the substantial lumber that is bound together by mortise and tenon joinery with oak pegs goes more than just skin deep.
When you want to take horse barn design to a higher level, the timber frame build is always going to take the blue ribbon.
This iconic design immerses the viewer in a revelry of days gone by with visions of the Wild West or hard-working New England farmers at toil, sheltering their animals from the inevitable harshness of snowstorms.
A litany of fabulous features awaits in this perfectly artisan crafted structure that will bring its owners a true sense of achievement to own.
It probably comes as no surprise that all wood is not created equal. When constructing a timber frame horse barn it's essential that the exposed wood offers the finest appearance but that's not the whole story.
Obviously timber used in construction applications needs to be strong, insect resistant and visually appealing. The species of wood used, its grade (the lower number the better the quality and strength), and how that wood is milled, are important factors in ensuring a top quality prefab wood barn build.
All beams and stringers are Douglas Fir Grade 1 or higher (as defined by the Western Wood Products Association (WWPA), who provide lumber grading and technical support services for the Western lumber products of their member mills). The strength qualities of this grade make it desirable for use in almost all cases of heavy construction. In time-honored tradition, the pegs are made of oak.
The Douglas Fir Grade 1 or better is considered wood that offers the best appearance for exposed use. Additionally it is S4S, meaning the wood offers an appealing smooth appearance.
The timber we use is milled FOCH, free of center heart of the tree. Why is this important? Timber that is milled away from the heart of the tree will crack and split less than timber milled from the boxed heart in the center of the trunk.
Heavy duty beams are used throughout the structure. The biggest beam being 8" x 12" for barns with a gable dormer (8" x 10" without dormer option), and 4" x 10" used for lofts. This large lumber not only optimizes the strength and sturdiness of the building, it also elevates the architectural impression and aesthetic appeal of the horse barn.
Southern Yellow Pine is incorporated throughout the rest of the structure, with seamless casing (or cladding?) from floor to ceiling on the interior walls to produce a stylish, sophisticated appearance.
As with all Horizon Structures horse barns, many features that every horse owner will not want to do without, come standard.
Premium quality hardware such as locks, door handles, and grills are included, kick boards, Dutch doors, entry doors and windows.
We offer 5 different package options that further customize the barn build. From overhangs to dormer windows, loft spaces to insulation, we have exciting designs to address your needs and personalize your purchase.
Don't be shy to ask lots of questions, we're here for you and the Horizon Team has answers to questions you didn't know you needed to ask!
Drive A Different Car. Build A Different Barn.
Choices. Choices. Choices.
Can there be something as too much choice? We don't think so.
Whatever style of barn you prefer, there is no wrong choice. Modular and prefabricated barns offer an unparalleled convenience and timber frame horse barns offer an architectural aesthetic appeal that cannot fail to impress.
The myriad of customization features ensures every barn can be as individual as you are. Whatever your personal preference when it comes to a new horse barn, don't hesitate to put our experience to work for you.
We assign a designated Project Manager to collaborate with you on your new barn purchase from start to finish, assuring a smooth and happy purchasing experience and complete satisfaction with the end result.
NOTE: All barn, run-in and stall dimensions referred to on this site are OUTSIDE dimensions

Horizon Structures Timber Frame Barns