Horizon Structures is proud to introduce the latest custom chicken coop in our line of pre-built chicken coops. This unique coop was designed by blogger and author Melissa Caughey.  
This unique coop was designed by blogger and author Melissa Caughey.  It was inspired by – and named for – a little black Australorp chick that Melissa received through the mail when she decided to expand her flock.  "Tilly" soon become Melissa's favorite and also the "head hen" within her flock.  As the "Tilly's Nest" coop began to receive favorable attention through Pinterest, Melissa's blog and other social media outlets, folks began asking where they could get a coop just like it for their chickens.  That's when Melissa began her search for a company that could replicate her coop for the public without compromising the carefully conceived design and quality she built into the original.  
This 6×8 prefab chicken coop for sale is perfect for 10-12 hens.
We've faithfully reproduced Melissa Caughey's original design and added a few extras.  These "upgrades" have been extremely popular on our other coop models and we're delighted to include them as 'Standard Features' on Tilly's Nest to make this lovely coop as complete as possible…
Epoxy or Glasbord Coated Floor | Cleaner Coop Tray | Decorative Wooden Cupola
True to the original design, (2) 27″ w x 12″ h jalousie windows on the 'bump out' and (2) 18″ h x 27″ w windows on the opposite wall allow natural sunlight to brighten the coop interior.  Step inside the coop to open the windows and welcome in the fresh air.  We include vinyl coated mesh on all the windows to keep predators at bay.
Horizon Structures and Tilly's Nest: Perfect Partners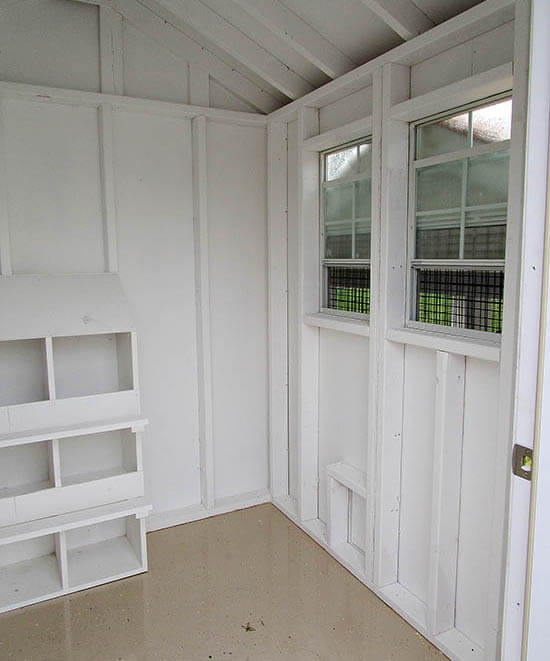 Tilly's Nest coop is perfect for backyard flocks of 15 to 20 hens.
Upgrade to a painted interior to take full advantage of natural sunlight.  Bright, crisp white makes this coop shine!
Easily Accessible Nest Boxes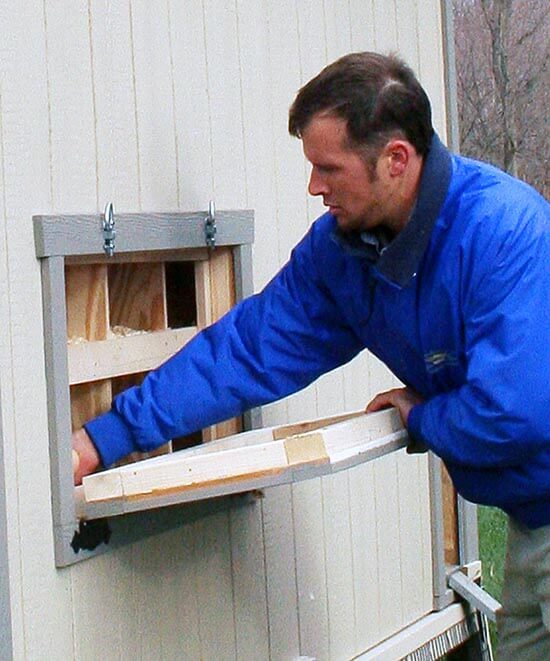 Melissa Caughey tells us she wishes she'd thought to add next box access to the outside of her coop.
The hinged egg access door is a hallmark of ALL Horizon Structures chicken coops so, naturally, we've added to our version of the Tilly's Nest coop, too!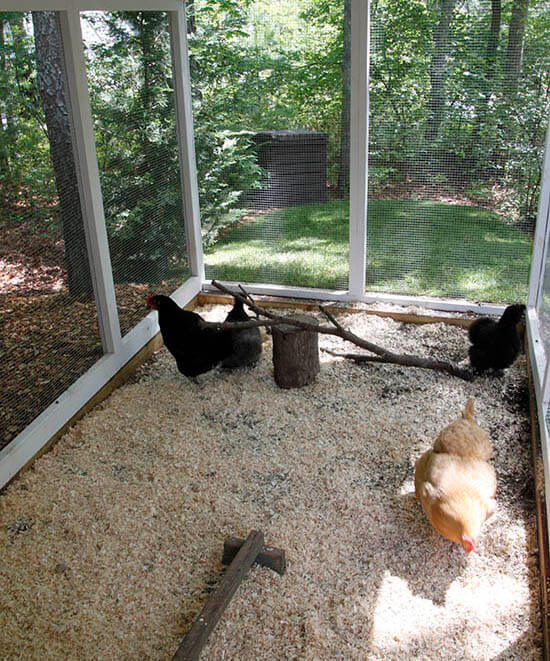 Whether you free-range your chickens or not, a chicken run is something everyone can use.
Staying true to Melissa's vision, we've included a run with our Tilly's Nest model.  The 6×12 run comes with a wire mesh top panel and requires some assembly.
Or, choose a run with a shingled roof to match your coop – exactly like Melissa's original design.  *Roofed runs come fully assembled and ready for immediate use – just like the coop!
*extra shipping charges will apply
Make Tilly's Nest Your Own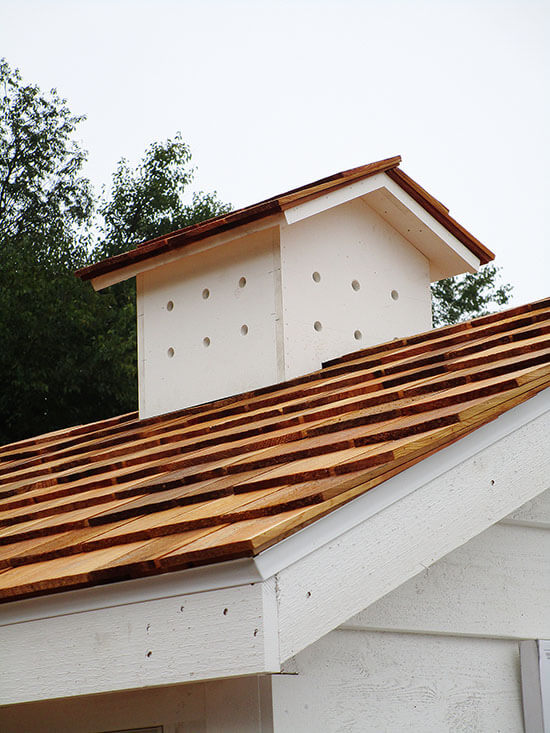 When Melissa Caughey asked us to reproduce Tilly's Nest coop it was easy to say "Yes!"  In addition to her charming and completely unique coop design, Melissa  possesses an uncompromising passion for quality in both materials and workmanship – just like Horizon Structures.  Chicken comfort and safety are other important factors we both believe in.
Working closely with Melissa, we recreated the Tilly's Nest coop that was true to her vision.  When she visited our shop to preview the new coop, her delight and approval was instantly obvious.  She remarked with enthusiasm that it was almost surreal seeing her coop outside it's normal setting at her home and that it was, virtually, impossible to detect any difference between her coop and the prefab chicken house we faithfully reproduced for sale to the general public.
Want to customize your chicken coop? Please call us at (610) 593-7710 for a quote.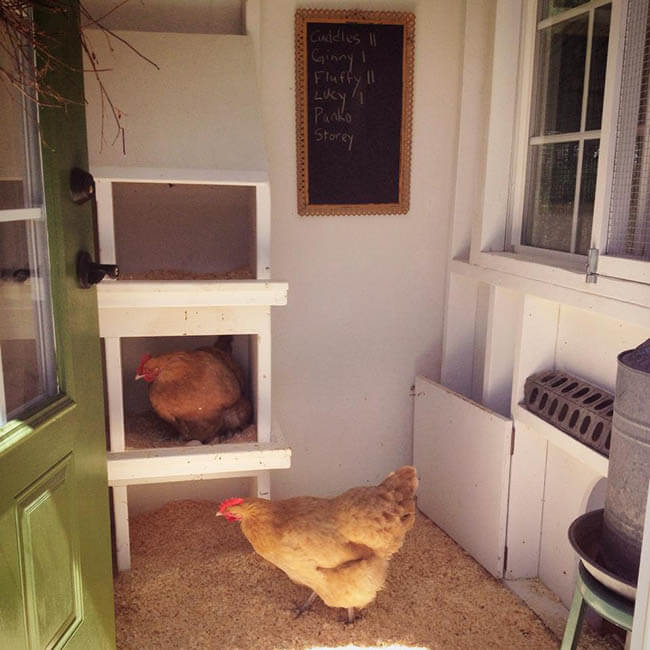 Here's an interior view of the nest boxes on the original Tilly's Nest coop.
Each box is about 11″ x 11″ with a wooden sill in front to contain the nesting material.
Vintage chicken related accents add to the charm of this cute and cozy coop.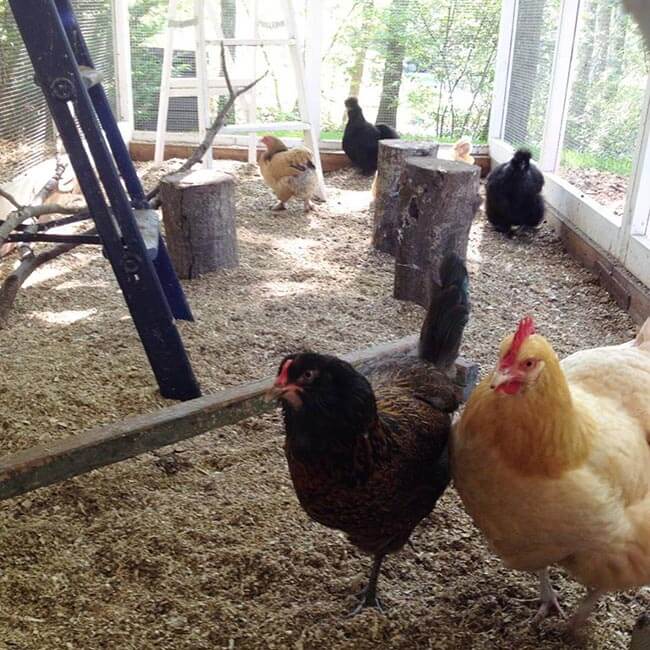 A chicken run doesn't have to be boring confinement with your hens looking longingly at the yard beyond…
Fallen limbs, branches and stumps make excellent perches.  Add an old step ladder, a chicken swing or a treat ball to keep your flock engaged and stimulated.
The 6×12 run INCLUDED with your purchase of a Tilly's Nest coop offers plenty of space for your hens to enjoy the outdoors.  Keep in mind, the run will keep your chickens confined but is not guaranteed to protect them from all predators.
In order to provide coast-to-coast delivery of our small
chicken coops
, we MAY require the services of a commercial carrier. This means that your coop MAY arrive via a large tractor trailer truck.  Please call us at (610) 593-7710 if you have concerns about the truck accessing your property. We will work with you to the best of our ability to make the delivery; however, your assistance may be needed in some instances. Horizon Structures chicken coops are delivered fully-assembled and ready for same-day use.  Coop pricing includes placement.