Browse our selection of 2-story garages with customizable options including added living quarters and dormers. Add space to your property with a prefab garage.
Prefab Garage with Apartment
A 2-story prefab garage with an apartment takes a few days of on-site labor to complete, right? Wrong! The innovators here at Horizon Structures have come up with an entirely new concept for installing a second story on a building. Give Amish builders lumber, some hinges, and a mission; and what is the result? Horizon Structures' new, raised roof 2-story, 2-car prefabricated garage. You read that correctly, we have developed a prefab 2-car garage with a full second floor loft that can be delivered completely assembled.
So now, the only thing better than one of our Amish prefab garages is one of our modular garages with a loft. Double the space and the possibilities are out of site! Abundant storage, home office space, guest quarters, dedicated hobby area…the list goes on and on! Looking for something smaller? We also offer 1-car prefab garages.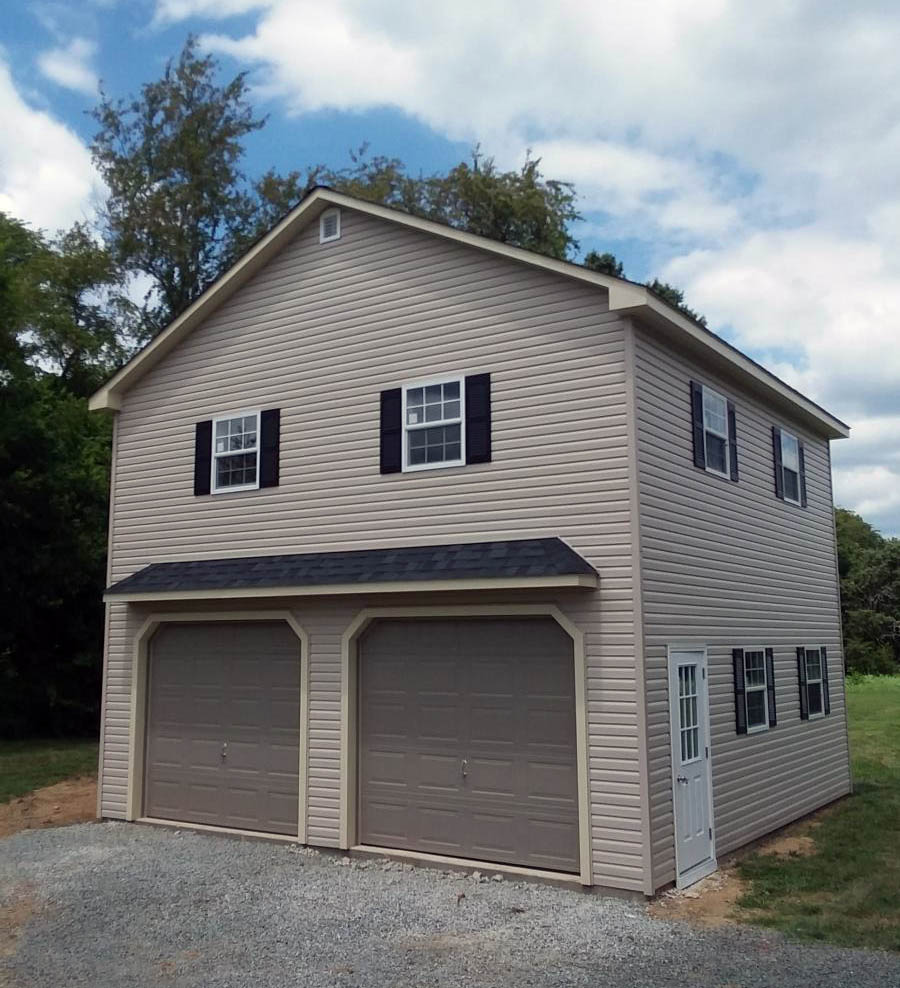 A Prefab Two-Car Garage With A Brand New Feature!
This new modular garage with loft comes in two halves like our regular 2-car garages, but the secret is that the 7/12 pitch roof is folded flat for transportation. When the building arrives at the property, the two sides of the roof get pushed up into position. The stairs and attic floor are already installed on our 2-story prefab modular garages.
On-Site set up time for this extra large garage is only about 1 to 2 days!!!
Our new Raised Roof technology is available for 10′, 12′ and 14′ wide structures, too!
We can customize the height of the floor/ceiling…
Minimum height (lower level) is 7'6″ (equals 7'4″ maximum height in attic)
Full or partial attic floor or totally open/full cathedral.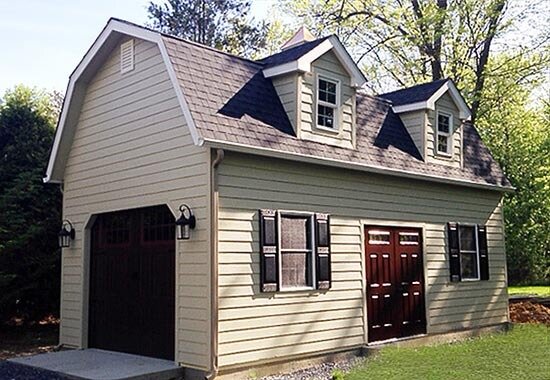 This extra large Amish prefab garage with an apartment has more than enough room to open your vehicle doors and move around comfortably inside the building.
Full wooden staircase is included in the price and is installed when the prefabricated garage built in our shop. Garage can be ordered with or without a wooden floor on the ground level.
You specify the height of the upper level when ordering. Opt for Increased headroom on the lower level or more storage space above. Standard interior height, on second story, is 8′.