When you operate a dog boarding business the canine clientele can present challenges to the most ardent of dog lovers and caregivers. Factor in the human component in the form of the dog owner, and the dog boarding business becomes more complicated.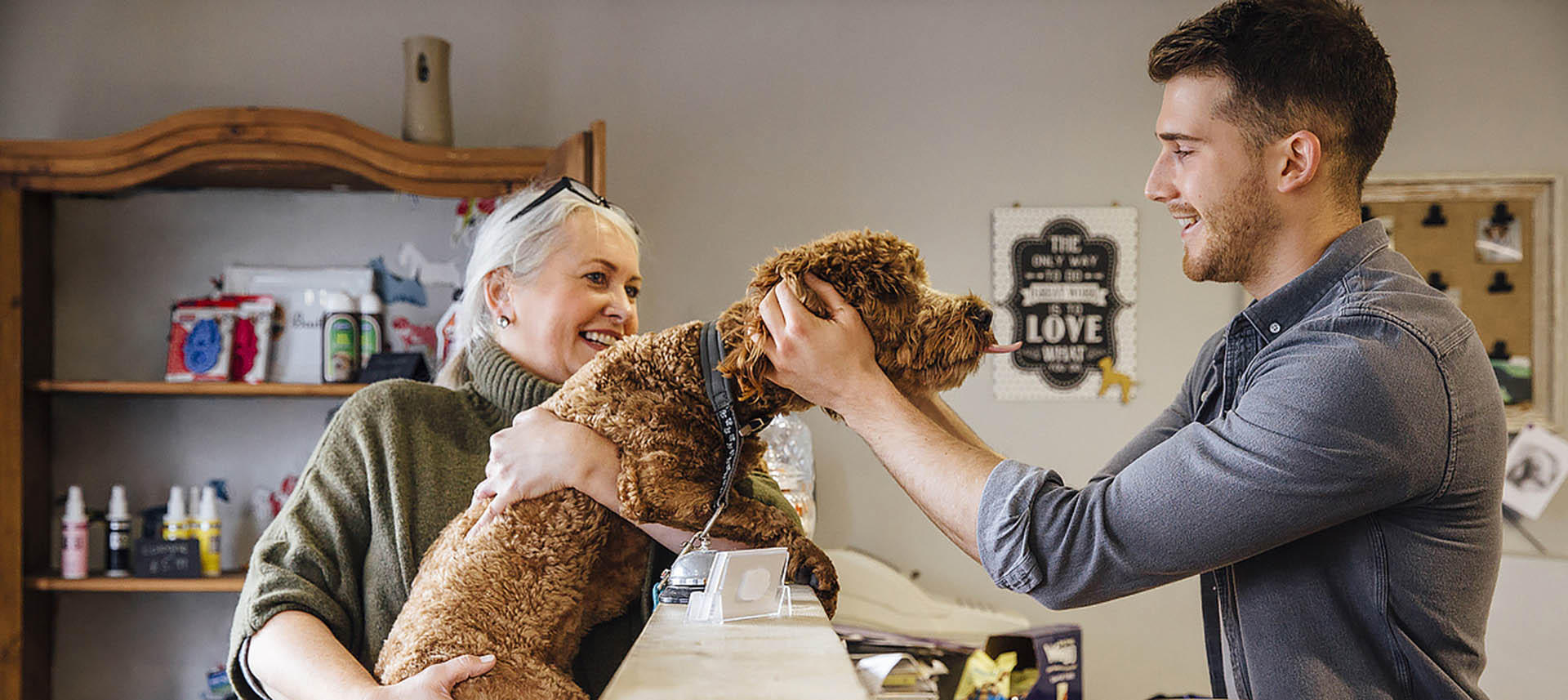 Here's a look at some woes that can be experienced at a boarding facility and some solid solutions to aid you in navigating them: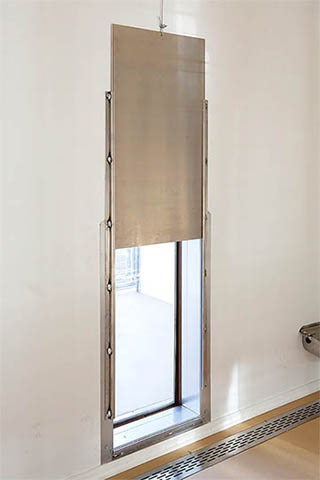 Aggression and Intimidation Issues
Dogs do not always get along with their neighbors and an aggressive dog can be a danger to itself and others.
When choosing a kennel design select one with guillotine doors that allow the dog to go from the dog box to a securely fenced dog run outside. This will facilitate the caregiver being able to clean the box or exterior run without direct interaction with the dog.
The outside run comes with an exterior gate for access for easy in/out access for daily chores by the caregiver. This exterior access will also provide an easy in/out for dog handling without the need to parade the aggressive dog past other canine kennel occupants.
The use of solid dividers between dog boxes can alleviate stress between neighboring canines and lessen intimidation from an overly excited or aggressive dog over a companion.
Security / Safety
The entire structure should be of sturdy construction, with the correct gauge wire for the type/size of dogs to be housed within the building. For extra security particularly for K9/service dogs or larger breeds of dogs that can chew through almost anything, a welded wire enclosure is best.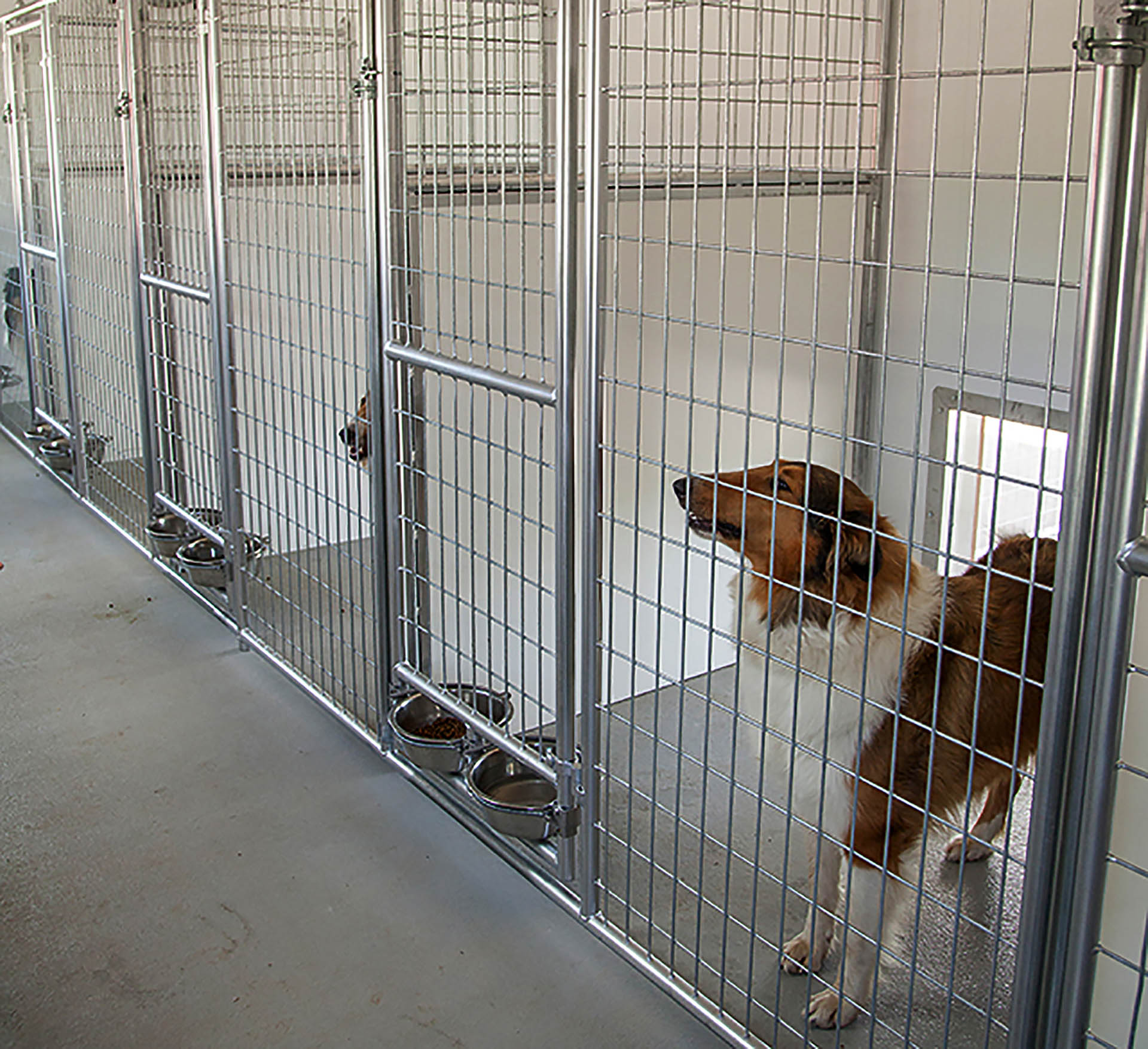 A wire security door at the entrance to the kennel can significantly reduce the chance of an animal gaining freedom to the outside by accident, during daily chores when kennel box door may be opened.
Noise
The noise from barking can be mitigated by the use of solid dividers between dog boxes. Additionally separation of unneutered dogs from unspayed females can improve kennel relations between animals and lessen stress for all animals contained in the structure.
Hygiene
It is of paramount importance that the floor, walls, ceilings and all components within the kennel are easy to clean. The floor should be seamless to prevent dogs digging and chewing at the wood floor beneath and covered either with stainless steel or a polyurea covering to prevent destructive behavior causing damage.
Proper drain placement is an essential component for an easy clean dog boarding kennel and healthy environment. A drain run that is placed inside the exterior wall of the kennel and runs along the entire length of the dog boxes is better than a central drain in each kennel box.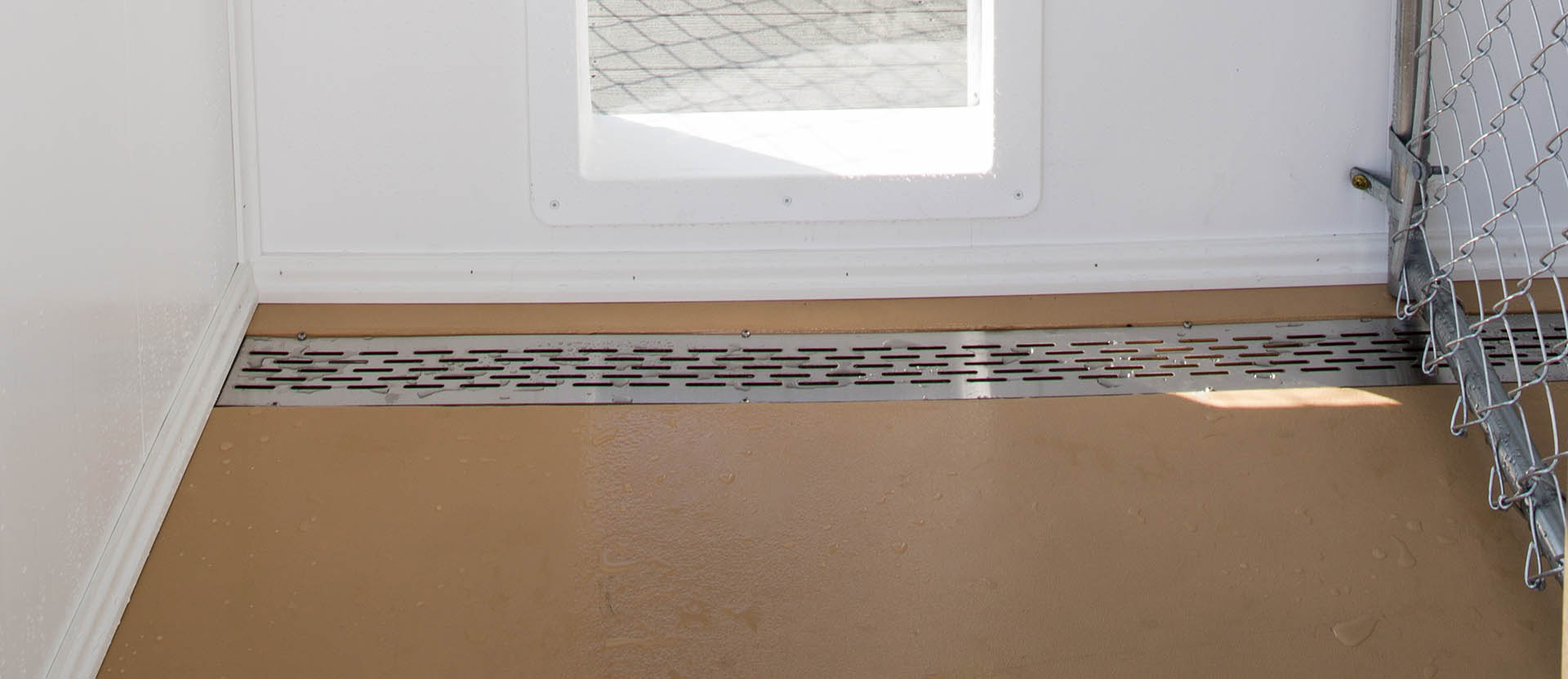 The drainage channel can be hooked to sewer pipes at the end of the run to take liquids away from the building and the rectangular design of the drain is easier to seal to the floor than a circular design. Additionally dogs are not lying on the drain when in their boxes and can easily avoid the drain space and air from outside the structure through guillotine doors can mitigate any unpleasant odors.
Kennel cleaning will be easier to manage if a walk/exercise and feeding routine is established and maintained each day. Dogs will soon adapt to the program and are less likely to cause unnecessary mess within the kennel. A regular routine also helps dogs adjust to their new environment as it reduces stress.
Regular cleaning will not only enhance the health of the animals contained and mitigate the risk of illness or infectious disease, it will also minimize the need for deep cleaning. Spot cleaning alone is not sufficient and a regular schedule for a deep clean should be implemented.
Light colored surfaces will not only provide better natural light and promote a sense of wellbeing for the dogs, they are make it easier to identify areas that require cleaning.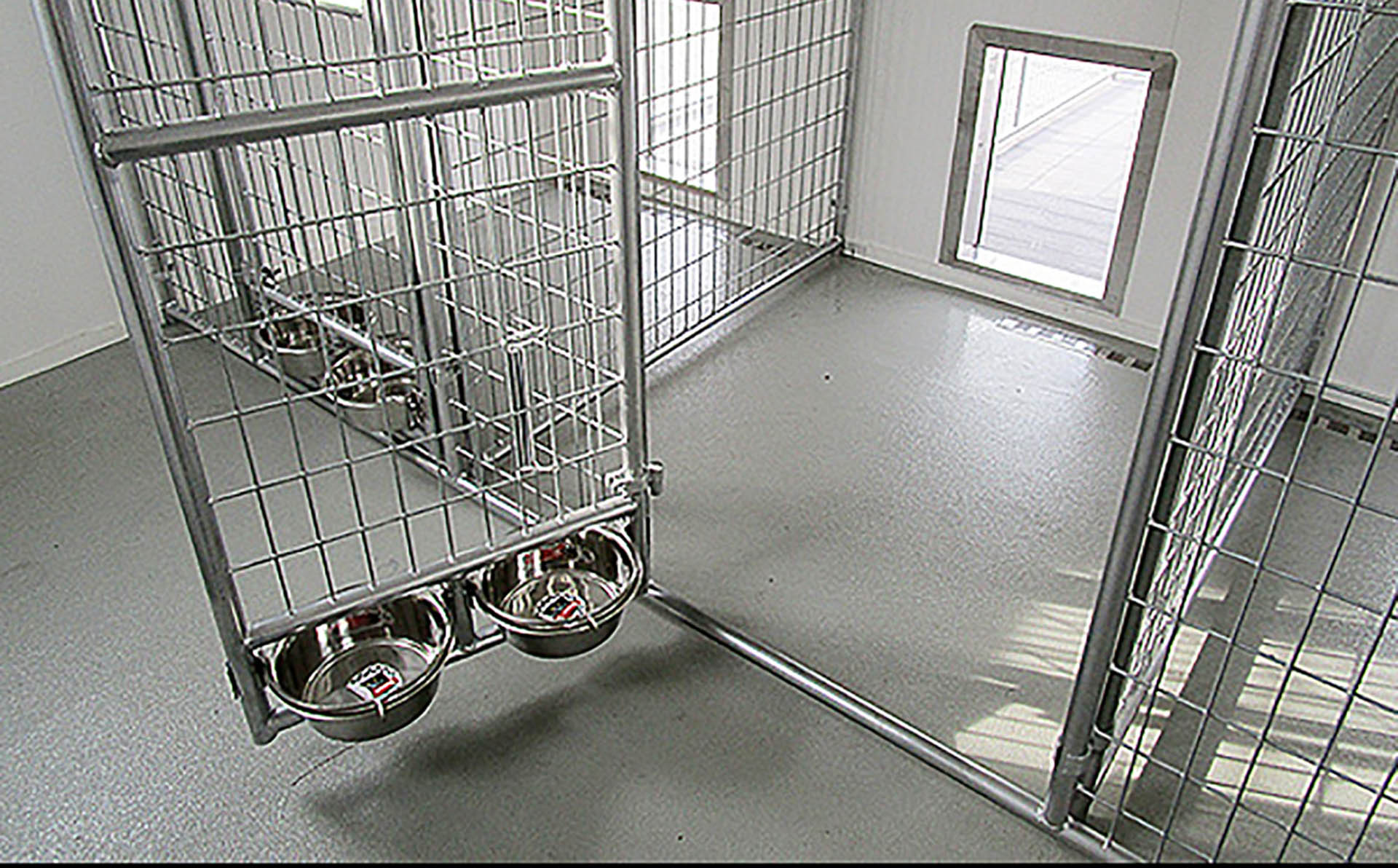 Use of water bowls and feed bowls that attach to the front wall/door of the dog box can save much mess within the space from knocked over bowls and provide the caregiver with knowledge of how much water intake the dog is actually ingesting, a valuable piece of information for dog health.
Disease
Transmission of disease or illness can be difficult to manage within a dog boarding kennel. The high canine traffic flow heightens the risk of contamination and stressful confinement can bring health issues to dogs with compromised immune systems.
When the building offers inside/outside access with a guillotine door, the cleaning chores can be taken care of with the minimum of movement of the dog into dog boxes that might belong to other canines that are also in residence but currently outside for activities elsewhere. Less shared space and nose-to-nose access between dogs equals less chance for disease transmission.
All dogs that are accepted into the boarding kennel should arrive with vaccination and medical records and not be placed within the structure until such records have been read and evaluated.
Flea and tick treatments should be included in the requirement for entry to the boarding facility and animals should be checked for any sign of fleas, ear mites, fungal or skin diseases before entering the structure and turned away if found to be infected or housed in a solitary unit until such treatment can be effected.
Good Time Management Maximizes Profitability
Management of your time as a dog boarding owner/manager is key to maximizing profitability. Addition of useful interior features such as a water/hose port hook up, hot/cold water availability for grooming and cleaning can save time and make dog care easier to manage. Electrical service within a building can similarly provide light and power for grooming and cleaning tools.
Provision of heat/AC unit to control the temperature within the kennel is beneficial for regions of the country that experience extreme temperatures. While passive ventilation from windows, vents and fans can suffice during certain times of the year, animals should not be subjected to confinement in very hot or cold weather.
Radiant heat under the floor is another option that can be especially valuable for dog breeders during whelping of the litter.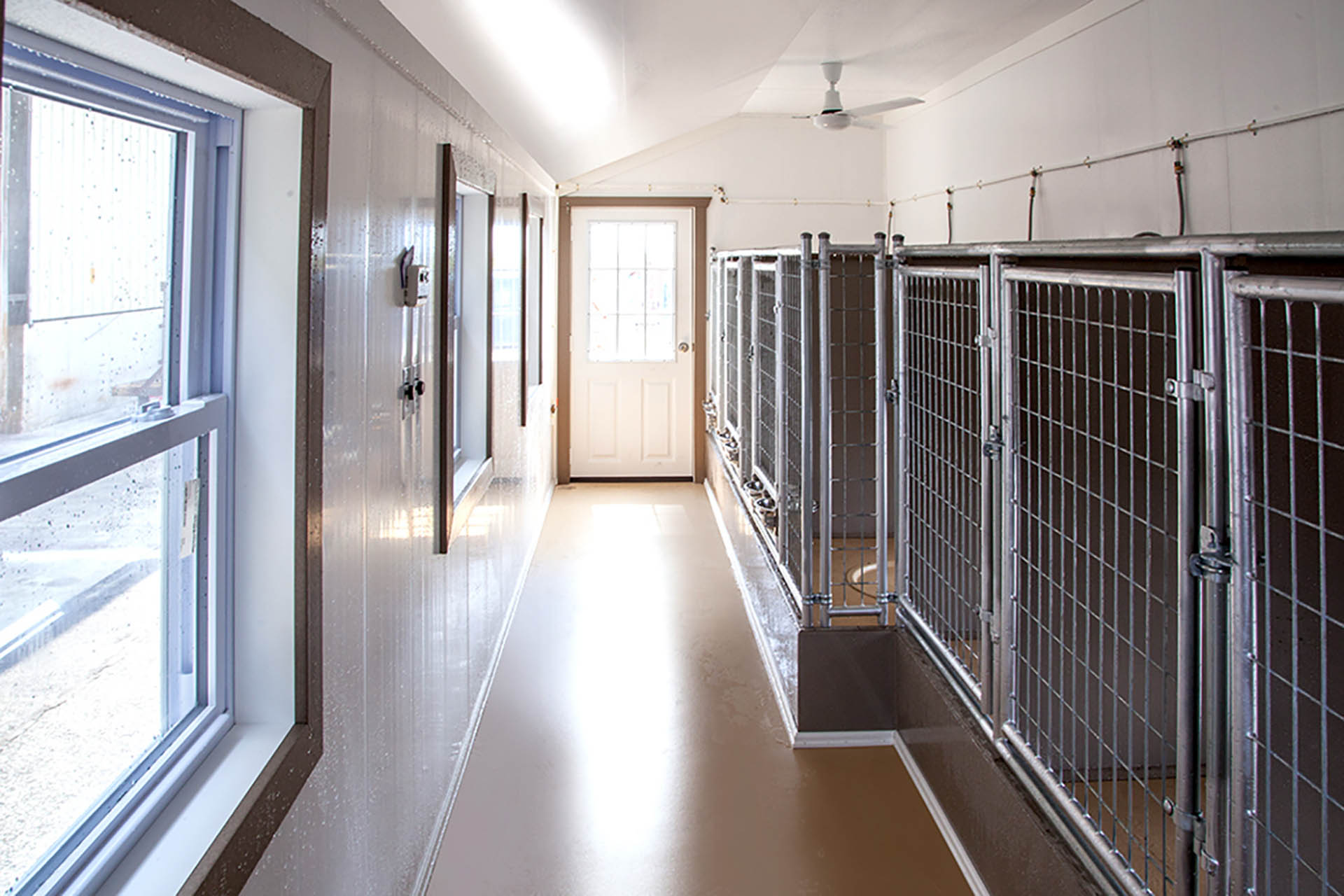 Human clients will be keener to kennel their pets at a facility that offers climate control than at one that does not. Provision of an evidently pristine space for their animals to live, and investment in good kennel design can significantly raise the appeal of your kennel as their choice over your competition.
To maximize your time it is key to have specific drop off and pick up times for dog owners at the kennel compound. This way the animals can also be left in peace without the persistent in/out of visitors. This schedule management will minimize stress and noise from barking and the kennel owner/manager can focus on other duties during the day without interruption.
Value Added Services
By offering additional services such as bathing, grooming and dog training for dogs in board can greatly increase your revenue. The provision of these services to dog owners in your community can bring in new clientele for boarding down the road.
The Difficult Customer
It is inevitable that from time to time the dog boarding kennel operator will be faced with the uncomfortable decision to deny access to the facility to an overbearing dog owner or a troublesome canine. While most behavioral issues in dogs can be managed through consistent kind training and obedience, it is not the job of the kennel owner to instigate these programs unless licensed, trained and paid to do the job.
Similarly certain owners can be presumptuous as to their visiting/access, schedule adjustments for their 'special' needs or dog care program. Unless you specialize in providing a high end and thus expensive one-on-one dog/human daily program, do not be fooled into taking on too much time-consuming activity for one client. Don't be afraid to turn away a difficult customer or a canine that you consider dangerous to yourself or your staff.
In conclusion careful selection of a quality dog kennel that offers commercial grade features and addresses the issues above will provide a great base from which to start a profitable dog boarding business.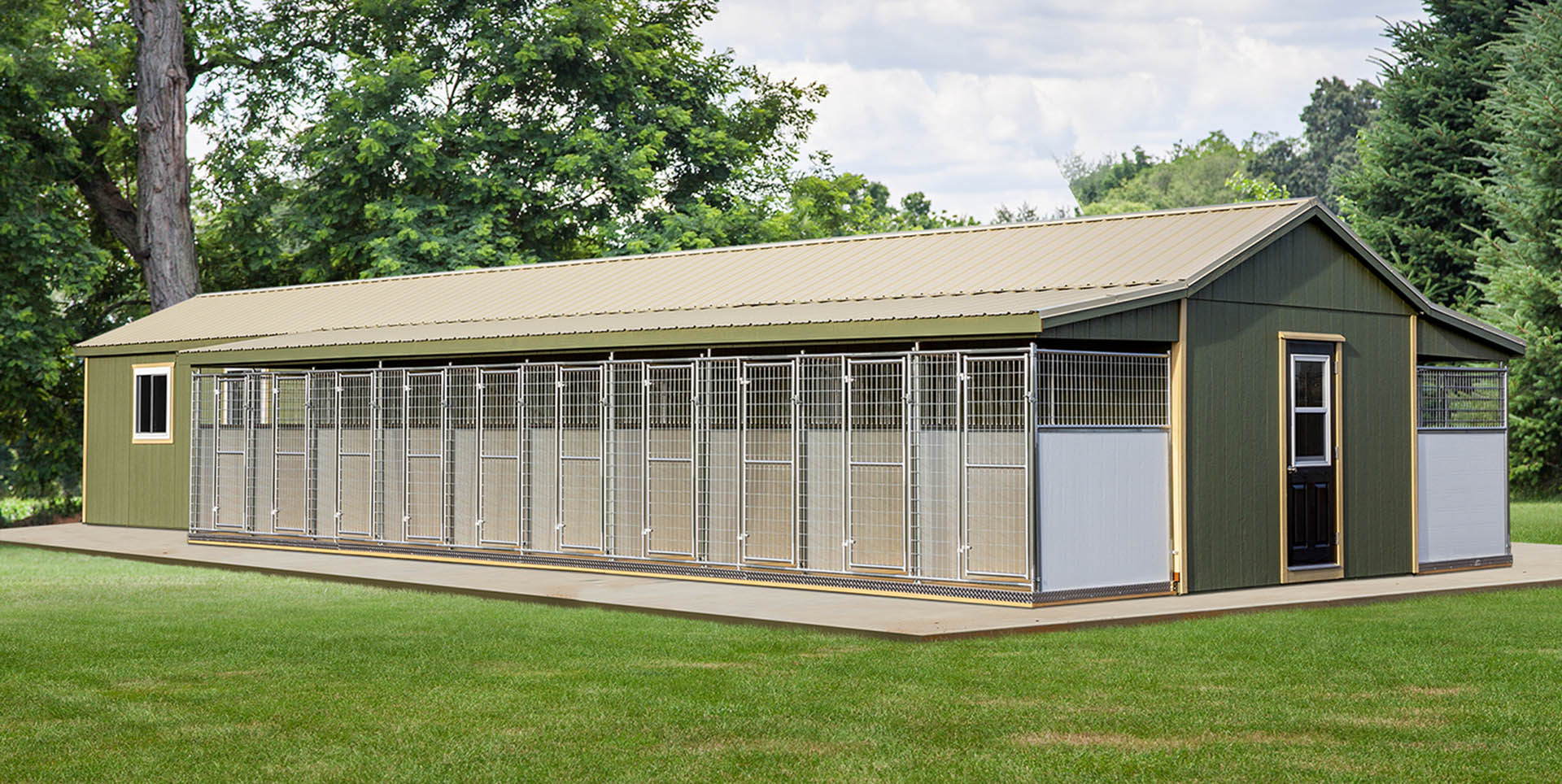 If you currently run a boarding operation and are working with old-fashioned cold concrete floors, dark and gloomy kennel boxes and find daily cleaning routines onerous then consider adding a new 'instant' kennel to your operation. Modern design and features can be a boost to your business and financing is often available.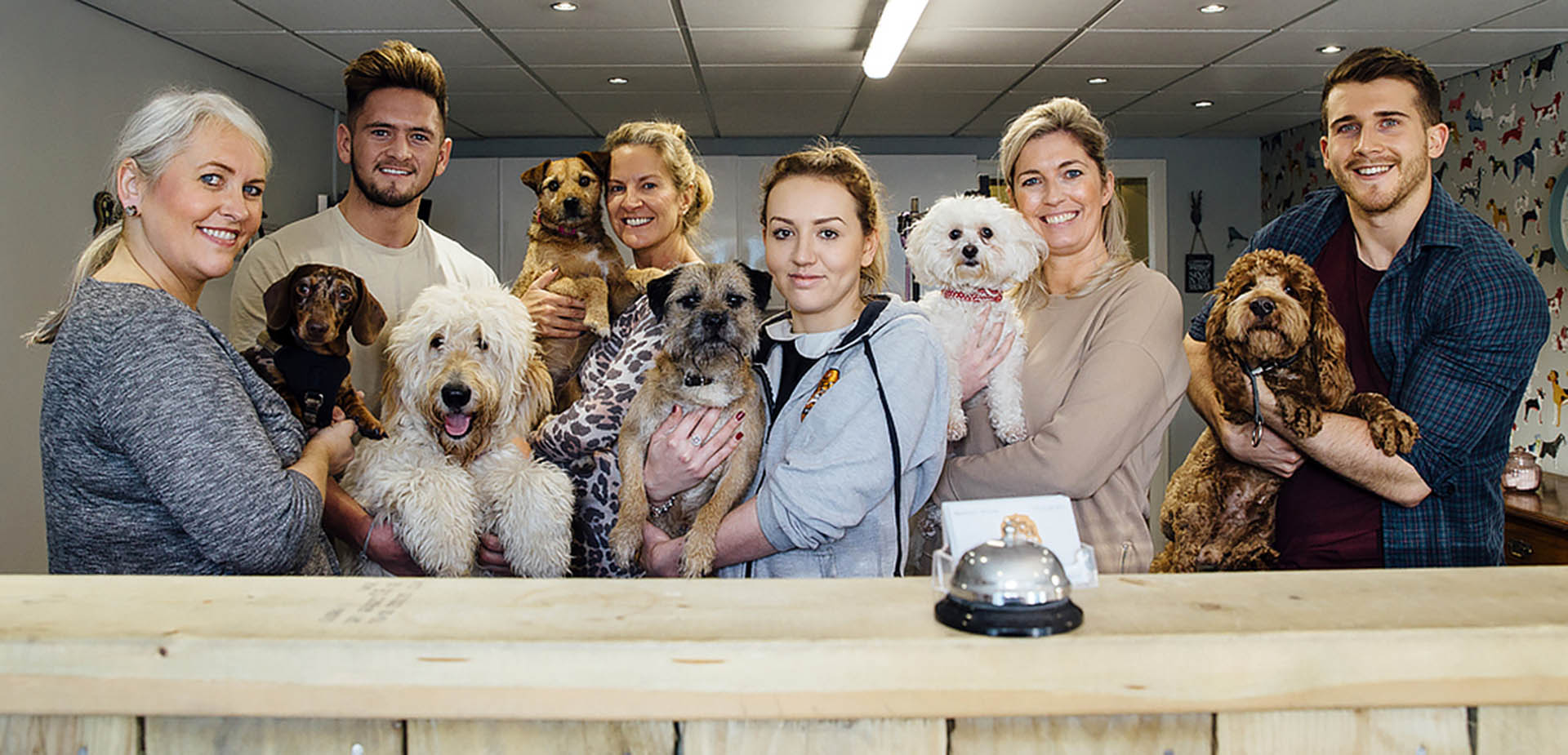 Need some inspiration? Check out some of these case studies to get you started.