When hurricane winds blow, poorly made run-in sheds go! In the case of a recently purchased run-in shed built on site by a local contractor, founder of Flare Oaks Rescue, Ashley Nelms, unfortunately experienced this happening first hand. In fact, when Hurricane Florence hit North Carolina in the summer of 2018, the run-in shed was the only building on the farm that was damaged. It was so poorly built it was literally pulled from the ground and an innovative Nelms together with her husband's help, secured it quickly utilizing the weight of a heavy flat bed truck.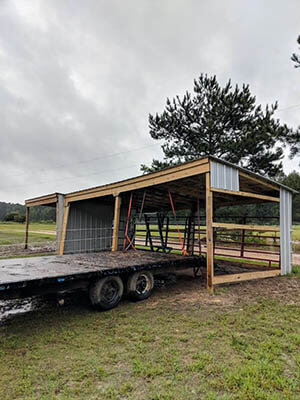 Meantime, as this unfortunate mishap occurred on day one of the major five-day storm, the rescued donkey (who Nelms later found out was unexpectedly pregnant, more on that later,) a Mustang and a mini horse that said run-in shed was supposed to protect, were in need of shelter. Nelms had to solve the dilemma:
"The only damage our farm sustained during Hurricane Florence was the brand new run-in shed we had a local contractor build. The hurricane raged for 4-5 days and the run-in shed he had built did not hold up at all. It was almost laying down in the road within the first day of the storm. We found out the hard way that he had not done all he should in designing and building the structure. Consequently I was forced to bring all my animals in together in my existing three-stall barn. It has a 10 x 20 foot aisleway, so they all had to be housed together for 3-4 days there. I couldn't just leave them out in the pouring rain. They've had a hard enough life already and I needed to keep them 100% safe and secure. I divided up the aisle with panel gates. Fortunately most of my animals get along well together."
As luck would have it, between her very busy schedule taking care of her 65 rescue animals, Nelms found time to enter the 2018 Horizon Structures Sweepstakes Contest. She was announced the winner at a random drawing completed by Olympians Boyd Martin and Phillip Dutton. The 25 finalists in the contest all had equally deserving stories, but for Flare Oaks Rescue of Harnett County, it was a kismet moment.
"I was beyond thrilled to hear we had won the run-in shed. To know we will have a sturdy structure to shelter our rescues is a great comfort," said Nelms, when she heard the good news.
But that wasn't the only surprise at Flare Oaks Rescue in 2018. In late December the donkey, Tulip, gave birth. This came as a complete shock to her rescuer.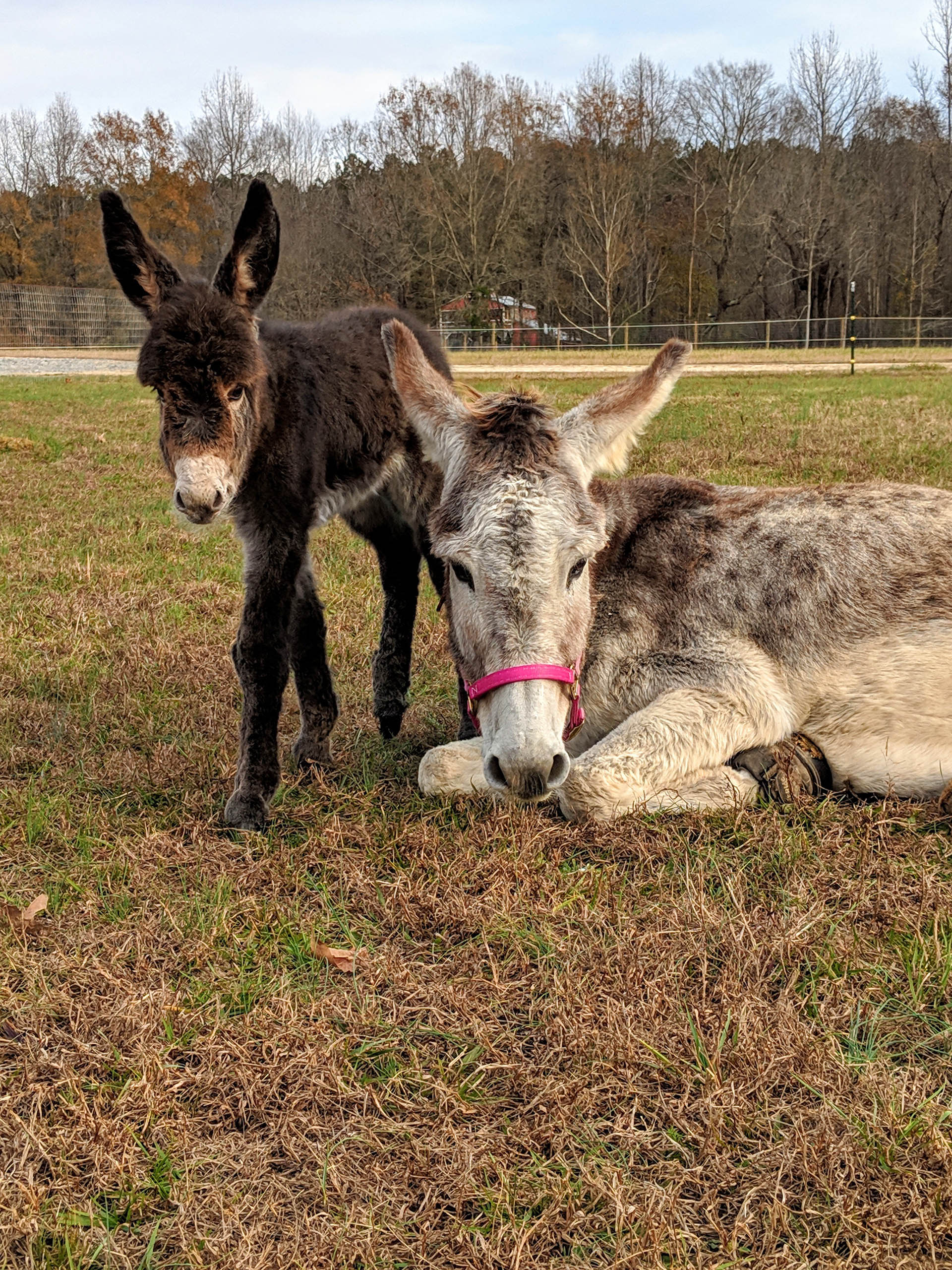 "We had Tulip checked for pregnancy when she arrived. I guess the vet missed it. Tulip the donkey and her surprise baby girl has been a crazy experience! It's a pleasure to watch a happy fearless baby thrive with her mom but making sure Tulip stays in good condition has been a team effort with vets and nutritionists but she's doing great and they're both happy and healthy. Tulip was a victim of terrible abuse and neglect. Her condition at the time of her rescue was so bad we didn't know if she'd even make it through recovery. She has an incredible fighting spirit and was patient and tolerant through her various treatments and now to see her as a happy, loving mother without any fears is the reason we do this. Tulip's terrible past has secured her daughter's future. Josie will remain here with us and always be protected from the horrors her mother endured."
Tulip the donkey is one of many animals that enjoy a 'soft landing' at Flare Oaks Rescue. Nelms received her 501(c) non-profit status for Flare Oaks Rescue in January 2018. The animals that reside at her farm come in many different species, from equines such as OTTBs and mustangs, to minis, mules, donkeys, goats, geese, dogs and cats. Consequently, the task of keeping them all safe during the storm was not an easy one.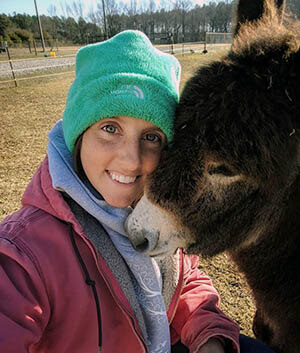 Fortunately Nelms has a wealth of experience working with animals. She took the college route after High School, studied Pre-law and was employed at law firms. Her passion for horses that was ignited during her childhood growing up in Goshen, New York, was temporarily on the backburner. Though Nelms still found time around her busy schedule to work with horses and ponies that had behavioral issues and needed help.
"I have always been drawn to animals that had weird habits or had issues and could always see the potential in them. My first horse was a six year old OTTB mare and she was very difficult but I loved her. She taught me everything I know. Her name was Flare. My grandparents had a dairy farm in New York where I spent many happy hours around animals. It was called Oak Ridge Farm. That's why when I founded the rescue I called it Flare Oaks. In my late teens I worked on a racetrack behind the scenes and trained many OTTB horses to give them a second life after racing. I have stepped in to fix bucking, bolting and other problems and made these horses happy functional equines that have gone on to productive lives with other families. I was a horse trainer at a 40 horse barn for a while after moving away from New York and the law business, and it wasn't until 6 months ago that I left that job to work at my rescue work full-time."
Throughout her life Nelms has always helped animals find a safe place to land. With the help of her husband Chris, their ten-acre farm continues to develop and the pair are dedicated to making a positive difference in the lives of as many animals as they can manage.
"We're just doing what we can," said Nelms. " We are extremely grateful to Horizon Structures for their gift of this wonderful run-in shed that we know will keep our animals safe and secure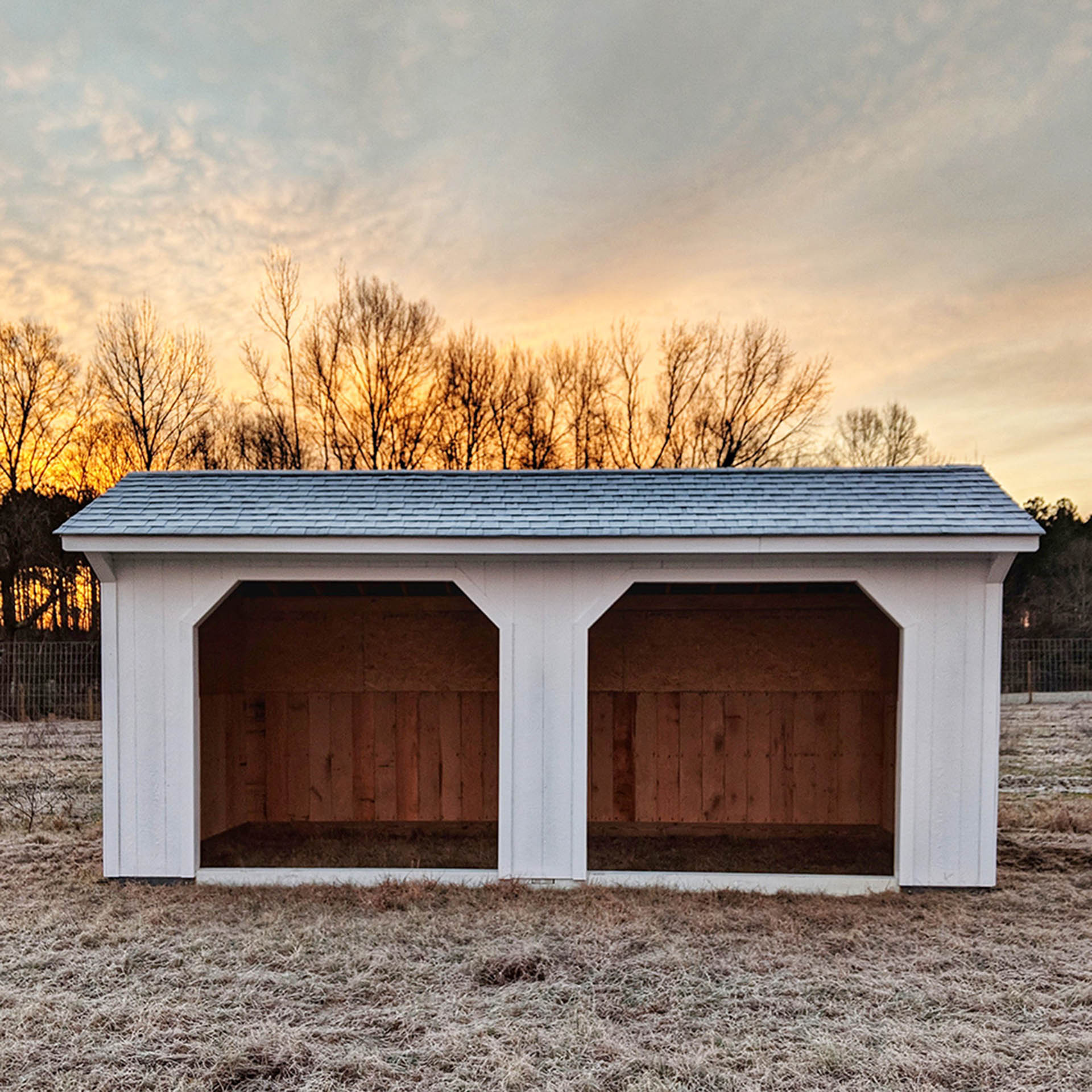 I enjoyed selecting the colors and siding for the run-in shed and opted for a white color. Not just because it matched our existing buildings but also because in the heat of the summer when animals use the run-in shed the most, the white color reflects the heat and keeps the horses cooler.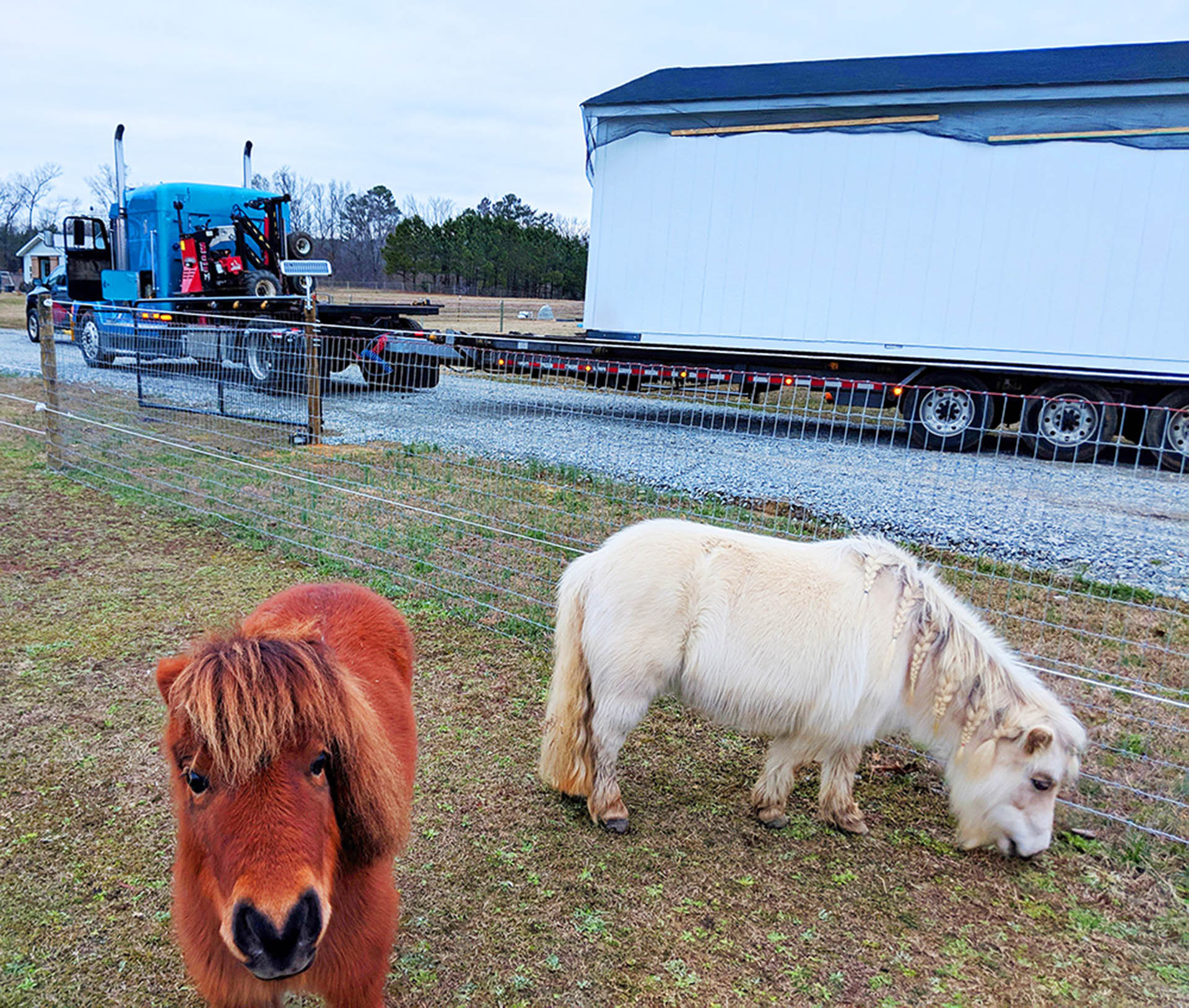 The delivery was expeditious and the driver very professional. With the anchor system that Horizon Structures offers on all their structures, the run-in shed can be moved around the farm as and where needed, and also be securely attached to the ground to help ensure no more 'Wizard of Oz' moments occur."
If you would like to contribute to Flare Oaks Rescue, feel free to visit their website to find out more about how you can help. As you can imagine there is plenty of help needed. Not just in the form of dollar donations, but also in the form of supplies, media coverage of fundraising events and help caring for the animals.