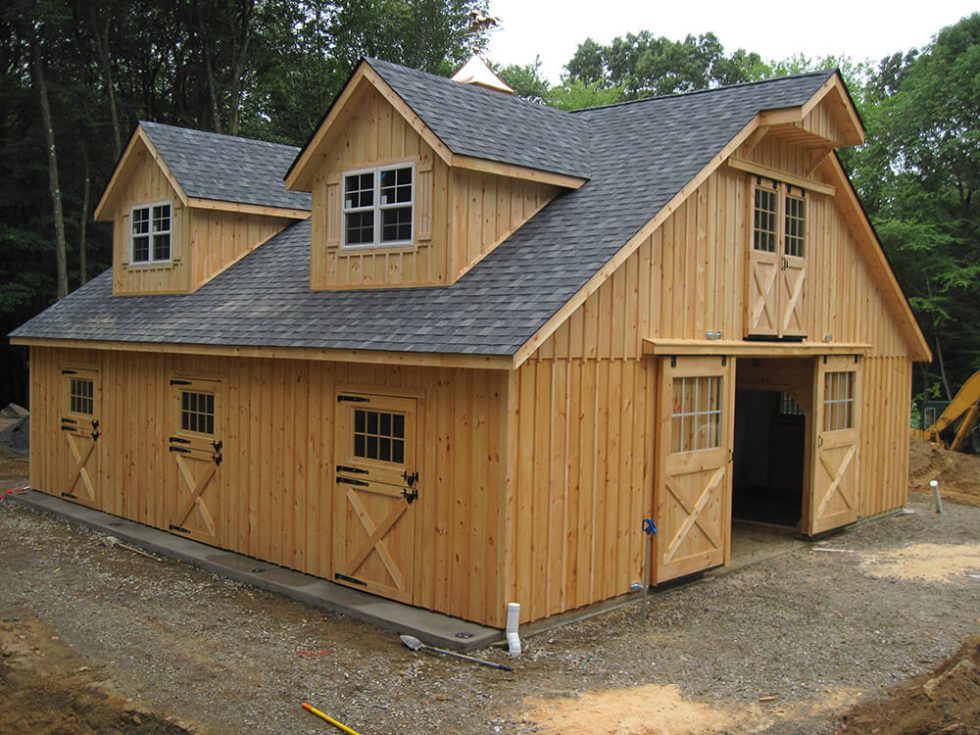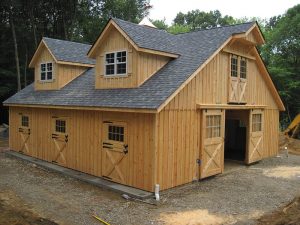 What would it cost to construct a four stall center aisle horse barn with wash stall, tack/feed room and hayloft on your property? How much time would it take?
The cost to build a barn when you go with contractors who specialize in building them will typically run between $70,000 and $90,000 and it will take weeks or even months to get the job done.
What if you don't need a stable that big? You've only got one or two horses. Your budget is limited but you still want a beautiful horse barn that is well built and safe for you and your horses.
Run in sheds, shed row barns or modular barns are the answer. Delivered as one or two pre-built sections, these wood prefab horse barns cost, on average, about 30% less than "stick built" and take less than an hour to a few days (depending on the size of the structure) until they're up and ready to use. The kicker? No one can tell the difference.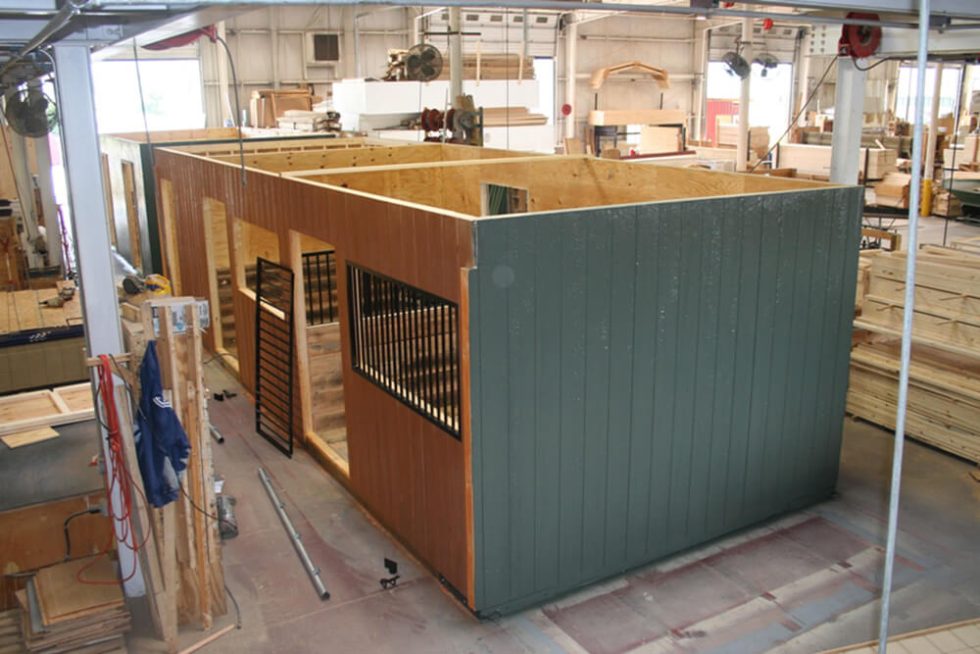 1.)  We can make these prefab barns for less because we build your custom barn at one of our modest owner-operated production facilities sprinkled throughout the US. The work is totally "hands on." No big factory cookie cutter production here. 2.)  All horse barn packages are built-to-order per your custom designed layout – an added bonus that won't cost you extra.
We then ship the modular barn in pre-built sections to your location, and after an incredibly short time, (as opposed to two to four weeks)…PRESTO! You now own a beautiful tailor-made horse barn and have saved thousands of dollars to boot.
Our customers tell us over and over again how pleased they are with their new prefab barns and the personalized service they get from us.
3.)  It's very difficult to tell the difference between prefab barns and traditionally-built barns. Our modular barns have rock solid construction and heavy duty roof trusses engineered to meet local building code. (Yes – Horizon Structures researches the code for any area we deliver to!)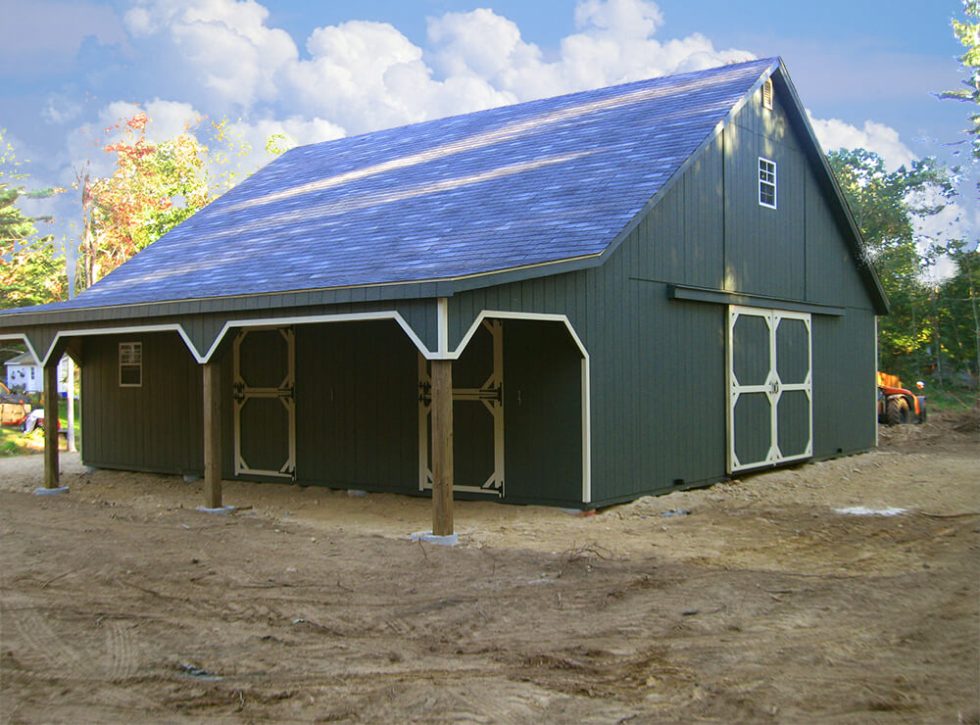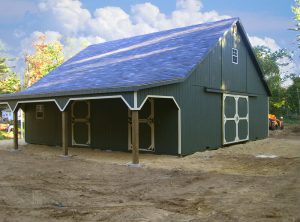 How can the cost to build a prefab horse barn that looks like a stick-built barn and that is just as sturdy cost up to 30% less? Here's the Inside Secret– you're not paying for as many man hours. When you decide to go with a barn contractor, you pay for all the workers that will set up a temporary office on your property for the duration of the project – usually between two and three weeks.
Horizon Structures' modular barns cost far less because we only send 3-4 carpenters to your property for 3 days to assemble and put the finishing touches on the pre-built barn sections. That's IF you get a modular barn. For a simple shed row horse barn or run-in shed, our driver does everything. Customers can't believe it until they see it done.
Another reason we can sell our all-wood barns at such a low price is because 4.) we work with Amish communities scattered throughout the United States. These small, local communities build Horizon Structures horse barns to a set design and quality standard. Our customers reap the benefit of the Amish work ethic and quality craftsmanship without paying extra because the Amish are a self-supporting community. Expenses such as pensions, union dues, and health insurance are not passed on as part of the price of the horse barn package.
5.) Horizon Structures horse barns are made almost entirely indoors in our workshop, assembly-line style, ensuring consistent standards of quality and reduced costs resulting from higher volume production. An added benefit: your prefabricated horse barn is protected from the elements while it's being put together. Additionally, this method of building eliminates any production delays due to inclement weather or unfavorable on-site conditions.
A big concern customers may have is the cost of shipping. Shipping costs are calculated on a case-by-case basis so the best advice is to contact us for a price quote. Unless you live in Alaska, chances are you will still be well under the cost of a traditionally built barn.
There is no guesswork if you call for a No Obligation Quote. Just be prepared to answer a few simple questions about the pre-built barn layout you have in mind: overall size, number of stalls, loft or ground level storage, width of your center aisle…and in minutes we can you give you a very accurate idea of how much you will save over the older, conventional method of building a horse barn from the ground up.
A number of our customers are delighted to show their new modular and shed row barns to those interested in seeing one up close. To find an existing prefab barn near you check out the Horizon Structures' Horse Barn Map or give us a call. If you're in the area, be sure to stop by our office and view our display models!