A barn is used for many things besides shelter for your livestock. Evaluate your needs before you begin building a barn.
Ask yourself these questions:
Where will you store your other tools and equipment?
How many horses do you / will you have?
What size / breed horses do you have?
Do you need room for a tractor, manure spreader, or other farm vehicles?
Have you considered adding an enclosed or open storage area within the barn?
What about using an (extra) stall to store smaller things or even hay?
Should you plan for a larger tack/feed room to use for a small office?
Could you use a loft as attic-type storage rather than for hay?
Would a wider center aisle make working in the barn easier?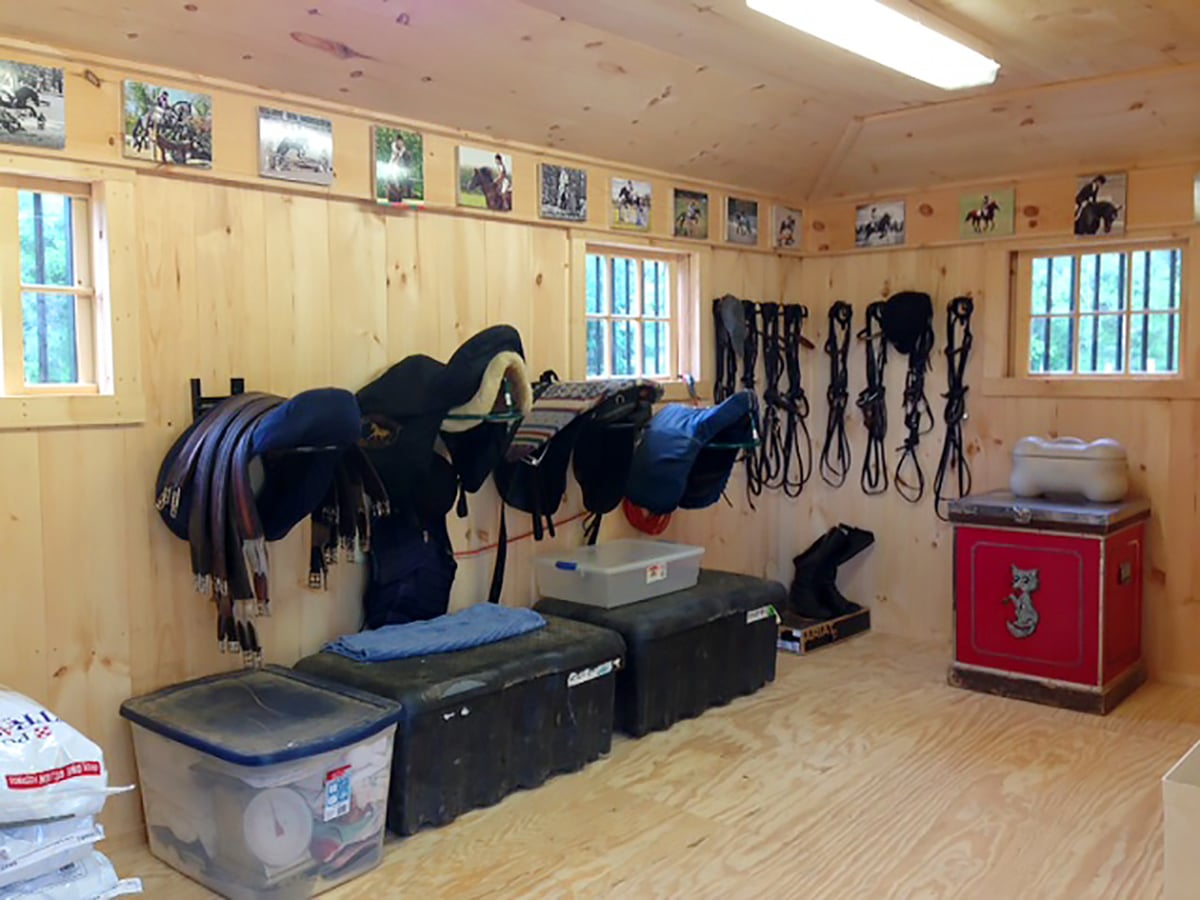 Hay Storage
One of the first choices you'll make in your barn design process is where to store your hay. Do you want overhead or ground level storage? We have barn additions to accommodate either preference.
Loft Benefits

No Loft Pros

Separate hay building is not an option
Close proximity of hay
Convenience
Extra storage space

Includes:

Gable door for hay elevator access
Gable window for light and ventilation
Full-size wooden staircase with railing

Consider:

Add gable vents and/or a ridge vent for additional ventilation.
Choose a partial loft or hinged trap door(s) to drop hay to the lower level.
Incorporate one of our cupolas with windows to add light upstairs.

Reduced fire hazard
Easy to unload and access hay
More stall headroom in barn
Reduced insurance costs

Consider:

An extra stall to store hay
Creating a ground-level storage area in your barn
Another shed or simple lean-to for hay

---

 

See Horizon Structures horse barn hay loft additions here:

Monitor horse barn
Monitor barn – partial loft
High Profile horse barn
Gambrel style roof

A bail of hay, isolated on white.

Tip:
Generally, you can fit about one hundred 30 to 35 pound hay bales into a 10×12 area.

For ground-level storage, stack the bales on wooden pallets so moisture from the ground doesn't affect the hay. This is a good idea especially if you have a cement floor.
Tack and Feed
All tack/feed barn additions in Horizon Structures horse barns include a wooden floor, window, and hinged access door. It's always a good idea to have a separate, enclosed room in the barn to store you tack and grooming supplies. An enclosed room cuts down on dust and dirt and helps keep your things cleaner. While almost nothing in a barn is totally "critter proof", four walls, a floor and a ceiling will keep them to a minimum. A lockable door protects your belongings as well.
We recommend a room of at least 8′ wide and 10′ to 12′ deep for really usable space. If a separate tack/feed room isn't feasible, at least consider a large cabinet, tack trunk or grain bins for barn storage.
There is no guesswork if you call us for a FREE consultation or No Obligation Quote. Just be prepared to answer a few simple questions about the barn design, or barn additions, you have in mind: overall size, number of stalls, loft or ground level storage, width of your center aisle. We'll email back a proposal that will get your horse barn plans off to the right start!