When professional dog breeder Lauren Gierlinger wanted to expand her kennel space to accommodate her growing boxer and bulldog breeding business, the attraction of a mobile structure was hard to ignore.
This busy single Mom has a nine-year-old daughter, and Gierlinger's dog business is currently based at her parents' 100-acre farm in Warsaw, New York, about an hour from the Canadian border near Buffalo, NY.  The significant investment in a new kennel was no easy decision.
"I found Horizon Structures on Facebook. When I saw their kennels were prefabricated and could be moved from one place to another I was immediately interested. A new kennel is a big spend, and as I expect that down the road, I'll need to move the kennel 'down the road' literally, I didn't want to invest in an on-site build that I couldn't take along with me if I moved," explained Gierlinger.
Gierlinger's successful dog breeding business encompasses three breeds of canines: Boxers; English Bulldogs and French Bulldogs. She has a wealth of experience in dog breeding as she grew up participating in her mother's dog business where the Labrador Retriever was the focus of the show quality breeding program. Her experiences fueled her passion for quality dogs, and Hillview Kennels is renowned for producing health tested European lines of the 3 breeds. Folks on the waiting lists to secure any of her three breeds are currently running at 20-30 people, and many sales come from word-of-mouth referrals based off previous sales.
"I have imported breeding quality dogs from many countries including Russia, Serbia, Germany and the United Kingdom. I strongly believe in maintaining the purity and the traditional features of the breed. My dogs are of European pedigrees. For example, my Boxers are much stockier than the typical American Boxer. While I sell most of my dogs as pets to forever homes where they can enjoy a full fun-filled family life, I don't particularly sell breeding dogs out. I don't want to see the quality of the breed diluted and just being bred for money because the breeds are popular," explained Gierlinger.
Hillview Kennels currently has a new litter on the floor, and all puppies are whelped and raised indoors for maximum attention and sociability. With 16 adult dogs to tend to, that includes 5 of age breeding females and 7 breeding age males (3 boxers, 2 English bulldogs and 2 French bulldogs), daily life for Gierlinger is busy.
To aid with Geirlinger's hectic schedule and to minimize time spent each day doing chores the purchase of a new commercial grade kennel to complement her existing kennel building was something that made sense. The Horizon Structures 8-box/run 20' x 32' foot building includes 4' x 4' boxes and 4' x 10' runs.
"My new kennel from Horizon is way better than my other kennel. If I could replace my other kennel with another Horizon one I would! The new building is of such good quality. It is so easy to clean. It is very well designed and is chew proof. I do have some mischievous dogs that can occasionally decide chewing down on something they shouldn't is a good idea. I have no worries about that with my new kennel," shared an enthusiastic Gierlinger.
Some of the many standard features such as easy-care LP SmartFloor with Polyurea coating, Glasbord or Trusscore interior walls and ceilings, not only deter chewing and digging, but also ensure that clean up tasks can be efficiently completed. The continuous stainless steel floor drain system discharges at the end of the kennel. This means cleanup of the boxes (once solids have been picked up), can be achieved without great effort with the simple use of a hose.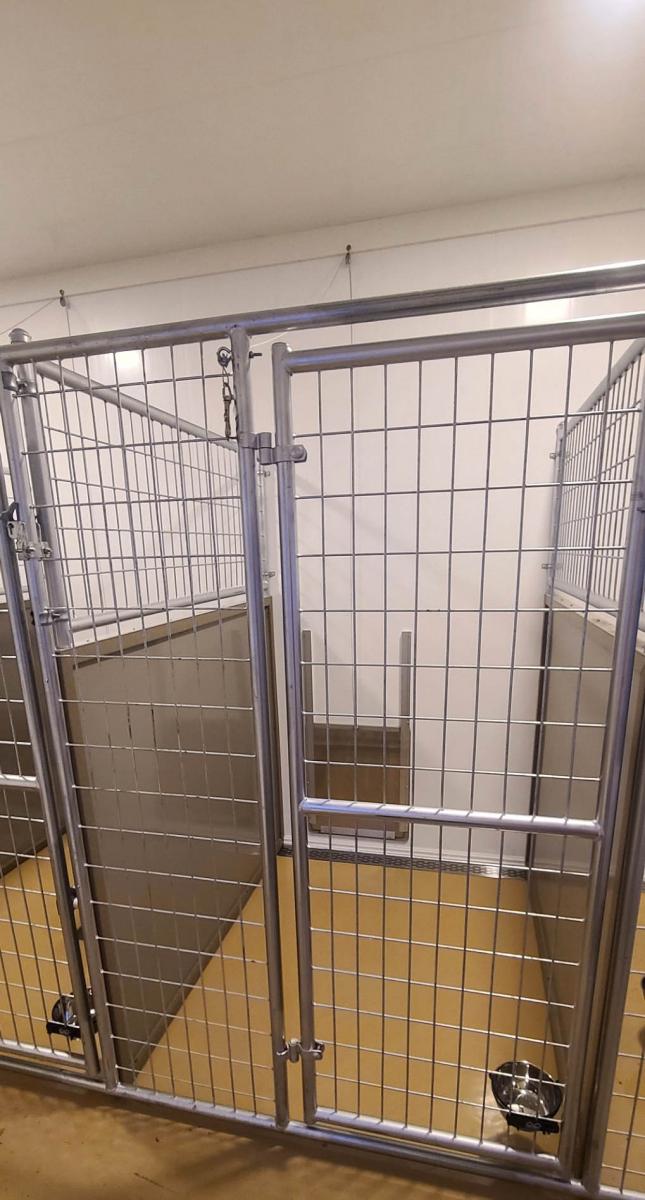 Unfortunately, in the completion of the custom build of Gierlinger's kennel an error in build was made in production and the interior and exterior drainage systems were directed to each end of the building rather than to the same end.
"This did cause a lot of stress for me, "said Gierlinger. "My father had kindly done the site prep for me as he is a heavy machine operator. This saved me a lot of money and I was so grateful for his help. We had designed the kennel so that all the waste would empty to one end where it could be connected to a septic tank and leach field, with a clean out hatch just before the septic tank where I could pull out any hair or blockages in case they ever occurred. Unfortunately, as the drainage systems emptied to opposite ends, we couldn't join the two lines together."
Horizon Structures' Project Manager, Merv King, was quick to find a remedy.
"Mistakes rarely happen but, in this case, obviously an error has occurred. We refunded a portion of the purchase price to pay for a second septic tank and to cover the labor and expense needed to install it and connect it to the system already located on the property."
Gierlinger was happy with the resolution, although due to the winter weather she needs to wait until Spring when the ground defrosts to complete the installation and drain connections to that end.
"Thankfully, my father can do the work for me, so that part isn't a problem."
Aside from the unfortunate error in the direction of the drainage build, the majority of the purchase process and end result of the investment was a very pleasurable experience for Gierlinger.
"Merv at Horizon was great to work with. He was very responsive and always got back to me within 24 hours. There was never any hesitation with changes I wanted done. At the 11th hour, just before the actual build was to begin at the factory, I suddenly decided I'd like to add a 10' x 10' lobby to the design. Horizon Structures didn't balk at that at all. A can-do attitude all around. It was no problem at all. They were very good to work with."
When asked if there was anything she would change in the design of her new kennel or anything particular she would advise a fellow business owner contemplating a purchase of a kennel to consider, Gierlinger had some sage advice:
"You can never have enough drainage. I do wish I'd added a drain along the corridor as well as in the rear of the boxes. I also wish I'd made my lobby space the full 20' wide rather than 10'. It filled up quickly. I was using my new kennel for my dogs within 3 days of it arriving, and then realized I could have used more space. If you are planning a kennel and think of something you'd like to include. Do it. If you think you need it, you probably do."
Would Gierlinger buy from Horizon Structures again?
"In a heartbeat. If I could replace my old kennel with another Horizon Structures kennel, I'd do it today."

The business of dog breeding is no 9-5 job as any owner of such a venture would attest.
"I don't get to go away much or take holidays. I am lucky that my parents are close by and often take my daughter Lilly off on vacations to places like Disneyworld. They all love spending that time together. When I do have to go away for a few days for business my folks are also kind enough to take care of my dogs. Though of course as all dog owners know, when you get home your canine family has missed you. It wasn't as hard to get away when I had just 6 dogs, but now the business has grown it is not easy to take a vacation."
You might think that growing up in a household full of cute puppies and cuddly dogs would have Gierlinger's daughter keen to continue the family legacy of a canine breeding business, but apparently nine-year-old daughter Lilly has other ideas:
"She says she would like to breed cats not canines in the future. That is fine with me. Whatever she wants," said proud Mom Gierlinger.
I guess the apple doesn't fall far from the tree after all.