What do you do when your animal shelter is condemned due to toxic levels of mold? That's the hardship that Lincoln County Animal Shelter of Newport, Oregon faced in July 2019. Staffers started becoming sick while caring for the hundreds of animals that come through the facility each year. The shelter was inspected and found to be contaminated.
The animals were immediately evacuated leaving only the outdoor spaces available for exercise periods. Director, Laura Braxling and her team had to move quickly to ensure proper care for the current 'tenants' – as well as the never-ending stream of incoming animals – during the transition to new quarters.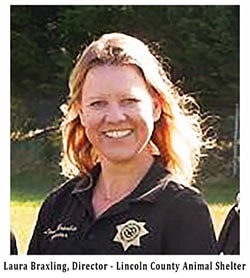 What and where the new quarters would be was still undetermined, so the staff sprang into action and creatively dealt with this challenging emergency situation by utilizing the local fairgrounds and trailers to continue shelter operations. Obviously, a less than ideal situation requiring travel to and from multiple locations to care for the animals.
Raising the funds for a new shelter was only one challenge Braxling faced. In addition, a new location AND a new building would be needed. The new facility had to provide clean, safe housing for the shelter's cats and dogs in addition to office space for running the day-to-day business of the shelter's operation. Fortunately, Lincoln County's master plan included provisions for emergency housing. Ideally, that housing would be economical and still usable when the new site and permanent building came to fruition.
Braxling explained how fast things happened:
"We were evacuated from our building in July and it was demolished in September. We have been housing animals at our county fairgrounds. I did an exhaustive internet search trying to find solutions for our office space, but also ways we could house animals safely. We were thrilled to be able to find a modular dog kennel option."
Learn More About Horizon Structures Commercial Kennels
Horizon Structures to the rescue!
Braxling characterizes her experiences thus far working with the team at Horizon as
"Good! We honestly went with the lot model on sale because we were hoping to get something ASAP. If they (the kennels) work as well as we believe they will, we'll most likely be customizing an order."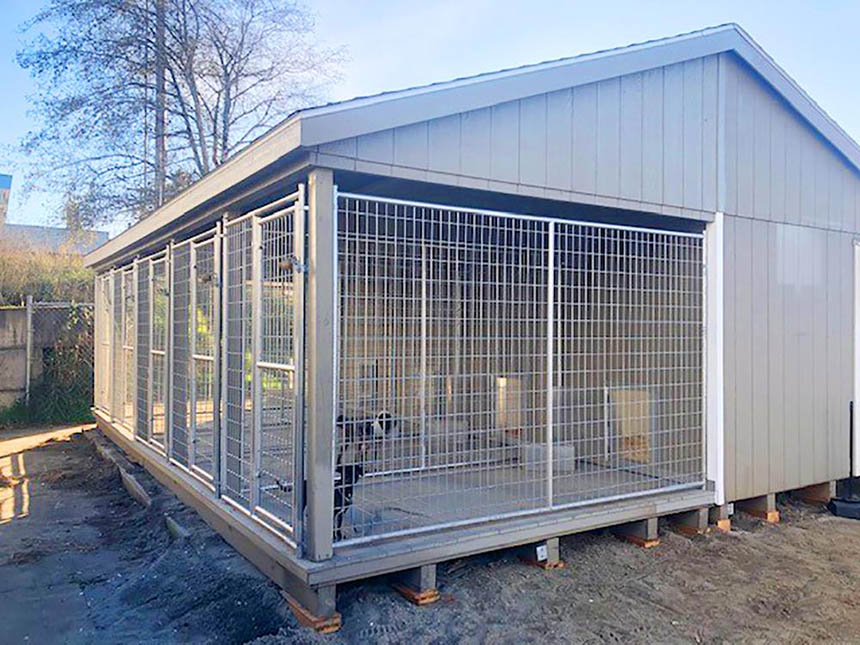 Horizon Structures was able to provide a fast and efficient delivery of a 5-unit kennel to the present location. Later, it will be moved to a new, and according to Braxling "hopefully wooded and more suitable and expandable site" that is part of the master plan for the continued successful operation of the Lincoln County Shelter.
The need for the county shelter is severe.
"We normally take in 500-600 dogs per year. We used to have space for 19, so going down to 8 kennels is going to be a challenge for us. We bought a 5-unit kennel from Horizon Structures and a 3-unit kennel from another vendor. We are the only shelter within a 50-mile radius so there's always a need. We're ultimately going to build an entirely new shelter, but excited to be able to still utilize the Horizon kennel. Ideas include using it for a boarding option or to stage it in another part of the county so that we have a way to increase outreach to other parts of our community (as a place to bring stray dogs and/or host adoption events)," said Braxling.
Take a Virtual Tour of a Horizon Structures Kennel
The Horizon Structures 20' x 25' commercial 5-run kennel has a 5' wide feed alley and includes large 5' x 5' interior dog boxes with doors for each directly to the outside (for freedom of movement of the dogs) into 5' x 10' exterior runs.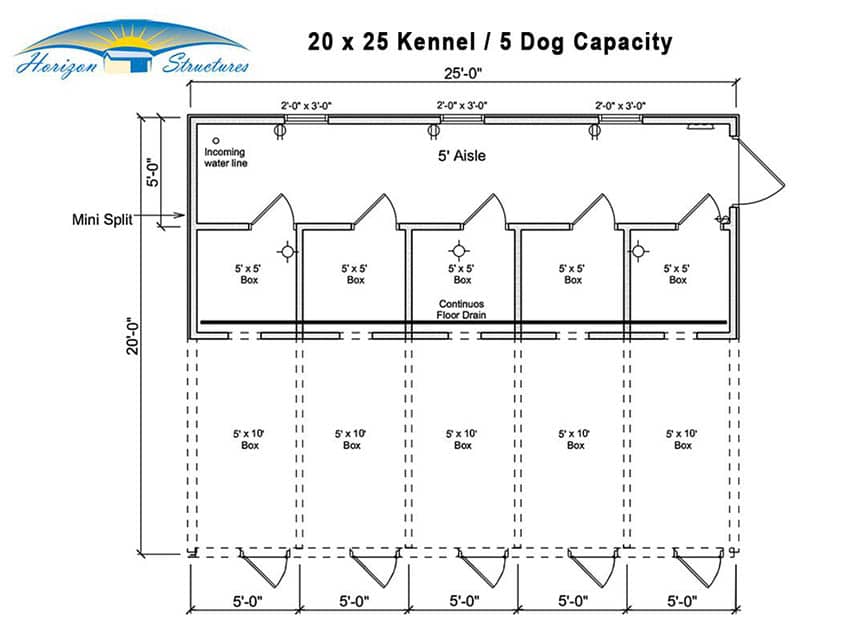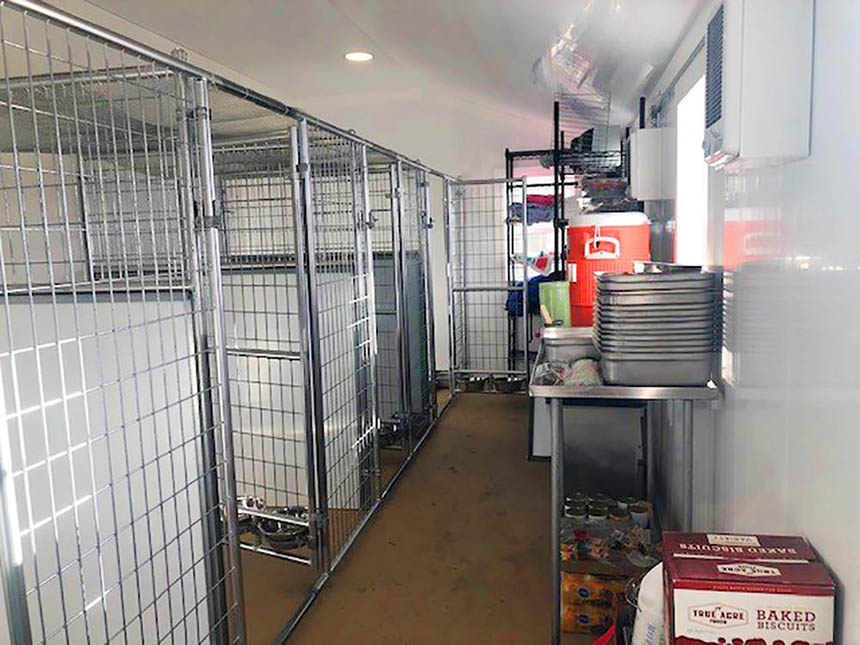 The dog boxes feature easy-care polyurea flooring, continuous floor drain placement, solid Azek divider panels (that not only discourage intimidation of one dog by another, but can also help mitigate barking), sturdy construction and great ventilation.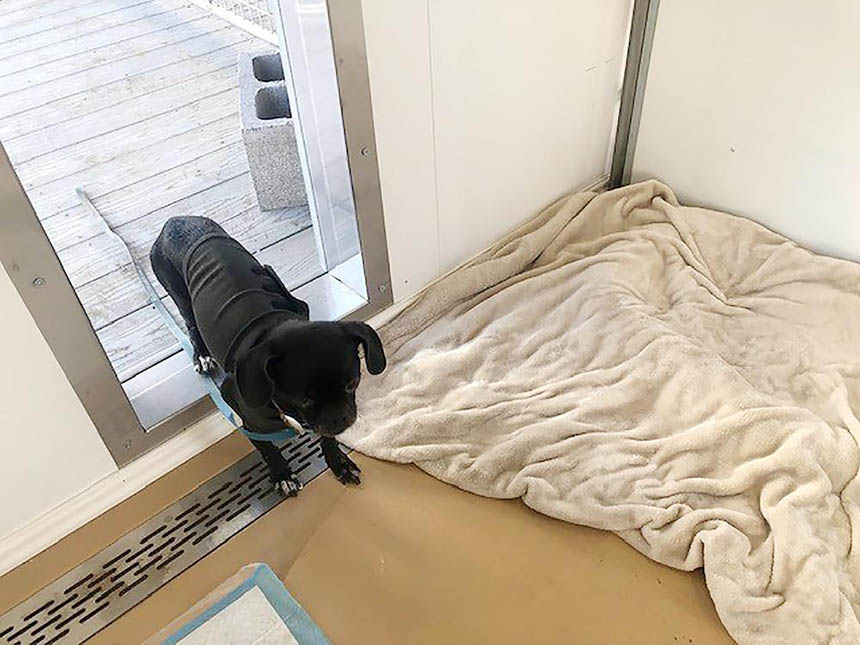 "Our little dogs have not all figured out how the outside doors work so we have breeze blocks keeping them open right now," explained Braxling, who was very happy to have some proper emergency housing in a centralized location once again to care for the critters in need.
Request Kennel Price List & Buyer's Guide
The team at Lincoln Animal Shelter are grateful for the support they have received in their fundraising efforts for the move and the new construction needs. When asked what people can do to best assist organizations like Lincoln Shelter help more animals Braxling was to the point,
"We always encourage people to identify their pets through licenses and microchips."
The Horizon Structures team is so happy to have been able to help the Lincoln County Shelter during this challenging time and hope to continue working with this dedicated team in the future.
"It is always so heartbreaking to see the number of animals in need of help through no fault of their own," said Horizon's Chief Marketing Officer, Jill Siragusa. "Your heart just breaks for them. But, seeing the dogs with cones on their heads as they recover from spaying/neutering surgeries in a clean, safe environment is heart-warming. Hats off to the staffers at the shelter for all they do and to Laura for her leadership especially in these dire and unexpected circumstances."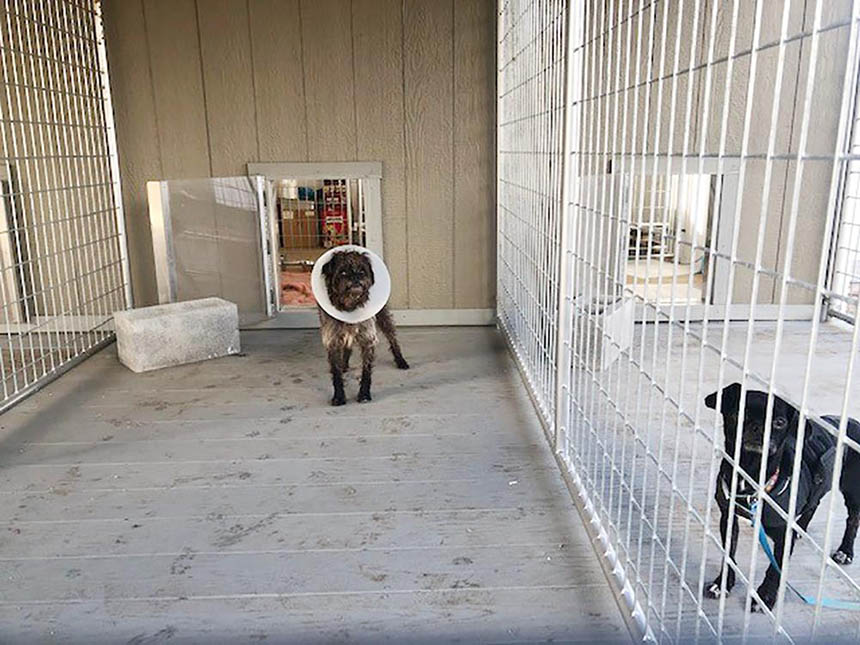 This author agrees wholeheartedly with those sentiments. Speaking as the very proud Mom of a 33-year-old twin who just drove from Eastern Massachusetts to Western Ohio to pick up a dog rescue that he had flown out from a shelter in Indiana! I do realize that not everyone can provide a safe landing for an animal in the form of a forever home and am grateful for all that shelter personnel do to find homes for those animals in need. Remember – even if you can't take on a cat or dog, that doesn't mean you can't help.
To learn more about Lincoln County Shelter and their services please visit their website at LincolnCountyAnimalShelter.org. Donate a few dollars (or a lot would be even better!) through their Go Fund Me campaign HERE.
Catch up with them on their Facebook page for updates on the new facility, adoptable animals and other ways to help.