Commercial 5-Dog Stock Kennel
Provide your dogs with safe and comfortable housing with our high quality commercial dog kennels! Learn more about this 5 dog kennel and buy it here today.
Most things you buy for your dogs are small items.  Easily accessible.   Easy to handle and evaluate.  Easy to find locally.  Sometimes, you even have the opportunity for your dog to "try before you buy." 
If you live within driving distance of our office in Atglen, Pennsylvania – STOP reading this. Instead, get in your car – along with your family AND your dog! – and come visit our sales lot to see this 5 dog kennel in person!
There is always a unit or two (…or more!) on display at our main office located at 5075 Lower Valley Road, Atglen PA 19310. This 10×28/5-dog kennel unit was designed and built to showcase as many upgrades and options as possible along with ALL the Standard Features included in our kennels. It offers both you and your dog a unique opportunity to see everything in one place and make an accurate assessment if it's right for you.
If you can't make it here to see our dog kennel designs in person, we hope this will be the next best thing for giving you a more complete understanding of what our kennels are all about.
Our kennels do more than "contain" your dog…
Horizon Structures' pre-built 5-run dog kennels are designed to take the health and well-being of both you and your dogs into consideration. The type of housing you choose for your dog impacts his life 24 hours a day and affects everything from stress level to disease risk to food intake to sleep quality.
For your dog it's all about providing a safe and comfortable environment.
For you the kennel environment needs to be easy and pleasant to work in and around. As such, Horizon Structures dog kennel design and materials enable efficient and low-stress daily care, maintenance and monitoring.
Lots of Choices and the Ability to CUSTOMIZE!
Building this kennel with so many different options and upgrades not only provides a means for customers to see it all in one place it also demonstrates our flexibility and capacity to customize in order to meet our customers specifications and expectations.
Both our main kennel page and our commercial kennel page  show layouts from single dog units all the way up to 16 dog units with outdoor runs ranging from 4×4 to 8×8.  Remember – you are not bound to the floorplans you see on these pages.  Layouts and dog capacity is limited only by the constraints of the overall building size.  Because each prefab kennel is built-to-order, you have complete control over how your kennel is designed and built.
We know there are almost as many uses and unique design elements for kennels as there are different dog breeds.  And, just like different breeds were created to specialize in different "jobs" – our commercial kennels for sale need to perform for their unique occupants. Call us to discuss your ideas. We'll build the 5-run dog kennel you need!
Here you see our standard plexi-glass dog door.  It's hinged on one side with a flange on the other enabling the dog (*with a bit of training) to nudge it open.  Upgrade to our 'Deluxe' top-hinged door if you believe a panel that swings both ways would be easier for your dog to use.  Both door types come in a variety of sizes to accommodate any breed of dog.  Check out this handy chart to determine what size you need.  
Water is essential for so many things!  In this kennel, we've installed hot and cold water lines and a utility sink.  Even if you opt not to have a hot water heater in your kennel, a simple hose port will make things so much easier.  Nobody wants to deal with dragging a hose across the lawn or carrying buckets back and forth.
Stainless steel food and water bowls might not seem like a big deal.  But having them securely mounted and accessible WITHOUT having to enter the dog's area is!  Spills and waste are eliminated making feeding time quick and easy.  We can install the bowl rack inside or out.  In the door or run panel.  Don't underestimate the value of this important option!
The outdoor dog run is so much more than a place for the dog to stretch his legs in the fresh air and sunshine.  It also offers a distinct and separate area for urinating and defecating away from where he eats and sleeps.  This is so important for the animal's mental well-being!  In addition, it may help promote and reinforce house-breaking behaviors.
This run has been upgraded to a 6 gauge welded wire on the partitions.  Welded wire is an obvious choice if your dogs are aggressive chewers or climbers.  Our standard wire is a 11.5 gauge zinc/galvanized chain link.  An upgrade to 9 gauge and/or vinyl coated chain link is also available.
Finally, the PVC run decking.  It's easy on the paws and easy to keep clean as well as being chew-proof and dig-proof.  In a larger kennel such as this one, the dog run platform is shipped as a separate unit.  It is joined to the main kennel structure and the run panels are added on-site during set-up.  This is handled by our driver and/or crew and included in the price of the building.  There is nothing required of you except to have the site ready – and accessible – before we get there.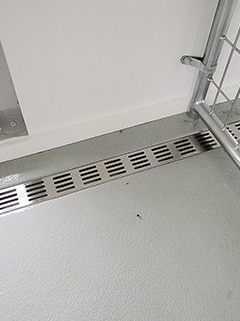 A floor drain is essential for thorough clean up.  Our 40″ long stainless steel drains easily span 2 dog boxes.  Wash down is super quick and easy.  Multiple drains connect to a single pipe which empties outside the kennel building.  Each drain comes with a 'key' to lift the metal faceplate in case of a clog.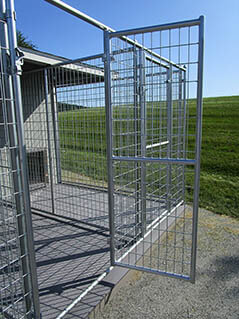 Door panels – both inside and outside the kennel – swing both ways.  This gives you more control over the animals as you enter and exit the dog box and run areas.  Door opening is approximately 5'7″ h x 2′ w providing easy access and plenty of overhead clearance.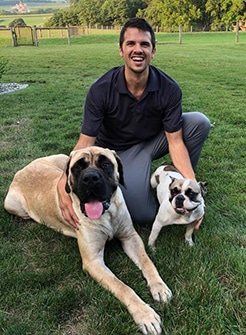 Remember:  We're here to help!  Mark Zook, youngest of the Zook brothers and part owner of Horizon Structures, is more than happy to answer your questions and help you select – or design! – a kennel that is perfect for you AND your dogs.