This Quaker chicken coop's simple yet attractive style is perfect for 12-15 chickens and adds a bit of charm to your property. Order this prefab coop today.
This is by far our most popular chicken house for sale. It's not hard to see why… With multiple nest boxes and an interior that's large enough for you, this pre-built chicken coop is the perfect size! Simple, yet attractive, you'll soon find your neighbors peeking around the fence to see what all the talk is about! You can even add wheels to this chicken coop for sale and make it a chicken tractor! 
Our 5×6 Coop is now The Quaker Chicken Coop.  Only the name is different!
Having your chicken coops built with LP Smartside wood siding means you get to choose the siding color along with the color of the trim and the shingles and it won't cost you a dime extra!
Take a Look Inside our Chicken Coop...
View pictures of all of our hen houses for sale in different angles. If you have questions about any of our chicken houses for sale OR there's something you'd like to see that we haven't posted a pictures of call us at1-888-447-4337.  We're here to answer your questions or get a picture of what you want to see.
Top roost bar is approximately 8″ from the back wall and 26 1/2″ from the floor.  The lower roost bar is approximately 16 1/2″ from the back wall and 22″ from the floor.  The distance between the roost bars is about 10″.
All chicken hutches come standard with a 5/8″ pressure-treated plywood floor.
Even cleaning our chicken houses for sale is easy – they're small enough that you can take a broom and sweep it out without ever getting your feet dirty.
Chicken Coop Exterior Features
Vinyl coated metal mesh on these chicken coop kits for 10-15 chickens keeps predators out while allowing fresh air and bright sunlight in.
Simply open this drop vent / window panel to increase ventilation and brighten up the inside of the chicken coop for 12 to 15 chickens.
Handy latch seals it tight keeping wind, rain and snow at bay.

Pressure treated wood legs and base keep our large chicken coop kits for 10-15 chickens elevated. This provides a shady spot for the hens as well as keeping the inside of the chicken coop houses dry and cooler in summer. Being raised off the ground may even deter some predators.  All our Quaker chicken coop houses for sale come complete with a detachable wooden ramp which is painted or stained to match the coop.
Add Wheels to Make Your Chicken Coop Portable!
Moving your chicken coop house just got easier! Here you can see the Mobile Chicken Coop Tractor Upgrade on our most popular coop.
Powder-coated metal wagon chassis includes handle and 4 pneumatic tires. Steer the front tires with the handle for easy maneuverability. The tractor chassis takes the place of the fixed, pressure treated wood legs / base. The 2 front tires swivel for easier turning.
The Quaker chicken coop for sale weighs about 750 pounds and could be pulled by able-bodied adults over relatively smooth, level ground.
In order to provide coast-to-coast delivery of our chicken coops, we MAY require the services of a commercial carrier. This means that your chicken hutch MAY arrive via a large tractor trailer truck. Please call us at 888-447-4337 if you have concerns about the truck accessing your property. We will work with you to the best of our ability to make the delivery; however, your assistance may be needed in some instances.
Horizon Structures chicken coops for sale are delivered fully-assembled and ready for same-day use. Coop pricing includes placement.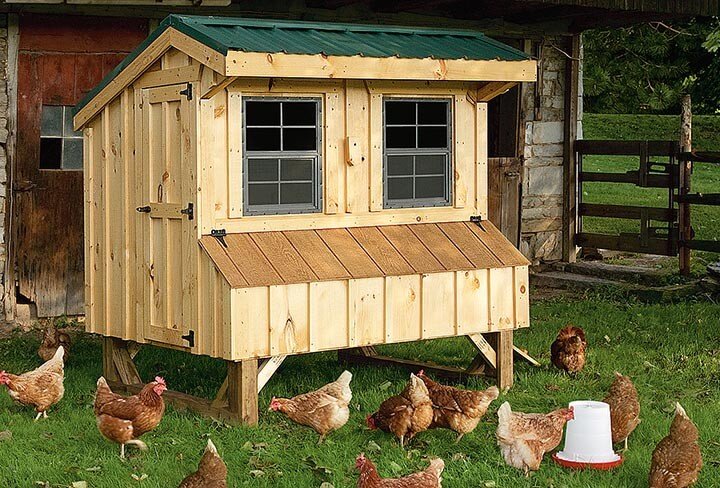 The easily accessible nest boxes in this chicken coop for sale means that you never have to go inside to collect the eggs. Simply lift the lid and reach inside!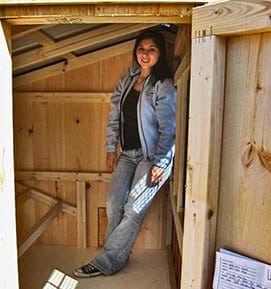 All chicken coops include a 20″ w x 52″ h "people" door with twist handle.
Key included.