You've done all the planning and research. Compared prices, features and options and carefully chosen Horizon Structures to supply your new building. You've gotten your permits, prepared your site and placed your order. The pre-built garage delivery date is fast approaching and you're wondering just what to expect when the big day arrives…
Just how do they deliver a fully constructed building?
Horizon Structures uses an F550-type truck (for buildings under 40′) or a tractor trailer (for buildings over 40′). Our trailers range from 24′ – 48′ in size giving us to flexibility to transport several pre-built garages / buildings together or a single building up to 50′ long. Many customers are amazed to see that It takes only one of our professional, experienced drivers to unload your barn, shed or garage.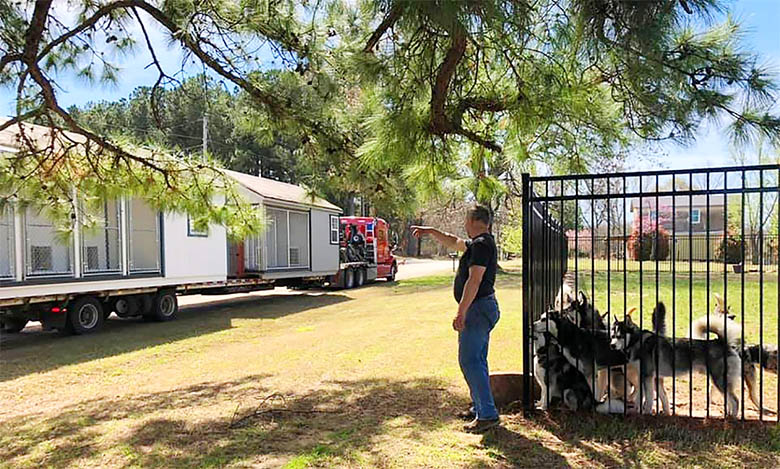 Tight Spot? No Problem...
If you are in doubt regarding your site accessibility, please call us to discuss your property layout. You can also take digital pictures of your property and email them, along with your phone number to info@horizonstructures.com. 
Our experienced staff will contact you to discuss the aspects of your property and determine the best course of action for delivery.
Since our deliveries take us in many directions, we may be able to set up an on-site inspection. Please call 1-800-447-4337 to find out when we might be in your area.
Deliveries are normally made Monday – Friday between the hours of 7 am and 6 pm. While it is difficult to give an exact time, we can usually tell you if your building will be arriving in the morning or the afternoon.
There are several ways to schedule the delivery of your Horizon Structures building…
You may request delivery "as soon as possible." In that case, we will contact you a few days prior to delivery to confirm a suitable date and get directions to your property.
You may request a specific date. Sometimes we are able to commit at the time of order or we may call you closer to the requested date to confirm. We will do everything possible to meet your request.
If you are having your site prepared, you can leave the delivery date "open" and give us a call when you are ready to schedule. At that time, we can usually arrange delivery within about a week – 10 days.
We reserve the right to reschedule deliveries due to inclement weather or periods of extended rain in order to avoid endangering our drivers and equipment or damaging your building or property. We also ask that you notify us, to reschedule the delivery if your ground is soft and you believe our truck and trailer would damage your property or make delivery exceptionally difficult for our driver.
If you are at all unsure whether or not our truck and trailer would have suitable access to your property, we ask that you call 1-888-44-SHEDS to discuss the details with our scheduler. You can also email pictures or fax a diagram (with measurements) of your property showing the layout and features of your site. We are usually able to make a determination about whether or not delivery is feasible or if you should have your structure built on-site.