Canine comfort and health are always front and center when it comes to smart kennel design. Dogs deserve a clean, dry floor without dampness or moisture under paw. For kennel owners the amount of labor that daily cleaning rituals require to maintain a hygienic environment for their canines is a prime consideration when it comes to kennel design and selection. Everyone wants professional kennel flooring without flaws.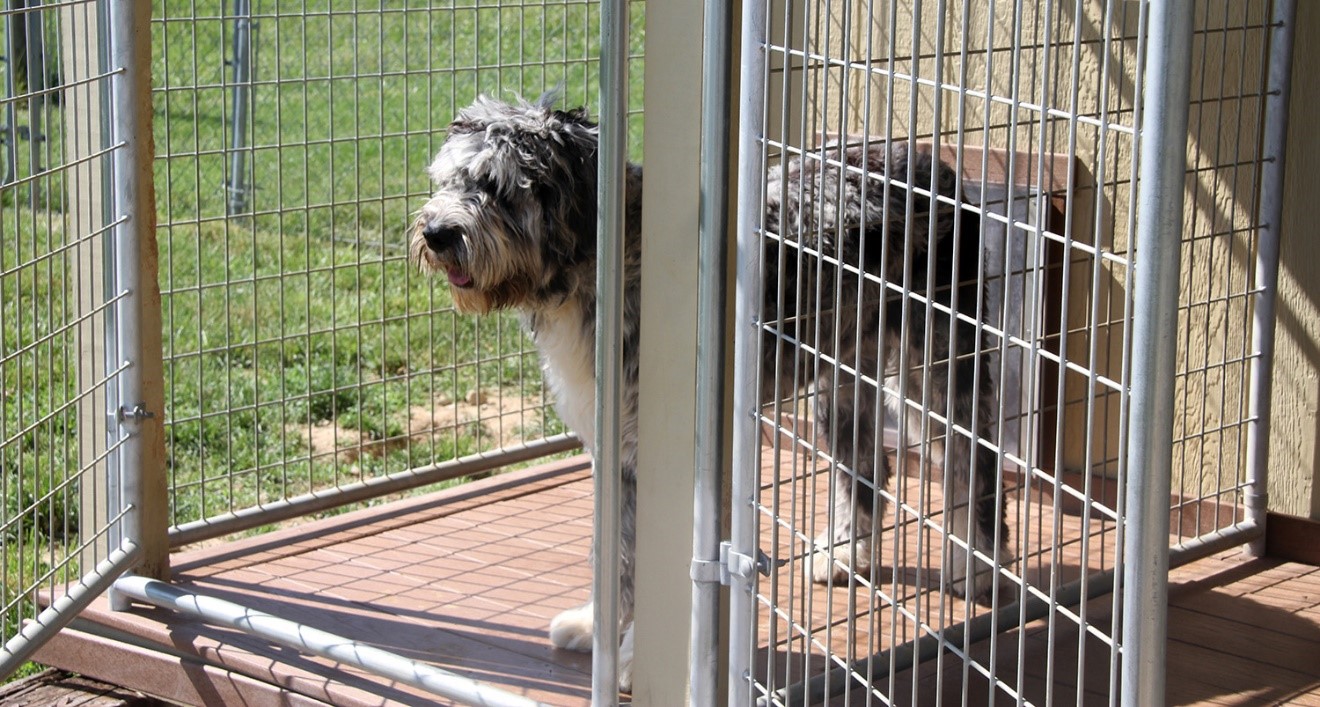 The floor surface must offer some stability from slipping and sliding to avoid injury to both dogs and caregivers. It should be easy to keep clean with minimum effort and have drains correctly placed to take water and dirt away. Good drainage will minimize the presence of bad odors and parasites within the kennel. The kennel floor must also resist the digging, chewing or other antics a canny canine may get up to during their time spent in the building.
Beneath the floor the base or sub-floor must offer protection from moisture that can seep in from the ground below, ideally with an insulated layer to keep the canine occupants cool in summer and warm in winter. Addition of radiant heat may even be considered for whelping boxes, dog rescues where animals are ill or malnourished, or in cold climates were persistent extreme temperatures challenge the wellbeing of the dogs.
Good kennel construction will address many of these basics. Great kennel construction will provide solutions for all the above factors, plus address variant needs including special needs flooring and indoor/outdoor living arrangements.
Best Surfaces
A slightly textured tough Polyurea coating over a sturdy wood floor construction that is fitted to go down and through the drain channel will provide a seamless surface that will deter damage that most dogs can exact.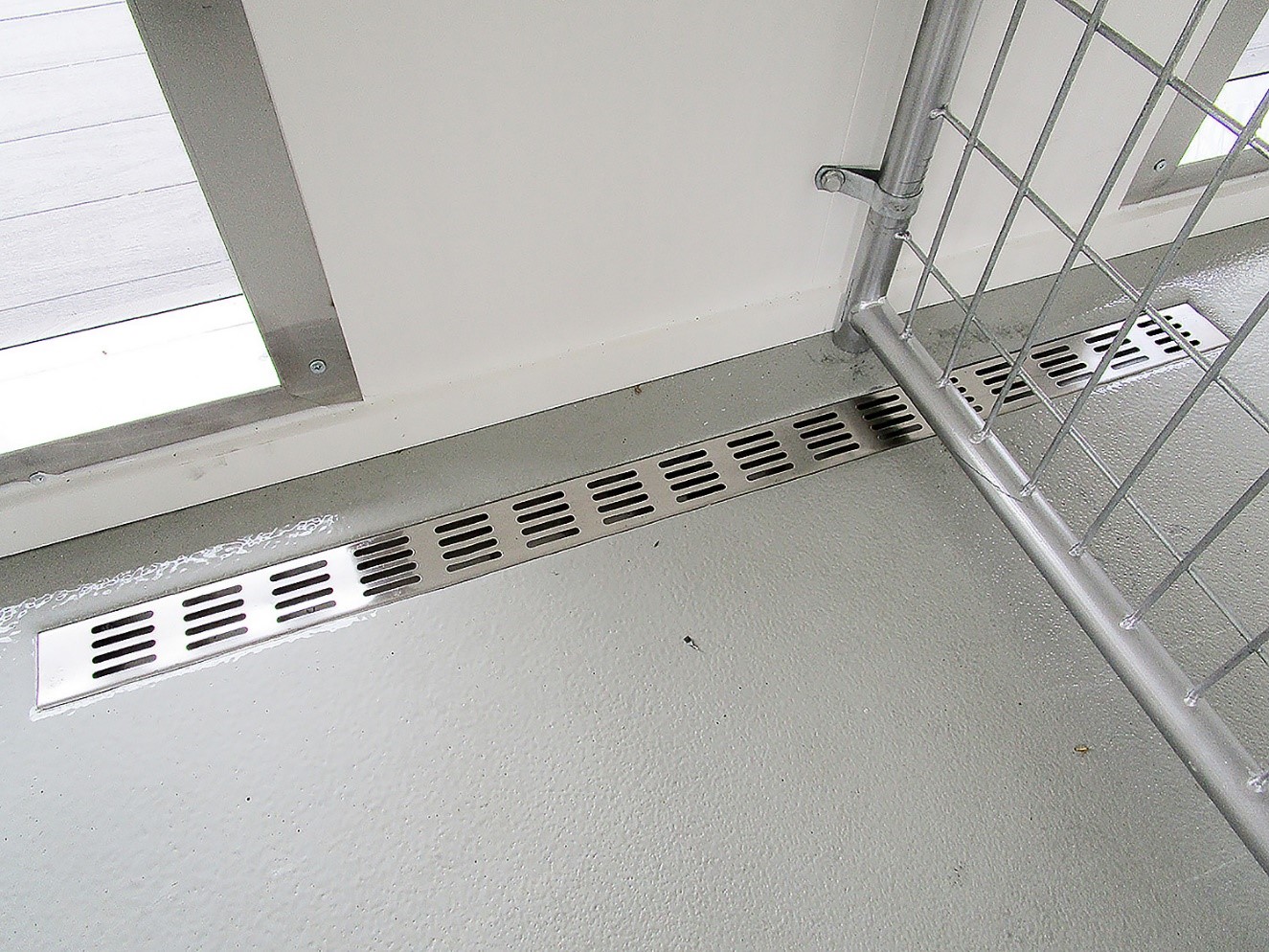 A seamless surface is important not just to protect the flooring from damage by a dog's teeth and claws, but also because a seamless covering will have no cracks or crevices to trap dirt or waste.
In some instances the addition of a well-fitted stainless steel tray in the box is considered beneficial. This is especially true with large breeds of dogs or dogs that have a penchant for tearing things up. While the tray will certainly afford extra protection to the floor, moisture can become trapped between the underside of the tray and the surface of the floor, causing a mold issue.
Steel trays will need to be removed periodically and will require diligent deep clean routines. On the negative side they also offer a cold surface with no traction to the canine occupant. An anti-bacterial rubber mat placed over the tray can solve that issue, but again will require removal for proper cleaning. And remember, these mats can be heavy and cumbersome to move.
To keep moisture from entering from the outside of the professional dog kennel floors can be insulated with a spray-foam installed under the floor.
The pad on which the kennel sits can be concrete or gravel. While the latter will encourage drainage, a concrete pad is a popular choice.
If you are going with a concrete pad, it is a good idea to choose a kennel design that offers its runs elevated off the ground above grade level. This design will accommodate a wash down tray beneath the entire length of the runs of the kennel, which can easily be hosed off so that water runs out at the end of the building on each side. This water can then be removed away from the building via a sewer pipe or other drainage method.
The exterior runs of the dog houses can be floored with a low maintenance product like Trex or consider tenderfoot wiring which will make clean up significantly easier and provide a dry environment for the canine occupant at all times.
Drain Details Matter
Drains should not be placed in the center of the dog boxes but at the exterior wall of the box. Not only does this design make clean up easier it also provides a larger space free of the drain for the dog to lay down.
The best material option for drains is stainless steel with the channel design to accomplish easy clean up. Look for a corrosion-resistant heavy-duty stainless steel of 304 or 316.
The channel drains should span nearly the entire back wall dimension of the box and be at least 3 inches deep and connected together via a 1.5" PVC pipe beneath the floor to take all liquids away to the gable end of the building where they can be dispersed either above or below ground. This helps keep parasites in the living environment to a minimum.
Take Home Message
The spend on a well-designed 'floor without flaws' for your kennel is a wise investment for several reasons:
Healthy dogs = happy owners = more clients
Less vet visits
Saves time cleaning and does a better job = happy caregivers
Saves on labor costs and cleaning supplies expense
No unsightly damage or costs for repairs
Longevity of use of structure