Blog By Nikki Alvin-Smith with Lisa Steele
---
A few years ago I went to visit a chestnut gelding I'd sold to a nearby trainer. As I entered the center aisle barn I was greeted by the amusing vision of a chicken perched on the poll of his beautifully chiseled head. The horse, named Casablanca, was quite content with his barn buddy's location, and both chestnut colored chicken and chestnut colored horse looked in my direction and offered their individual vocal greetings. So, are chicken coops in barn stalls a good idea? The answer is a resounding YES!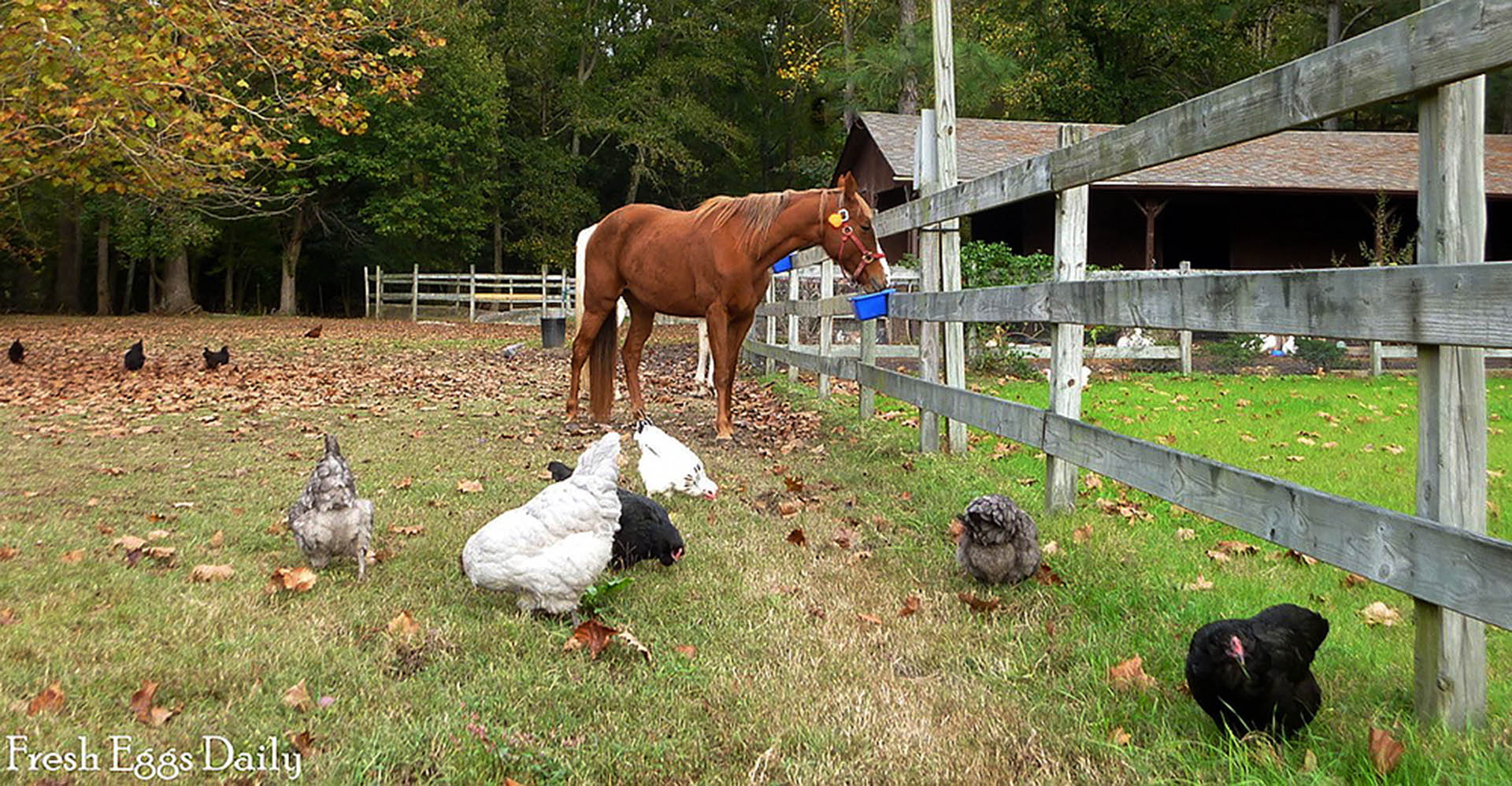 I asked expert Lisa Steele, TV star of Fresh Eggs Daily and the new series, Welcome to my Farm, for her advice on whether chickens and horses can cohabit happily together.
"We used to raise horses and our coop was attached to our barn, our chickens free ranged in the horse pasture. There are lots of benefits. The chickens will make quick work of piles of horse manure, picking out any seeds that are left undigested and also eating fly larvae. We saw far fewer flies around the stable once we got chickens. Chickens and horses can companionably share living space. Our horses were very careful not to step on our chicken accidentally, even as the chickens clustered under the feed bins at feeding time!" explained Lisa.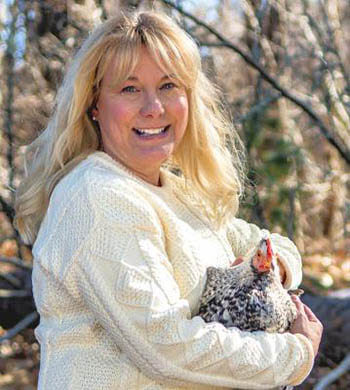 There is no doubt that chickens do an excellent job of dining on insects and that their presence can help to minimize the insect population. When a chicken pecks the ground on its hunt for food, it may disperse worm eggs and worm larvae that lay in the horse pasture. Any infective parasites that are present on the pasture may consequently have their life cycle disrupted when the eggs or larvae are exposed to the elements. It is the sun, rather than the cold temperatures or frost, that actually does the most damage to the life cycle of the worm eggs as it dries out the important moisture component that provides them with the energy to survive. So chickens can play a valuable role in the control of both insects and equine parasites.
Unfortunately, while a horse barn may be a convenient spot to coop your chickens for the night to mitigate the chances of them being predated upon by other critters it is not the safest abode for them. Additionally, there are risks to your horse of infection and disease that come with housing both species together. Chickens that roam the horse pastures can also cause health issues for your equine partner.
Sanitation issues from chicken droppings can pose health problems for horses such as infection from Salmonella, botulism, candidiasis and histoplasmosis (fungal infections) and even streptococcus.
Due to these possible health issues for your horses the AAEP recommends chickens should not be located in or close to a stable. Although AAEP freely admit that chickens can be beneficial in the horse's environment in the disruption of the lifecycle of roundworms.
In Lisa Steele's experience keeping chickens and horses together has not posed health issues for her horses but she does recommend that the chickens be housed in a coop, not in the horse barn.
"The horses do help to protect the chickens a bit from predators, aerial predators mostly. I've read that hawks will hesitate to attack chickens if there are larger animals in the pasture with them.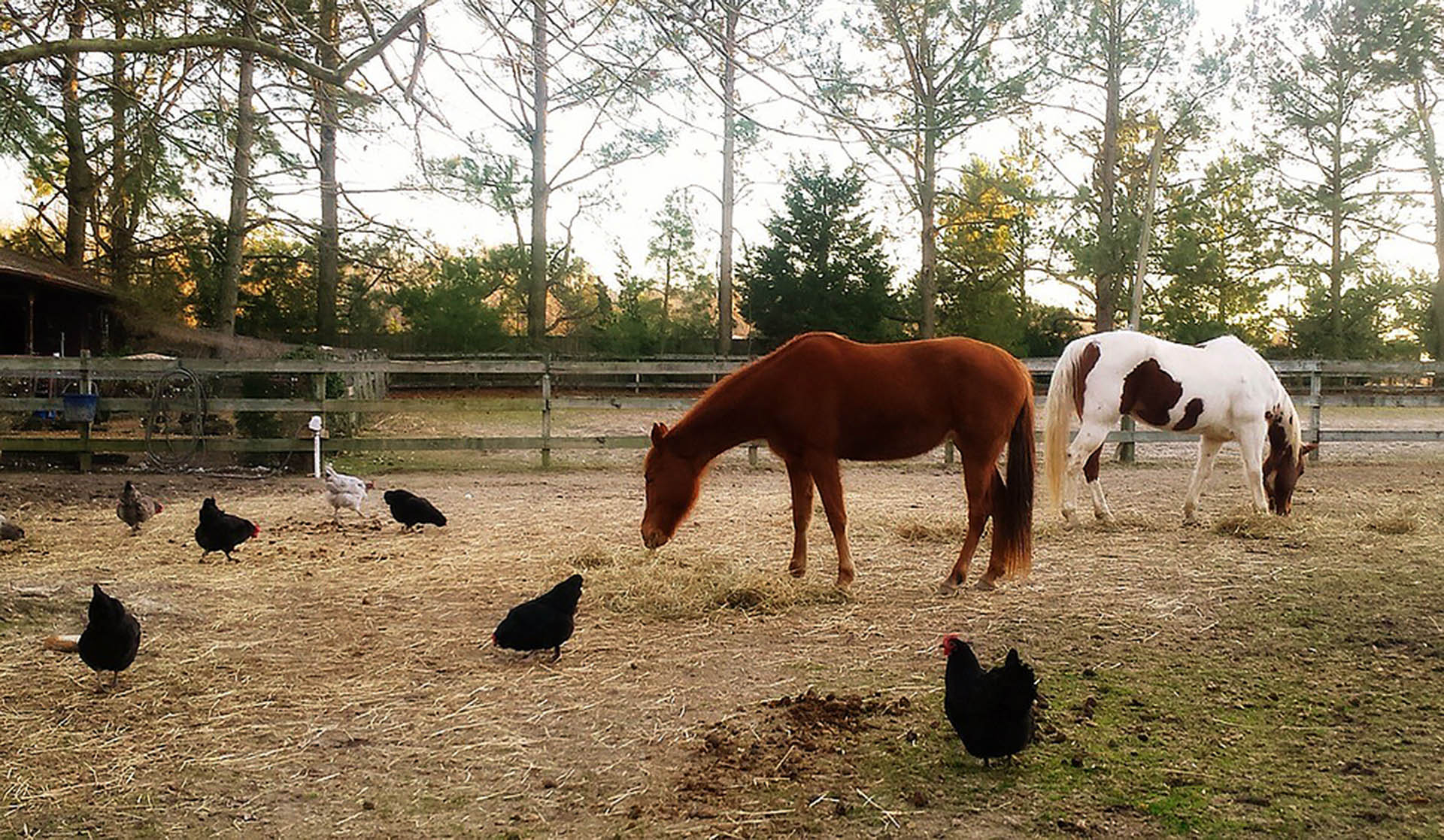 But horses are no good as flock guardians on the whole. We had fox run through the pasture all the time and the horses paid them no mind.
While I'm sure chickens have slept in horse barns for centuries without issue, I do think that a dedicated coop is important. Weasels can easily gain entry into a horse barn, whereas a well-constructed coop is a bit more of a challenge. Horizon Structures makes awesome chicken coops! Super secure and well built."
If you love your daily supply of fresh eggs and enjoy keeping chickens and want to ensure their safety from predation, then it may be wise to consider the AAEP advice, and to keep your chickens 'cooped' up safely away from the horse barn. There are a huge range of styles and designs of chicken coops to choose from and something to suit every taste and budget. A professionally designed coop will not only offer protection to the chickens from predation and poor weather, it can provide easy clean surfaces and quick egg collection and improve the health and well-being of its resident population.
Lisa's vast experience in the design of chicken coops provides keen advice on what to look for when selecting a coop.
"A good coop will have predator-proof latches, remembering that raccoon can slide deadbolts and raise latches. A carabiner or spring-loaded eyehook is far more secure. Welded wire on the windows will keep out even the smallest predators as long as the holes are no larger than ½ inch.
Nesting boxes for the chickens to lay their eggs in and roosts for them to sleep on are both features that your average horse barn won't offer.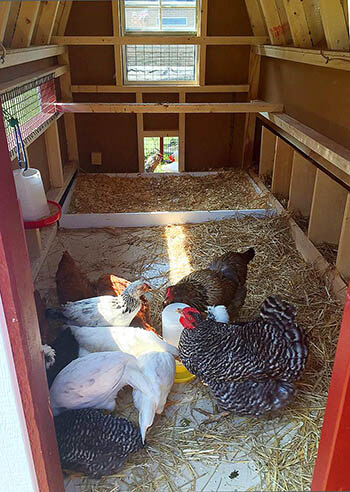 Provide several boxes, at least 12″ square, with nice soft bedding such as straw or pine shavings, in which eggs can be laid. Collect the egg at least once a day, and preferably several times a day to avoid frozen eggs in winter, and the possibility of broken eggs.
Eggs don't need to be washed nor refrigerated, but should be rinsed in warm water just before using.
Roosts should be situated higher than the nesting boxes. Chickens natural inclination is to roost up as high as they can.
A popular choice of coop for livestock owners is the chicken-tractor coop.
It offers the advantage of mobility and you can hook it to an ATV or garden tractor or garner the help of a strong helper to move it around in your yard so the chickens are always grazing fresh grass and fertilizing as they go. When you leave a pasture fallow and the horses are removed, you can utilize it for non-toxic pest and worm control.
Whatever coop you choose, whether it is one that allows the chickens free range or provides an enclosed run to protect the chickens from predatory birds and mammals, it is wise to do your homework. As with horse barn designs, different coop styles solve different problems. Our experts here at Horizon Structures can help you choose the right chicken coop size, style and design to fit your individual needs and one that is built with top quality Amish craftsmanship offering great longevity.
If you would like to learn more about farm life and in particular how to maximize your enjoyment of keeping chickens with healthy recipes for all those fresh eggs and tips galore on everything homestead, please visit Lisa at Fresh Eggs Daily.In Lisa Steele's experience keeping chickens and horses together has not posed health issues for her horses but she does recommend that the chickens be housed in a coop, not in the horse barn.