For those of you who have a coop or those of you who may be looking to get your first coop and want to maximize egg production and have a more relaxed coop environment, here is one chicken coop lighting suggestion that may work for you.
Installing a red L.E.D light for your chicken coop can make your chickens calmer and less aggressive. On top of that they may indeed lay more eggs,even in the winter months when egg production is usually down due to less daylight that is available.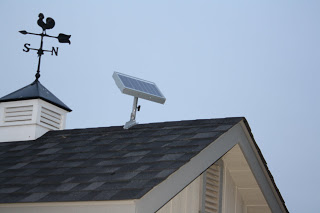 Solar Panel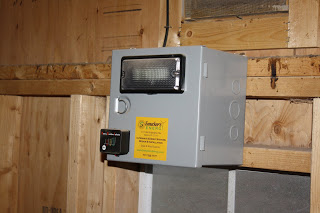 Control Box
How it works: Install the roof mounted solar panel charger using a provided mounting bracket. This will be wired to a box inside the coop which contains that battery that the solar panel charges. Use the timer on the interior box to turn the red light on whenever you desire.
The great thing about the red light is that it gives off enough light to see but is not overly bright.
You may purchase the solar light system with a new coop or add on to an existing coop that you have. Even if it is not a Horizon Structures coop. We'll be glad to help you.
We are looking forward to hearing from you. Horizon Structures