Do you have plans for chicken coops, but aren't sure where to start? The most common reason people raise chickens is for their eggs. If you are starting a chicken coop and have begun researching basic chicken coop plans, don't stop there! Many people have discovered web sites like Horizon Structures which offer pre-assembled, ready-to-use chicken shed plans. Horizon Structures has your budget in mind, and sells coops ranging from a pre-fab small chicken coop to a large pre-fab chicken coop.  There are many choices out there and to ensure a successful venture, you need to go with an experienced, knowledgeable company. We at Horizon Structures are just that, and have everything you need and want to successfully move forward with planning a chicken coop.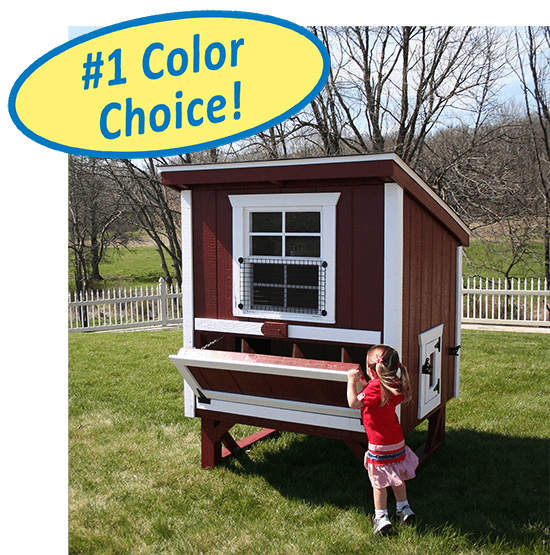 Chicken coop plans are great if you're a good enough carpenter to read them. However, most people raise chickens as a hobby and may not be expert builders. Running all over town to find the right building materials and hardware and making sure you have all the right tools can whittle away your time and money. While we do not directly offer chicken coop plans, we do have all the bells and whistles for a personalized experience to customize any of our chicken coops. Customers can even choose their own colors to match their home or barn. In addition, these coops come fully assembled, so there are none of the inconveniences of building your own from chicken coop plans: no lost weekends, no fears, and no hassle!
Whether you decide to purchased a ready-made coop or build your own using chicken coop plans, be sure to do your homework. One important thing to consider is which type of siding will best suit your wants and needs. Horizon Structures offers two standard types of wood siding: pine board and batten and LP Smartside. Both types of siding are attractive and durable. The pine board and batten comes with a clear stain and provides the rustic country look many people love; however, it may weather and change color somewhat over time. Pre-painted LP Smartside wood siding has many color options. Most people choose one over the other based on the look they prefer.
Horizon Structures' educational website is constantly updated, and visitors are encouraged to submit suggestions and special requests. You'll notice that the number of chickens per coop varies with the coop model, the breed of chicken, and the amount of time the chickens will be allowed out of the coop. Horizon's mini chicken coop will hold up to 8 birds, while our large chicken coops can accommodate 30+.  Naturally, with smaller or larger breeds of chicken, these numbers may fluctuate. Similarly, you may be able to have more chickens if they have access to a chicken run or are allowed to free range, rather than being inside the coop 24-7.
The benefits of buying a pre-built chicken coop include lower overall cost, consistent quality and workmanship, and shorter lead time. Call Horizon Structures today and see how the chicken coop plans you have can become a reality sooner than you think!