We get calls every day from customers looking for a quote on a garage… but, many times, they don't know what size they want!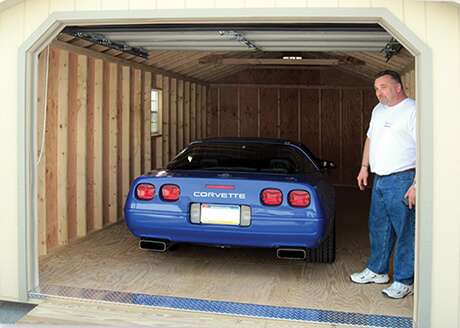 As a starting point for this topic, the most popular garage dimensions we build are: 12 x 24, 14 x 28, 20 x 20, and 24 x 24. Knowing that, consider 2 factors when determining what size garage to buy: the size vehicle(s) you'll park inside and how much extra storage or work space you need.
The first step in choosing a garage size for your new garage is to grab a tape measure and find out the exact size of your vehicle. Factor in how much additional space you want to move around it and space for opening the doors. Then add in space for storage. Keep in mind that when builders talk about garage sizes they are referring to OUTSIDE dimensions. Actual interiors garage measurements will be approximately 6″ – 8″ smaller.
The minimum suggested building lengths for different types of vehicles are as follows:
• Average car: 14'
• Small pickup truck: 18'
• Full pickup truck, SUV, or van: 20' or 22'
For storage, allow at least 4' if you are planning to store small things like bikes or tools. For more storage or for a workbench and work area, add about 10'. A 24' – 28' building will accommodate a regular-sized vehicle AND a work area. Keep in mind if you want a workbench, Horizon can install it for you! A 24" deep workbench is a simple addition that adds tons of utility and convenience for very little cost. For storage of larger items like mowers or ATVs, a 32' or longer building will usually provide enough room.
Width is the other dimension to consider. Our one car garage sheds come in 10', 12', and 14' widths. Ten feet may be too small for anything other than compact cars or motorcycles. Twelve and 14' widths are more common. For pre-fab two car garages, consider 20', 24', or 28'. Be aware, however, that 14' and 28' wide buildings cost a bit more to ship (prebuilt) than the other widths. If you need a wider garage, having it built on-site may be the best option.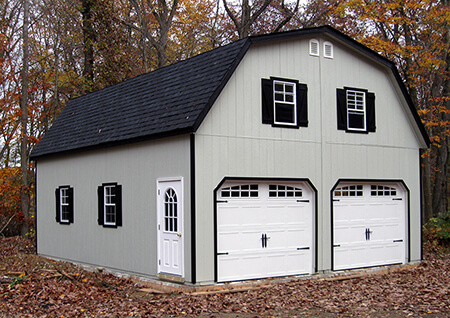 A garage is an investment in your property. Make sure you get the right garage size for your trucks, cars, and other storage.
The garage width also affects the size of the overhead doors. An 8' wide x 6'6" high door is standard on 10' and 20' wide buildings. A 9' wide x 7' high door is standard with 12', 14', 24', and 28' wide structures. For a small up-charge, a 10' wide x 7' high door may be installed on 14' and 28' wide garages.
Remember that any standard garage size is also available in a two-story version. So consider building "up" instead of "out" if your property size is limited. A garage attic includes a full staircase and hand rail, and the floor extends all the way across the building to effectively double your space. Stay with the standard A-frame roof line or increase the use-able space on the upper level and the overall garage appearance with a gambrel (barn) style roof. Add dormers to further increase the area on the second floor.
Beware of garage apartment plans you may see online. When all is said and done, you may be further ahead – in both time AND money – by going with a PRE-built garage or prefabricated garage/apartment combination.
We hope this article has been helpful for you in planning your garage measurements. When in doubt, remember bigger is better when planning for a garage and storage space. You won't be sorry to have extra elbow room.
If a larger garage sizes are not an option, create extra space with a garden storage shed.
Final tip: Always check with your local zoning authority for size/height guidelines BEFORE you build or buy.
If you have any questions about our standard garage sizes, give us a call 888-447-4337!