Are you pining for a greenhouse? Whether you want to grow veggies, start seeds, or propagate orchids, a greenhouse is an especially useful tool. Greenhouses are a superb way to extend your growing season, protect your plants from pests and harsh weather conditions, and enjoy fresh produce all year round.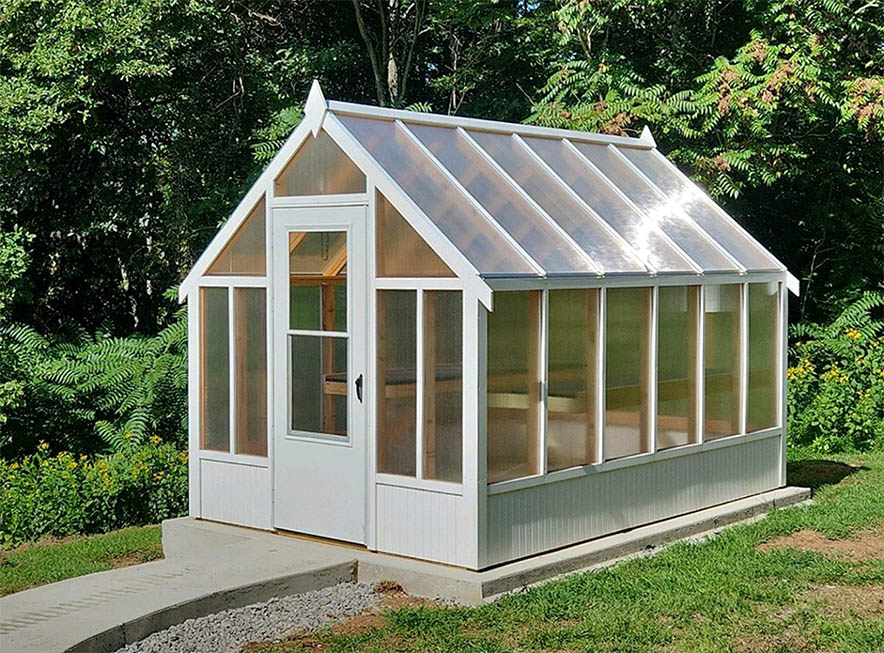 Here are some key factors to consider before you begin your greenhouse project, including how to choose the right location for your greenhouse, determine your budget, and select the best design for your needs.
What Location Should You Choose?
Choose a location that gets plenty of sunlight throughout the day. Typically, it's best to orient the greenhouse to face south, if possible, to maximize the amount of sunlight it receives. If you can't get a location that is sunny but sheltered from the wind consider building a windbreak to protect the greenhouse.
The location you select should be protected from strong winds. Make sure it's convenient to get to your greenhouse and that it has access to water and electricity. The location should have good drainage to prevent waterlogging around the greenhouse. Our greenhouses don't require a prepared site, however.
You want your greenhouse to be easily accessible for bringing in supplies, equipment, and plants, as well as for maintenance and cleaning.
If you plan to grow plants directly in the ground, choose a location with good quality soil that is well-drained and free from contaminants.
Do You Need Any Permits or Regulations?
Before you start building your greenhouse check with your local government and HOA to see if there are any permits or regulations you need to follow. Some areas have restrictions on the size and location of greenhouses, as well as requirements for electrical and plumbing installations. Failing to comply with these regulations can result in fines or even the demolition of your greenhouse.
How Much Time and/or Money do You Want to Invest?
Greenhouses can range in price from a few hundred dollars to tens of thousands, depending on the size, materials, and features you choose. Building a greenhouse from scratch may seem more affordable than purchasing a pre-built one, particularly if you're skilled in construction or have access to inexpensive building materials.
On the other hand, buying a pre-built greenhouse saves time and money since you don't have to purchase materials or go through the building process and any mistakes that may result. Kits are often a frustrating combination of the cost of a pre-built model and the effort and potential for mistakes of building your own.
If you need a greenhouse quickly or don't have much time to dedicate to building one, then buying a pre-built greenhouse may be the best option. A pre-built greenhouse can be delivered and set up in a matter of hours or days, depending on its size and complexity.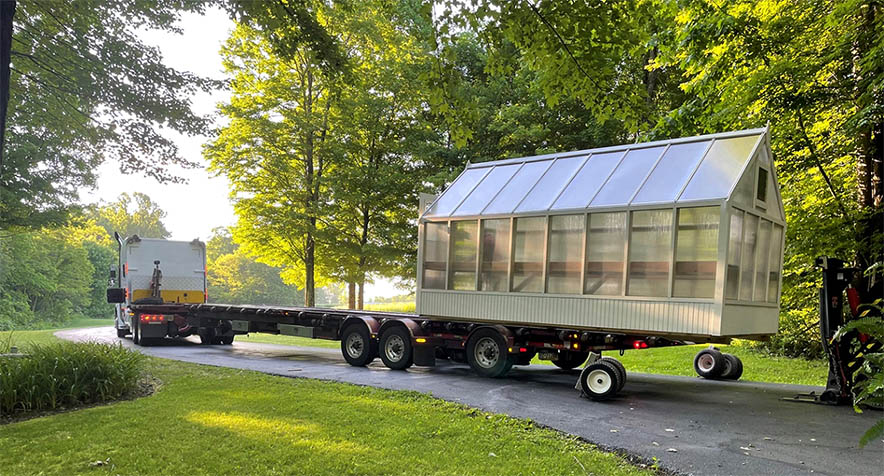 By contrast, building a greenhouse from scratch can take several weeks or even months, depending on your level of experience and the design you choose. Our greenhouses are ready to use, so you can start enjoying it the moment it arrives.
If you don't want to overspend, set a budget and stick to it. Be sure to factor in the ongoing costs of maintaining the greenhouse, such as heating and cooling expenses, as well as the cost of replacement parts or repairs.
Is a Freestanding or Attached Greenhouse Right for You?
Freestanding and attached greenhouses each have their advantages and disadvantages, and the choice ultimately depends on your specific needs and preferences. Here are some of the pros and cons of freestanding vs. attached greenhouses:
| Freestanding | Attached |
| --- | --- |
| More space to grow a variety of plants but power and water will need to be brought to the greenhouse | Uses fewer building materials than it's required for a freestanding structure, but size is limited by the building to which it is attached |
| Receive more natural light from all sides, reducing energy costs for supplemental lighting and benefiting plant growth, but it can be more difficult to control heat. | The same heating, cooling, and ventilation tools can be used for both the greenhouse and your home, saving money and allowing fresh air to circulate through your home. However, you don't have as much control over ventilation. |
| The environment is easier to control than using house heat or cooling but there's increased heating cost during colder months | More convenient to access from your home, making it easier to tend to your plants and adjust environmental controls. On the other hand, they can't be easily expanded if you want more growing space. |
| Can be designed with more windows and vents for better air circulation and temperature control but tend to be more expensive to build than attached greenhouses because they require more materials and construction. | Can improve the look of your home, lending a classic, attractive appearance. If you sell, however, an attached greenhouse may be a deterrent to some buyers if it's not to their taste |
| Can be expanded or relocated more easily, making them a more flexible option for growers who may need to adjust their space requirements over time, but they take up a lot of room and can be a lot of work to adjust. | |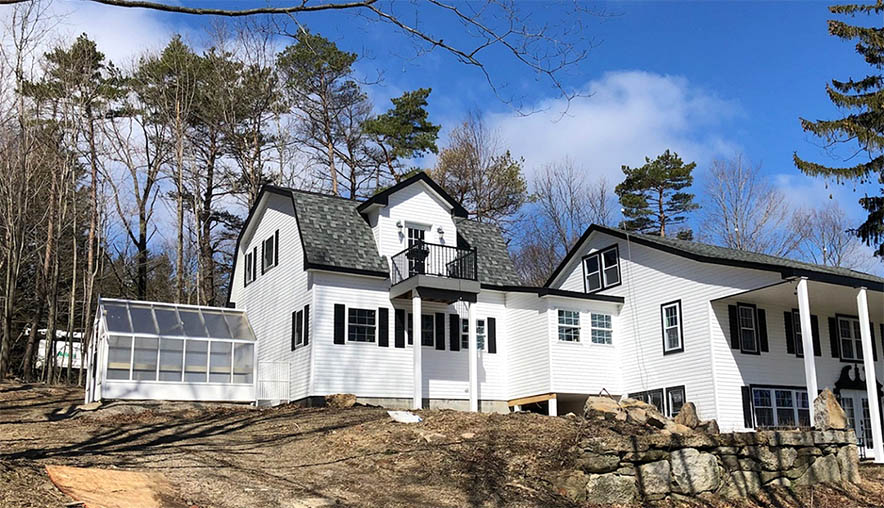 What Kind of Design Do You Want?
Greenhouses come in all kinds of sizes, shapes, and materials, with intentions from functional to magical. Here are a couple of common choices:
Quonset greenhouse: This rounded or semi-circular structure is usually made of metal or PVC piping. It is easy to assemble and cost-effective, but it's not as sturdy or well-insulated as other options.
Gable greenhouse: This pretty design has a peaked roof that slopes on two sides, similar to a traditional house. It provides plenty of headroom and can be a good option for growing tall plants and starting seeds.
Hoop greenhouse: This simple design is made of metal or PVC pipes that are bent into a hoop shape and covered with plastic sheeting. It's an easy option if you have a limited budget and don't need a long-term structure.
Gothic arch greenhouse: Similar to a cathedral, this kind of greenhouse makes a gorgeous she-shed or studio, as well as being great for growing plants. It provides plenty of headroom so it's good for tall plants.
A-frame greenhouse: The A-frame greenhouse has a roof that slopes on two sides like an A. It is sturdy in the snow or heavy rain.
Dome greenhouse: This modern design is made of interconnected triangles. It is sturdy and provides excellent insulation but is expensive and difficult to build and source.
Combined: The combined greenhouse/shed is a great option for she-sheds, tiny houses, and studio/greenhouse space.
What Materials Do You Want to Use?
Frame
Wood, plastic, aluminum, and PVC are all common choices to build the greenhouse frame. The material you choose will depend on your budget, the climate in your area, and your personal preferences.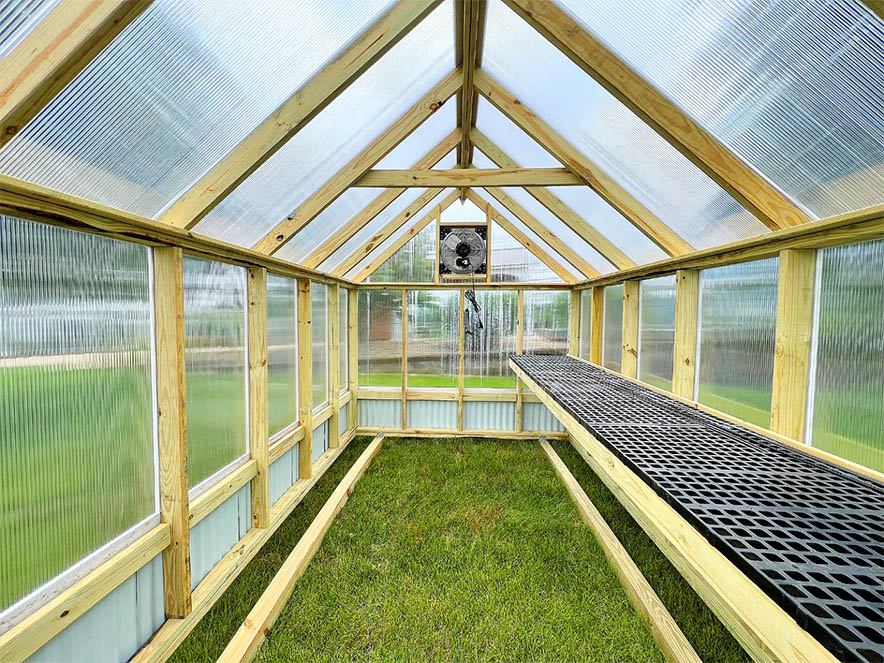 Wood is a good choice for its natural look and the ease with which you can customize it with hooks and shelves. Our Southern Yellow Pine frame will hold up for decades in the humid greenhouse environment if it's regularly maintained.
Aluminum and PVC are fairly durable and require little maintenance, but they tend not to look as attractive, are difficult to customize, and can be damaged easily by falling branches, sun damage, etc.
Cover
Polycarbonate: Polycarbonate is a lightweight and durable plastic. It's shatterproof and can withstand extreme temperatures. Our polycarbonate offers superb light transmission with almost no UV penetration. It's resistant to flame and holds up to sunlight without filming. A 10-year warranty can give you confidence in the longevity of this material.
Glass: This traditional choice allows very high light transmission. It lasts a long time with some luck and is relatively easy to clean. However, glass is heavy, expensive, and can break easily. Single-panel glass can't insulate as well as twin-wall polycarbonate.
Polyethylene film: This lightweight and inexpensive material is often used for low-cost greenhouses. It offers decent light transmission and is extremely easy to install. However, it degrades over time with sun exposure.
Acrylic: Similar to glass in appearance but lighter and more durable than glass, acrylic is more expensive than polycarbonate but less expensive than glass. It provides good light transmission and insulation but is easily scratched, hurting the look of the greenhouse over time.
How Will You Control Heating and Cooling?
A heating system keeps your plants warm during the colder months and an air conditioning or ventilation system cools the greenhouse during the summer. If you have an attached greenhouse, you may rely on your home's temperature control.
For mild climates and plants without highly specific growing needs, natural ventilation may be sufficient. It can be achieved by opening windows, vents, or doors to allow fresh air to enter the greenhouse. Fans are another affordable option to help distribute heat evenly and prevent hot spots while cooling the greenhouse by drawing in cooler air from outside.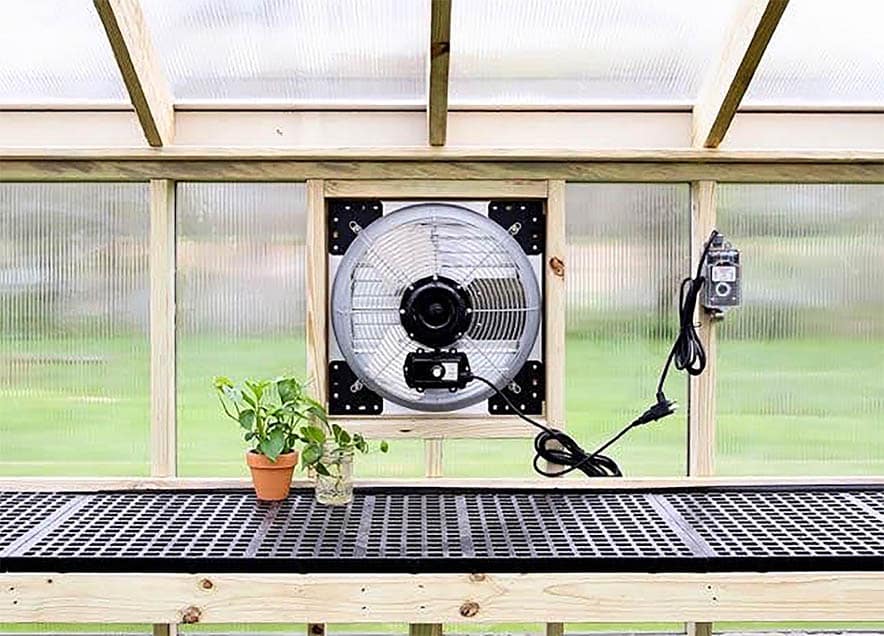 To reduce the amount of sunlight and heat entering the greenhouse, consider shade cloth or curtains which can be adjusted to allow more or less light in, depending on the needs of the plants. Evaporative cooling systems use water to cool the air within the greenhouse, making it more humid and reducing the temperature.
Air conditioning systems can be used to cool the air within the greenhouse, although they can be expensive to install and operate, and are best when used in attached greenhouses, in conjunction with your home AC.
When you need to heat your greenhouse in the winter, there are a couple of options. Radiant heaters use infrared radiation to warm objects and surfaces within the greenhouse, rather than heating the air directly. Forced-air heaters blow warm air into the greenhouse. Hot water or steam can also be circulated through pipes or tubes within the greenhouse to provide heat.
Think Before Getting a Greenhouse
A greenhouse can extend your growing season, protect your plants from bugs and weather, and enable you to enjoy fresh produce or gorgeous new houseplants all year round. But before you buy, choose a location that gets plenty of sunlight, determine your budget, pick a design that best suits your needs, and decide how to provide temperature control. A greenhouse is a great investment for any avid gardener looking to take their hobby to the next level, but care must be taken before the order is placed.