Blog By Nikki Alvin-Smith
---
Cupolas are a common sight on agricultural buildings and horse barns are no exception. So, what are cupolas? How do cupola roof vents work? Their role is more important than an aesthetically pleasing addition to the roof ridgeline. Your horse's wellbeing is directly related to their presence and the cupola is more than a crowning glory to your building.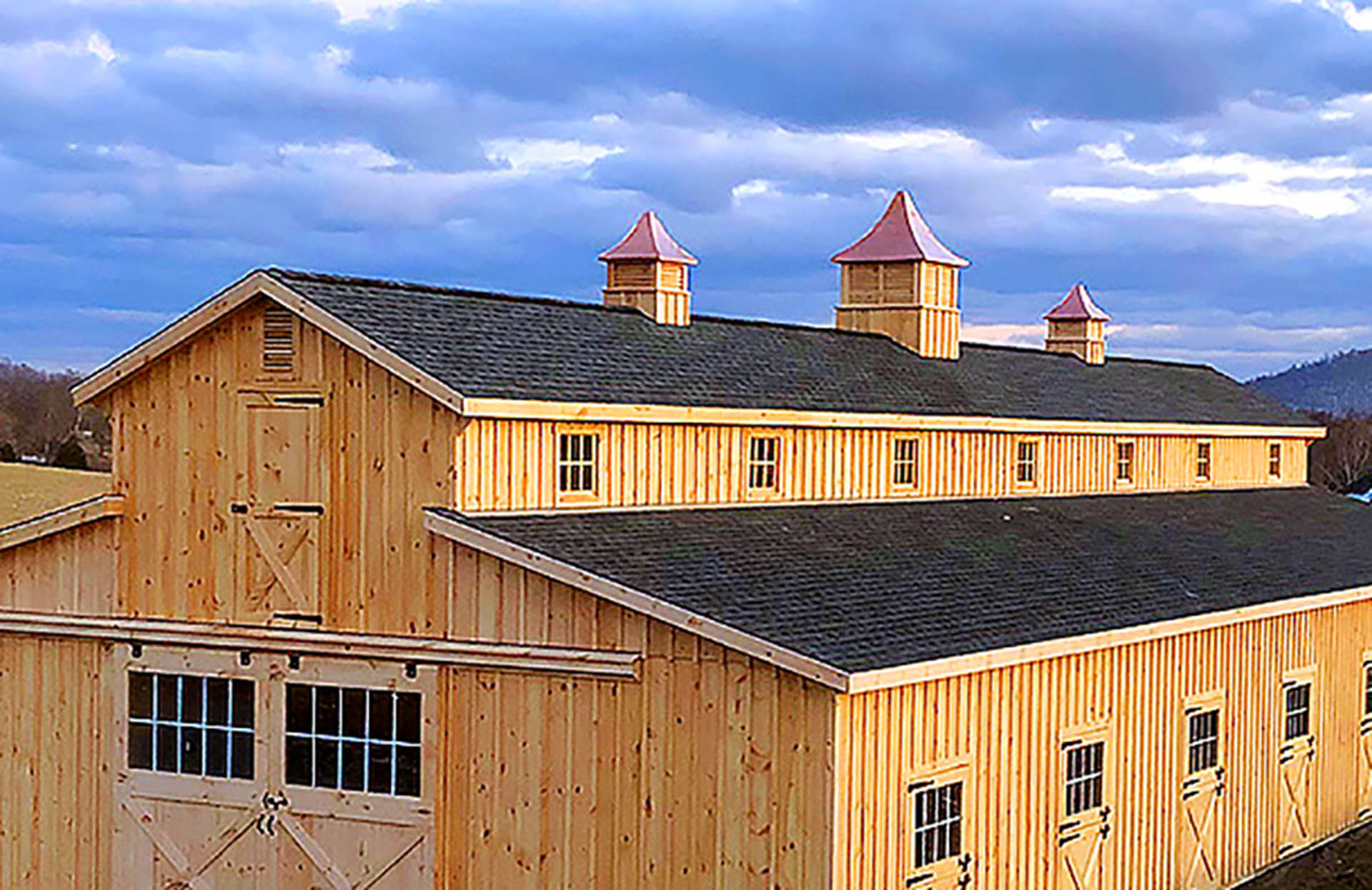 Free circulation of fresh air is needed in horse barns to keep humans, horses and hay in good health. Passive movement of air throughout the structure will help prevent lung tissue being subjected to harmful molds and pathogens caused by the inevitable moisture that finds it way into the building from the ground and from humid air. Ammonia produced from manure, condensation that drips from ceilings and heat that builds up from livestock stabled in a structure, all combine to add a cocktail of stale air or poor air if proper ventilation is not provided in the barn design.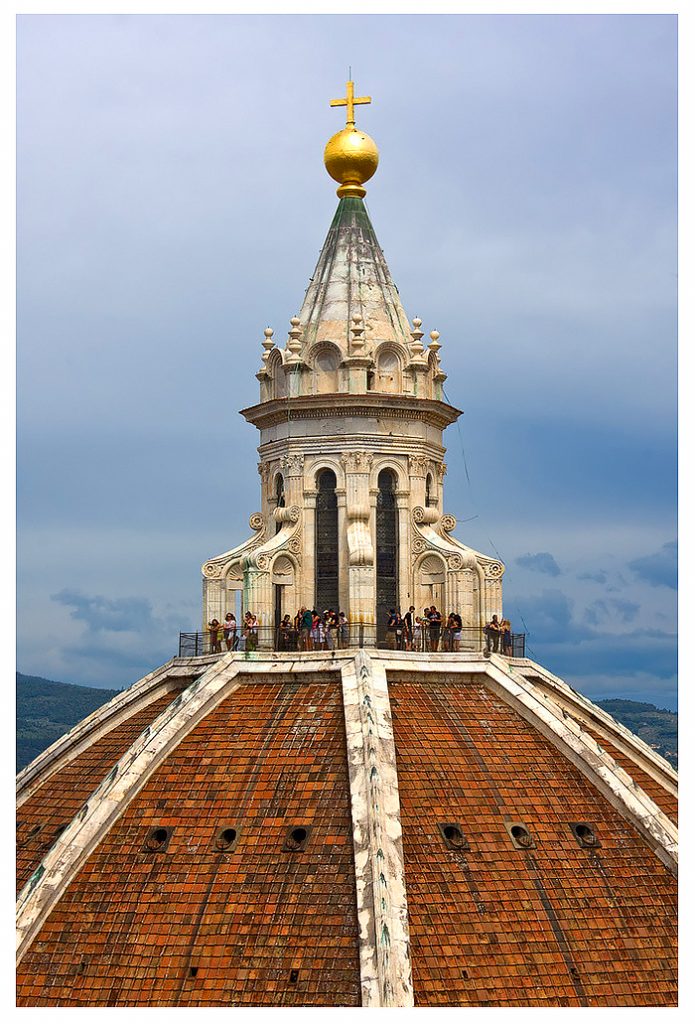 The word cupola derives via Italian from the lower Latin cupula meaning small upside down cup and are commonly placed on a square or circular base with small pillars forming a lantern. Originally cupola roof vents were bulbous or pointed and developed in Islamic architecture as early as the 8th Century. Dome-shaped 'onion' cupolas later appeared in Russia, their round shape provided a snow shedding advantage over other designs and these were generally more decorative. The Moors took the cupola design to Europe. If you've visited Austria to see the Spanish Riding School, or Spain to trail ride an Andalusian, you'll see cupola roof vents included in baroque architecture across many cities. Today you can see huge versions of domes, lanterns and cupolas in medieval designs such as Ely Cathedral, UK , St. Peter's in Rome, Italy, St. Paul's Cathedral in London, U.K, Sacre-Coeur in Paris, France, and the Capitol in Washington, D.C. U.S.A.
The important factor in the design of a cupola as far as movement of air is concerned is the pillars and lantern, an openwork timber construction designed to let light in and smoke out. Dating back to medieval times this important addition to buildings improved air quality and light within the structure.
As warm air will necessarily rise the cupola roof vent can provide an exit for warmer air and will draw colder air in from the eave vents or open doorways and windows below. However, a cupola won't make much difference to the movement of air in a building if it is not big enough. One rule of thumb is to make the cupola 1/10 to 1/8 the length of the ridge it sits on, but on a larger building a cupola that size would be ridiculously large and its weight hard to support, so a large building will require more than one. Click Here to see what we're talking about.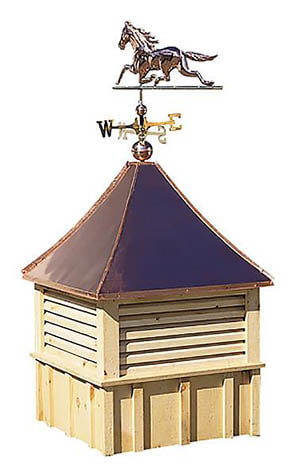 Ventilation is often expressed in "air changes per hour." An air change per hour (ACH) is the total volume of air in the stable that is replaced per hour. Six air changes per hour means a complete air change every 10 minutes. As horses are large animals and provide a lot of body heat, and the stable is an environment that is subject to odor and moisture, a barn requires a higher ACH than a house. Ideally 4 to 8 air changes per hour should be provided for optimum fresh air and healthy horse barn ventilation.
Here at Horizon Structures we offer copper cupola roof vents in sizes varying from a 20 inch base by 36 inches high to a 48 inch base by 80 inches high. We can custom build any size cupola for your barn building project.
Many older horse barns suffer from poor ventilation and your horse's health can be compromised as a result. If you ever opened the doors to a closed barn after rainy weather, and found the ground moist beneath your feet, then you know that condensation is a sincere problem with a lack of ventilation during weather changes. If you open a barn door to the smell of stale or dank air, then that air may be 'sick' enough to negatively effect horses or livestock stabled within its walls.
For optimal respiratory health stabled horses need clean air and an environment that is free of condensation. Cold barns with a high moisture level are likely to do harm, particularly in young and elderly horses who are more susceptible than healthy adult horses to pathogens due to their lesser immune systems and lung tissue development. As their caregivers, we all love a warm barn in winter, but many studies cite that heated barns without proper ventilation can be a health hazard for horses. The inclusion in your barn design of a competent passive airflow system for is therefore a smart choice.
Stored hay supplies also need to be protected from moisture and humidity. In a new barn build always consider the design of an open ridge system for shingle roofs, an adequate number of cupola roof vents especially on a metal roofed building, netted (to protect from birds) open eave/soffit designs for maximum passive airflow and window placements for stalls. The addition of electric fans within a waterproof cupola roof vent can be helpful to increase the rate of air changes in hot and humid weather.
As experienced barn builders we are happy to advise on the size and placement of cupola roof vents to maximize their benefit for your horse's respiratory health.
Don't forget to add a personal touch to your cupola with a weathervane designed to highlight your horse passion. Horizon Structures offers an array of designs in beautiful copper to accentuate the beauty of your barn and of course a weathervane is also a useful predictor of the weather by its accurate assessment of wind direction and more importantly changes in wind direction. But that's a topic for another blog!