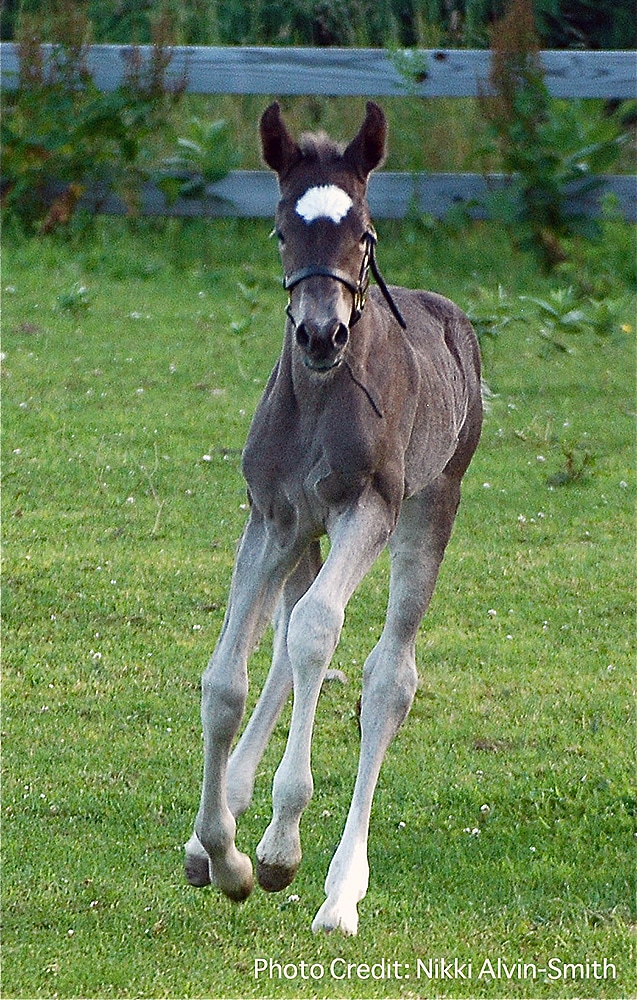 The foal is the goal and the goal is to keep that foal happy and healthy. Every year foals die due to accidents. While some no-one could have foreseen, some are preventable. Many occur due to poor stall design.  Below are 7 easy ways to "baby proof" your barn…
1. The comfort and safety of 'Mom' is paramount. Your mare needs to have space to move around before, during and after birth. The ideal size stall would be 12 x 24 feet for a 16 h.h. horse. To achieve this stall size you may not wish to have a designated stall all year round, so when you design your new barn if you have any thoughts at all that you may have a pregnant mare in your future herd, either by design or accident, it is wise to factor in stall conversion.
If you implement a dividing stall wall that may be removed for foaling season, it will save you much heartache and provide your mare with the space she needs. The boards and/or grills may be removed from the channels and the channels removed to complete this new maternity ward. No sharp edges allowed.
2. When your mare goes into labor, she may throw herself about the stall as if experiencing a colic. The walls of a stall should therefore be solid board rather than the thinner tongue and groove pine. You can use 2×8 or 2×6 boards. The larger the board you use the stronger. The walls should also have support in the middle through either a wall straightener or brackets and be certain that no nails protrude.
3. The walls should not reach to the ceiling of the building as this impedes air-flow, but all walls including the front wall should be high enough that the foal cannot rear and catch a leg on top.
4. The walls should be treated for easy cleaning. Before the big 'birthday' rolls around you may need to clean down the walls with a power washer or by hand with a brush and use an approved hospital grade non toxic disinfectant to kill both gram negative and gram positive bacteria.
5. Foals are apt to rear, jump and generally bounce about so it is important that any grills that remain in the stall, the front wall for example, have bars a maximum of three inches apart so that hooves do not become trapped during errant behavior. It is also important to remove extra bucket hangers, mangers or other 'traps' that the foal could encounter in his exuberance.
6. Light and ventilation are also important. A well-lit stall will carry less bacteria and make a happier environment for the mare. You do not want any draughts, and while grill doors that extend all the way to the floor may be useful in hot climates, large gaps beneath doors or walls are an accident waiting to happen. Good ventilation will help prevent respiratory issues. If you have a stable door that opens to the outside of the building, be certain it is high enough and has an outdoor safe grill closure or Dutch door design so it can be closed in bad weather or closed for the duration to protect the foal catching a hoof on the top or trying to leap outside. Many horses suffer stifle injuries that can be permanent soundness issues as a result of these activities.
7. The ground should be rubber matted or covered with some form of non-slip flooring suitable for horses (especially if you have concrete floors beneath), to prevent injury and keep the foal warm. And as you surely know, mares should be bedded on either wheat or oat straw (not barley due to the husk barbs that can cause choke) as the 'Birthday' draws close, as shavings harbor harmful bacteria that can invade the foal's immune system through the navel.
---
When planning a new barn build always think of resale, and of future needs. If you need advice, call our office at 888-447-4337.  Horizon Structures is a professional company that has experience building barns for equines.  We can easily build a customized barn that meets the needs of your mare and her foal.
Happy Horse Breeding!