Oh yes, the humble garage. Call it what you will. The ever-famous place to put everything from the family vehicles, tools, sports equipment and all-terrain "toys" to gardening supplies and lawn mowers is evolving. Your garage has probably had something similar to all of the above (…and more) inside it at one time or another.
Today's garage has moved beyond boring storage and a place to park the family car. It now serves as a many-facetted jewel offering unlimited options. To the home owner who has children returning from college (for the summer or beyond…) the second story of a garage with a loft can offer a place for them to be independent but still close enough to home to keep your refrigerator empty.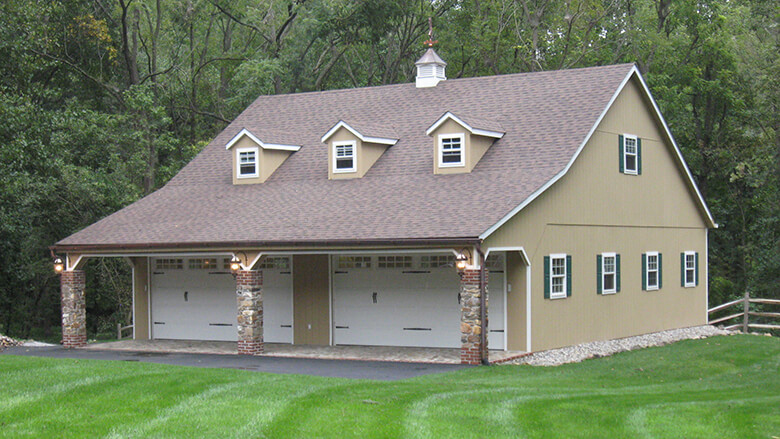 For the self-employed, that coveted second level can be the ultimate office with enough space left over for a well-appointed meeting room with inviting features to bring in clients for business.
And, while there may be some back and forth as to who gets the larger space (or all the space!), the top of a garage can be anything from a craft area to a "man cave" decked out to the fullest extent of your imagination. Our features and options make your ideal man cave garage possible!
There are so many options to consider when buying a garage that researching all of the important elements you want to incorporate is absolutely necessary.
For example, pre-fabricated garages offer many positive features that make them better than stick-built garages. Here at Horizon Structures we take a lot of care in the details and consider the following points important for you, the buyer, to be aware of:
80 – 100% of construction is done inside our shop
Our raw materials are stored indoors, not exposed to weather prior to construction
Our units are stronger than stick built as they are made to travel down the road to your site and withstand loading and unloading during the delivery and set-up process.
Another consideration is build time. Our garages with living quarters are on your site in weeks compared to months for traditional stick-built. We always have materials at the ready. Having a lag time for materials that can slow down delivery or production is unheard of at Horizon Structures.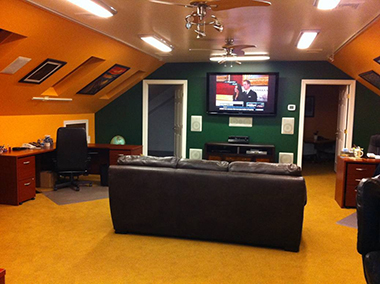 Most would argue that the ultimate final touch to the upstairs finished area of a garage would be either a quilting rack or a 6' plasma screen TV and some leather furniture.
When you are ready to start considering your options start with the exterior. You can choose from the standard, painted Dura Temp wood siding made to match your existing house, shed or barn or vinyl – a great, maintenance-free choice that will also provide continuity to the property's look.
But don't stop there! Cedar, cypress and Hardiplank are also viable options to achieve the look you want.
If the Gambrel or barn-style roof is not to your liking, but you still want to expand your livable or workable space on the second floor, take a look at our different dormer styles.
House dormers add individual bump-outs which can create a cozy sitting area. If you want more space for a daybed or desk look into an extended dormer.
One of the things that people forget about is the gutters and downspouts. This is a must-have add-on for keeping your garage well preserved over time. Gutters offer protection from rain, snow melt and storm water that can collect in those small inaccessible areas causing rot, mold and mildew if not properly directed away from the structure.

Most would argue that the ultimate final touch to the upstairs finished area of a garage would be either a quilting rack or a 6' plasma screen TV and some leather furniture. We think a cupola with a weathervane is the icing on the cake. A cupola with a gleaming copper roof and matching horse, rooster or a custom weathervane will have people talking about your garage's presence before they even get out of the car.
For most people the garage will usually only see the family's car grilles staring at its back wall from day to day. For others it can be anything from a place of work or business to a fortress of solitude or a peaceful personal sanctuary.
Here are a few links for you show you what we do: