Everything old is new again. Horse owners are increasingly adding value to their lives by returning to agricultural practices to cultivate organic produce and animal products on their farms.
The notion of going 'old school' and designing a multi-use barn to keep everything under one roof has seen a rise in popularity as a result. The advantages are obvious as daily chores can be completed without venturing into the elements and the benefits apply whether the weather is hot or cold.
If the barn owner is away from home the completion of these tasks can easily be  managed by a friend or family member without the need to trudge back and forth from building to building.
Having everything under one roof also consolidates the storage of provisions such as hay, grain, supplements and other supplies making them more easily accessible.  Additionally, the provision of water and electric is also directed to just one building which saves on installation costs. In fact, the idea of keeping a variety of animals and planting projects under one roof is an efficient method to homestead.
The modular design of multi-animal barns for equines, milking cow, goats, alpacas, dogs, chickens and other poultry, as well as storage and potting shed, lends itself to the creation of the perfect multi-use barn.
Family Friendly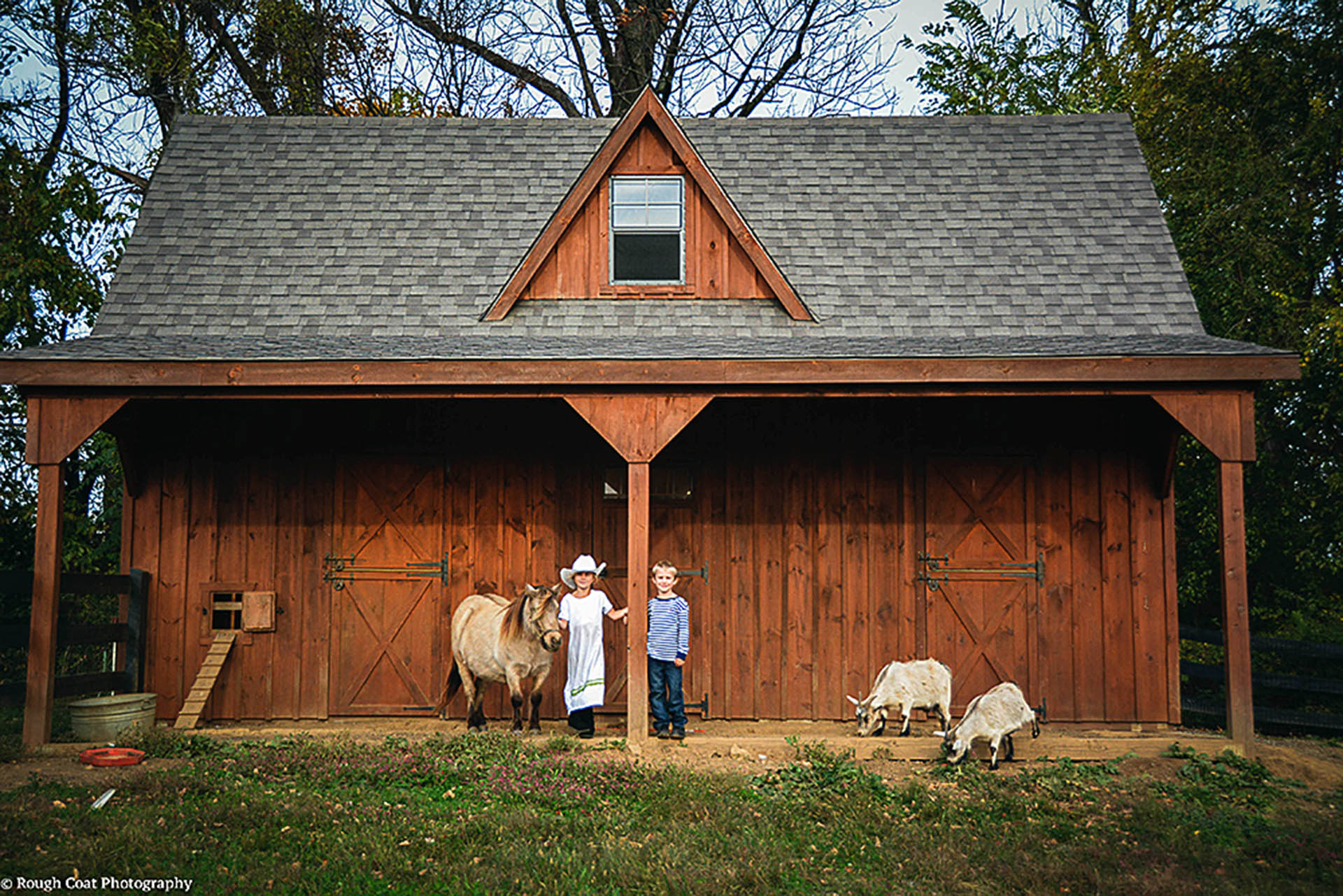 Many horse owners keep a miniature horse or pony for the kids or a donkey as a companion for their horse and for use by the smaller members of the family.  A goat or two also make great pals for horses AND children!
When you 'hatch' your own little person, along with this new responsibility often comes the desire to create an organic food source for the health of the family.
During my experiences giving dressage clinics across the USA and abroad, I have come across beautiful center aisle barns with a Jersey cow standing in one stall mooing for milking time, a goat trying to escape another stall modified just for her and chickens and geese pecking about and marching through the barn as if they owned the place. The horse-crazy twelve-year-old diligently showcasing their talents in the saddle during our clinic, will later be found collecting eggs from the chickens and offering them up to make a little extra cash from the visiting equestrians.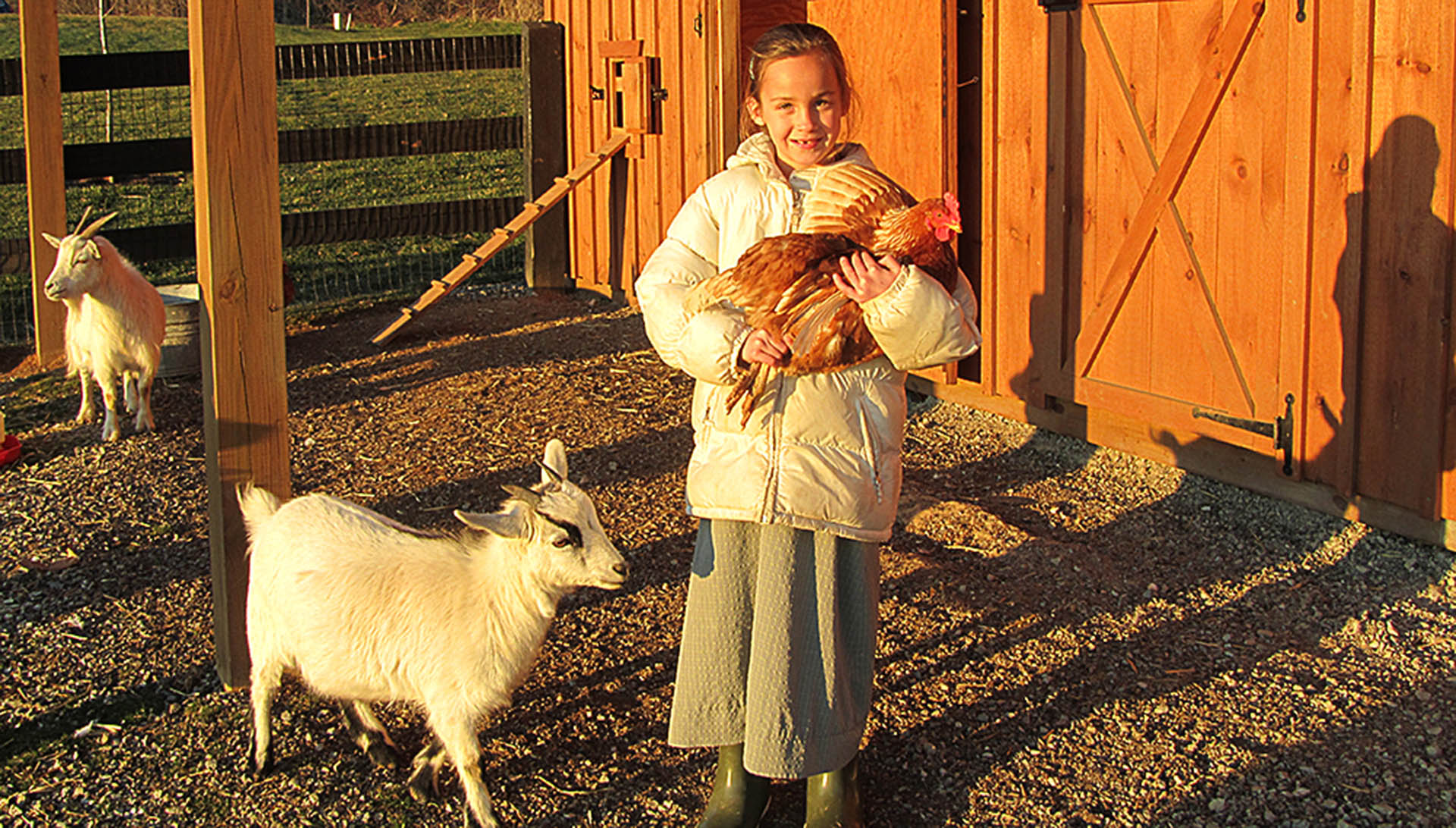 The knowledge and life-skills children gain from being taught the responsibility of caring for livestock and seeing where their food comes from is invaluable.
Fresh herbs and vegetables can be started early in a potting shed area within the building.  Children delight in learning how to plant tiny seeds and nurture delicate sprouts through the growing process.  The magic continues as they watch their efforts evolve into full-grown plants and vegetables they can eat or share with others.
Some folks start a line of products and operate a small business of jams and jellies, goats' milk soap, pickles and provisions, dairy and poultry products, honey and other farm-to-table delights.
The Boarding Barn
The addition of a kennel where your family pets can be safely kept during busy times, can also serve as an attractive amenity for your (horse) boarding clientele.  Everyone knows dogs and horses naturally go together.  Offering a safe place for boarders who like to bring their canine companion along to the livestock barn design not only provides an alternative to a hot car or a loose dog underfoot it also adds value to your farm operation.  Read more about our wooden dog kennels.
These same boarders can also become customers of your home-grown products and will enjoy bringing their kids along to visit with the critters. Who knows, maybe the same kids will join in your summer camp sessions or take a few riding lessons and become hooked on horses.
Design a Multi-Use Barn
No doubt, you already know what features to include in your barn's style for horses, but when you design a multi-animal barn there are many unique requirements you must consider.  Integrating accommodations for other wee beasties (chickens, goats, dogs, rabbits, etc.), storage for your ATV, electric golf cart or other farm equipment and areas for hay and provisions, tack and equipment, etc. requires familiarity with the unique requirements of the intended residents and/or contents to be successful.
For example:
Chicken Coop:

"Must Haves":  roost bars, nest boxes, natural light, ventilation and predator deterrents
Adequate square footage for flock size

Dog Kennel:

Easy-to-clean, tear-resistant flooring material and good drainage
Properly sized dog door, run and indoor box for your breed
The right type and gauge wire to safely secure your canine

Storage:

Easy access
Secure space you can lock up
Include a floor to keep it dry and (relatively!) rodent-free
Do your homework to research what each animal needs for proper care and comfort.  Consider your needs as well to ensure a layout that facilitates an efficient and user-friendly design for daily animal care chores.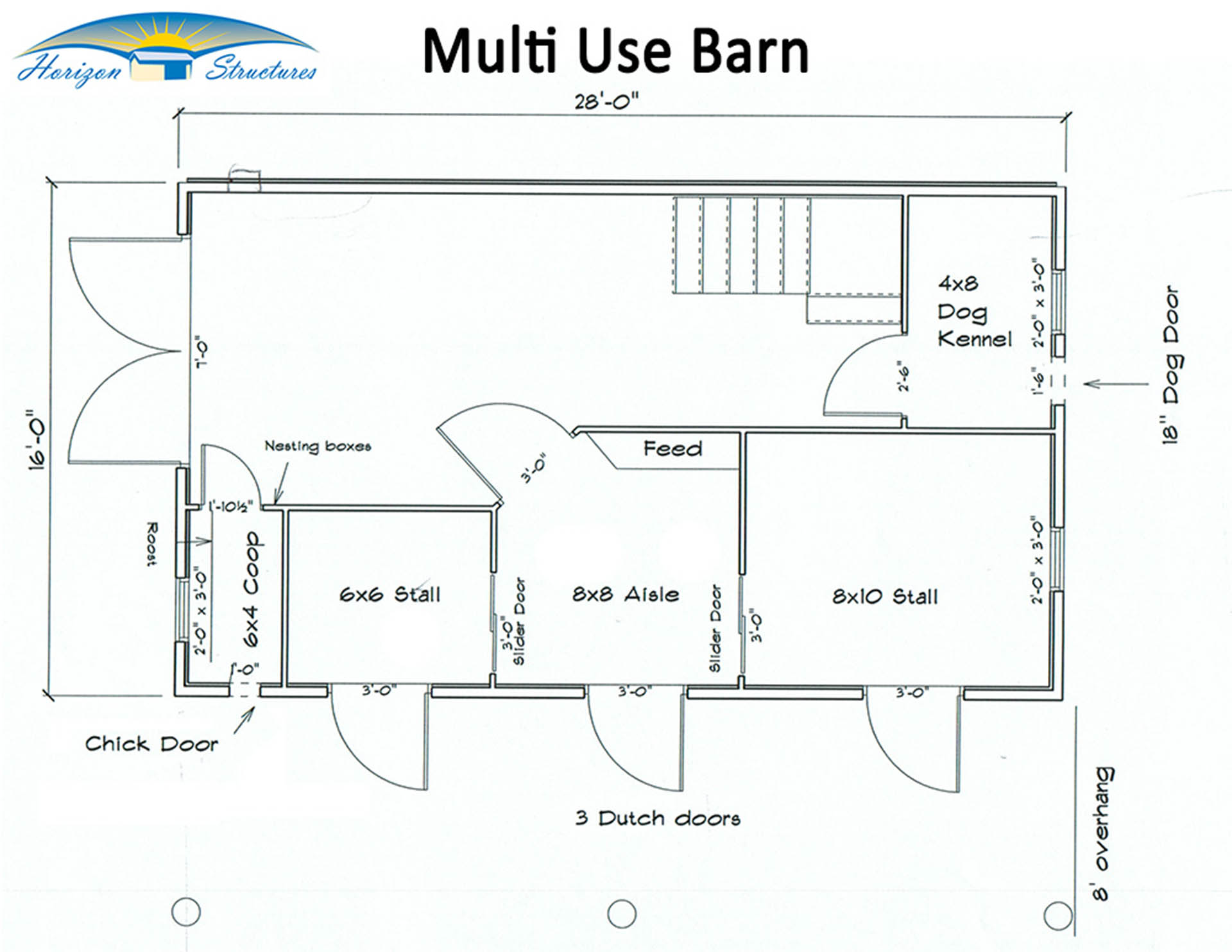 The homestead lifestyle offers hours of enjoyment and countless benefits for the whole family. Our forefathers had it right.  Luckily, with the availability of today's modern prefab barn, we're not stuck with an old, cold, antique farm building with low ceilings, lack of hygiene and an absence of modern conveniences.
With the right planning you can execute the perfect structure for your hobby farm needs. Horizon Structures has experience in designing buildings for secure and attractive storage AND safe custom-tailored animal housing.    Call today and let us help you put it ALL under one roof!