Any parent can attest that their offspring possess boundless amounts of energy, far in excess of any adult. It's reasonable for you to feel that you can't keep up with them. Nevertheless, one of your jobs as a parent is to help them burn off this energy in healthy and productive ways.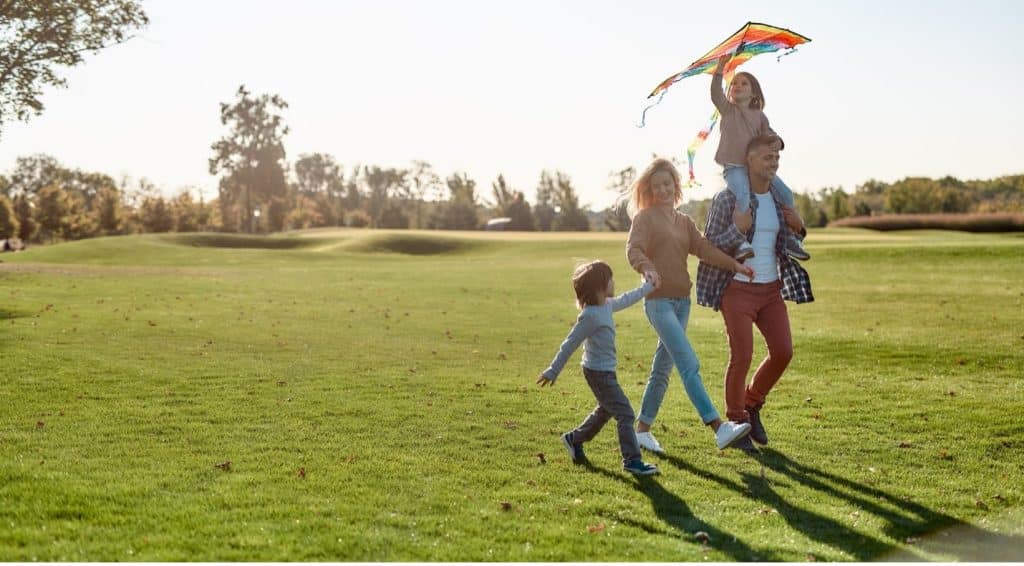 Ideally, you want to find fun and creative activities that will spark their imagination and enable them to grow and develop both mentally and physically. What better way to do this than transforming your backyard into a playground? To help you turn your backyard into a playground area your kids will look forward to spending many enjoyable hour all year round, we've consulted experts in building quality outdoor structures and gathered tips. Now let's get to work with some playground tips!
Tips to help you transform your backyard into a playground
If you provide your child with secure places to play – alone or with others, introduce them to new activities like sports or allow them to attend enriching summer camps, you will be fostering their development in so many ways. They will look back on the experiences they had and the memories they made with fondness, knowing that they were filled with learning and joyous living.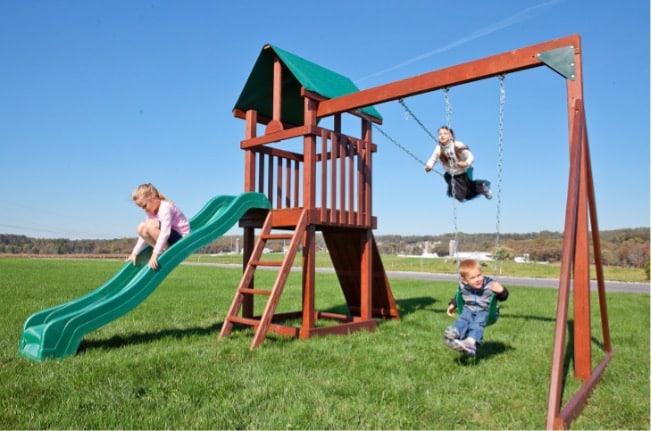 Your child's delight when playing various games or enjoying a lovely wooden swing play set, for example, will encourage them to spend more time outdoors. These days, kids are surrounded by an overabundance of technology and are naturally drawn to various electronic devices, so it's not surprising that they spend less time playing outside. However, spending time outdoors is crucial for their healthy growth and development.
Below are five simple steps to transform your backyard into a playground and begin reaping the many positive benefits of outdoor, physical activity for your child …
1. Choose the space
The first step towards turning your backyard into a playground area for your kids is identifying the most suitable location.
Find a level surface.
Evaluate natural shade. To keep your playground usable even when the sun is at its hottest, look for a spot that is partially or fully covered by trees. Additionally, vegetation may offer some protection for your playground equipment from other environmental factors, such as rain and snow. Alternatively, consider putting up canopies in case you don't have a good spot with natural shade.
Keep it safe. Avoid placing your playground next to a busy street, electrical wires, or anything else that could be dangerous to the kids.
The space must bevisible from your house so you can always watch keep an eye on your children and their playmates.
As soon as you decide on the area you want to dedicate to your playground, start cleaning it and preparing it for the next steps.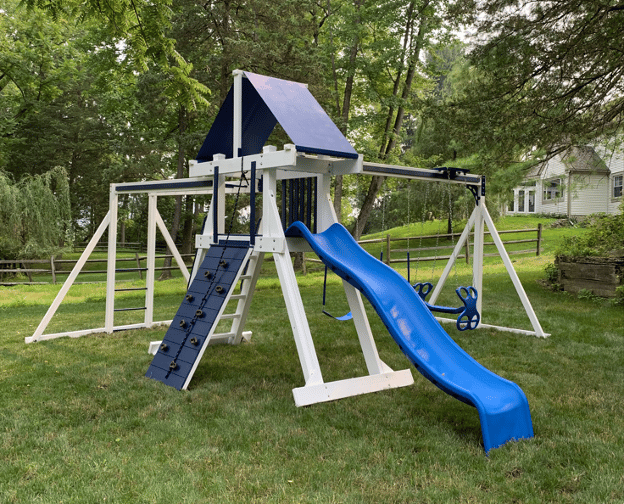 2.  Select a playground-appropriate base
Choosing a suitable and secure base for the children's play area is the next step in creating your backyard playground. The base will serve as the foundation of any playground equipment you set up. For example, if you plan on installing a vinyl playset with slides, experts recommend using sand or grass (artificial or natural). Because they're soft and fall-protective, these surfaces are low cost, readily available natural options for your playground.
Another great choice is rubber because of its nonslip and absorption properties. That's why many public playgrounds prefer to use a rubber base. Chose rubber mulch or playground tiles/mats. There are many options and varieties available.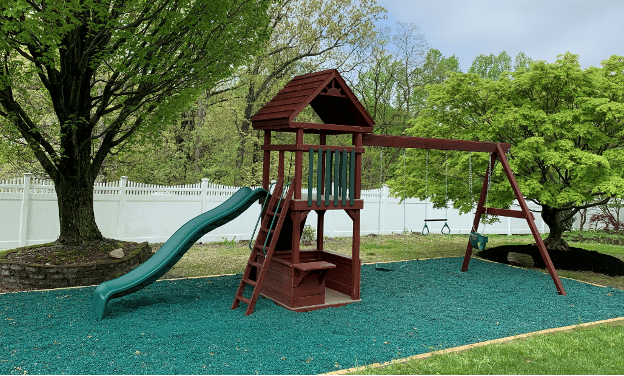 3.  Involve your children in the process
Since you're making this space for your children to play, learn about the outdoors, and socialize with others, it's essential to involve them at every stage. Listen to your kids, show them you respect their input, and accommodate their preferences wherever possible. There are many opportunities to customize the playground to fit the needs and interests of any child.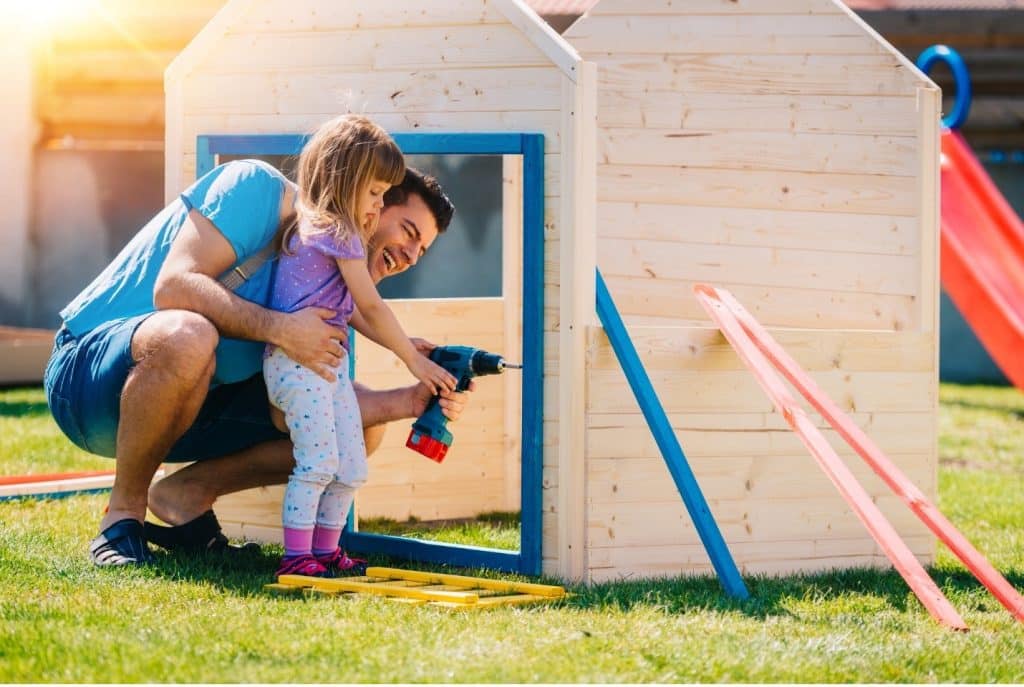 Transforming your backyard into a playground is an excellent way for the whole family to work together and bond. By working together from the very beginning, your children will be invested in the project beyond their playtime and feel that they've created something truly their own. For example, think about adding a playhouse to the swing set that they can decorate with their own personal touches. Let them select the colors or choose which options and accessories they'd like to add.
4.  Use the outdoors to their full potential
You might have thought that the best way to transform your backyard into a playground is to ensure a completely clear space. However, we suggest the opposite – embrace nature and use existing features on your property if possible. Don't cut trees but implement them into your design and teach your kids to respect and value nature. Always remember that an individual's mental and physical well-being can benefit greatly from time spent in nature, making this a crucial factor in a child's growth and development. Therefore, incorporate the existing, natural features of your yard as you begin turning it into an enjoyable playground.
5.  Choose playground equipment
Lastly, here comes the most fun playground tip! Sit down with your kids and choose the playground equipment they'll enjoy. Swing sets are always a hit and for a good reason: they're fun for kids of all ages. On top of that, you may add a cute seating area where kids can play board games, a climbing structure with slides or even a sandbox.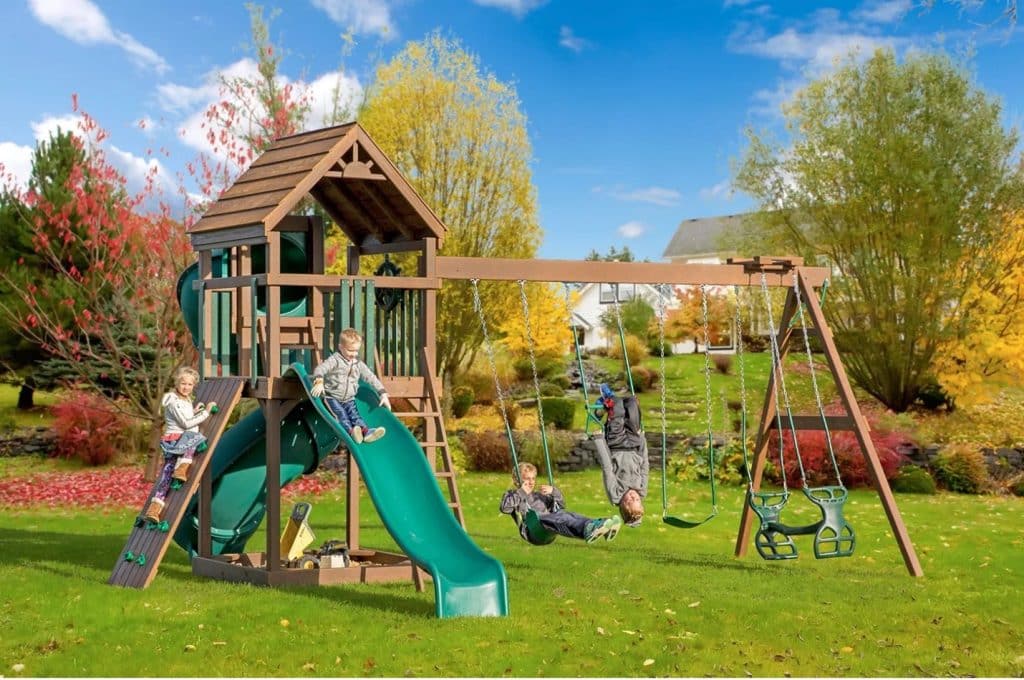 Final thoughts
We hope our article inspired you and helped you design and create a fun space for your kids to play. It's crucial to keep quality and safety in mind and reach out to reputable pros when ordering equipment, especially swing playsets, for your playground. Now go, transform your backyard into a playground and make sure you have a lot of fun during the process!