A simple way to decrease stress on your horse is to provide plenty of turnout. Horses simply aren't designed to stand 24/7 in a box stall for our convenience. The innate need for equines to have access to grazing and their preference for constant movement aids their digestion, keeps their joints loose and soft tissues elastic. Horses that are boxed up in solitary confinement will often develop behavioral issues, and their mental and physical wellbeing can suffer.
Aside from the necessity to stable a horse to restrict its activities due to injury or disease, freedom to roam and graze will make a horse much happier and it is a good way to reduce stress, avoid common equine gastrointestinal issues such as ulcers and reduce vices.
One of my favorite superstars is professional dancer/choreographer Derek Hough and there are lots of similarities between horse riding and ballroom dancing. In his Masterclass Series he says, "Motion is Emotion." As a dressage competitor I found this a great idiom to remember. Obviously, Hough is talking about how we move being how we feel. If you think about how sitting tall and upright in the saddle controlling your core by breathing in with your elbows tucked into your side can make you feel proud and in control, versus how being slumped forward in the tack and bobbling about like a sack of potatoes makes you feel like an unwelcome passenger that the horse is hopefully tolerating, it is an easy to understand what we contribute to the riding partnership in terms of the impact of our body control and posture. To take this a step further, a horse that is able to move its body around freely and explore its environment will exude relaxation and in turn this will improve its state of mind. A horse needs to expend its energy and freedom of motion directly affects its emotion.
As herd animals, horses also need companionship to complete their circle of happiness. As their caregivers we realize that restricted pasture space means not all herd members will be able to escape the 'bully' or dominant horse or enjoy direct contact with such a horse. Fencing is the obvious solution to manage herd dynamic issues in a small space.
However, hours of turnout may not be the best for a horse either. Extremes of weather, pesky biting bugs and upsets caused by neighborhood fireworks or other noisy events can provide conditions that a horse would otherwise not tolerate. If we are not available to bring the horse in for shelter, then it has no alternative but to deal with the situation.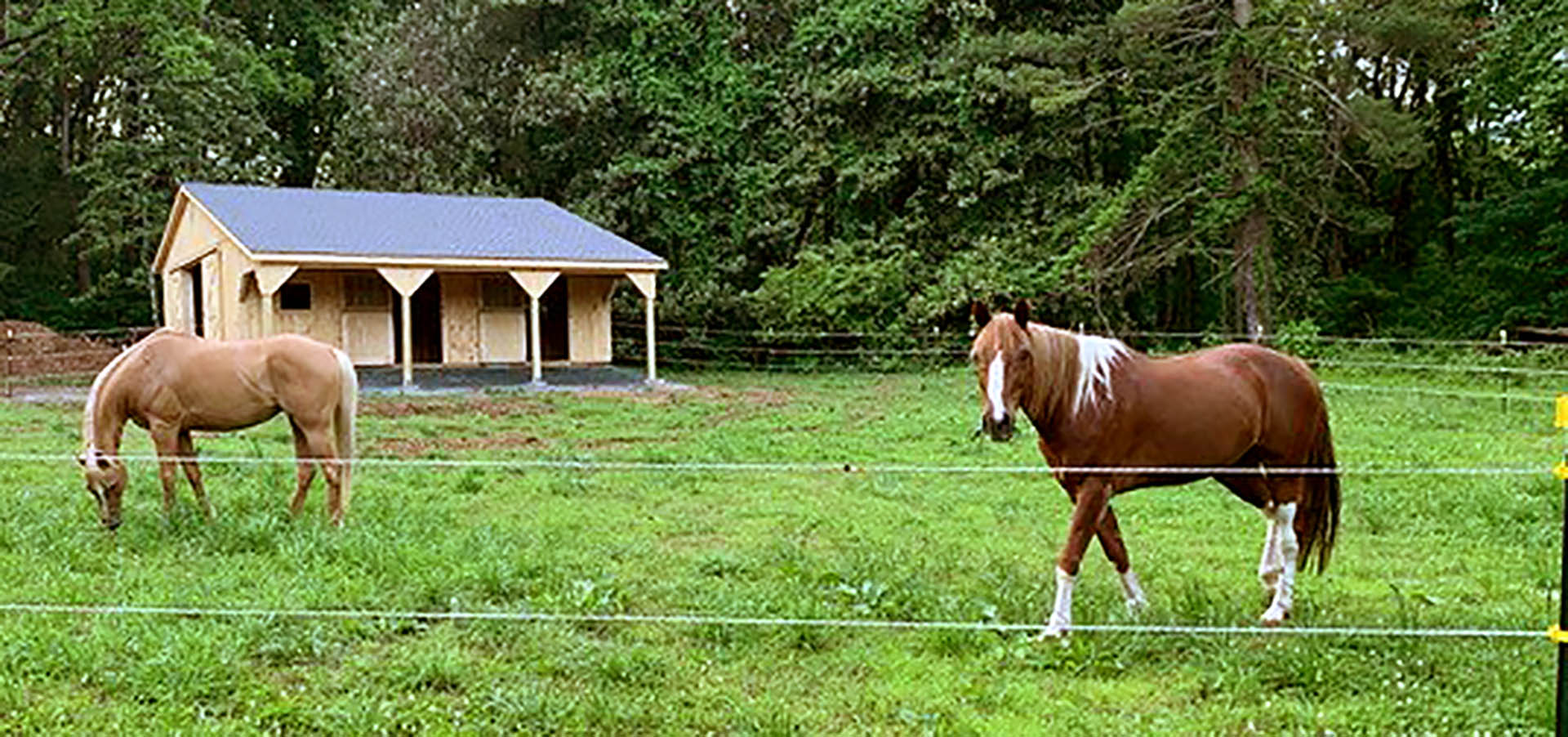 The answer to the dilemma is to offer your horse a free in/out living space, where it can come and go freely between pasture and stall as it prefers. A center aisle barn with Dutch doors to the exterior that exit to a fenced pasture provide a great solution for horse owners that want to have the opportunity to monitor their horses with daily interaction for feeding and grooming. Pastures off each stall may be easily divided between the neighboring pasture with a fence to keep horses apart and allow each horse to have access to its own box stall.
When you plan ahead with a new barn build, siting the barn toward the center of a reasonably level property provides maximum pasture space around the building allowing your horses to seek shelter and graze at will.
Alternatively, the shed row or run-in shed set up within a field, will give your horse the opportunity to seek shelter when its needs require and also enjoy the health benefits of lots of fresh air and movement with grazing.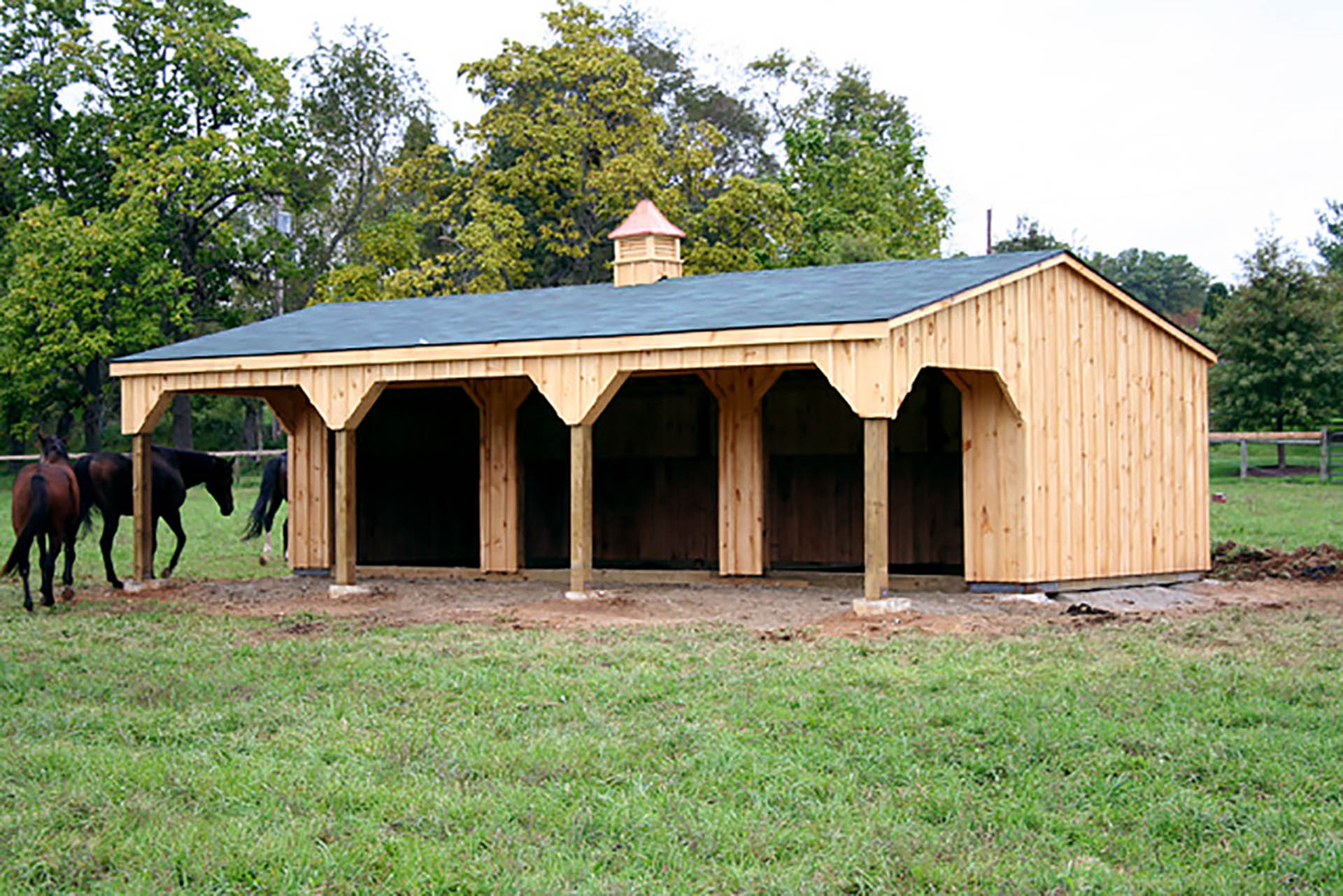 The addition of an overhang to the structure will further enhance the shelter options available for your horse. The overhang is a very cost-effective way to add more usable space to your barn build. Learn more about the benefits HERE.
Another advantage of the in/out set up, is you can divide horses for feeding if needed. This ensures each individual is able to eat in peace and receives appropriate rations with any special dietary needs addressed.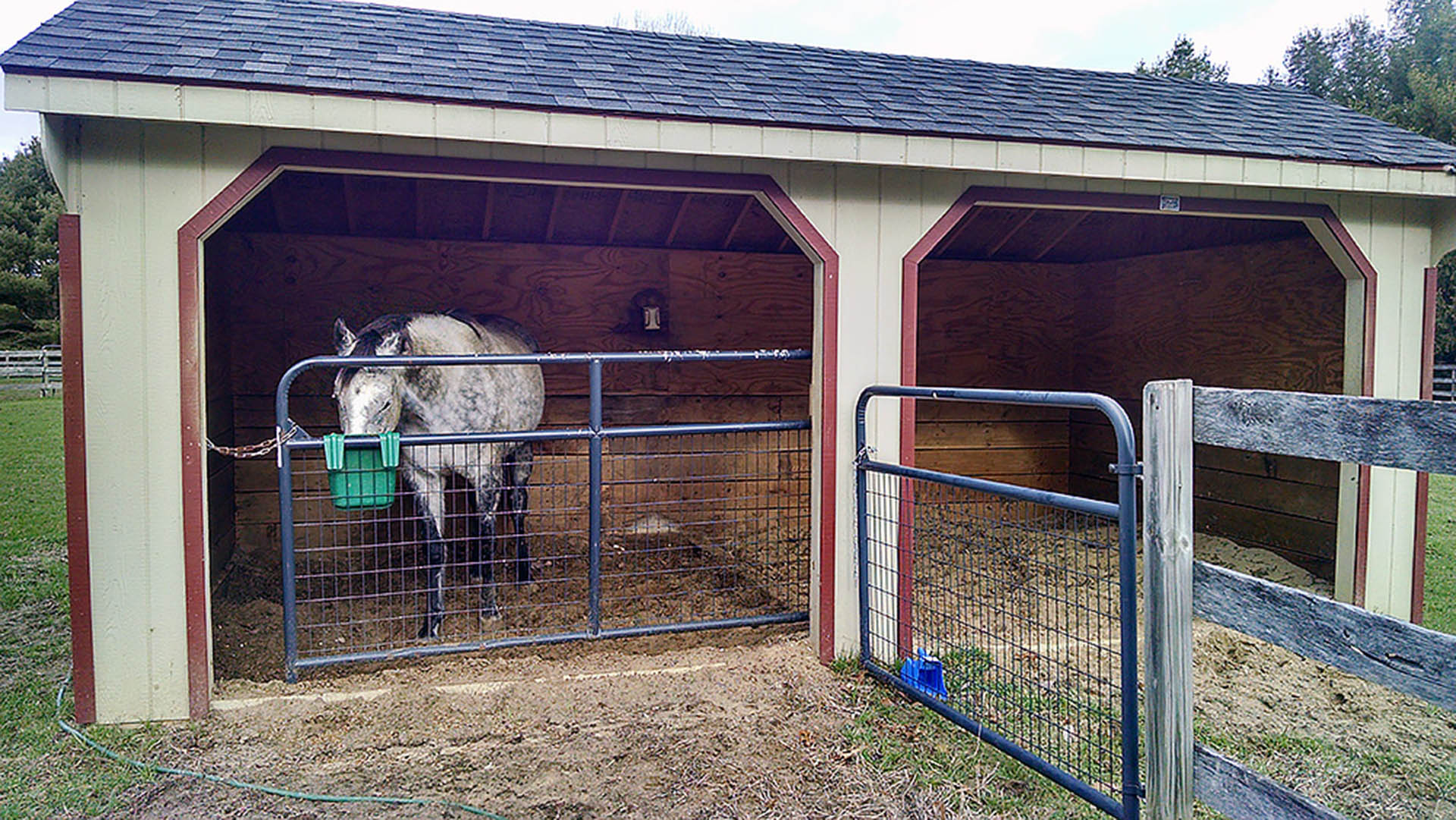 Separation also enables you to keep a good eye on their general health condition and check for injuries. Dutch doors can easily be closed temporarily if one horse is in need of stall rest or needs to be confined for its own safety or security.
Movement is critical to both the mental and physical health of the horse. The in/out equine lifestyle design can be beneficial to both the horse, and for the busy horse owner who has daily commitments outside of equine ownership with which to contend and appreciates the flexibility it offers.

Don't we all desire the freedom to roam? And doesn't the domesticated horse deserve as much opportunity to match his natural lifestyle as possible?
When you plan your new barn always build in as much flexibility as possible and consider both the horse and your own schedule in the design process. Consultation with Horizon Structures expert team gifts you the benefits of working with an experienced barn building company can yield many positive ideas for the design and address questions you didn't know you needed to ask. Important factors such as full warranties on our craftsmanship, a wide choice of styles and materials for siding/roofing and our ability to provide a 'to the penny' price for your project from start to finish, ensure a positive purchasing experience for the horse owner.