To say that Ashley Nelms of Flare Oaks Rescue, Lillington, N.C. was excited to be announced the winner of the Horizon Structures Run-In Shed Sweepstakes would be an understatement. The new run-in shed will help Nelms house some of her rescue horses including a mustang, a donkey and a miniature horse.
"I am very excited," said an enthusiastic Nelms, "We suffered damage to a run-in shed we had just had built and funded ourselves in August due to Hurricane Florence, and my animals had no place to shelter. This sturdy structure will give us peace of mind after the one we had paid a contractor to build blew down due in part to its faulty design."
Friends (and clients) of Horizon Structures, Olympian eventers Phillip Dutton and Boyd Martin, were on hand at Boyd and Silva Martin's Windurra USA farm in P.A. on November 19th along with Horizon Structures owner Dave Zook, to draw the lucky winner of the Sweepstakes Competition out of – what else – Boyd's riding helmet. This event was covered Live on Facebook.
Horizon Structures received over 5000 entries in the competition that ran for six weeks across the AIM media platform and Equus magazine in September/October 2018. Every entrant completed a short essay, and explained why they felt they deserved to be the winner of the beautiful 10 x 20 run-in shed.
It was extremely tough to narrow down the field to just 25 finalists, and the EQUUS team shouldered the burden. There were so many deserving entries, and it was very hard to choose.
If an entrant lived too far away to make delivery of the run-in shed feasible, a cash option was also offered. From this final 25 it was further narrowed down to 15, and when Nelms heard that Phillip Dutton had picked her name out of the hat, it was cause for celebration.
Nelms explained why winning the new run-in shed meant so much to her.
"The only damage our farm sustained during Hurricane Florence was the brand new run-in shed we had a local contractor build. The hurricane raged for 4-5 days and the run-in shed he had built did not hold up at all. It was almost laying down in the road within the first day of the storm.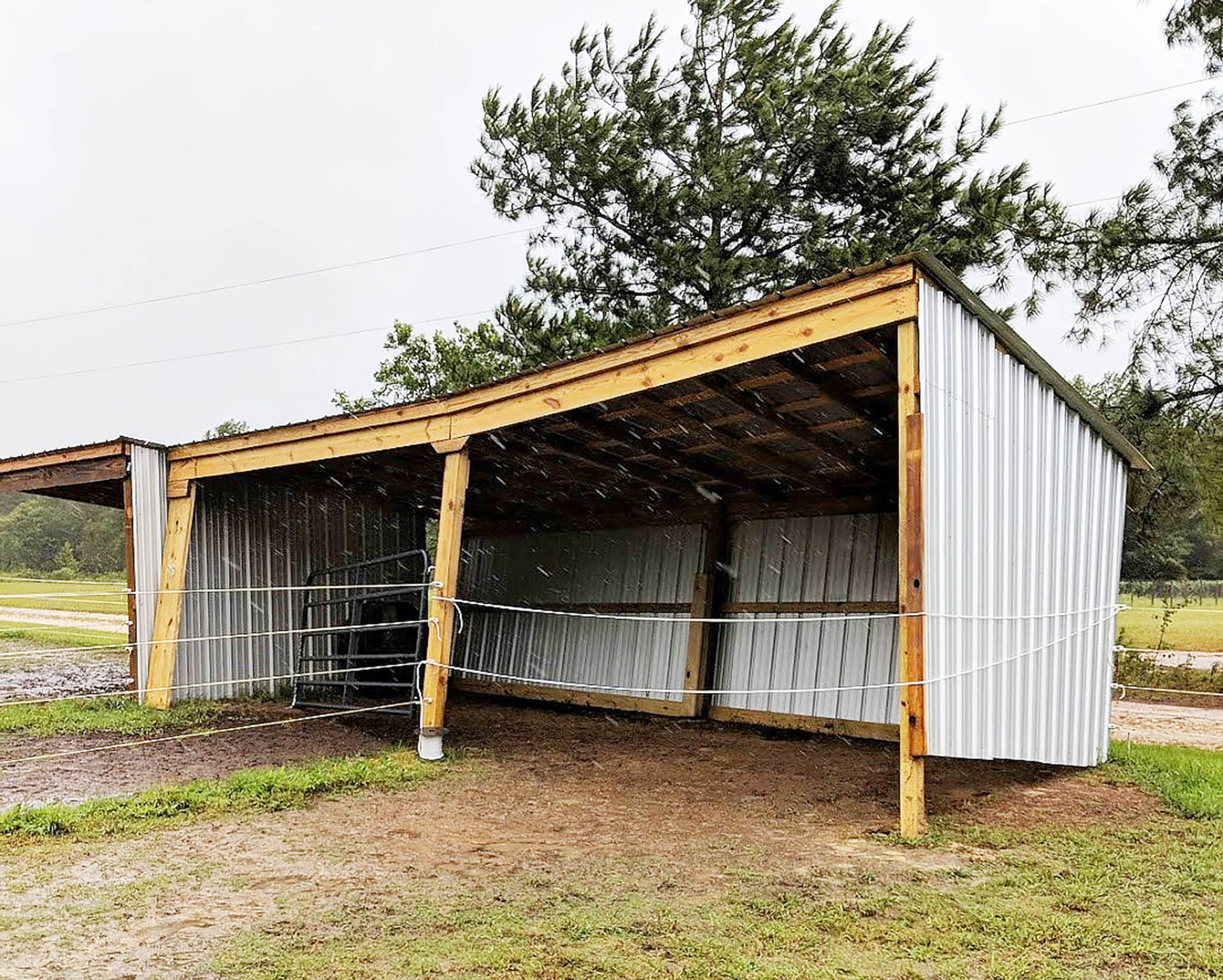 We found out the hard way that he had not done all he should in designing and building the structure. Consequently I was forced to bring all my animals in together in my existing three-stall barn. It has a 10 x 20 foot aisleway, so they all had to be housed together for 3-4 days there. I couldn't just leave them out in the pouring rain. They've had a hard enough life already and I needed to keep them 100% safe and secure. I divided up the aisle with panel gates. Fortunately most of my animals get along well together."
Nelms received her 501(c) non-profit status for Flare Oaks Rescue in January 2018. Currently 65 different animals reside at her farm and they come in many different species, from equines such as OTTBs and mustangs, to minis, mules, donkeys, goats, geese, dogs and cats. The task of keeping them all safe during the storm was consequently not easy.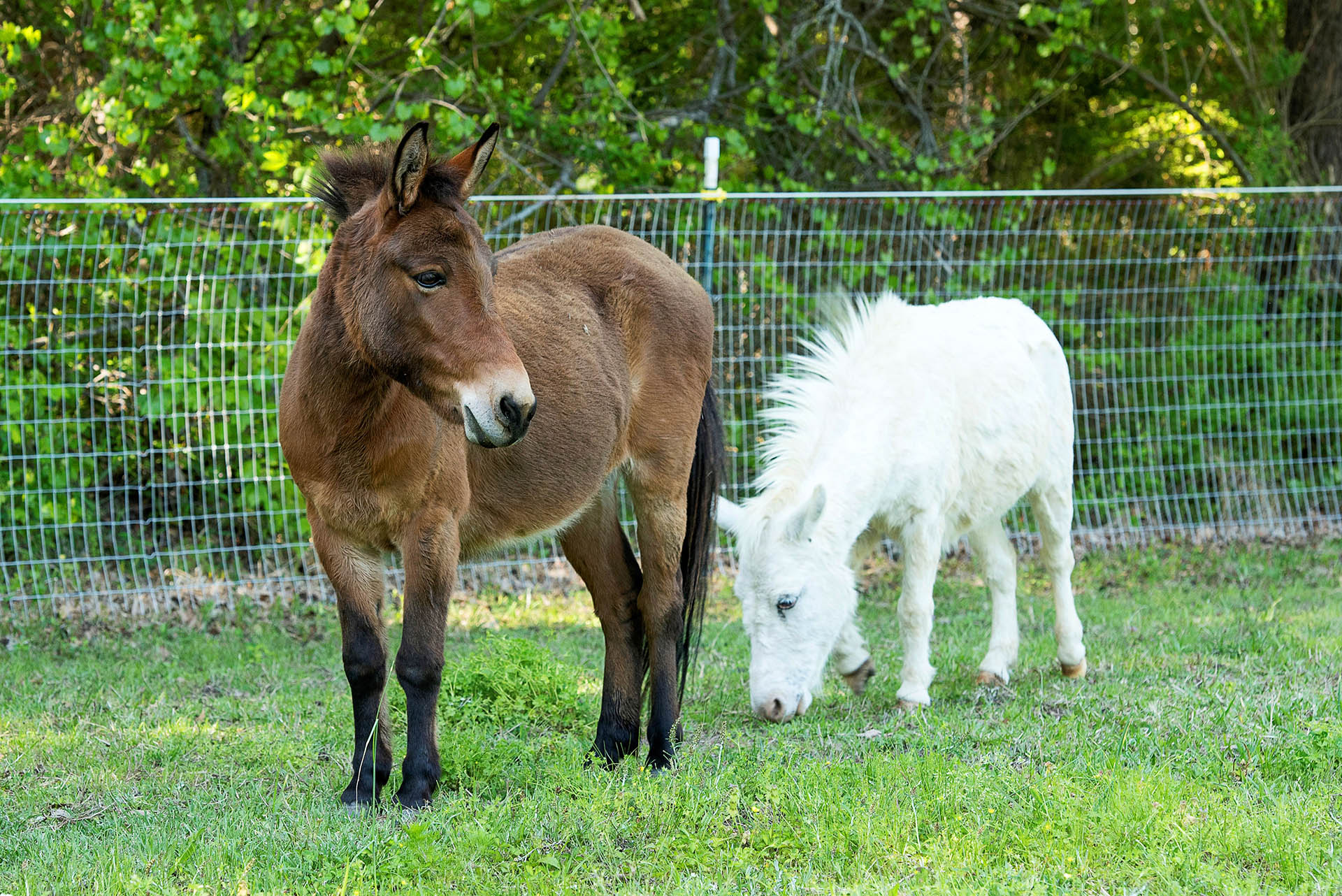 Fortunately Nelms has a wealth of experience working with animals. She took the college route after High School, studied Pre-law and was employed at law firms. Her passion for horses that was ignited during her childhood growing up in Goshen, New York, was temporarily on the back-burner. Though Nelms still found time around her busy schedule to work with horses and ponies that had behavioral issues and needed help.
"I have always been drawn to animals that had weird habits or had issues and could always see the potential in them. My first horse was a six year old OTTB mare and she was very difficult but I loved her. She taught me everything I know. Her name was Flare. My grandparents had a dairy farm in New York where I spent many happy hours around animals. It was called Oak Ridge Farm. That's why when I founded the rescue I called it Flare Oaks. In my late teens I worked on a racetrack behind the scenes and trained many OTTB horses to give them a second life after racing. I have stepped in to fix bucking, bolting and other problems and made these horses happy functional equines that have gone on to productive lives with other families. I was a horse trainer at a 40 horse barn for a while after moving away from New York and the law business, and it wasn't until 6 months ago that I left that job to work at my rescue work full-time."
Throughout her life Nelms has always helped animals find a safe place to land. With the help of her husband Chris, their ten-acre farm in Harnett County, NC. continues to develop and the pair are dedicated to making a positive difference in the lives of as many animals as they can manage.
"We're just doing what we can," said Nelms. " We are extremely grateful to Horizon Structures for their gift of this wonderful run-in shed that we know will keep our animals safe and secure."
If you would like to contribute to Flare Oaks Rescue, feel free to visit their website to find out more about how you can help.