The verdict is in. The latest in timber frame horse barn design, that utilizes the beauty of traditional carpentry technique of mortise and tenon joinery made with artisan talent combined with the affordability of modular design, is hotter than the century-hitting temperatures this country has experienced this summer.
It is the 'fairest of them all,' when it comes to horse barn style and design. Wood fashioned in its ultimate spectacle that reflects the beauty of nature at every turn. There is a certain magical appeal of majestic cathedral ceilings, perfectly fashioned arches, and the seamless invisibility of traditional joinery techniques.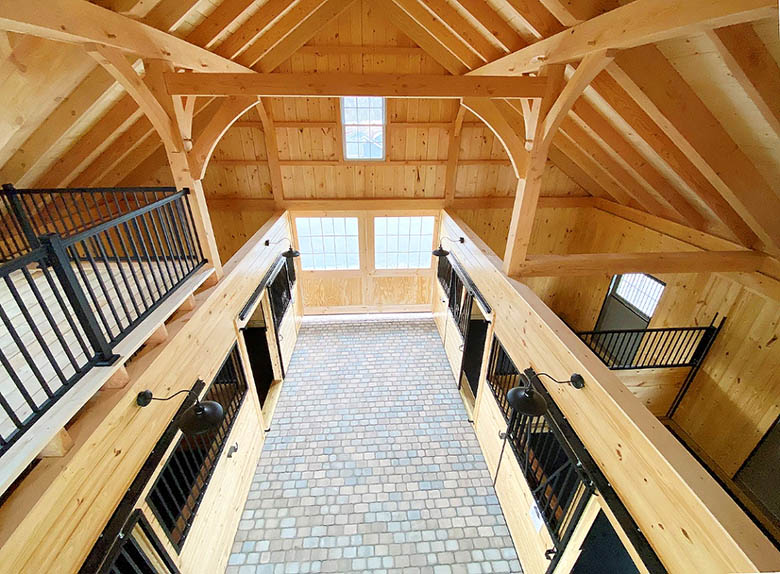 Naturally, a horse barn that features such a complicated carpentry technique that requires specialized expertise to produce is not going to come cheap. The modular construction at the base of the barn combined with timber frame construction above helps mitigate the expenses.
REQUEST PRICING ON OUR WEBSITE HERE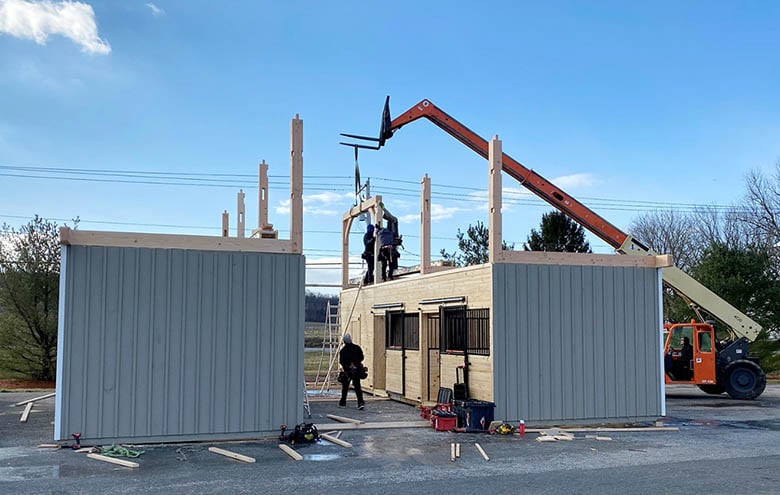 This unique combination barn offers cost savings over a complete timber peg construction. It is a clever mix of two worlds that benefits the purchaser in cost savings and construction time without compromising on the beauty of the timber frame barn.
Timber frame buildings are popular worldwide for residential living. Their unique design affords architectural delights with curved wood timbers and the handcrafted details showcase the natural hues and patterns of the wood.
It's not just the inherent beauty of wood that makes timber frame barn designs a top trending purchase in horse barns and homes alike, it's the sturdiness of the structure. The mortise and tenon joinery means no unsightly nails, bolts or metal plates negatively affect the aesthetic appeal. The beauty is not only a feast for the eyes. This type of joinery also has the benefit of being the strongest of all techniques. Perhaps this is why the grand old barns have stood the test of time.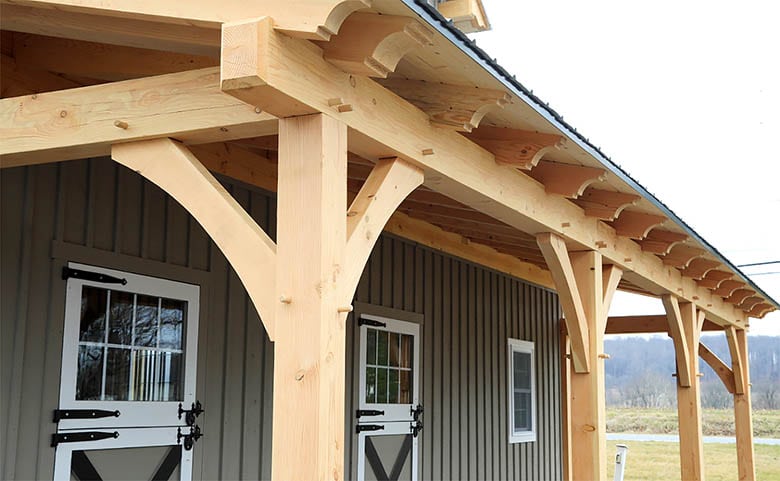 For horse owners with property located in hot climates, the vaulted cathedral ceilings with their passive airflow offer horses a comfortable environment in which to relax. All horses enjoy the feeling of space and all horse owners appreciate the benefits a sturdy structure with good airflow provides to their equine partners' health.
Other practical considerations need to be incorporated into this beautiful timber frame barn design, too. A 'room' or storage loft space above part of the barn can be a boon for many activities and functional uses. Paved aisleways can be implemented to offer maximum traction. Top quality hardware defines the attention to detail. And spacious stalls with large windows embrace the health and hygiene that natural light produces. All these elements add to the appeal of a well-designed horse barn.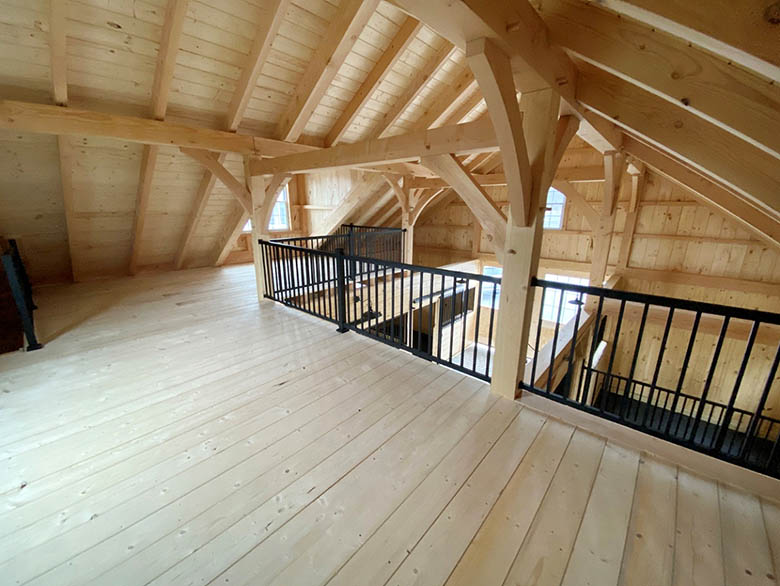 The amazing manner in which this 'combo' barn is constructed, like a giant jigsaw in about 5 to 7 days from start to finish, saves the property owner and the avid horse trainer the stress of interruptions from noise, mess and disruption of a longer term 100% 'stick built' barn.
The tight training schedule at many horse farms, means that delays due to such disruptions are highly unwelcome. The show must go on, regardless of how many hours in the saddle in preparation have been exacted.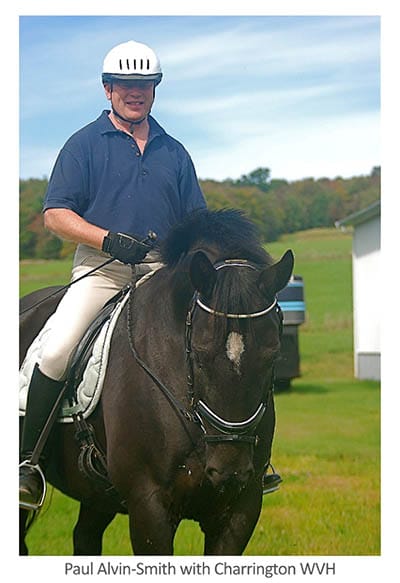 "A harmonious atmosphere in the horse barn is a prerequisite for a settled and focused horse," says international Grand Prix competitor / coach / clinician Paul Alvin-Smith, who has made many horses from birth to finish in dressage. "The inherent nature of construction is noise. You have trucks big and small coming and going all day long, work crews milling around, and the buzz of equipment pounding the airwaves. Add to that worries over nails left behind on the ground that a horse will inevitably step on, retrieving plastic wrapping blowing across paddocks and spooking stallions and weather delays on the actual build and you quickly find your training schedule for working 6 horses a day is in the rafters for weeks and weeks on end. Quite literally! Not a good thing."
Many busy trainers at commercial horse barns feel this way.
"It is important in horse training to work to a schedule. No trainer wants to deal with interruptions and upset. This timber frame barn option offers a super alternative to a traditionally 'stick' built barn and avoids all those issues. I've been impressed with many of the horse structures I've encountered in my extensive years of travel worldwide as a clinician and these timber frame combos rate up with the best of them" Paul added.
You don't need to ask, "Magic mirror, on the wall – who is the fairest one of all?" as the Evil Queen famously uttered in the 1937 Disney classic "Snow White and the Seven Dwarfs" to truly appreciate that a timber frame horse barn is true royalty when it comes to barn building. What you don't need to conjure up with this hybrid design, as you indeed would need with a full timber peg design, is a royal coffer full of gold coin to purchase one.
If you are contemplating a new horse barn and would like something with a little 'edge' – a smoothly planed edge in fact – of impressive timber melded into eye-catching appeal with a substantive feel, then the timber frame barn design built with a modular concept beneath could be your answer.
The timber frame horse barn is the most regal of designs but you don't have to be a Queen to own one. Why not give it a look!