When you set the wheels in motion to set up your dream horse farm and house your horses on your own property, the notion of an instant and horse housing appropriate set of buildings offers sincere appeal. Who has time to spend on extra stuff when they own horses! Not me. The quicker and easier the process of building the farm, the faster you can be out riding the trails or training for competition and enjoying your horses.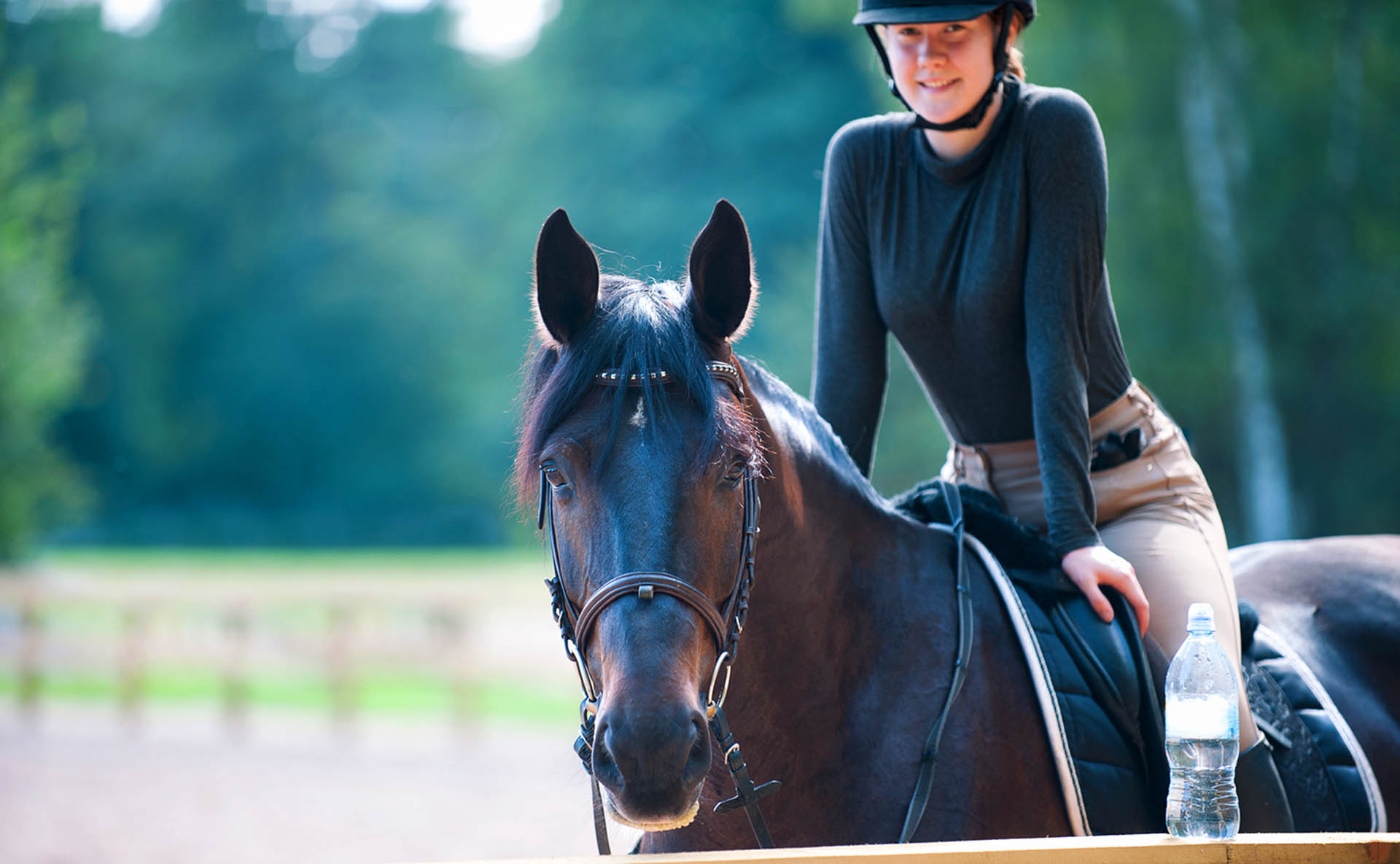 Speaking from some considerable experience building not just several horse barns over the years and developing two horse farms, but also with construction of my own home, I can tell you that the decisions that need to be made can be an exhausting parade of options. The orchestration of all the moving parts, notably work crews, material deliveries and noise/mess are extremely distracting to the business of horse training and unfortunately as none of us know what we don't know the lack of someone to guide me through all the varies issues caused some mistakes.
It is little wonder then that the modular option is exciting. Purchasing all the structures at once has many advantages. Here's some ideas:
The perfect trio for an initial set up is a main horse barn to stable the horses, a run-in shed (or two or three!), to provide shelter from the heat of the sun and battering wind, rain and snow, and a barn storage structure to preserve expensive supplies and equipment.
A bonus of modular and prefabricated horse barn construction, aside from the obvious lack of construction delays due to weather, accurate up front price point and awesomely quick and easy set up on site, is the opportunity to mix and match your buildings all at one time.

Twenty years ago my husband and I had an indoor arena built and followed it a few months later with a center aisle horse barn. While we may hail from Blighty, our love of the traditional colors of structures up and down the New England coast of light gray with white trim, decided the matter of color for not just the barn and indoor arena but also the house that came a year later.  As you drive up the road from the neighboring county, you can see the bevy of buildings in the distance set up on a hill.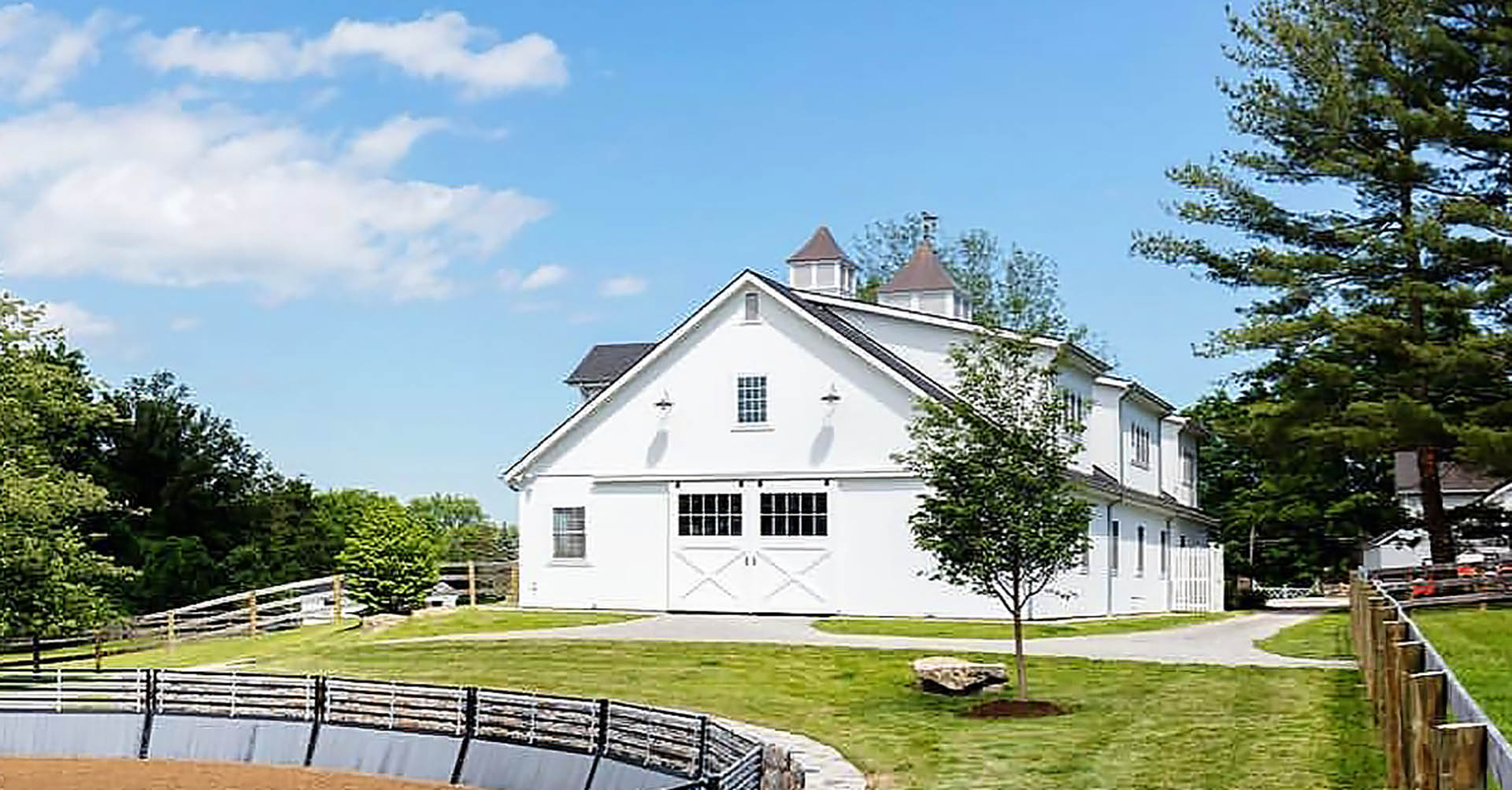 Their light colors blend against the sky, so they appear nestled in their environment despite the elevation of the property and also because of it. Their matching A-frame design roofs, while differing pitches as to task and materials used (metal on the agricultural buildings and shingle on the house), form a cohesive aesthetic to the picture and minimize the impact of their size on their surroundings.
The ability to mix and match your horse farm buildings according to your favorite colors or to complement your home, or to advertise your choice of logo colors if you are a racing or competition stable, and to select structures that are differentiated or matched by different roof designs, siding and roofing materials, is a fun project.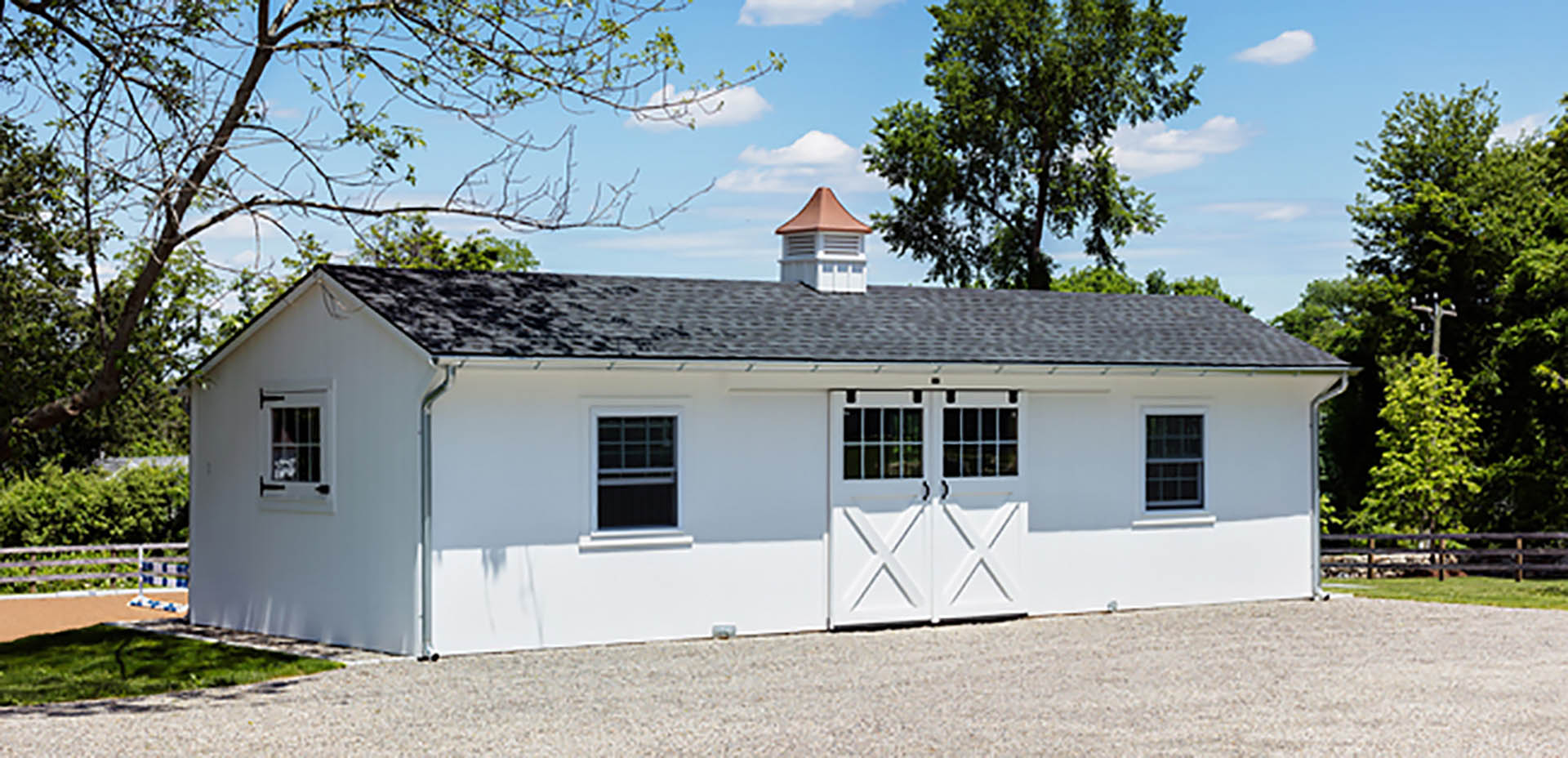 When you set up your perfect trio at once, you can also orchestrate the placement in a uniform manner for their future use with proximity and function in mind, and have all the site work done at one time which minimizes noise, mess and stress.
Ultimately this forward planning will not only work better and look better, it will also save you money on the site preparation as materials can all be brought in and laid at one time and the site graded appropriately to minimize high or low areas, steep banks etc. and drainage can be successfully addressed up front.
As many larger manufacturers of modular and prefabricated structures not only offer nationwide delivery, but also provide financing options, there is no reason to wait to save the capital to make the purchase. If you are starting a horse related business, the cost may be amortized/depreciated and interest charges deducted from the bottom line for tax purposes. Consult your tax professional for advice on how you can manage your cash flow and how you may be able to minimize taxes on profits.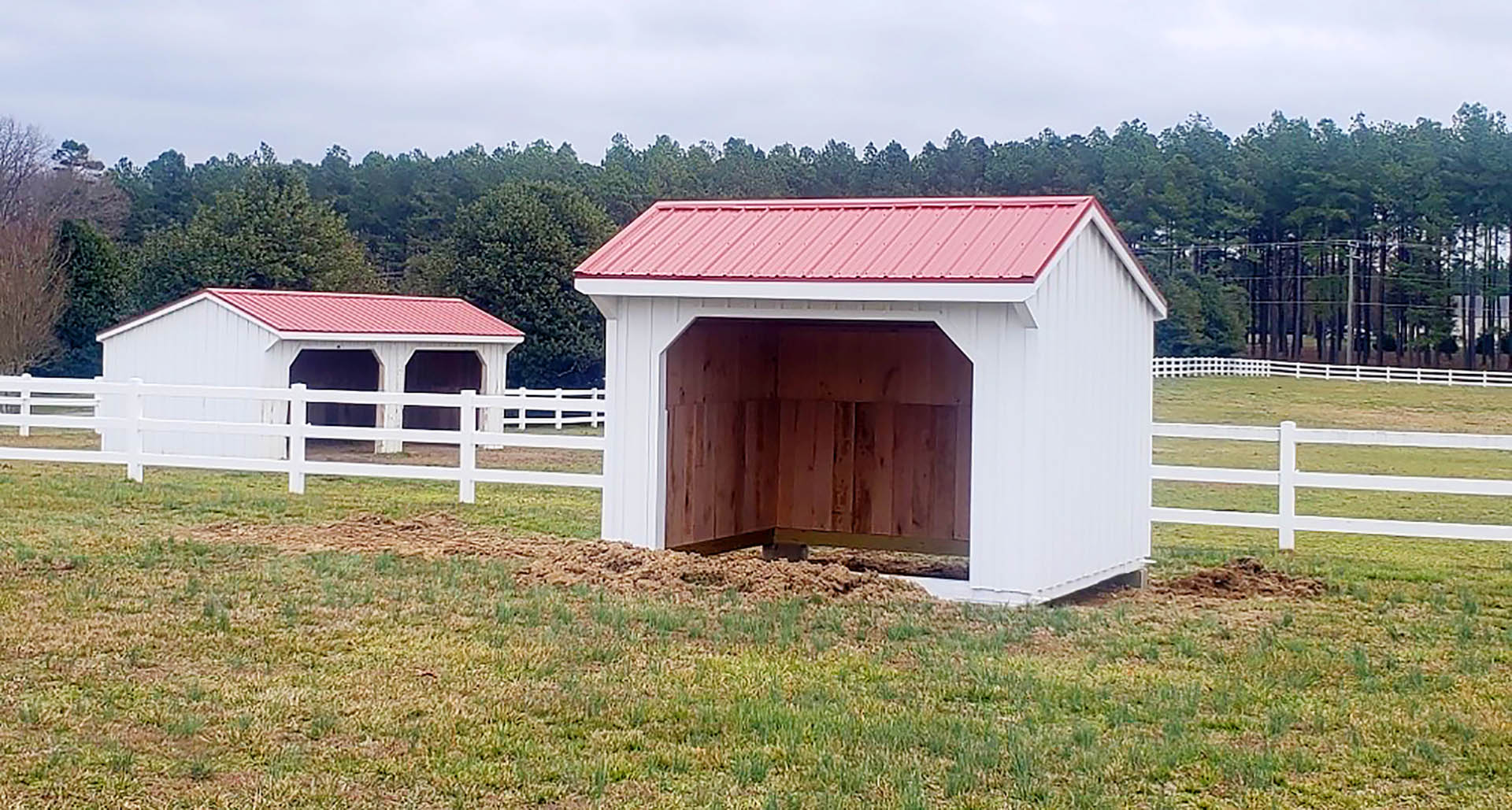 With the three main components of your horse farm set in place, the business or pleasure of keeping horses on your own property can be properly managed. Hay can be purchased at the lowest prices of the year during summer and stored saving you money on one of the largest expenses of horse keeping. Bedding can be delivered palletized and stored directly in the building saving on labor. Equipment can be locked up and secured when you are away. Horses can be protected from the dust and fire hazard that storing large quantities of hay in their living environment can cause. Further cost savings can be enjoyed by keeping horses outside more of the time, which is not only better for their physical and mental health, but also cuts down on costs for bedding and labor to muck stalls.
Look for a company that has the proven ability to deliver on design and quality on all three buildings, and that offers a wide array of choices in materials including low maintenance options. Don't just look for the cheapest price as craftsmanship, quality of materials, design and warranties matter. While family members such as 'Uncle Jim' might suggest they can build something cheaper, you might find yourself waiting a while and the result might not be what you want.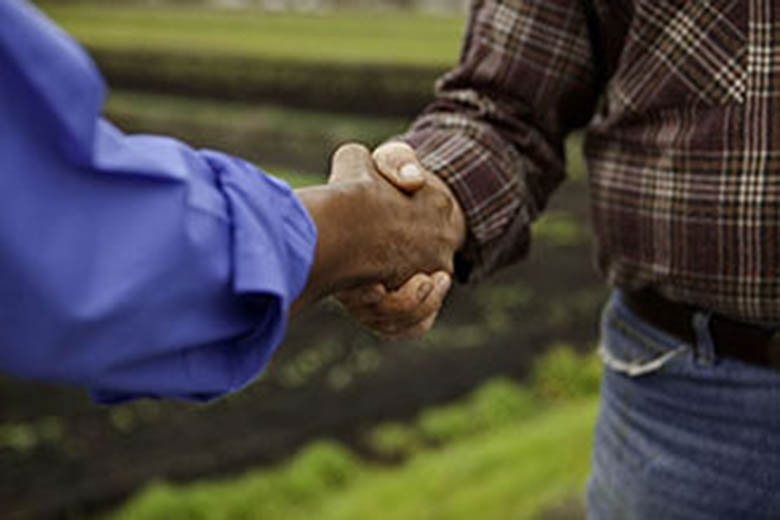 Enjoy the shopping experience by collaborating with the right company that is known for great customer service and will assign you one person to be your Project Manager. This will save you much time and angst. Specific experience building horse barns and housing is a must in your construction partner, and a clearly worded contract imperative. Don't part with your money all at once, a deposit is enough to get the process started and do your due diligence on the building company to make sure they follow through with all they promise.
Remember that full customization is available, not just in colors and materials used, but also in size and design, so don't be shy to ask. A 'great' company will also offer some budget saving ideas and point you in the right direction when it comes to needs versus wants in the buildings.
The best thing of all about buying the 'perfect trio' of horse buildings together is you can get a discount which will have you singing like the Three Tenors.