Part 6:  Construction
There are myriad advantages of prefabricated structures over traditionally built barns. Take a look.
We all know that weather can play havoc with building schedules and damage building materials. At Horizon Structures most of the build is undertaken indoors. Not only does this mean that the building process stays on schedule. It also means quality control is efficient and the sincere craftsmanship from our wonderful team of Amish carpenters can be completed without the stress of high winds, rain, snow, ice or excessive heat. Talking of snow, no worries about snow loads and truss stress and design. Horizon Structures builds every building to meet or exceed the zoning requirements for your specific location.
In our climate controlled environment stains and paints can be applied at the right temperatures with adherence to strict drying times for all products. The team takes pride in producing a top quality product and delights in the certain knowledge that it will give great service to our clientele for years to come.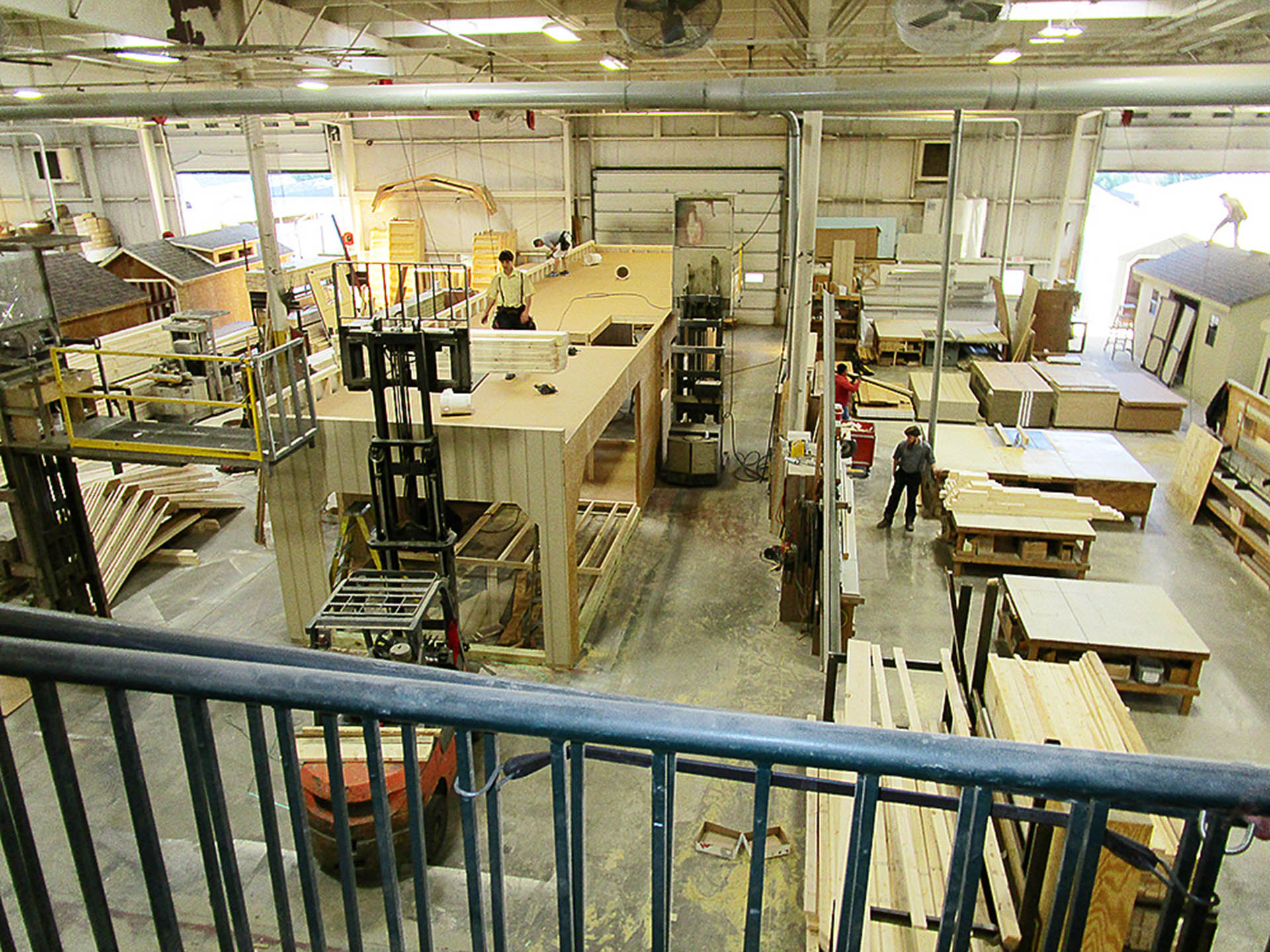 Who is building your barn? With traditional builds the team that shows up on any given day for the construction may vary. Their experience is unknown to you, the project may be delayed as the construction company has no assembly line style production but instead relies on good weather dictating which projects are prioritized and which carpenters are dispatched to which location. From one day to the next a new person may pick up, hopefully, where the last person left off. Naturally with an on site build this does not necessarily happen and important construction steps may be missed and the consistency of the build quality may be compromised.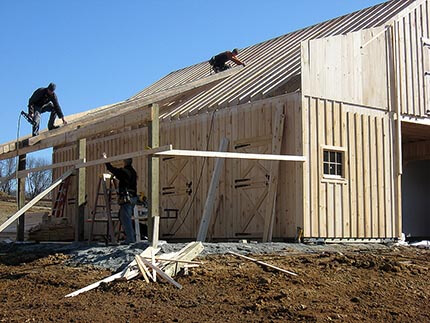 At Horizon Structures the carpenters are a team that are used to working together. Their skill sets and work ethic are from their Amish heritage and their fine reputation of first-class build is well-earned and proudly produced. Horizon Structures works across the country with Amish carpenter teams that service our clientele with dedication. The team does work like the proverbial ' well-oiled machine'.
Another advantage of prefabricated structures from Horizon Structures is the known cost. The variables such as customized design are decided at the outset and there are no hidden surprises.  You decide exactly what features you want in your building, we build it and we deliver it. As we've said before, it's as simple as 1,2,3.
How many times have to your heard the words, 'cost overrun' or 'came in over budget' from friends and family. Horizon Structures happily takes the stress away by providing a list of customized features from which you can design your building just the way you dreamed about and have it delivered on time and on budget.
Let's look at price. The assembly line manufacturing process allows Horizon Structures to purchase high quality product in large quantities and gives Horizon excellent leverage in commanding the best uniform materials for the best prices. These savings are passed along to you, our valued client.
Additionally as Horizon Structures provides a streamlined and well-tested production process you also enjoy the savings of less labor hours needed per building. In fact, you can expect that our 'build' will save you serious dollars over the traditional alternative method. On average about 30% savings! And you cannot tell that the barn has been a modular build either. Why pay more for something that looks the same? Additionally, in many cases our prefabricated structures have a superior build.
How much is that delivery going to cost? Horizon Structures provides a delivered cost so there is no guesswork. Simply contact us for a quote. Don't just dream about it. Get started now. Dreams and reality truly do collide at Horizon Structures!
Read Part 7 – Delivery of our Prefabricated Barn Buying Process Series HERE.