"Just Because You Live In The Sticks Doesn't Mean Your Barn Has To Be Stick-Built."
While the advent of Spring is the perfect time to get busy with plans laid dormant through winter months for a new horse barn the reality is any time of year is a good time to get busy with the new horse barn project.
The trouble is no matter what the season it is hard to find the time it takes to visit prospective barn builders, sit down to discuss all the upgrades and available options and gain a perspective on all the choices and price points out there for a brand-new beautiful horse barn. Horse owners are often juggling busy lives with multiple demands on their time and energy hitting them from all directions.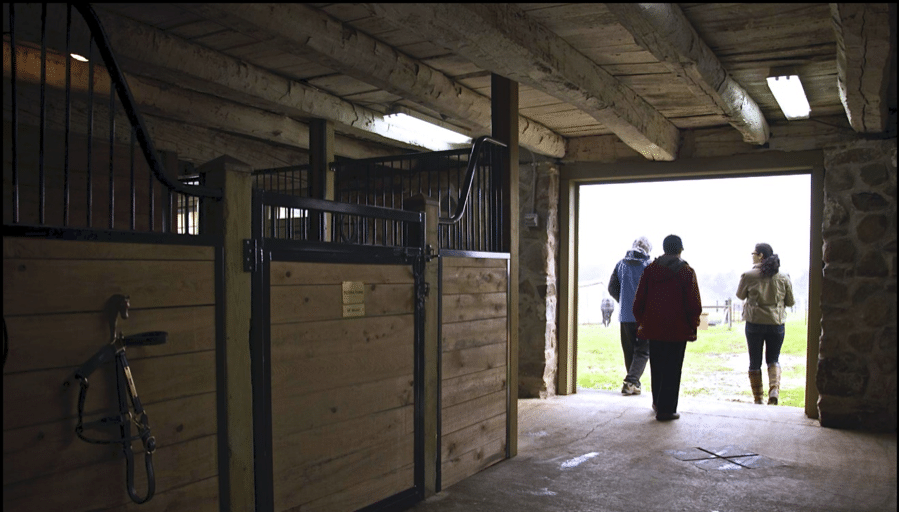 Add to the time management issue the cost of fuel to undertake the seemingly necessary drive time and make these trips, and the dream of the new barn may seem a long way away.
Thankfully, modern technology offers a viable alternative scenario where the prospective barn buyer can choose the perfect barn to fit their needs, wants, and budget from the comfort of their own home and on their own schedule.
Just because you live in the sticks, doesn't mean you have to buy a stick-built barn with all the hidden costs, budget overruns and blind trust that the result of the spend of your hard-earned money will meet or exceed expectations.
The advent of 3D building technology offers the buyer a visual opportunity to enjoy a 'real feel' of the horse barn with 3D renderings that can be customized to suit any individual's taste.
Utilizing 3D technology, buying decisions can be made in peace and quiet with opinions for all parties involved in the new barn project heard. Conflicts in time schedules for different family members or business partners to weigh in on the topic are negated, and the buying experience is fun and exciting. No more need for dreary drives with tired young children arguing in the back of the car or rushing home to feed the waiting horses or pets. No more need for missed rides or income earning lesson opportunities. No more need for barn buying decisions made blind with the only visualization of the final barn on paper or in the mind's eye of one person.
Another useful tool that offers great insight into the 'feel' of a horse barn are virtual tours. Once you have taken a few virtual tours of different styles of barns, you may find yourself rethinking the design of barn you want. For example, a virtual horse barn tour of a high profile barn that is 36' x 26' may perfectly fit your present needs, but if you take a virtual tour of a low profile 36' x 24' barn you may find that for much less spend you would be very happy and a compromise could make the difference in buying now and having your horse home now. Especially as low profile barns can commonly be purchased straight off the sales lot and can be delivered right away, saving you livery expenses.
Yes, everyone is aware that construction company websites commonly offer a myriad of photo galleys and embedded video promotions of their business profile and building upgrade features. Keen resources exist online to answer general questions on barn building experiences and offer suggestions. Great options and a grand place to start.
However, if the ultimate choice of a new barn is to meet both their demands in functionality and aesthetic appeal prospective buyers truly need to do a 'walk-through' of barn designs and explore a wide world of barn styles, upgrade features, colors and construction methods such as timber frame versus modular.
Thus, in addition to the armchair planning options of sometimes mundane websites and social media promotions, it is wise for the prospective barn purchaser to seek additional methods of ascertaining just what they are buying and how the structure will work for daily use.
Spatial awareness is a huge part of architectural design. How a building is engineered, how it looks up-close, and how different structures will transform the atmosphere in a particular site or environment need not be left to chance.
Details of barn construction are easy to overlook if you are not experienced in the variety of engineering and carpentry applications are available. When you enjoy a virtual tour, you can see what makes one barn construction method different to the next. For example, you may not know what a timber frame barn looks like and what makes it so special, aside from hearing tell of traditional mortise and tenon joinery and how it is the strongest form of joinery carpenters use, even in this modern world. A quick tour of a timber frame barn will show you how the beams look. You will see almost first-hand how aesthetically pleasing the timber frame option actually is, and if you are trying to be sensitive to the historical charter of the property you own the timber frame will certainly fit right in.
Visualization of what the new barn will look like is an important part of the buying equation. It creates confidence in the ultimate decision making and allows flexibility in budget by addressing optional upgrades and changes in size and style without the expense of a 'work order' and changes on site.
Buyers should seek a construction company that encompasses a large variety of barn style and feature choices, siding and roofing options plus can deliver on the smaller details such as copper weathervanes and European stall fronts and any other facets of individualization that will make the barn unique. The 3D technology should offer measurements, good quality video resolution, and be easy to navigate and the Project Team Manager at the company should be fluent in making all adjustments to the program to accurately showcase changes and requests of the buyer.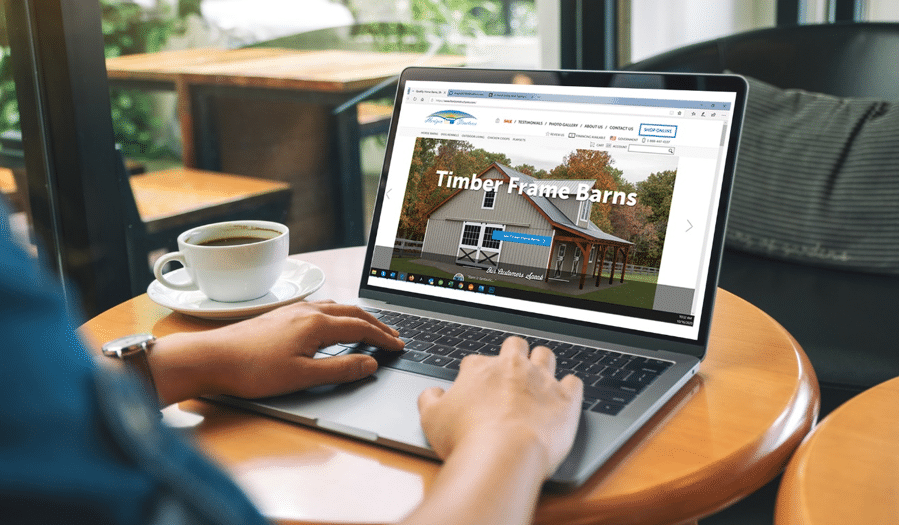 The opportunity to save the drive and use 3D building technology to 'build the barn' from layout to loft heights, siding to stall size, color to cupolas and everything in-between is not to be missed. It is a great way to take control of the new barn building project and eliminate any unhappy surprises.