One of the most significant advantages that a great barn construction company has over a good barn construction company is the ability to offer a myriad of options when it comes to barn design, style selections and extras. All horse owners have individual preferences and the horse housing that suits one person's needs and wants, is not a one-size-fits-all kind of deal.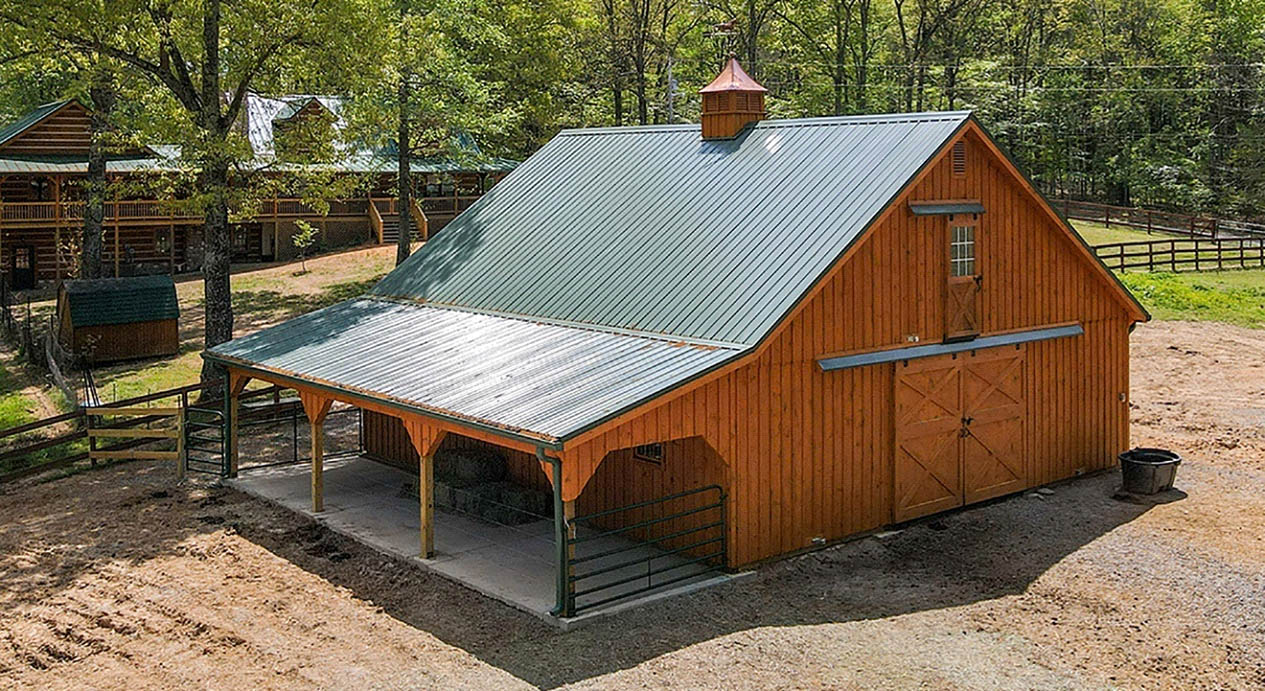 Customization of your new horse barn is an important and fun aspect of barn shopping. While it is always smart to purchase your equine abode from a company that includes lots of extras as standard features, such as kick walls, windows and stall doors, it is equally essential that you don't forget to include certain options or upgrades to your project. These updates could make a world of difference in your new barn's daily use. It is better to pay a little extra now to include a particular feature in your design, than to regret its absence later.
Here, in no particular order are the top 5 barn upgrades that can make a world of difference to both the usability and the pleasure of working in and around your new barn. These options are relatively economic to include and should not be overlooked.
1. Stables and Stalls
The size of a stable or stall matters a great deal when it comes to the frequent task of mucking out and working alongside its equine occupant. A few extra feet provide room to maneuver and offer an extra level of safety when working in the confines of four sturdy walls with a 1200-pound critter.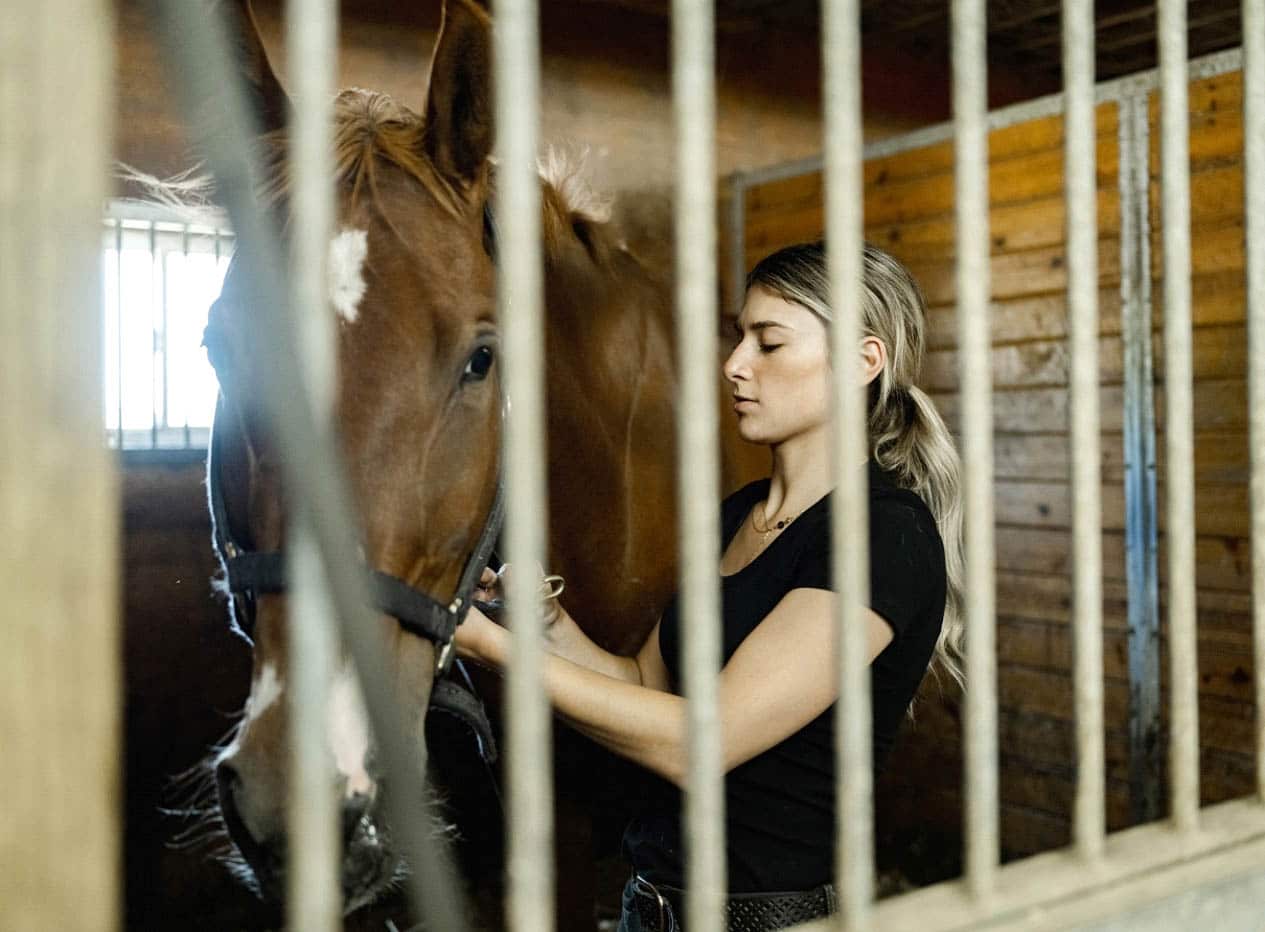 Horses enjoy freedom of movement for both physical and mental health so having the opportunity to circle around a stall rather than always step sideways to move is a plus for their comfort. The larger the stall space the less likely a horse is to become cast in the stall.
The provision of an additional stall or two can also be beneficial not just for horse housing, but also as additional overflow storage space for feed, hay, bedding supplies and equipment such as pitch forks, muck baskets and the like. The extra space can also be utilized as a tack/grooming stall and/or wash stall.
2. Don't Forget the Gutter
Uncontained or undirected water flow can be an impediment to the use of any building. It can damage the foundation of the structure, migrate under walls to flood stalls and tack rooms, and can cause ice, mud and annoying puddles at entrances and along the side of the building.
A roof discharges large amounts of water at one time, so if there is no gutter system in place, the water will splash on the ground and cause a channel along which the liquid will inevitably find its way to the lowest point on the graded apron, where it will puddle.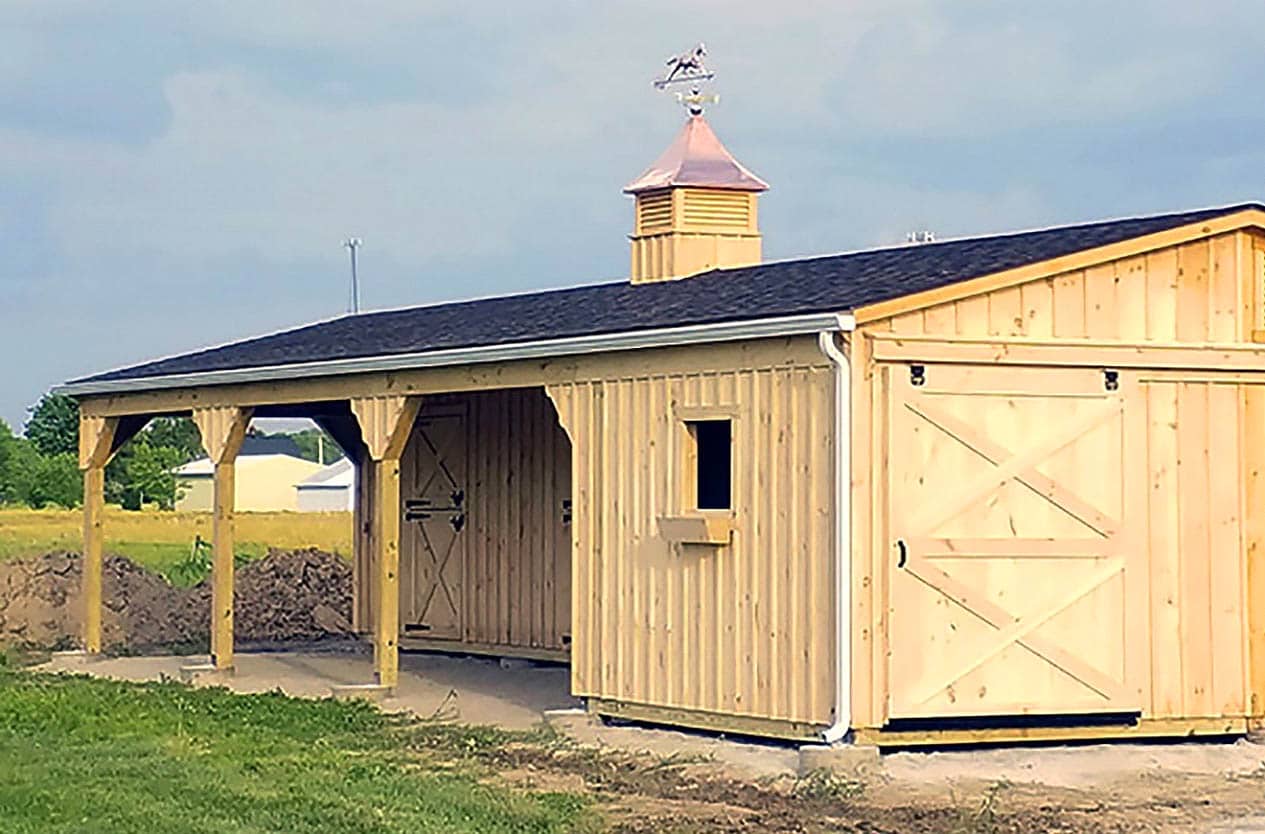 The aesthetics of the barn siding may also be annoyingly compromised by the appearance of mud-splattered walls as a result of the spatter activity.
If the barn facilitates inside/outside access for its horse inhabitants then despite even the best efforts at French drain systems, the area will inevitably become saturated eventually and mud mayhem will result.
Gutters and downspouts are not expensive. Add them rather than forget them.
3. Lofty Ideals
The provision of a loft space with easy access (a staircase rather than a wall ladder), offers valuable storage for small square hay bales, tack and supplies or even an office/living area.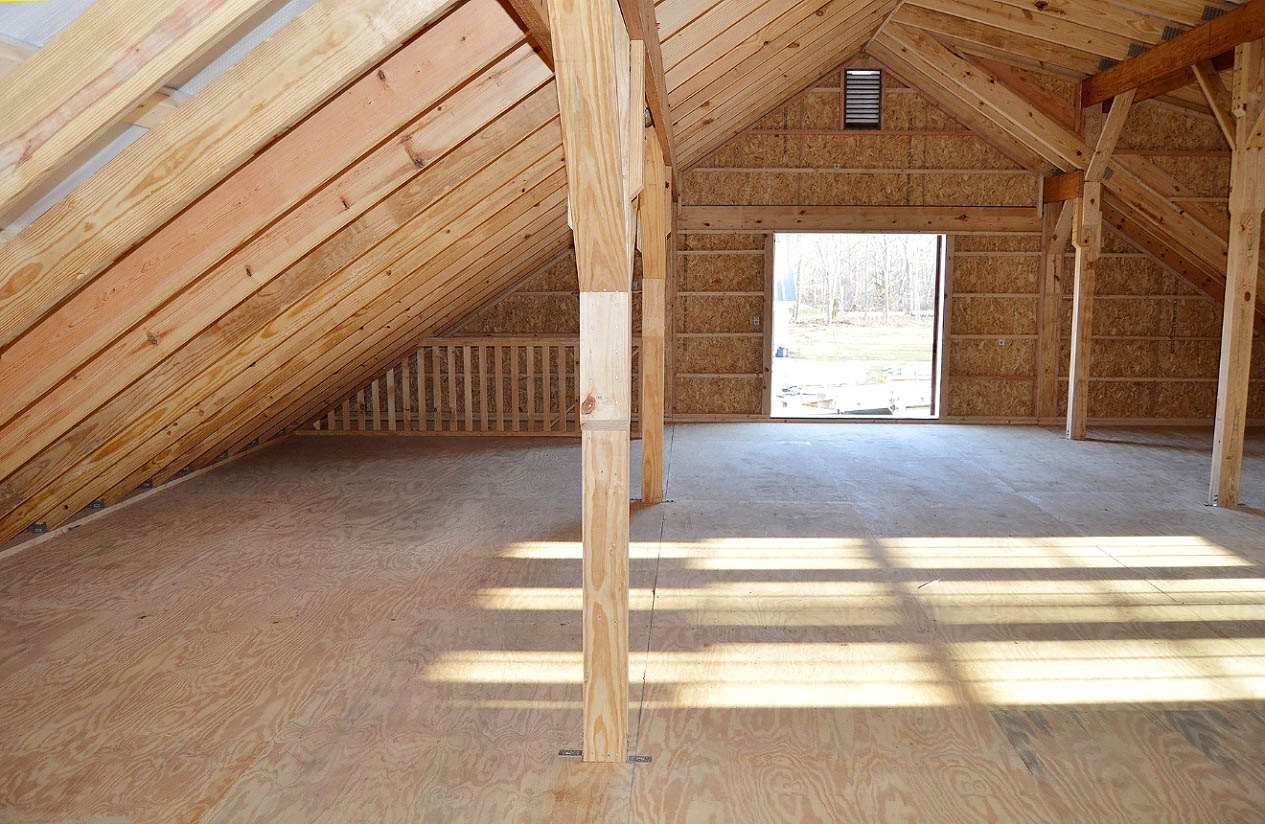 It is sensible to include some form of passive ventilation and natural light source to service the loft as this will facilitate more pleasurable use of the space.
4. Dang – I Wish My Barn Had an Overhang
The ubiquitous presence of an overhang on horse barns is not without good reason. It is a reasonably priced addition to a structure that encompasses many benefits. Horses that have exterior stall door access to a view with Dutch doors can have their heads out in the fresh air in all types of weather. The stall bedding stays dry no matter what direction the wind shifts or what Mother Nature pours down from above, and the whole building is cooler in hot weather as the overhang protects the walls from the heating effects of the sun.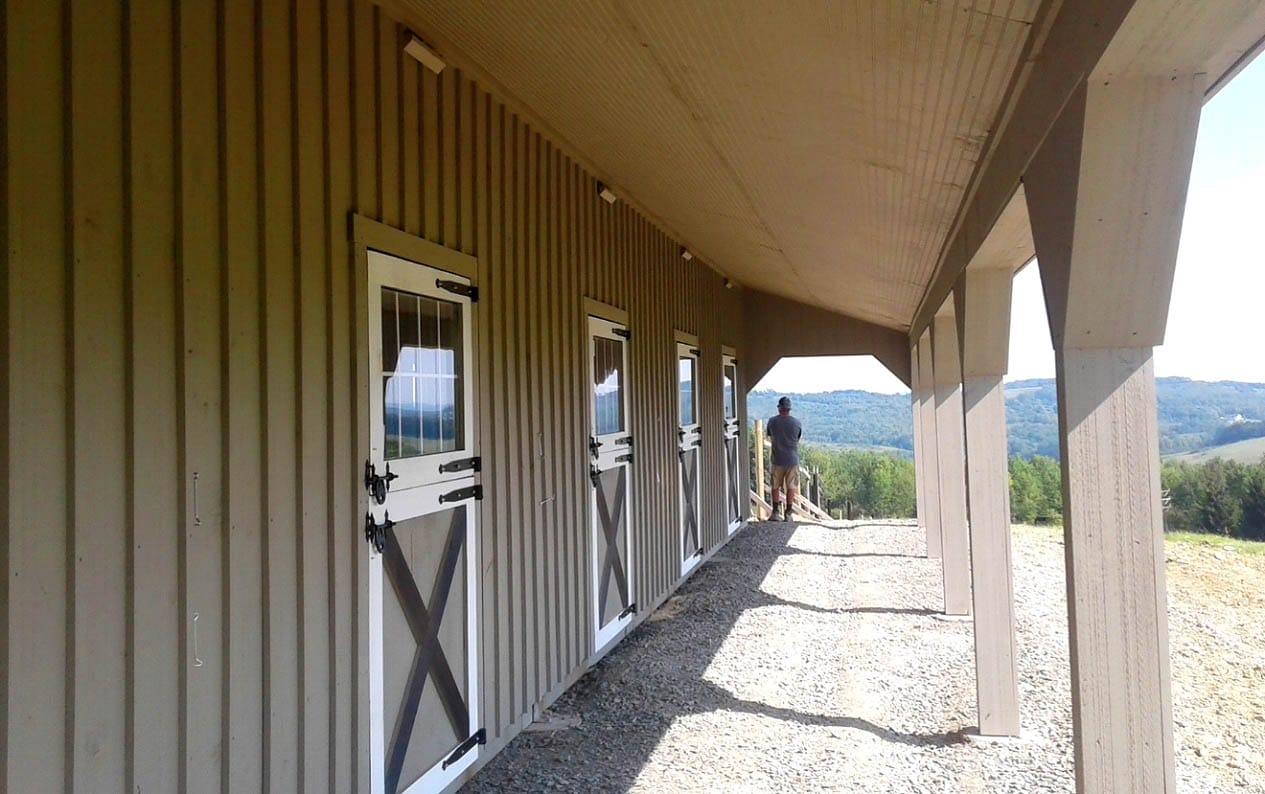 The shelter from an overhang also offers extra storage for expensive assets like UTVs, ATVs, or trailers and can be utilized for storage of barn supplies or under cover space for tacking up/grooming duties.
At the end of a long hot day in the saddle or instructing students in a dusty ring, a few chairs placed under the overhang also offer a place to sit and sip a cold beverage. The seating is always a welcome respite for a few moments' peace and quiet during a busy daily work schedule too.
5. The Cupola
The cupola is a traditional method of increasing the passive ventilation in a barn. A cupola looks pretty on a horse barn, especially with a weathervane atop, but its value in improvement of the air quality within the barn during all types of weather is a boon for both horse and human.
Author's Note: On a recent interview with Horizon Structures' Barnfest 2020 'barn' competition winner Abby Revoir Sykes, of Starfish Equine Rescue, Cape May, NJ, Abby both lamented omitting an overhang from her first shedrow purchase 4 years ago and strongly recommended one of the upgrades that she had added to the win of the 20'x 10' two stall barn with storage that she received from the contest:
"Many of the horses we take in as rescues have arrived with various respiratory illnesses. My main barn has a cupola and I have had horses arrive with breathing issues that have since recovered with careful management and housing in my main barn. I put it down to the great ventilation that the cupola provides. My barn is always cool even in the heat of the summer. I would never have a barn without a cupola. There are so important…" Abby Revoir Sykes.
So, a recommendation sincerely from the 'horse's mouth' or at least his nose!