Have you ever wondered about possibly building your dream horse barn but also building a business outside of the horse boarding enterprise to pay for it? Horizon Structures client Lynn Pirozzoli, of Purcellville, VA, generously shares her insights into how she accomplished this feat.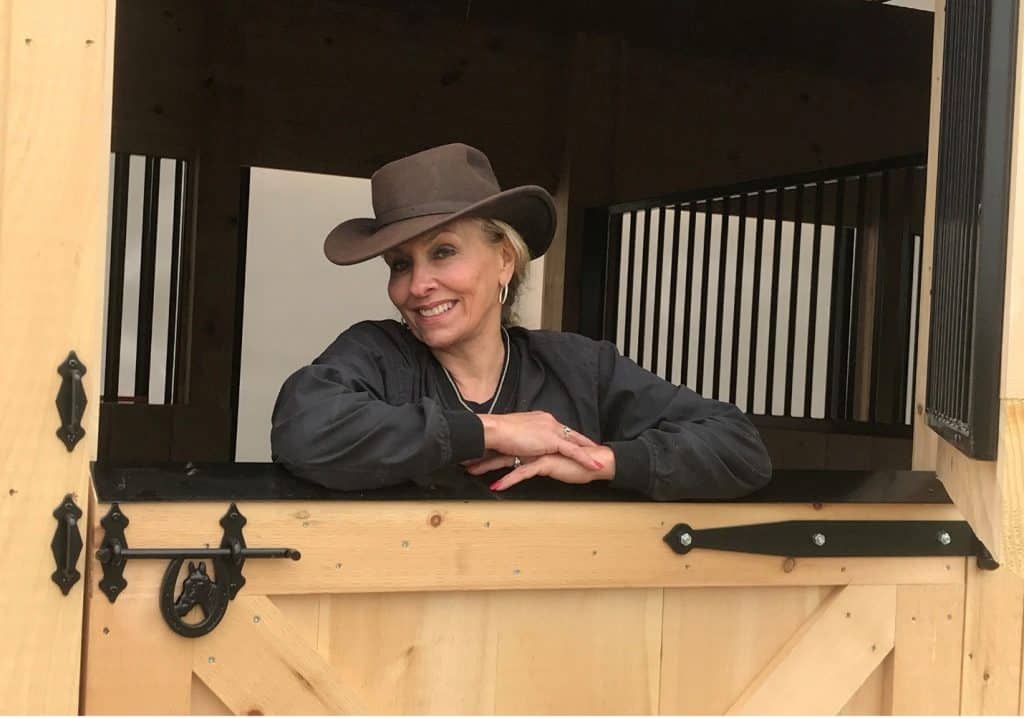 Pirozzoli's innovative idea was to establish an Airbnb venue in the loft space of a newly built Horizon Structures High-Profile barn at her farm, that would meet or exceed all fire and building codes and offer a unique "hunting box' experience to visitors both equine aficionados and neophyte horse folks.
The venture has proved so successful, that she has recouped her capital cost for the structure within a year of opening up the beautifully appointed space.
It should be noted that Pirozzoli is not new to the world of hospitality and has some considerable experience and successes under her belt. Additionally, the location of her farm is well situated to garner good metrics for year-round occupation. Virginia's equitable climate, central Eastern seaboard location with proximity to Washington, D.C. and the area's renowned depth of history and equestrian lifestyle heritage offers broadband appeal to both vacationers and equestrian professionals. Notwithstanding the advantages of Pirozzoli's location and background, the option for 'farm' based niche rentals on the Airbnb platform opens up a world of opportunity for the savvy entrepreneur, and a means to leverage significant business development into other areas with added value experiences such as photo shoots with horse models.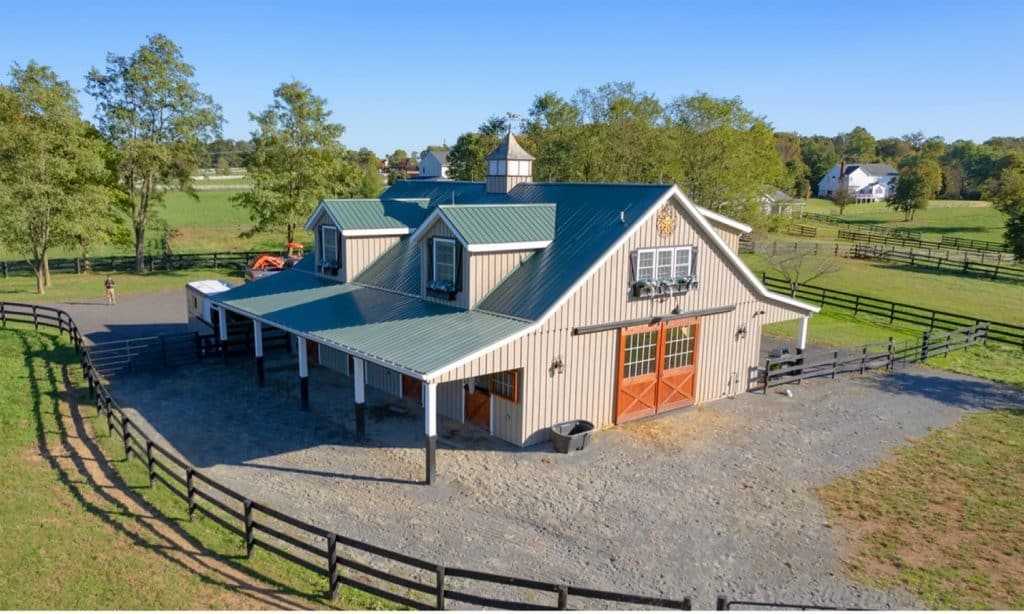 Notwithstanding Pirozzoli's considerable talents and advantages of location, her kindness in sharing her wealth of knowledge in this article offers real world strategic advice to others. She highlights how much can be accomplished by following some straightforward methods to build a similar business model.
Here's what she had to say during our interview:
Q: How did you hear about Horizon Structures originally? And what made you decide to purchase your beautiful High Profile horse barn from them?
I researched all the top-notch barn building companies on the east coast. I compared quality, prices, and customer satisfaction through on-line reviews. Horizon Structures was clearly the winner. Horizon constructs the barn in climate-controlled structures. The advantage of this technique is that the barn is perfect on arrival. There is no warping, cracking or time spent to fix what other barn builders might experience when building on site. It is a custom designed barn that is built in PA and delivered on site with perfection. There is no excruciating wait for the barn to be built on site. The crew arrives on time and as planned to erect the barn. The crew is professional, adept and they execute the construction conscientiously leaving the end result professionally done. The project site was immaculate upon completion. Not a nail on the ground! Everything was completely clean and ready for the horses to spend their first night.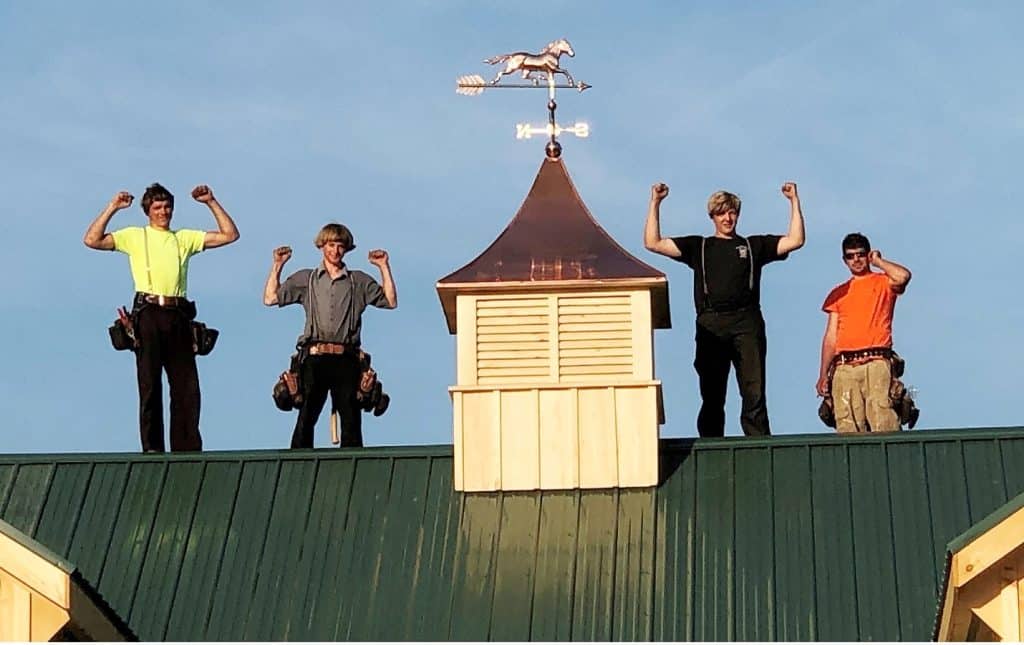 Q: What are the things you love most about your new barn?
I love the design of the barn and it is perfect for my needs, with 5 spacious stalls including a birthing stall (equivalent to one and a half stalls) that I use for storing hay, shavings, and tools.
The wash stall is warm and welcoming for the horses and I am so glad I purchased the fiberglass insert to protect my investment. A warming light creates the perfect temperature while bathing during the cold winter months—something that we foxhunters must do with great regularity. It makes bathing a delight, both for the horse and the owner.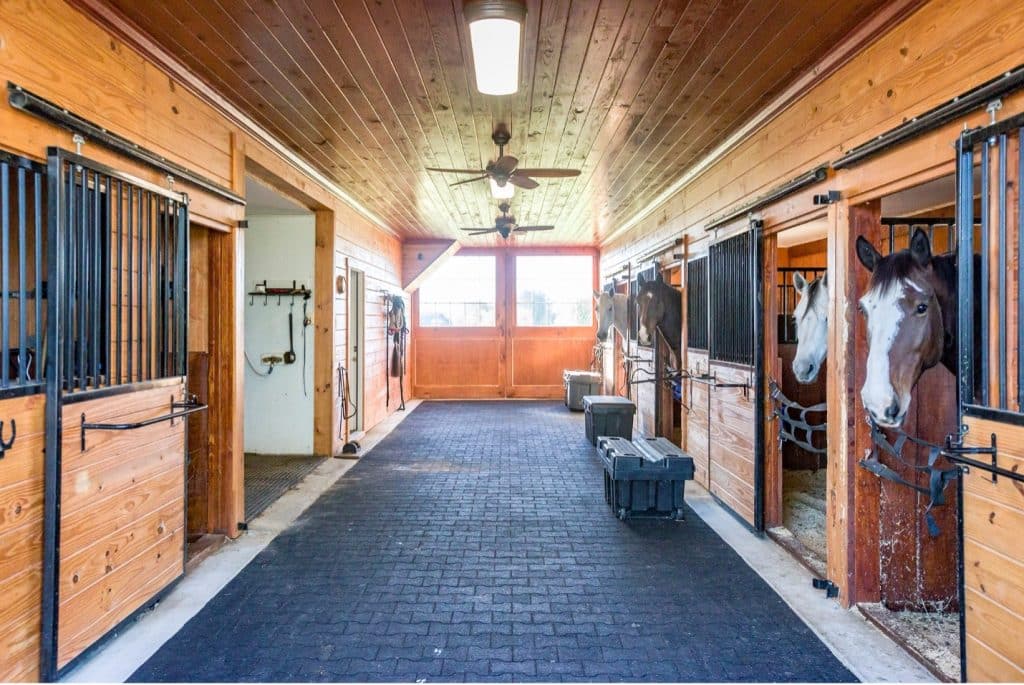 The tack room is to die for! It is my dream come true, with two sinks, an island, wooden cubbies for tack for each horse, a washer and dryer, powder room and a kitchen complete with wine cooler and coffee machine.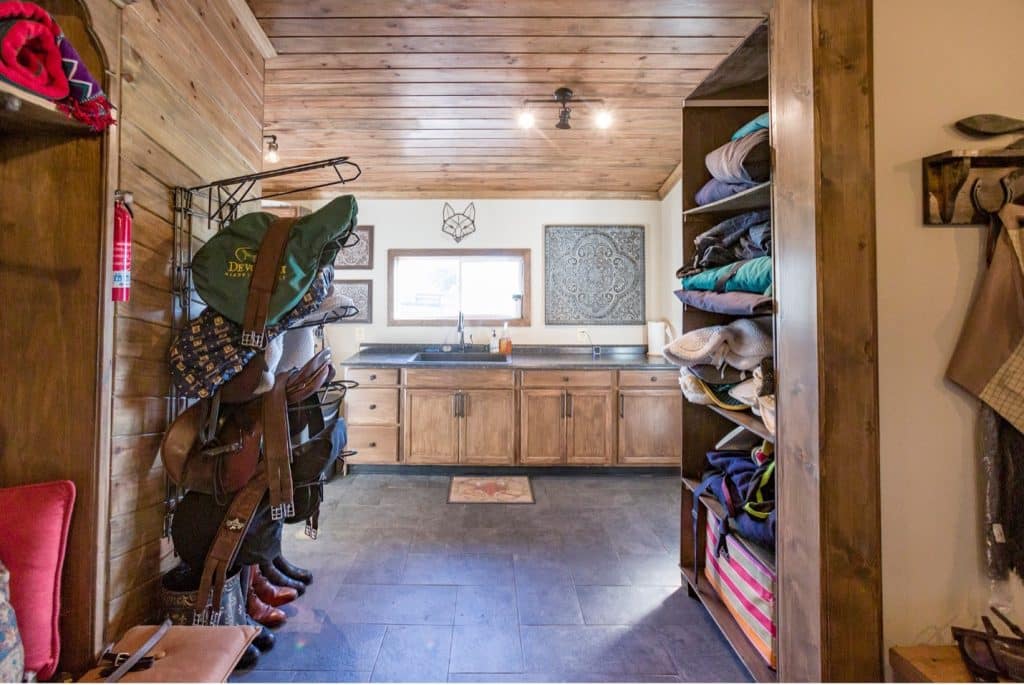 Finally, the Airbnb completes the design, located on the second floor of the barn. The "Hunt Box or Carriage House" as we reference it, is s a revenue generating investment which has paid for itself in the first year we have been in business. It is a luxurious two bedroom, two and a half bath apartment, with all the bells & whistles: Jacuzzi tub, spa shower, electric fireplace, washer/dryer, full kitchen, dining area and living room with a large screen TV.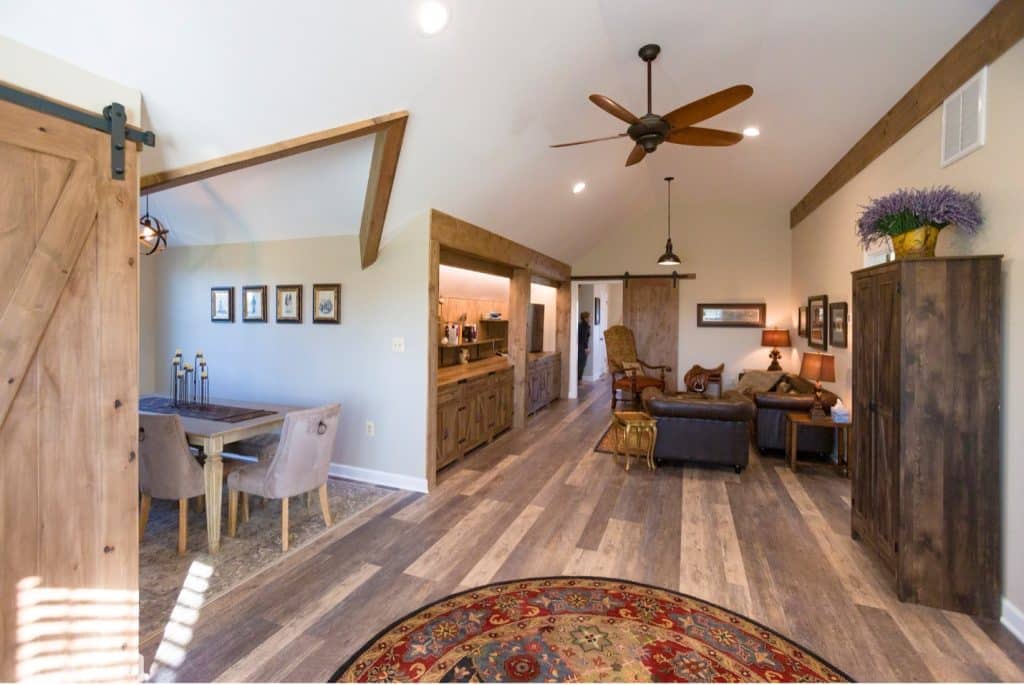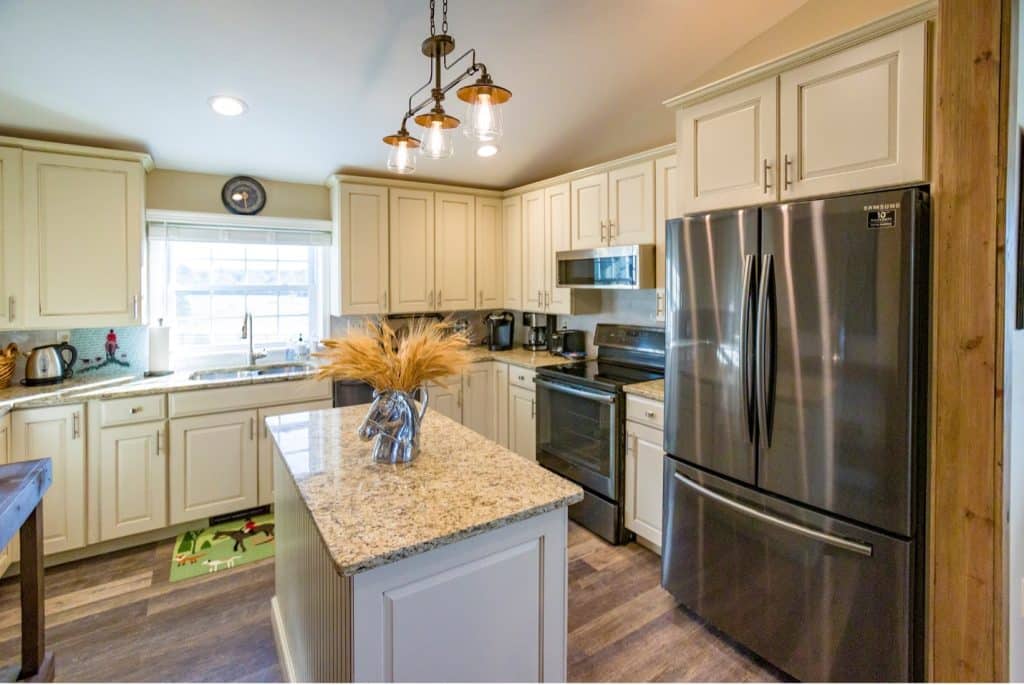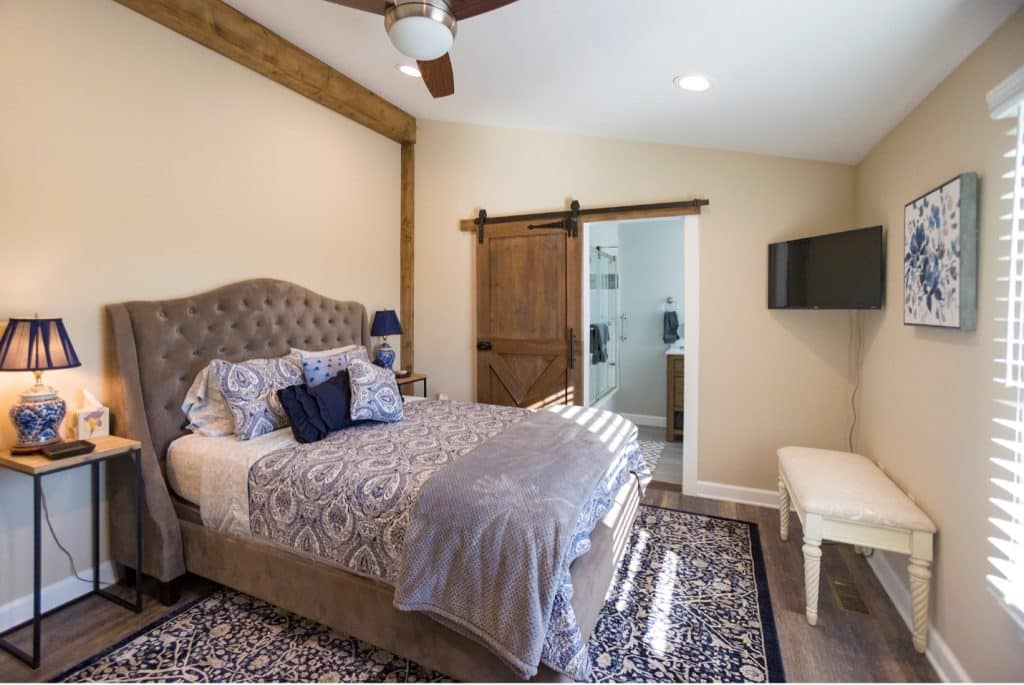 Q: Can you tell us a bit about your background and how you arrived at the decision to add an Airbnb to the upstairs of the barn?
I ran the Black Horse Inn in Warrenton, VA for 27 years, with 11 guest rooms, a stable, and a grand ballroom for events. It was a full-time endeavor. We hosted 30 weddings/special events per year. I treasure the memories of all the brides and grooms that walked down the aisle, and all the wonderful couples that we hosted over the years. The stable hosted horses from all disciplines, in addition to my personal horses.
The stable was a special place and I decided early on to create two guest rooms at the stables. Of course, they had to be very high-end, because after all, they were located in the stable. I had to work with the existing structure, so it was not as luxurious as the Horizon Structure design, but nonetheless they were unique and coveted by all of our guests.
Q: What was the most difficult obstacle you had to overcome to develop the barn into an Airbnb? 
The biggest obstacle was the design and permitting during Covid, for an apartment located in the loft of the barn. Fire suppression and protection was a major consideration in the design, and I worked diligently, hand-in-hand with the County to ensure that the Airbnb was up to snuff on the fire code design. Ultimately, we designed it with two layers of fireboard; one on the ceiling of the barn and one on the floor of the Airbnb to allow for two hours for any occupants to vacate in the event of fire. We wrapped all posts from the ground floor all the way to the ceiling with fireboard as well to prevent any posts from burning in the event of a fire. This was all done during Covid, and of course, the County was operating on shortened hours with only drop off of plans and revisions allowed.
Q: How has the Airbnb space been received and what insights could you give us into what your customers say they like most about it? It's a lovely space and I'm sure you've had a lot of feedback.
The response is always WOW!!!! This is incredible! The barn is beautiful and the Airbnb so unique. Guests love both the barn and the accommodation, and they love meeting the horses during their stay. When guests see it for the first time their first words are INCREDIBLE!  I couldn't be happier!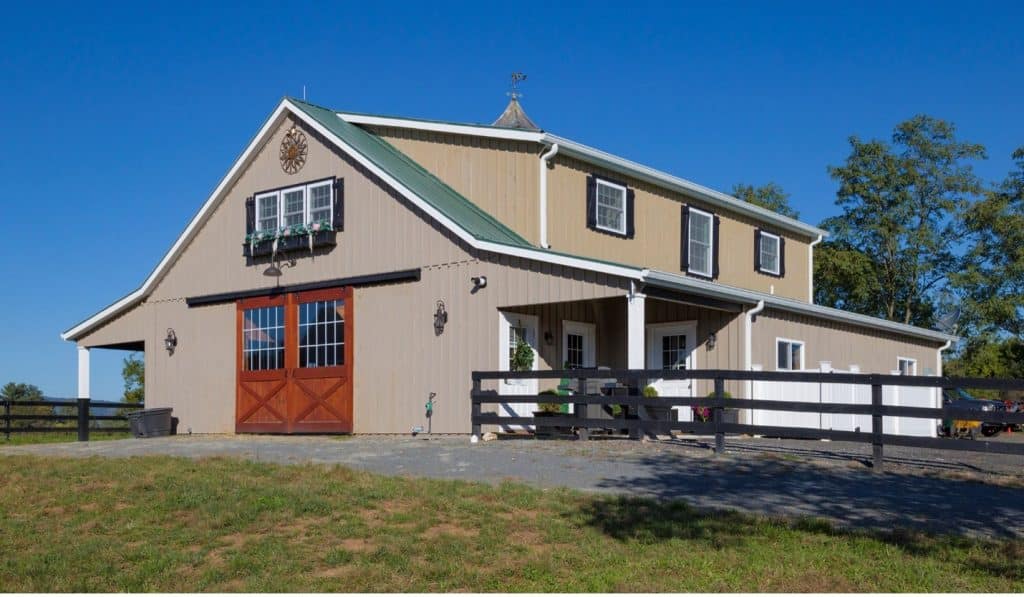 Q: Is there anything you wish you'd done differently in the design of the barn? Two of the concerns that come to mind is are noise from the horses below and how do you avoid vermin issues in the living areas?  
The barn design is perfect in every way. If there was one wish, it would be for an overhang for the tractor to be kept out of the weather.
All the extra fireproofing served to suppress any noise from below. We are sure to start our days a little later when we have guests, but most guests are delighted to see the horses in full regalia for the hunt. We always have photo-ops of the horses with our guests, and they enjoy the opportunity to be so close to the horses. As Winston Churchill said —–"There is something about the outside of a horse that is good for the inside of a man." So true!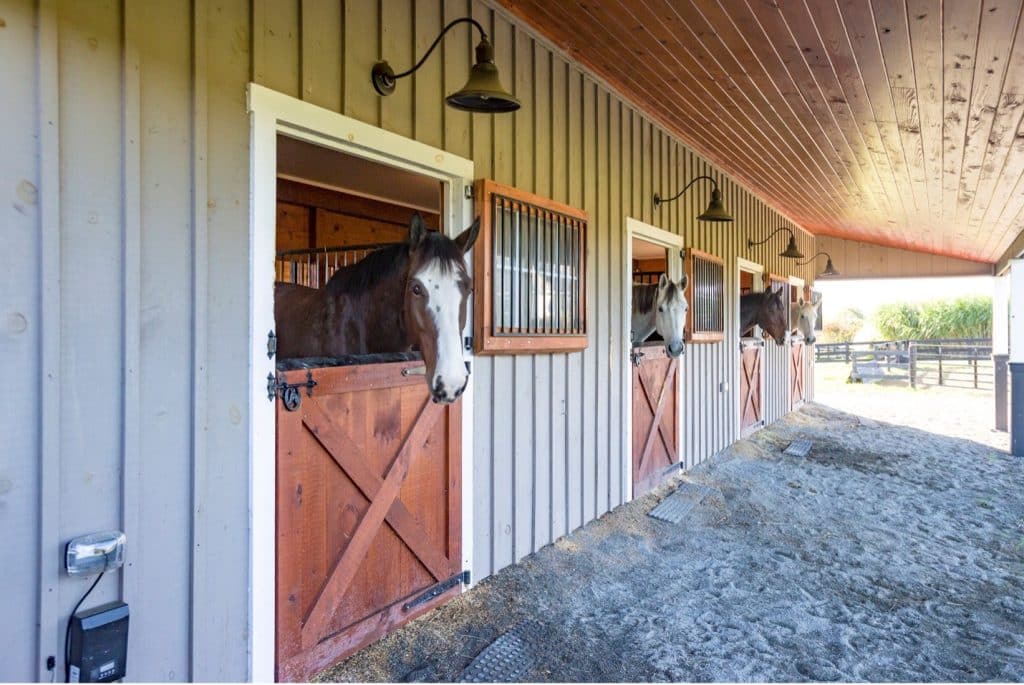 As for vermin, our pest control contractor along with our cat Sunflower have it covered. We are meticulous about this!
Q: What was the best thing about working with Horizon Structures on the project and how long did it take? I know you worked with our wonderful Denise Chestnut on the build throughout. Was her experience useful to you? 
The best thing about working with Horizon structures was their flexibility and prompt schedule one the design was decided upon. Denise Chestnut was a delight to work with. Her knowledge and wisdom about the design was incredibly helpful in both the design and the appearance of the barn. For example, she suggested the incorporation of dormers to complete the appearance of the barn, both front and back. The back dormers nearly spanned the length of the barn which allowed for gabled ceilings in the Airbnb lending and airy, spacious feeling. Her advice was invaluable and her sense of design and balance for the size and placement of the dormers was spot on. Kudos to Denise for her patience during this process and her design skills. We had numerous changes, and she was always so accommodating to show us what the end product would look like each step of the way.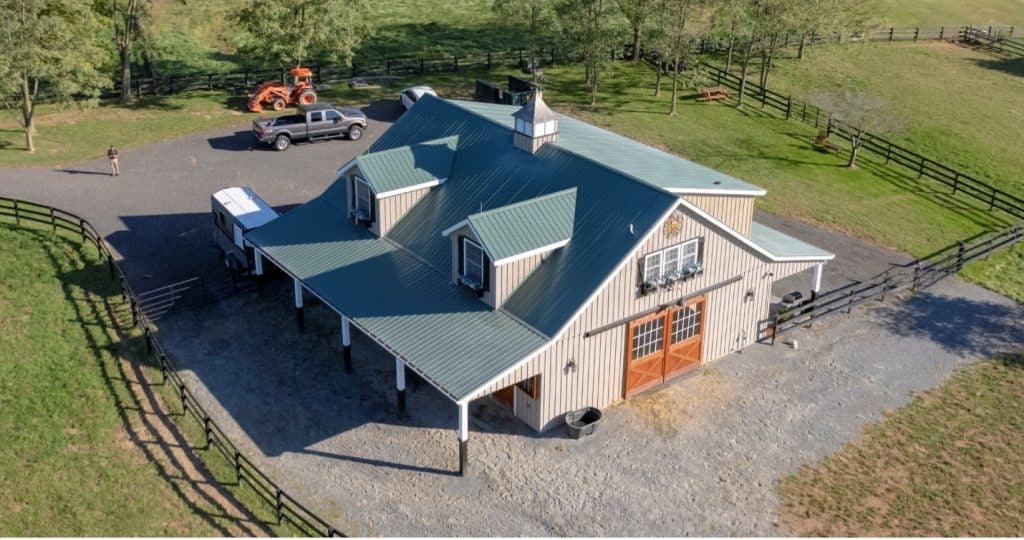 Q: What future development plans do you have for your property and would you entertain utilizing Horizon Structures for building again? Not just barns but their outdoor living structures etc.? Would you recommend them to others?
Horizon Structures are always at the top of my list for another barn and/or outdoor living structures for the future. While I have no plans to expand in the near future, I certainly give them the highest recommendation to all wishing to construct a quality barn or outdoor structure in the area.
Q: Can you tell us a bit about your horse herd who live 'downstairs?' Do you plan to give lesson/riding options or other horse related services?  
My herd downstairs are fox hunters. We enjoy the old tradition of foxhunting in Middleburg and the surrounding area. Many of my guests ask if the objective of foxhunting is to kill the fox. I reply No–not in America! Our objective is to have a healthy fox population. We chase the fox, but if we kill him, we can't chase him again next week!
We welcome other foxhunters to stay with us at the Airbnb and stable their horses with us. We also enjoy our show jumpers who frequent the Upperville Horse Show. Some of the most renowned horses and riders stay with us to compete in the show jumping events throughout the year.
Q: What is the best thing for you about switching from running The Black Horse Inn to this new business? I know you have experience in event management. Have you had weddings on site yet? 
The Black Horse Inn preceded Airbnb and was run as a traditional Bed & Breakfast. Running an Airbnb offers greater flexibility for both guests and hosts alike. I enjoy the ability for guests to enjoy themselves on site with as much or as little interaction as they wish. We do not hold weddings here, but I have been active in planning a few weddings since my "retirement" from the Black Horse Inn. I enjoy the festivities and the perfection that goes along with a wedding day! Bring it on!
Q: Would you suggest to other horse owners that adding an Airbnb space to a horse barn is a good revenue producing idea? And do you have any tips or helpful advice to offer others contemplating the same business plan?
I highly recommend it to other barn owners that are in the process of building a new barn. The key to success is planning for it financially while you are in the building process. I discourage others from trying to retrofit an existing loft because of the fire requirements necessary to isolate the loft with the barn. I do not believe it would be cost effective to retrofit unless you were to rebuild the top floor of the barn. It is imperative to ensure the safety of your guests and your horses.
If you are interested in learning more about Lynn Pirozzoli's luxurious décor and fabulous design in the loft space at her Tally Yo Farm's "Hunting Box" with its modern day carriage house accommodations please visit her Airbnb page where lots of photos and information on all the services offered is provided.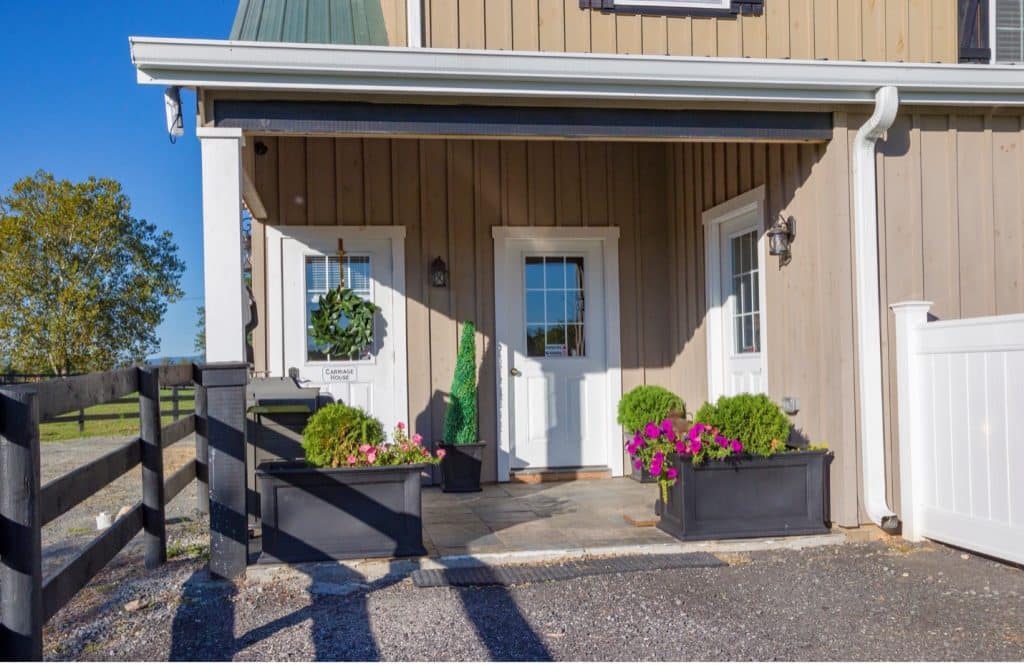 Meantime, this author fully intends to make a stop and stay at the farm during future travels in the region. There truly is a romantic delight in staying at a foxhunting-based horse farm for horse lovers and for those wishing to experience traditional country lifestyle whatever their background. I enjoy a special connection exists to foxhunting, as I grew up in England and as a horse crazed kid would ride endless of country lanes to ensure my pony was fit for the foxhunting season. This was always one of the best parts of summer holidays. Nothing beats gathering at the Meet to ride second flight with the hounds on a cold frosty morning and even today my home is decorated with horse brasses, foxhunting horns and foxhunting prints.
It is little wonder that the feedback from visitors to Pirozzoli's Airbnb is so positive on its equestrian themed delights. It offers a real taste of traditional country life.
Whatever riding discipline your horse passion embraces, the idea of building your dream horse barn and making it pay for itself is a brilliant idea.
With sincere thanks to Lynn Pirozzoli for being not just a valued member of the Horizon Structures' client family, but also for being so gracious and generous in sharing her experience and advice with others.