Ideal horse stall dimensions depend on a few factors. If your horse will spend most of his time inside, you'll want something bigger. If he'll be getting lots of turnout, you can get away with something smaller. Nonetheless, a horse should be able to turn around, lie down, and get up comfortably. You should also consider how territorial your horse is. How well he gets along with others in close quarters. Should you opt for solid instead of barred stall partitions?  Our horse barns offer plenty of room for your horses.
A 12×12 horse stall size is considered ideal for a 1000+ pound horse.
An average (15h) horse can be comfortable in a 10×12 or even a 10×10 stall.
Miniature horses or ponies can be comfortable in an 8×10, or smaller, stall
For a mare and foal, consider two normal horse stall height and size with a removable partition.
If you need an odd size stall, like a 10×14 or 12×16, we can do it and it won't cost you anything extra.
NOTE: horse stall sizes mentioned above are outside dimensions
What about run-in sheds?
Many people are unsure about what size run-in shed to buy. While there are some general guidelines regarding the optimal size, much of determining what size shelter is best depends on your horse(s).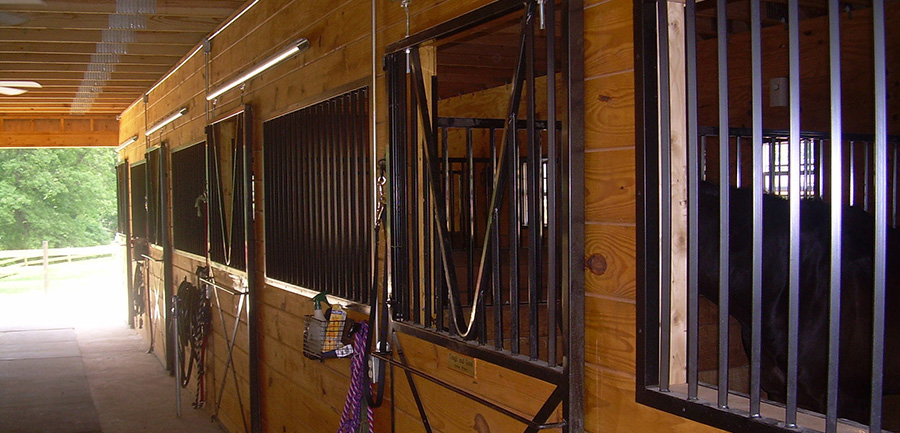 Some online sources recommend providing a minimum space of 12×12 for each horse. Another source recommends 10×10. Yet another suggests space should be calculated as 60-80 square feet per 1000 pounds of horse.
At Horizon Structures, we generally tell people that a 12×18 run-in shed is usually adequate for 3 average sized horses (about 15 hands) that will share their space without fighting.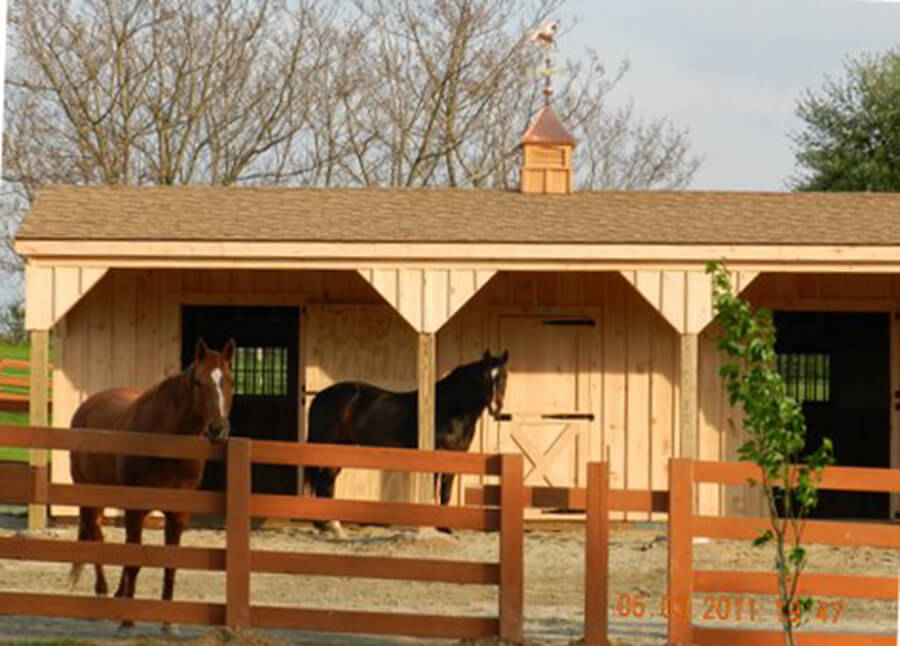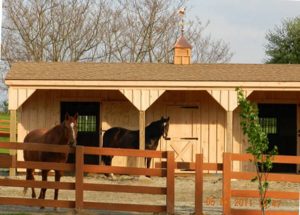 As any horse owner knows, horses – being herd animals – have a definite social "pecking order" with some members of the herd being more dominant then others. How often have you seen a pasture with one horse comfortably enjoying the shelter of the loafing shed while its herd mates are shivering in the rain outside or patiently tolerating the heat and a glaring sun?!?