Do you remember the first time you met a horse? Was it a monumental moment? Was it love at first sight?
For me the answer is a big fat YES! I lived on a tiny residential street in Southern England and three doors down the blacksmith toiled day after day and horses trotted along the road on a regular basis to secure their new footwear. From the heavy draft horse that pulled the neighborhood milk float to elegant fox hunting horses and everything in-between, the bevy of horses was a constant fascination.
The kindly farrier allowed me to sit on his wall and watch him work and occasionally I was allowed to pet a soft muzzle or scratch a thick neck. The smell of the work at the forge, the bright glow of fire and the heavy metal hammering mixed with the smell of horse and I was in heaven.
Naturally. I yearned to ride and it came to pass unexpectedly. Every year my grandparents would take my two brothers and I on a trip to Whipsnade Zoo. This facility is lovely because the animals have room to roam. I rode a lumbering elephant. I rode a jerky camel. And when we sat down by the hedge in the carpark to enjoy our tea of sandwiches, boiled eggs and tea from a thermos flask I espied ponies in the field behind us. Pony rides!! Joy. My grandfather, 'Pop,' was a farmer's son and he saw my rapt gaze and excitement and offered to take me for a pony ride. Naturally one go around was not long enough so he bought me another.
The rest, as they say, is history.
Was it like this for you? A big first of many firsts? Did you ever dream of where your first ride would take you?
Within a few years we had moved further out in the country into Buckinghamshire horse country. There was a horse at every pasture gate. Heaven. All my free time during my teenage years was spent with horses working at neighboring farms starting young horses, trail riding and exercising beautiful beasts under the watchful eye of a professional showjumping trainer. My parents eventually gave in and bought me a 'ride' and I was able to go to competitions and trail rode what felt like the entire county.
I left for college and my career took an unexpected turn and I was offered the chance to work in New York. It was only six months before I found myself buying my first horse in the U.S.A. As unlikely as it might seem when you are working on a four year visa and might return home. My British boyfriend and I had been riding at a trail riding barn and I suggested we buy the horses we were riding. He was surprised.
"Where would we keep them?" he asked.
" At livery," I replied.
Done.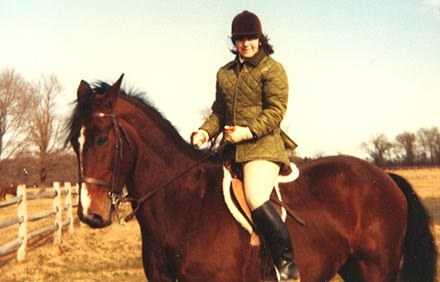 My first USA horse purchase was a retired Grand Prix showjumper
So again the dream of horse ownership became a reality. I always figure you should not ask why but ask why not when considering your dreams. Set a series of short term goals and enjoy every minute of the journey.
Boarding at a beautiful barn with an indoor was fun and we quickly developed the reputation for going out in any weather and for hour upon hour. If you don't ride in the rain in England you don't ride so for us that was no big deal.
Then came marriage. And then came the wish to buy a house of our own. We searched with realtor after realtor but our meager funds did not allow for a house with much land. So we searched farther afield and low and behold we found a small property with just a few acres and no horse barn or fencing but a lovely old farmhouse. Our first house. So while our commute to work was a wicked 80 miles each way it was so worth it. Naturally our first house was quickly followed by our first barn and our first time keeping horses at home, their previous cost to board now going into paying the mortgage. Nothing better than equity!
If your dream is to keep your horses in your own backyard then I urge you to be persistent when searching for the right property.
One barn became two, then three, then four. An outdoor arena appeared. We labored with rock drills to secure fence posts in the unforgiving limestone and we embraced every second of the experience. Our barns became bigger, better constructed and better designed. Two horses became three, then kids arrived and so did ponies. Then we began importing horses and breeding horses for sale and we competed all over the place including back in Europe.
But there was another first to come. Our first indoor arena. Not a dream, a reality. It took us seven years of searching to locate the farm property we wanted with hay fields, South facing rolling slopes and plenty of room to build. We did not give up. Each summer we would pack the kids into the car and head out to check on a property or area whenever we had a spare moment. And what did we build first? The house? The barn? The fencing? No. The indoor.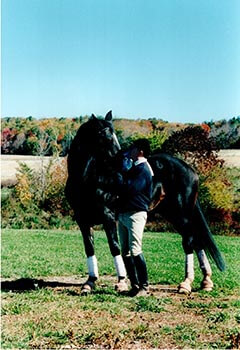 Gimli, our first Hanoverian Foundation mare
So horses were on the horizon from the beginning of my life. The privilege and joy of keeping your horse in your own backyard cannot be matched. Today you can take an easier route with the building than we did and have a complete affordable horse barn set up delivered to your 'back door.' From L-shaped yards (very British), to center aisle modular designs, run in sheds and small stable blocks. In some cases taking just one day to set up, or for larger facilities 3/4 days. Amazing isn't it? And it is cheaper than building them the traditional route.
What is on your 'Horses on the Horizon' project?  My advice? Never stop dreaming because dreams really can become reality!