The operation of a boarding or lesson barn that is geared specifically to working with children can be a rewarding experience and there are many good reasons to specialize in teaching kids.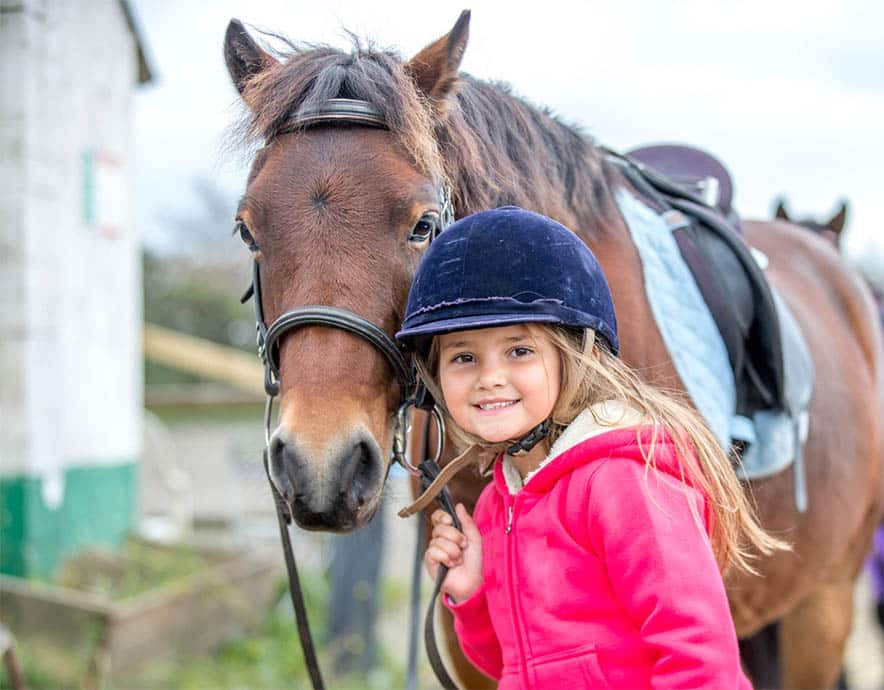 The mixture of adult riders schooling their dressage horses in circles or advanced level jumper riders or barrel racers tearing up the arena together with children working in the same space on their smaller Equus can lead to upsets and injury. Adult riders may become annoyed with the noise and energy their young equestrian colleagues will indubitably sustain all day long and the hazards of riding high performance horses that may be more rambunctious or excitable around ponies ridden by children is obvious.
The first few experiences between a child and an equine can be a make-or-break time as far as establishing a like or love for horses. This time can ignite a lifelong passion for horses in a child, that will outshine a hobby to become an equestrian oriented career. Building confidence in the young rider is a cornerstone of building a successful training business, in both horse and rider, whatever their ages.
If you run a horse boarding/training business that caters primarily to children versus their adult counterparts, you know that the ride to a successful enterprise doesn't come easy. The notorious pony antics can make the equine part of the equation difficult to manage on one side and on the other side are the kids with their tantrums, frustrations, cuteness and of course, parents.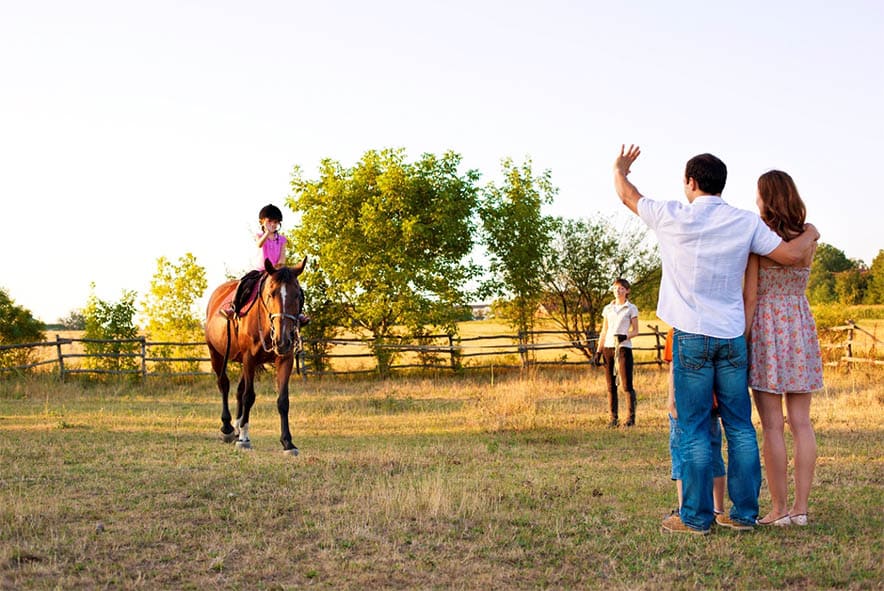 In England equestrian establishments are heavily regulated. Special licensing is required to open any riding establishment. Professional qualifications in horse management and training are compulsory for the barn owner or manager. The facility must also be up to par and meet strict guidelines for safety. This adds up to a list of onerous requirements for the equestrian entrepreneur that is seeking to develop a horse business. But of course, the regulations are designed to protect public safety and the horses' welfare.
In the U.S.A., a neophyte horse owner can hang a shingle at the barn door and offer trail riding groups on whatever horse flesh they have procured for the purpose. A recipe for disaster as any knowledgeable horse rider will attest.
Hopefully, the kid-oriented horse lessons and boarding operations you manage fall somewhere between the two types mentioned. There are many pitfalls that can be easily avoided and management hacks you can employ to aid in ensuring the safety and sanity of visitors and barn employees and promote the sensible use of both the facility and the equines on staff.
Start At the Barn Door or Even Before
If you have the opportunity to design a purpose-built barn for use as an equestrian operation aimed at the younger horse rider, then you have a leg-up over the competition when it comes to ensuring both practicality and efficiency of daily life at the barn.
Here are some suggestions for barn design features to include that make horse sense:
Provide parking areas away from entranceways to pastures and the barn to avoid unwanted interaction between man and beast.
Create gathering or play areas outside of the barn where children can play that are enclosed. Consider the added value of including a pavilion (offers flexibility in the numbers of people that can gather under its umbrella), or a pergola or gazebo to offer shade. A playset can be a useful and easily constructed structure for diverting kids' energy.
A barn designed with a center aisle can be a boon for use during inclement weather but ensure the aisleway is extra wide to allow safe use of the corridor leading horses back and forth. Alternatively, a courtyard or corridor of stables created with shedrow stabling offers good visibility for supervision of the operation.
Site the barn within easy view of the house and the arena. The more activities you can keep an eye on the better.
Provide tack-up/grooming stalls rather than utilizing crossties in the aisleway to avoid the back-and-forth foot and hoof traffic passing at close quarters.
If you plan to house ponies and smaller horses, consider lowering the stall door height from the standard height or even better add an option to break stall door height in two places on exterior Dutch style doors.
Consider a mesh stall door versus a solid base stall door and use grills between stalls rather than solid walls to improve visibility of occupants and their supervision.
Build a safe viewing area for the riding arena that is enclosed but offers both good visual and auditory participation options when wanted with the flexibility in design to shut off noise or visibility when necessary. For an indoor arena this may be placed at one end with sliding safety glass windows, or for an outdoor arena a pergola/pavilion/gazebo could provide shade and seating for both children and parents to view the lessons.
A bathroom with hot running water is a must have! Ideally with a child safe lock that can be opened from the outside in an emergency should the child become locked in.
Provide an area to secure your own or visitors pets away from the melee of daily barn life to avoid lesson interruptions by dogs wandering onto the arena or even worse chasing down vermin along arena knee walls and upsetting lesson horses.
The inclusion of exterior Dutch doors to stalls with access to outside turnout offer a useful method of moving the equine outside and closing the door so the stall can be safely mucked out without the horse either escaping or intimidating the child.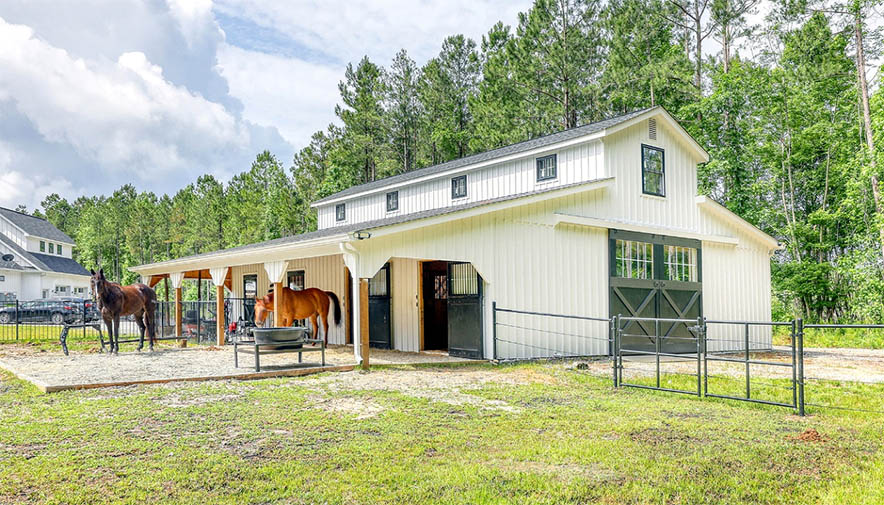 Place hooks (rubber ones are available), bridle hangers and saddle racks at a height little people can reach them. Ensure all door hardware is easy to operate and reachable by children only if you plan to allow them to access the stalls directly.
Install hay/grain feeders that safely rotate to the aisleway from the front of the stall for easy feeding that minimizes the need for children to enter the stable.
Ensure any products used to 'elevate' little ones to reach the backs of their ponies for grooming or tacking are sturdy, soft edged and horse and child friendly.
Provide space for secure storage of any items that children should not access such as keys to motorized equipment; the equipment itself such as UTVs, ATVs, tractors; haystacks (a huge attraction to children); medical supplies or products that could be ingested such as supplements and tools such as farrier equipment and ladders.
Include video monitoring and Wifi options for extra security and safety.
Create an interior space for relaxation and refreshment that can be heated or cooled as necessary that can do double duty as a classroom for projects and teaching during bad weather.
Your Kids. My Barn.
Setting boundaries and balancing the expectations of parents and their children is always difficult.
Parents that choose to utilize the neighborhood horse barn as an easy escape to fulfil their need for babysitting of their kids is not uncommon. To avoid this issue, it is prudent to set some boundaries up in advance of accepting children to the lesson program or into the barn boarding family.
Rules should include the supervision requirement for very young children and presence of the parent during their visits.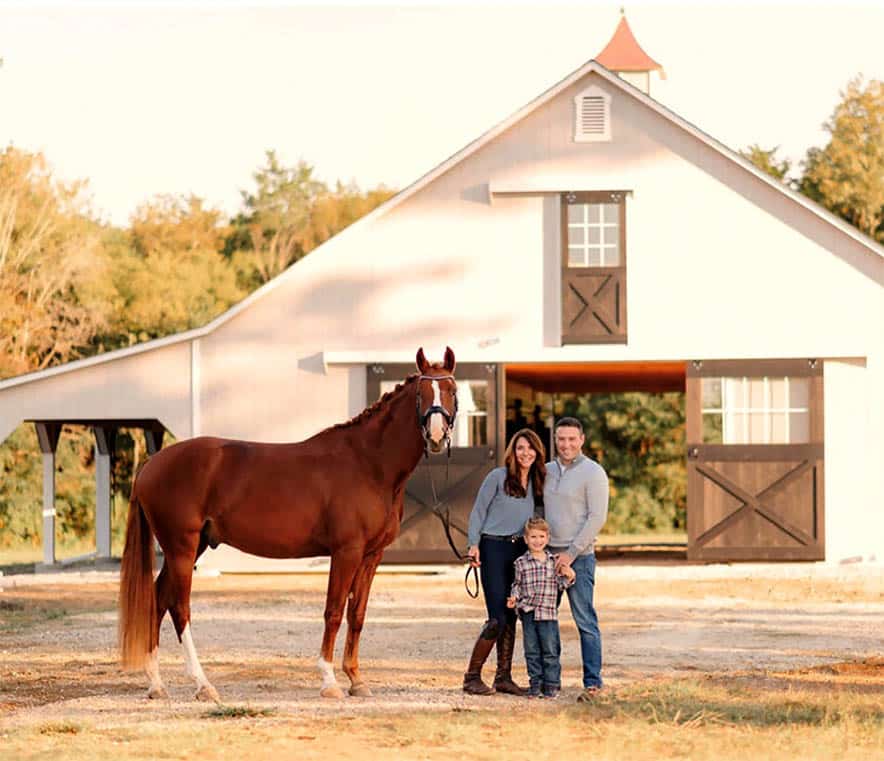 Don't be shy to explain and enforce safe practices around the barn such as safe footwear practices for all visitors to the barn; limits to excessive noise; no running; unleashed pets or the policy on whether bringing pets is allowed at all; pick up and drop off time limits, for example, within 5-10 minutes start and finish of lessons unless other arrangements have been agreed.
Creation of a sign in and sign out system is a good idea. This way you know who is on the property when and know when they have left if you are temporarily busy elsewhere.
Take Home Message
Patrons of your business big and small, equine experienced and neophytes, will all need some degree of nannying, no matter their age bracket. The rewards for teaching and training children are many and doing a good job managing their welfare is best handled by the barn owner or manager with a lot of experience not just with horses, but also with some understanding of psychology and specifically how to teach children.
Additionally taking some courses in basic emergency medical care can be beneficial.
Aside from the extra safety and comfort this experience brings the barn operator and the patrons, the more professional training and proven experience a barn owner can demonstrate the lower the insurance premiums for the equine boarding and training operation are likely to be as a direct result. If you've ever filled out an insurance questionnaire that is part of the application process, you know firsthand the considerable depth at which such information is investigated.
A balanced approach is the best way forward to success in many endeavors and the horse business is no different. Always remember to put safety first and don't be shy to lay down the law. After all, it's their kids but it's your barn and the buck truly does stop with you.