Written by Nikki Alvin-Smith
Unless you've been living under a rock you've heard of the hit TV Show America's Got Talent and probably seen your fair share of animal acts take part as contestants on the show. Sara Carson and her Super Collie Hero stole the hearts of the audience with her dog act, and today she is the proud owner of a Horizon Structures commercial kennel to house not just Hero, but her 'pack' of other trainee canines.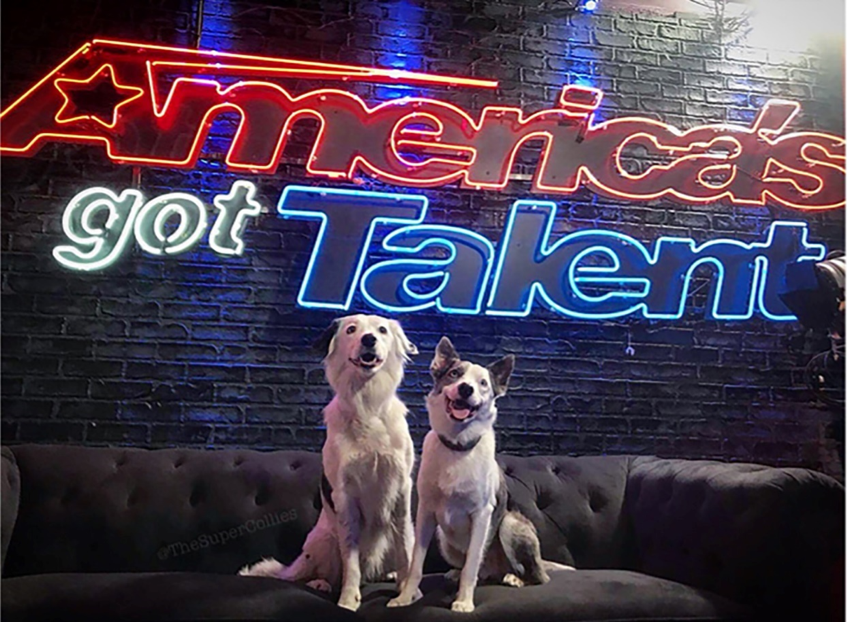 Brit producer, founder of the show and judge Simon Cowell didn't miss a heartbeat giving a big thumbs up to Sara Carson and her super dog 'Super Collie' Hero during the 2017 series.  Their talents earned them a 5th place result. Returning a few years later for the 'Champion' event, something Carson vowed she would never do after the stress of the first endeavor, Super Collies once again shined on the stage.
"Being on AGT is a humbling experience. By the time we reached the final 5 both myself and the rest of the contestants were ready to go home. It is a very stressful business. I would never recommend anyone do it just to say 'I've been on the show,' but if you've honed your performance and have a ton of experience already under your belt then go for it," suggested Carson, Canadian-born dog trainer who now resides one hour outside of Lexington, KY.
There's little question that Carson makes dog training look easy with her dog Hero, who was just a relative youngster training wise at the time the show was recorded in 2017 and is now ten years old.
Despite Carson's incredible talent to train dogs and inherent ability to communicate with her now four dog entourage of wee beasties, things on the show often can and do go wrong.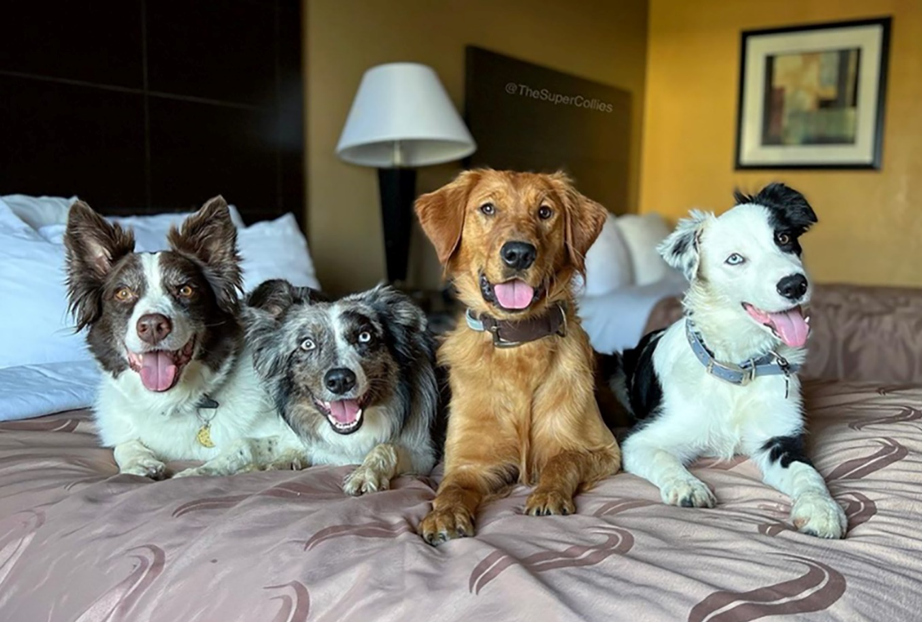 "There is a tremendous amount of pressure on both you and the dogs when you are giving a show or demonstration and week after week on the show takes its toll. For us, during the finale, it caught up with us and so sadly we didn't win. But it was a wonderful experience. I guess that's why I went back despite saying I wouldn't."
Today Carson allocates just 5 to 10 minutes a day per dog to actual dog training, and spends a lot of time back and forth to events and, in particular, to Lexington, KY. Her website is laden with events and competitions that she and her Super Collies have won over the past several years. Her experience in dog training has taken her across the country. She toured with a dog show, lived in Los Angeles for 5 years and even spent a year living in an RV on the road honing her dog training craft. She eventually settled on a 5-acre property in Kentucky, and today she works with 3 Collies and 1 Golden Retriever.
"I love the collies because they are super smart. My one female, named Marvel, is the only female I have. She is a diva, and she has been difficult to work with versus the 3 boys. Hero has a heart condition so is now retired and my other two, Hawkeye is my key talent now with pup Venom coming along behind plus Marvel of course is in training too. I spend a fair amount of time away from home and being away means I cannot always be home on time. It was clear that buying a kennel for my dogs to keep them safe and secure but also to give them the freedom to go in and out as they pleased was important for their happiness and well-being. I came across Horizon Structures kennels via the Working Dog Radio Show. Many K9 trainers and breeders have spoken about the commercial line of kennels that Horizon offers, and the reports were glowing. When it came time for me to invest in a kennel I knew just where to go."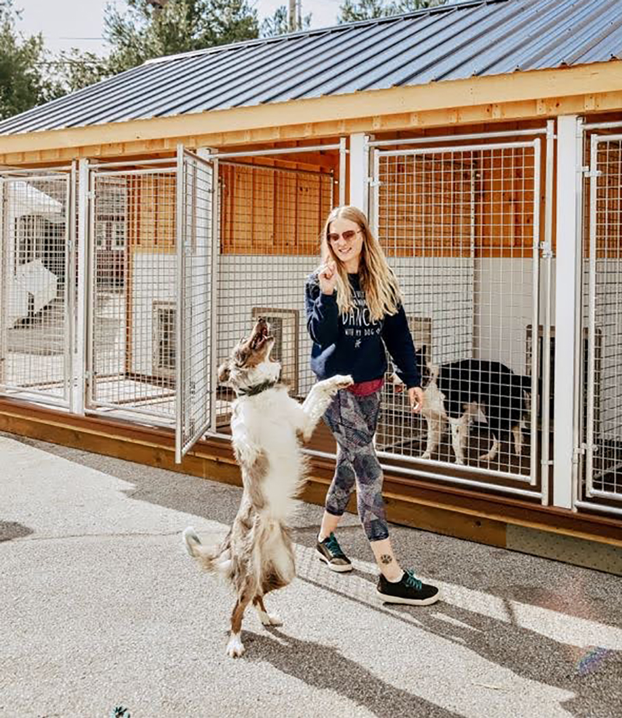 Watch Sara's interview with Horizon Structures' owner Dave Zook
Carson visited with the Horizon Structures team at their factory in Atglen, PA, on her way to perform a half-time show for a Connecticut basketball team, to see the kennels in person before opting for a simple design unit with a center aisle, boxes and runs.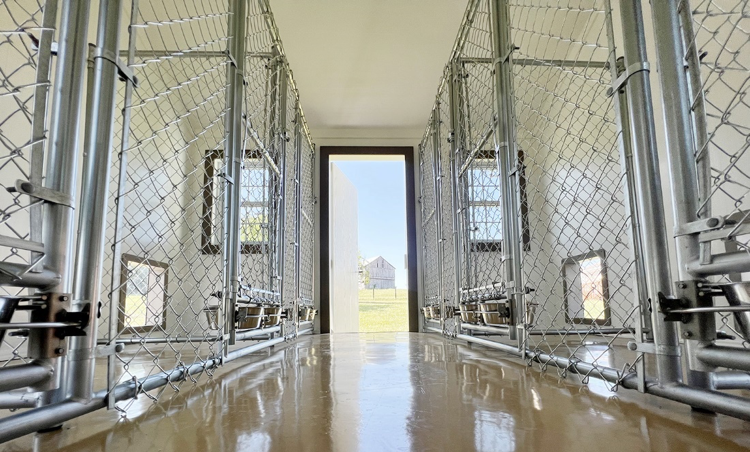 "I am truly happy with my new kennel," said Carson. "I couldn't be happier. The dogs love it. I don't have to worry about them when I'm running late and can't be home on time. It gives both them and me freedom."
Carson explained that she has added a turf layer to the outside runs of the kennel, but otherwise it is just as delivered.
"I found it easier for clean-up to add the turf. Thankfully I had the gravel pad ready early because the kennel arrived much sooner than anticipated. In fact, I received a call from the truck driver one day unexpectedly, saying he had my kennel on board and was just a few hours away! I rushed home, and it all went smoothly. A miscommunication somewhere, but it all turned out OK. They placed the kennel just where I wanted it and it was ready to go immediately which was a boon. These guys don't mess around.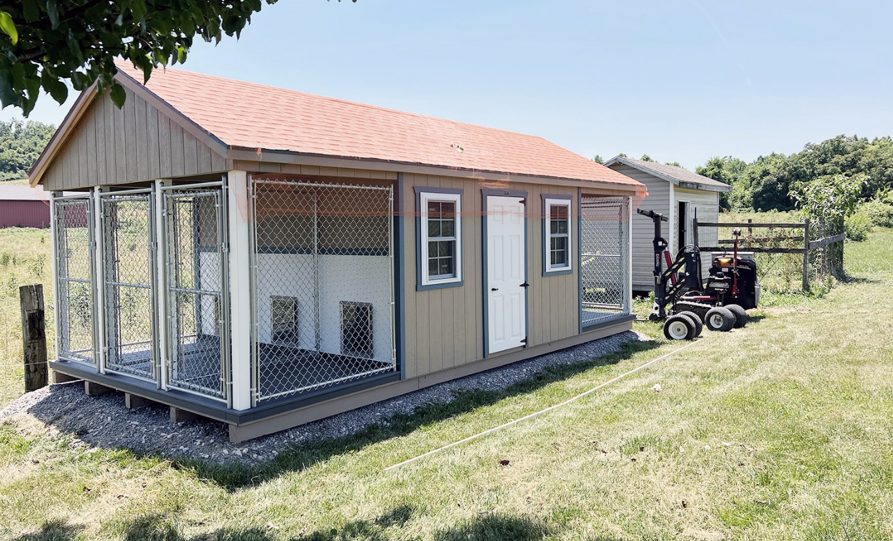 As far as the purchasing experience it couldn't have been easier. Horizon Structures make the whole process so easy and fun. I have had many compliments on the kennel from in person visitors and online on my social media. Many loved it just because the design was so straightforward but so effective and useful. I opted for a bare minimum package because I don't have electric access to the site and there was no need for the electrical package. I am super happy with what I chose, and the dogs love it."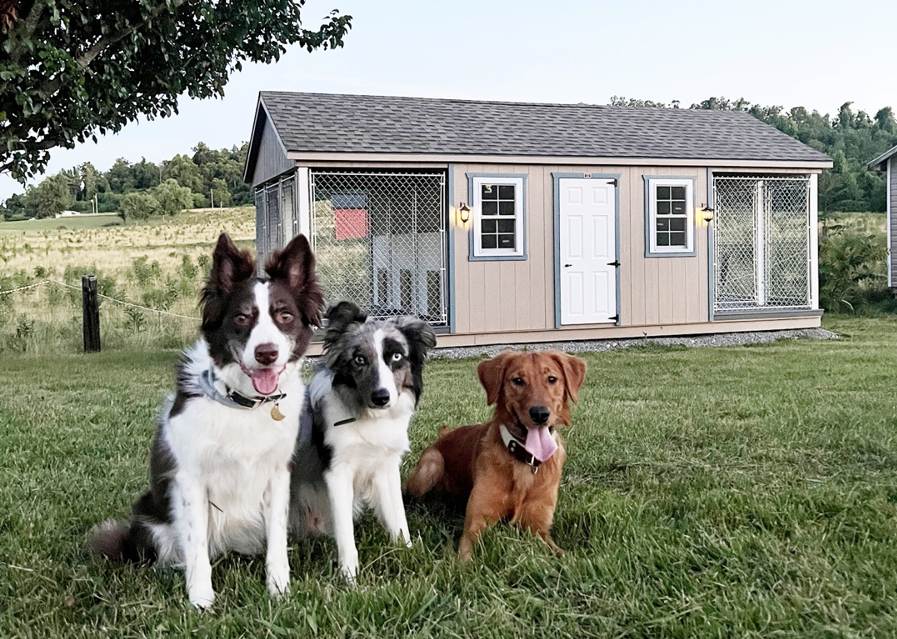 To learn more about Sara Carson and her Super Collies, please visit her website, Facebook and Instagram accounts.